Planning a trip to Mexico City doesn't have to break the bank. In fact, these 10 amazing hotels are all under $100/night! If you're looking for cheap hotels in Mexico City, you need to check them out.
If you're serious about budget travel, have a local Mexico City trip planner help design your itinerary. At only $30/day, it's a great deal and they'll know all the best spots for cheap tacos, good happy hours, and more.
#1: Hotel Gillow (Centro Historico)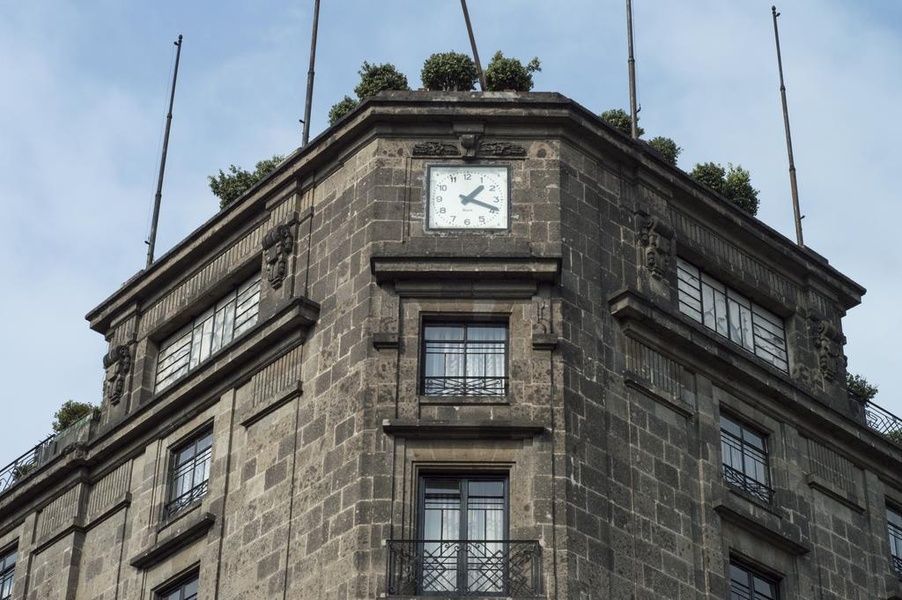 Hotel Gillow looks like a wing at Hogwarts—originally built in 1875, the looming stone building exudes old-world class mystery and charm (and Gillow sounds like a J.K. Rowling character). Prices in Mexico City are generally advantageous for foreigners, and Hotel Gillow is the perfect example of that. Who wouldn't want to stay in a practical castle for under $70 a night?
Price: Rooms start at $64/night
#2: El Patio 77 (San Rafael)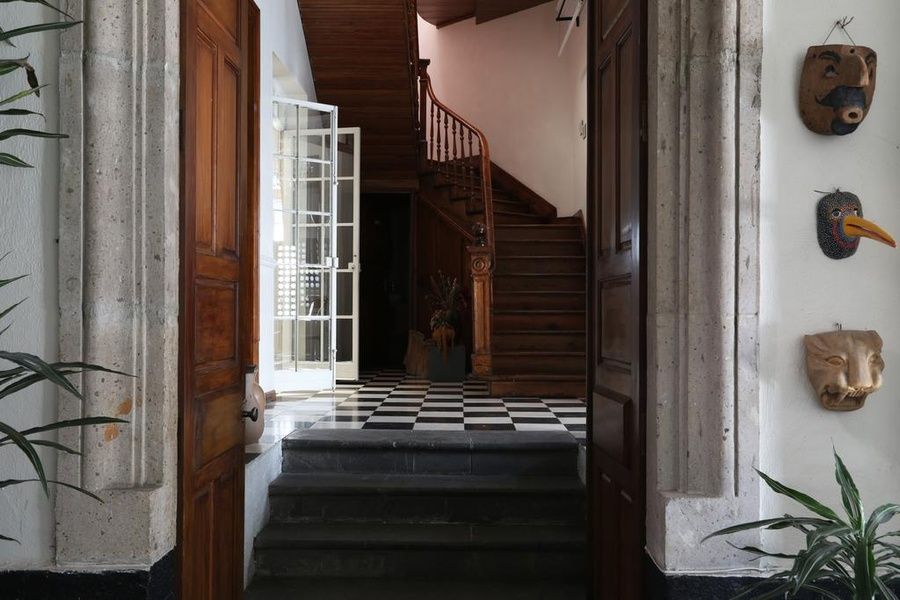 Cheap is not a dirty word—and this is literally true at El Patio 77, which claims to be the first sustainable bed & breakfast in Mexico City. Nestled in the awesome San Rafael neighborhood (one of the most fun neighborhoods in Mexico City), El Patio 77 is a refurbished townhouse from the 19th century, and each of its unique rooms is themed around a different Mexican state. Some rooms have shared bathrooms, but you can pay a bit more for a private one.
Price: Rooms start at $98/night
#3: Hotel Catedral (Centro Historico)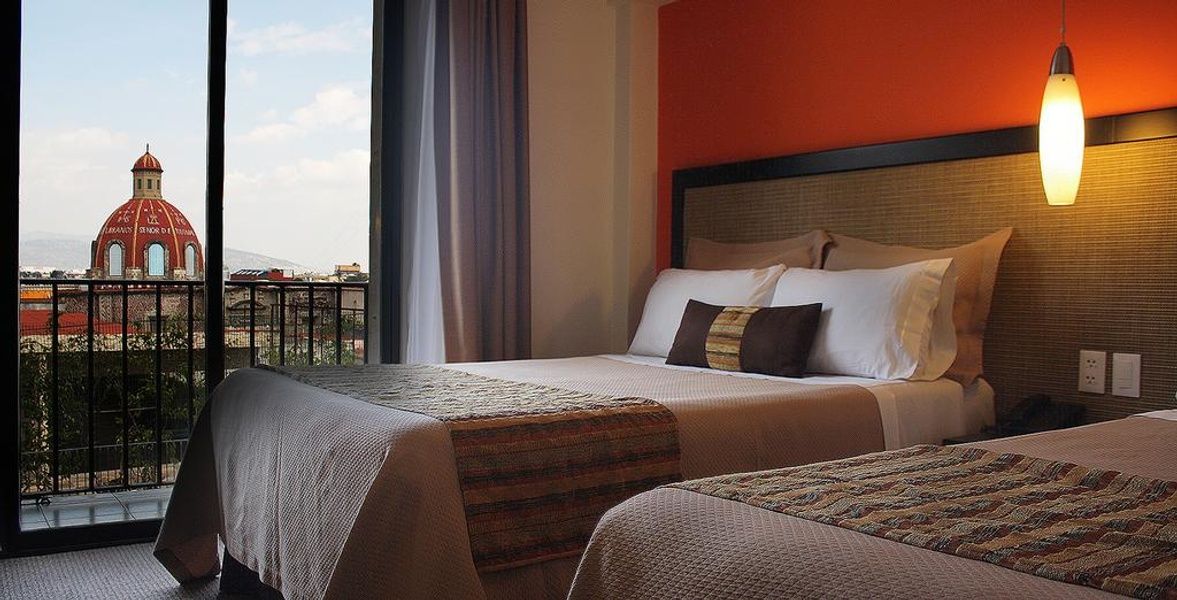 Just north of El Zocalo, one of Mexico City's top landmarks, it's hard to beat Hotel Catedral's central location. Guests gush over the gorgeous view of Catedral Metropolitana from the hotel's terrace and the hotel's proximity to some of the city's most famous attractions. Hotel Catedral also offers its guests free bikes, which makes it so easy to zip between all the coolest places in Mexico City.
Price: Rooms start at $96/night
#4: Hotel Imperial Reforma (Juarez/Zona Rosa)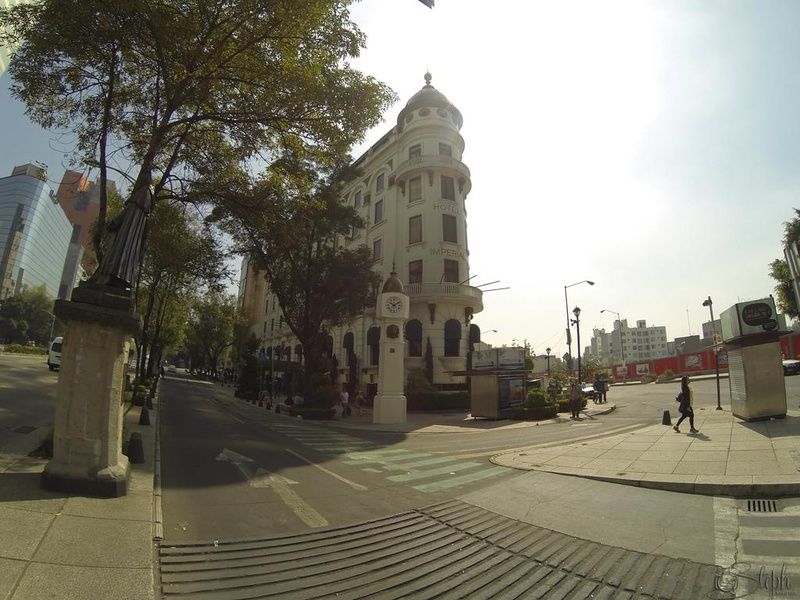 Originally built in 1896, Hotel Imperial Reforma looks upscale. Everything from its Art Deco exterior to the grand chandelier in the lobby seems to suggest that this place will eat up a good chunk of your travel budget. False! Hotel Imperial Reforma offers luxury and location—it's right on the edge of Zona Rosa, where you'll find some of Mexico City's best nightlife.
Pro tip: Mexico City is safe, but take normal precautions when you're out late at night. When it's time to go home, call that Uber!
Price: Rooms start at $69/night
#5: Hotel Geneve (Zona Rosa)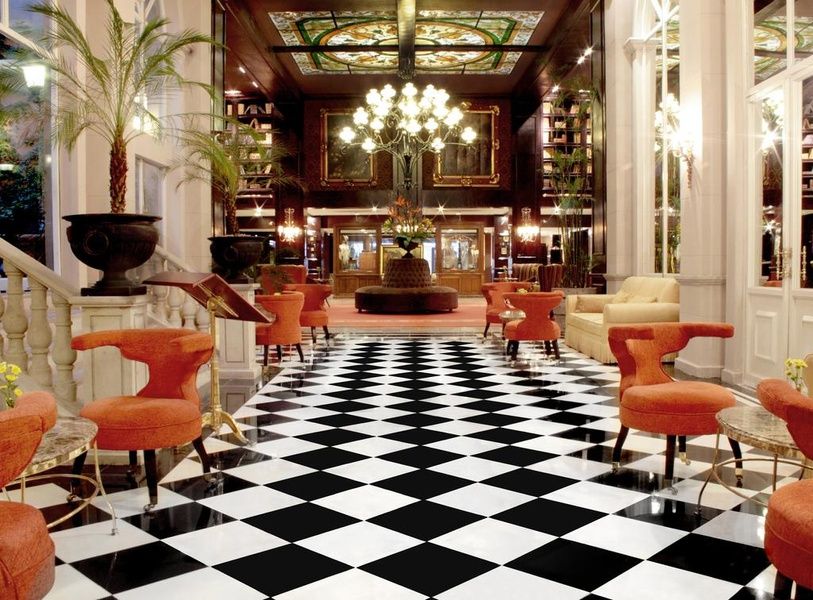 Swoon. Hotel Geneve looks like the kind of place where a 1940s movie star might dramatically stroll through the grand front doors. The lobby itself—black and white tiled floors, plush red chairs, and a gorgeous stained-glass ceiling—feels as glamorous as a film set.
Conveniently located in Zona Rosa, it's a perfect choice whether you're in Mexico City for three days or for much longer. And though there are plenty of choices nearby when it comes to where to eat, the hotel also contains two restaurants: Cafe Jardin and Sanborn.
Pro tip: Of course, when it comes to restaurant choices we recommend getting tips from a Mexico City local—they can steer you towards the really authentic hidden gems that you might otherwise miss!
Price: Rooms start at $97/night
#6: Hotel Castropol (Centro Historico)
If you're looking for a no-frills, get-the-job-done, budget-priced place to stay in Mexico City, Hotel Castropol fits the bill. Rooms start at only $31/night, which insane given what you get for the price—the hotel feels like something expensive, with modern glass sinks, custom Hotel Castropol soap, and a central location in Centro Historico.
The hotel is only a ten-minute walk from one of the coolest tourist attractions in Mexico City (and certainly one of our favorites): the awesome Templo Mayor museum.
Price: Rooms start at $31/night. We know. One reviewer recently said: "Very nice hotel in the historical center, with very good prices, that at the beginning made me think that price might be a mistake". It's not!
#7: Stanza Hotel (Roma)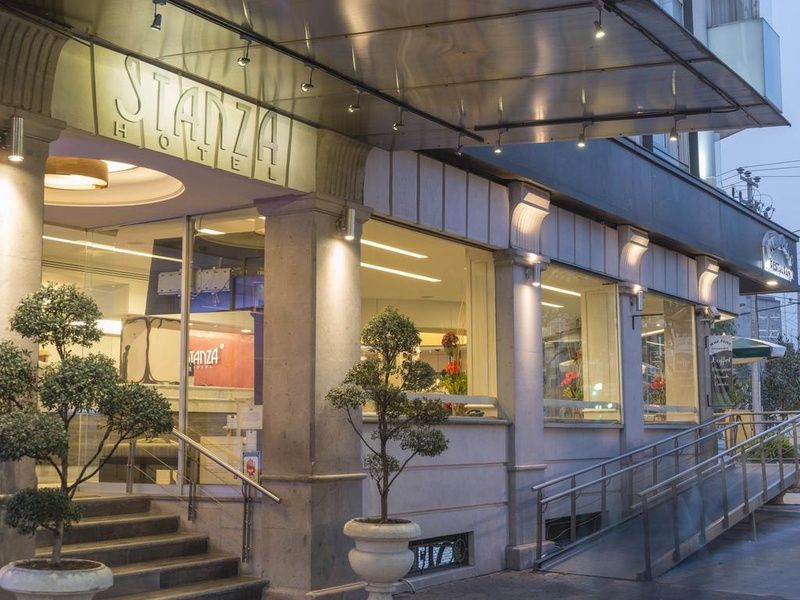 Wondering where to stay in Mexico City if you're obsessed with street art, great coffee, and craft beer? Super-hip Roma, of course! Guests love the sleek Stanza Hotel because of its location in Mexico City's hottest neighborhood. Staying at Stanza makes visiting all the coolest places in Mexico City a breeze—including the famous churro shop El Muro, which is just a short walk away.
Price: Rooms start at $61/night
#8: Hotel Marlowe (Centro Historico)
Hotel Marlowe provides all the bells and whistles of a super nice hotel—a gym, a sauna, a restaurant—without the price tag. Guests really love how close the hotel is to Palacio Bellas Artes (the Palace of Fine Arts), the Torre Latinoamericana, and Alameda Central. In Centro Historico it can sometimes be hard to avoid tourist traps—that's why we recommend asking a local to design your itinerary. It's only $30/day for a practical key to all of Mexico City's best spots.
Price: Rooms start at $77/night
#9: Hotel Isabel (Centro Historico)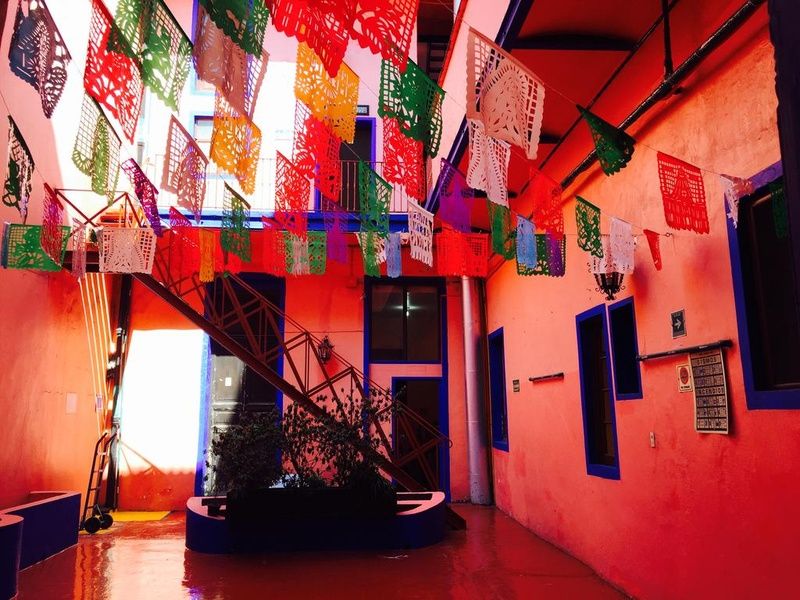 The rooms at Hotel Isabel are simple, but the hotel exudes joyful energy. The blue and orange walls of the lobby feel so authentically Mexican. You'd be hard-pressed to find a more centrally-located hotel for Hotel Isabel's price—just south of El Zocalo, Hotel Isabel is in close proximity to many Mexico City must-sees.
Price: Rooms start at $30/night
#10: Residencia Polanco (Polanco)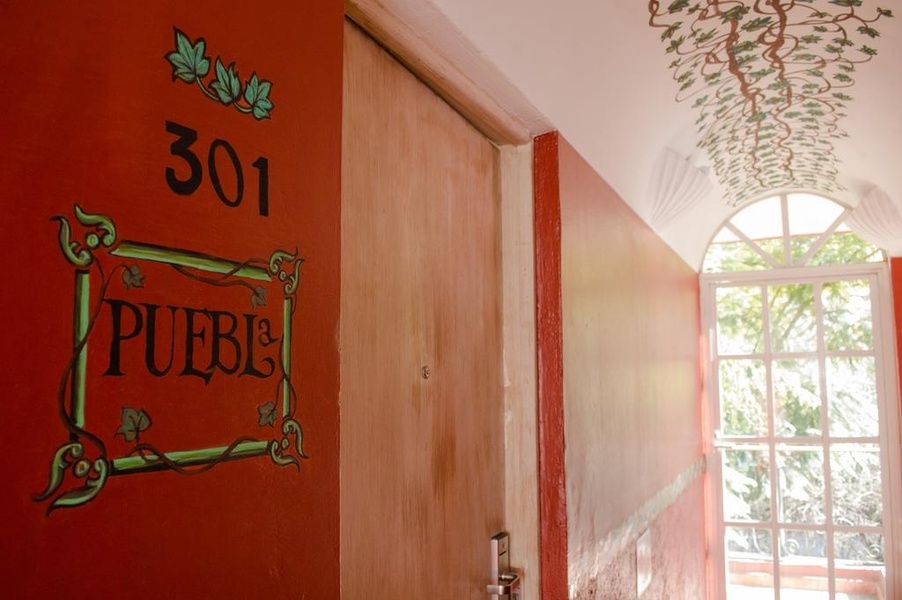 With its bright walls, hand-painted room numbers, and wide, stained-glass windows in the lobby, Residencia Polanco feels special the moment you walk in. Plus, the hotel is close to many of Mexico City's top places to visit: a mere 10-minute walk from the Polanco metro stop, and only 15 minutes from one of Mexico City's best museums: the stunning (and free!) Museo Soumaya.
Price: Rooms start at $65/night
*Bonus*: Hotel Downtown Mexico (Centro Historico)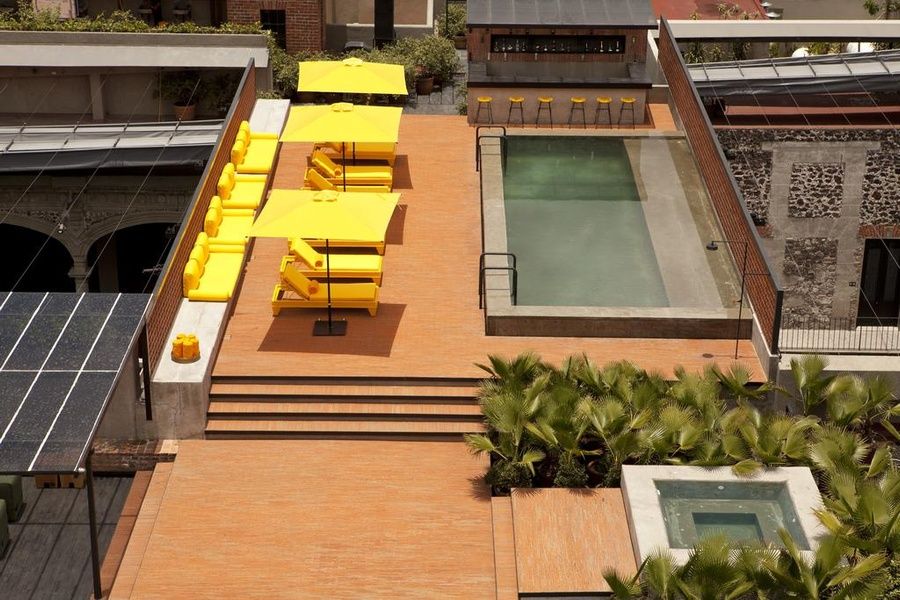 This hotel gets rave reviews as a "budget hotel", however as rooms are generally over $100/night, we decided to pop it in as a bonus. The rooftop bar and pool provide the perfect way to unwind after exploring all the things to see in Mexico City. Plus, it's in the name—Hotel Downtown Mexico is in Centro Historico, the heart of the city, and within easy walking distance of many of the inevitable items on your Mexico City itinerary.
Price: Rooms start at $150/night
--
Check "find a good, cheap hotel" off your Mexico City to-do list! And remember: there are a million ways to save money during your trip to Mexico! First and foremost: have a local plan your itinerary. It's only $30/day, and they'll give you tons of money-saving suggestions and tips (nobody knows the ins and outs of Mexico City like someone who actually lives there). Interested in learning more? Send us a message!