When it comes to Mexico City resorts, well… they don't really exist. At least, not in the same sense as Cancun resorts or beachside resorts in Puerto Rico. Why? Mexico City isn't on the beach! Regardless, Mexico City does have some incredible, resort-like hotels. These are 10 of the most spectacular and luxurious.
For a truly authentic Mexico City experience, have a local plan your trip. For only $30/day it's an amazing deal, and you won't have to *resort* to piecing together an itinerary from touristy advice you find online.
#1: Four Seasons Hotel Mexico City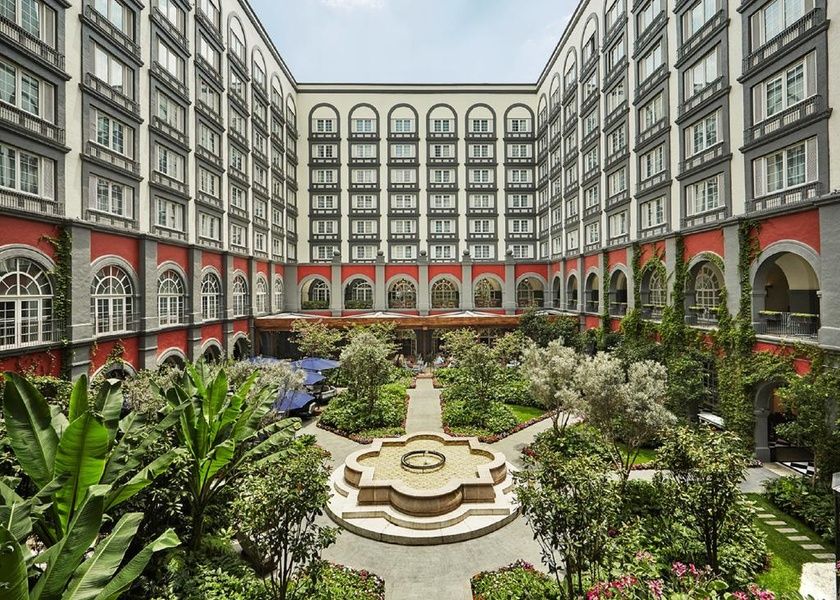 Guests feel like royalty at the Four Seasons Hotel Mexico City. Maybe it's the splashes of regal red throughout the hotel, or the gorgeous spiral staircase, or the stunning courtyard. As if that weren't enough, visitors also rave about the hotel's central location along the Paseo de la Reforma, which provides easy access to many of Mexico City's best places to visit.
Pro tip: If you're trying to find a place to see in Mexico City that has good, strong cocktails, you won't have to go far: the Four Seasons is home to Fifty Mils, a world-renowned bar. Cheers to that!
Price: Rooms at the Four Seasons Hotel Mexico City start at $300/night
#2: Barcelo Mexico Reforma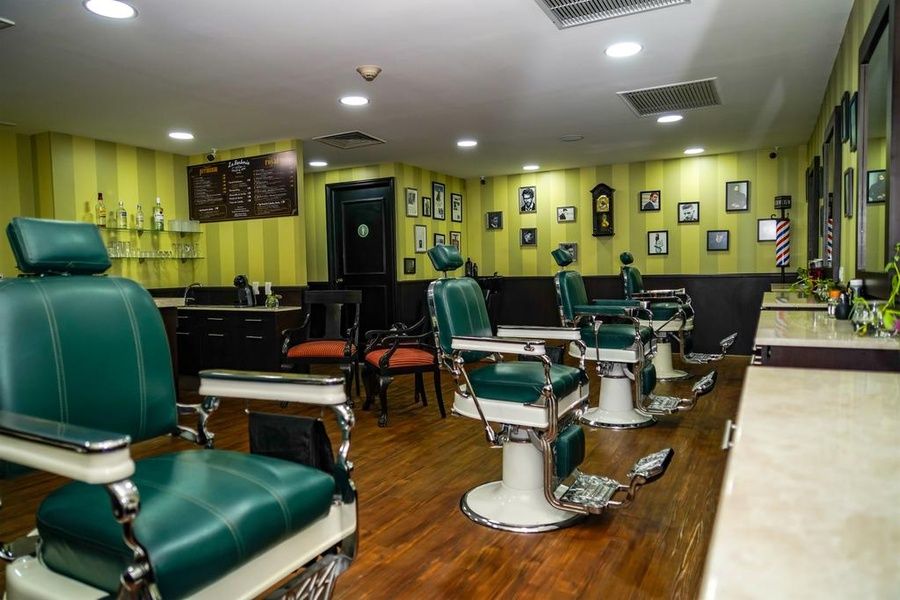 Modern and glamorous, Barcelo Mexico Reforma personifies comfort. From on-site shopping to a luxurious spa, and especially the old-time barbershop on hotel grounds (!!!)—Barcelo goes above and beyond to make its guests feel relaxed and taken care of.
Plus, Barcelo's central location also makes it easy to check out all of Mexico City's best tourist attractions. If those aren't your style, no worries (although they are pretty rad). Just talk to a local about the hidden gems nearby...
Price: Rooms at Barcelo Mexico Reforma start at $140/night
#3: Camino Real Polanco Mexico City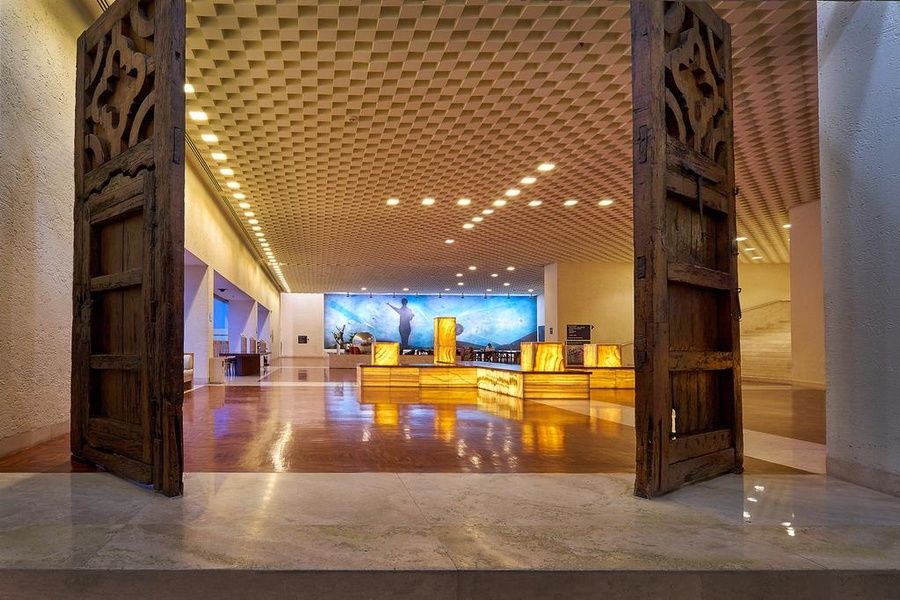 If you're looking for a universe of your own within Mexico City, the chic and beautiful Camino Real Polanco will do the trick. Designed by Mexican architect Ricardo Legorreta, Camino calls itself a "hotel-museum" because of its "beauty, functionality, and color." Camino also claims to be the choice of "presidents and kings"—so keep your eyes peeled!
Just north of Chapultepec Park (which you should definitely add to your Mexico City itinerary), the hotel is near one of our favorite Mexico City neighborhoods: the sleek, posh (and incredibly vibrant) Polanco. And though Mexico City is safe as a whole, Polanco is among the safest neighborhoods in the city.
Price: Rooms start at $155/night
Pro tip: Even though the State Department's travel advisory for Mexico City ranks it alongside cosmopolitan hubs like London and Paris, we understand if safety is a concern. To assuage your fears, connect with a Mexico City local for their insider safety info.
#4: Nima Local House Hotel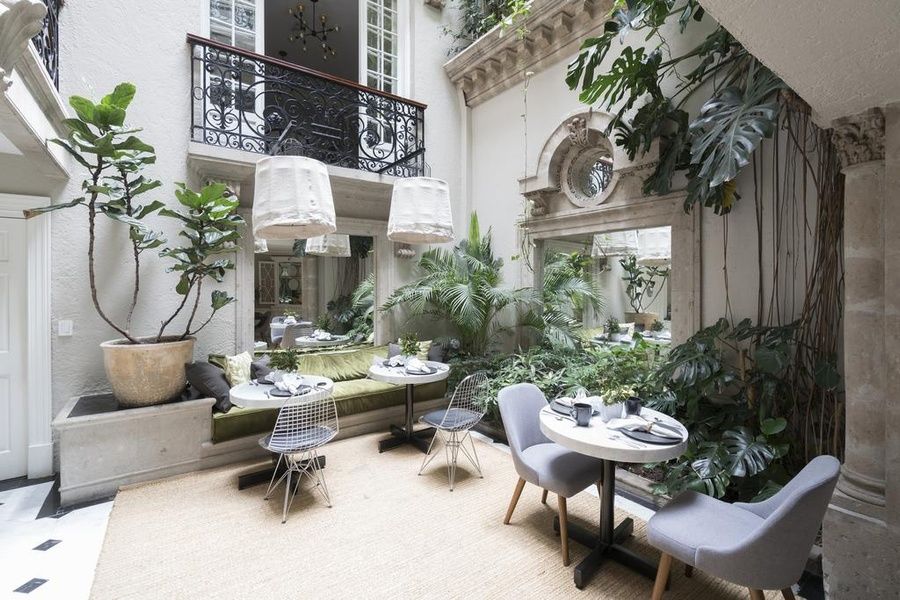 With white walls, cast-iron balconies, and a gorgeous courtyard, the Nima Local House Hotel feels Parisian. And it also feels like a well-kept secret (especially because it only has four rooms).
Guests rave about the hotel's beauty and luxurious touches, as well as the attentive staff. But one of the draws of Nima Local House Hotel is definitely its location. If you're wondering where to stay in Mexico City for awesome street art, third-wave coffee, and rooftop views, Roma is definitely the place.
Price: Rooms start at $315/night (Mexico City has some amazing cheap hotels, but we get it: splurging is fun).
#5: Hotel Ritz Mexico City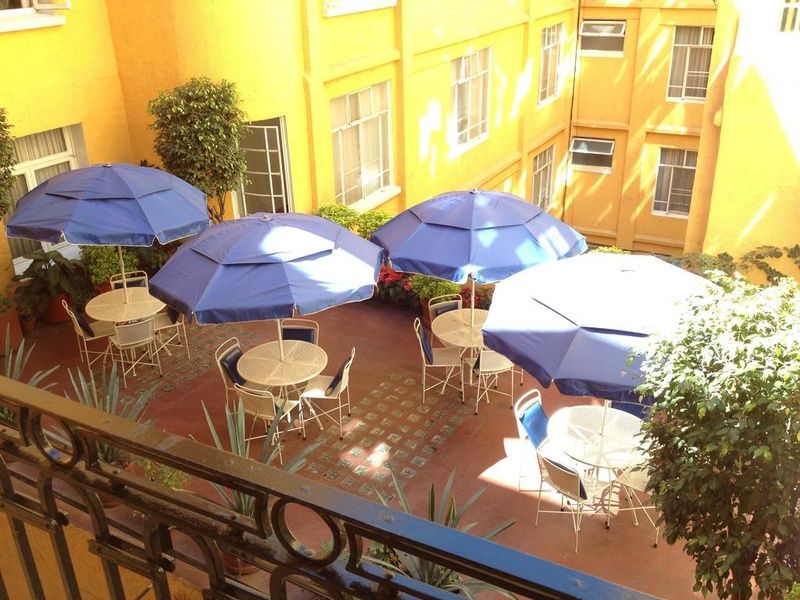 The Hotel Ritz Mexico City's sunny yellow courtyard perfectly portrays the joy of staying in this centrally located hotel. Just 650 feet from Mexico City's central square, El Zocalo, guests delight in all the important attractions within walking distance.
Although the hotel's La Terraza restaurant also serves Mexican cuisine, you should definitely ask a local for recommendations on where to eat in Mexico City for delicious, authentic food at any price point.
Price: Rooms start at $57/night
#6: St. Regis Mexico City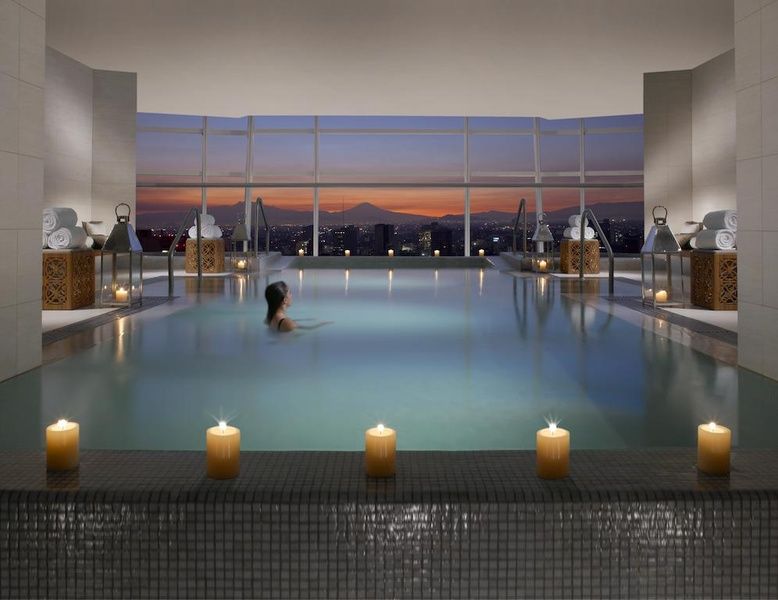 Soak in the luxury at St. Regis Mexico City—literally, as you swim slow laps in their indoor pool and take in the incredible view. The hotel also offers guests an on-site spa, as well as three restaurant choices. Maybe there's not much reason to leave (we could spend all day in an indoor pool) but St. Regis is also centrally located and near many of Mexico City's top places to see. The iconic El Angel statue is only a 10-minute walk away.
Price: Rooms start at $279/night
#7: Gran Hotel Ciudad de Mexico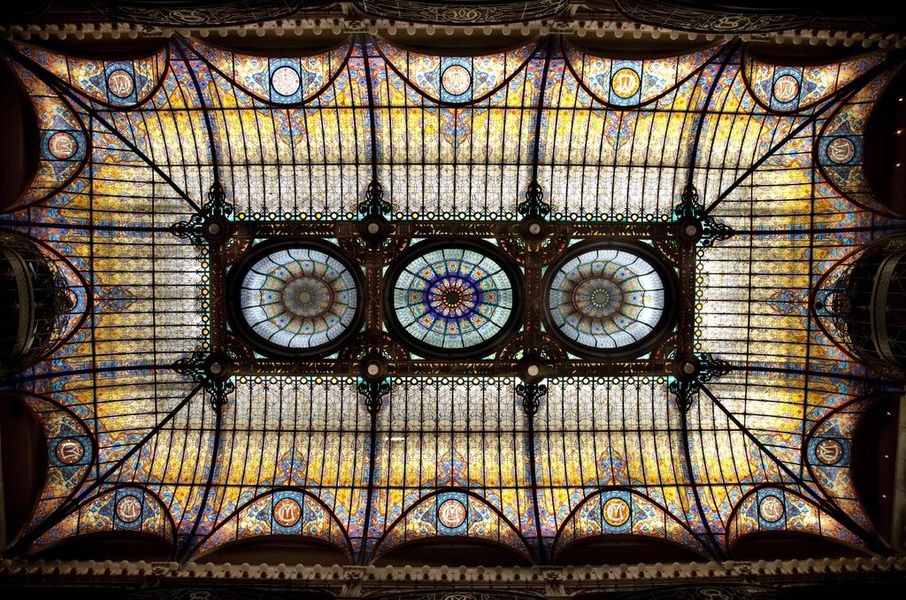 Certainly one of the best places to stay in Mexico City is the elegant and colorful Gran Hotel Ciudad de Mexico. Filled with old-school glam like antique elevators and a Tiffany glass ceiling, you'll feel as if you stepped back in time to the height of classic luxury. Guests rave about the Hotel's "belle epoque elegance", "spectacular views", and the free champagne at check-in.
Right in the heart of the Centro Historico neighborhood, staying at Gran Ciudad de Mexico also makes it easy to check out most of Mexico City's incredible museums and other amazing things to see.
Price: Rooms start at $152/night
#8: Stara Hamburgo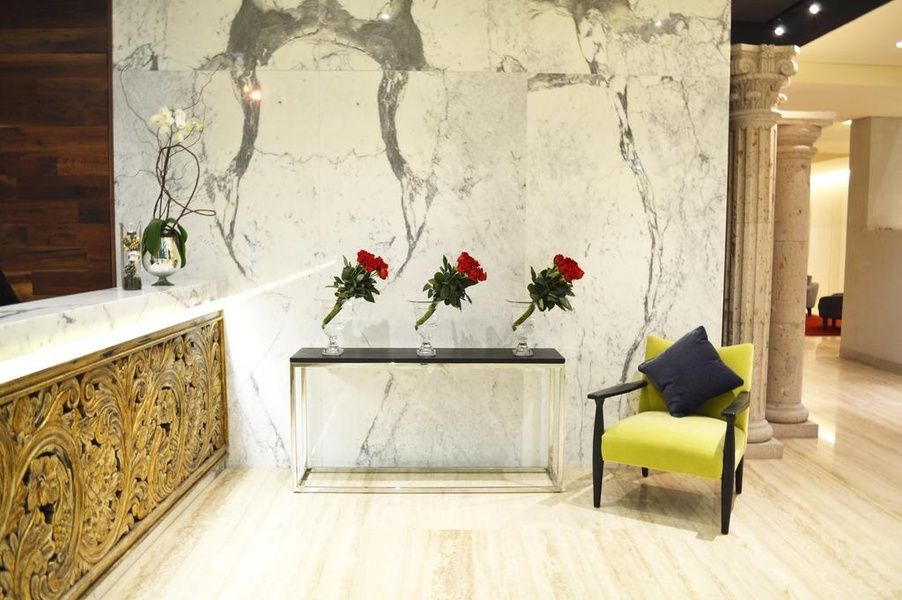 Stara Hamburgo marches to the beat of its own drum. This is abundantly clear as soon as guests arrive and see the elaborate wood-carved desk in the lobby; then the exposed brick dining room; then the colorful, tiled outdoor courtyard. Plus, Stara Hamburgo is in one of the best places to visit in Mexico City (and certainly one of the best to stay): the vibrant, eccentric Juarez neighborhood. You'll find some of Mexico City's best nightlife in this neck of the woods.
Price: Rooms start at $236/night
Pro tip: Juarez is an up-and-coming cool part of town that hasn't been thoroughly discussed yet in guidebooks and online articles. For an authentic experience, see what locals say about what to do in this part of Mexico City.
#9: Le Louis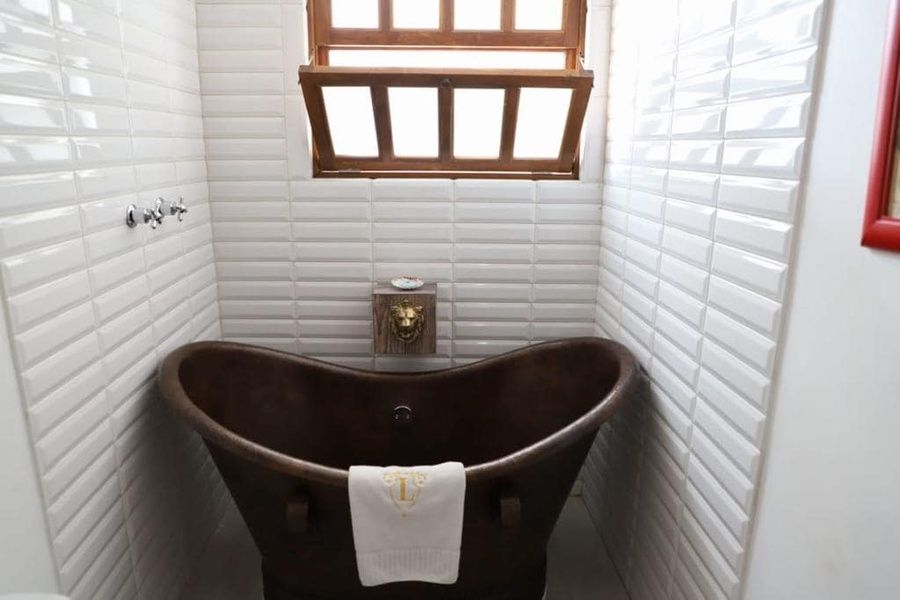 What's not to like at Hotel Le Louis? From the luxurious soaking bathtubs, to an onsite bar that feels more like a ballroom, to the beautiful and sunny terrace, guests at Le Louis feel assured that their Mexico City vacation has begun.
Nestled in romantic Roma, some of the best things to do in Mexico City to do are within strolling distance. Although Roma has been "discovered" (thanks, Alfonso Cuarón) the neighborhood still contains tons of great non-touristy activities.
Price: Rooms start at $132/night
#10: InterContinental Presidente Mexico City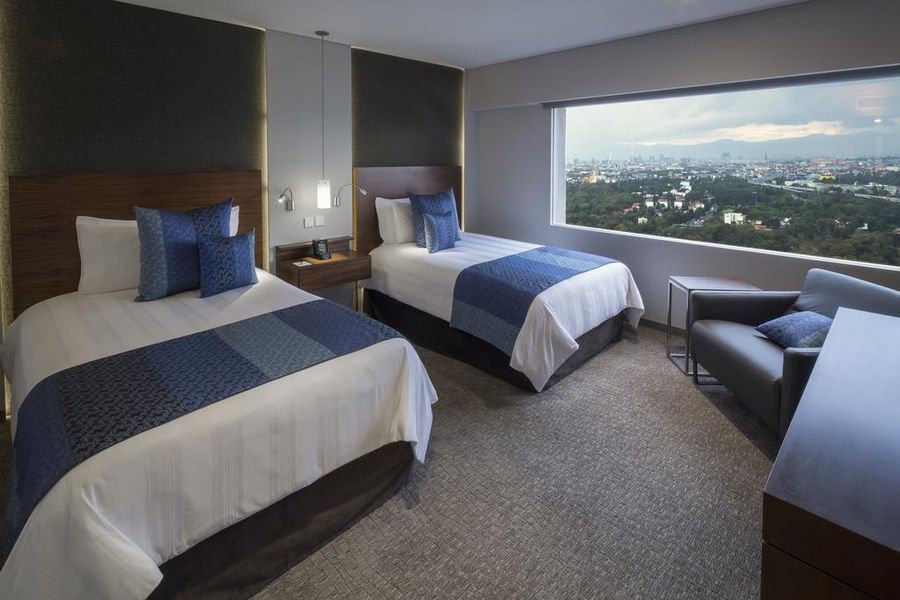 Located in the sleek Polanco neighborhood, InterContinental Presidente Mexico City offers guests so many bells and whistles that it's impossible to leave less-than-satisfied. The hotel offers guests five on-site restaurants, free bikes, and in-room massages.
Although the hotel is close to Chapultepec Park, guests can also take a jog in the hotel's fitness center, which overlooks the green vista (so no matter what time of year you visit Mexico City, you can exercise and enjoy the park).
Price: Rooms start at $140/night
--
You're ready to find the perfect hotel for your Mexico City vacation—resort or not! For travel that takes you deep into Mexico City's soul, have a Mexico City local plan your trip. They'll create a custom itinerary based on your interests—plus tons of hidden gems that you would never know about otherwise. Don't be a tourist—see Mexico City like a local! Questions? Send us a message!