Travel to Mexico City comes with a lot of questions, especially about money. What's the tipping etiquette? What's the exchange rate? Are the ATMs safe? Relax—we've got you covered. Here, we break down all the money matters of Mexico City, especially when it comes to leaving a good tip. Questions? Feel free to send us a message!
Want to explore Mexico differently? Have a local plan your trip.
Is tipping required in Mexico City?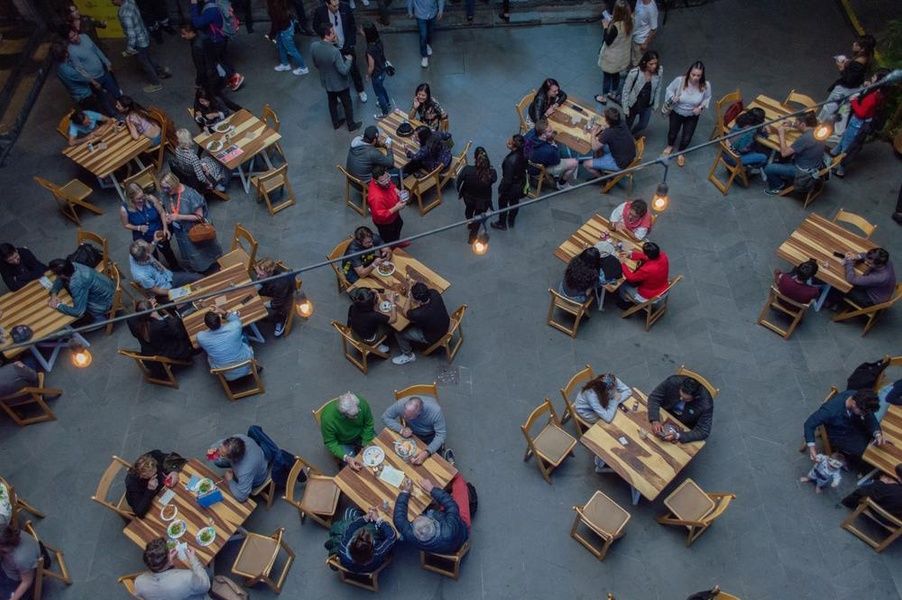 In restaurants, yes. It is muy uncool if you don't tip after a good meal.
For taxis, tipping is not required (unless they help with bags).
If you're indulging in delicious street food, tipping not required, but it is appreciated.
Ok, so how much is a good tip?
Restaurants: For good service, a 10% tip is standard. For really good service, anything between 15% and 20% is acceptable.
Street food: Again, tipping is not required or expected, but it is appreciated (saying "keep the change" is sufficient).
Taxis: If the driver helps with bags, 10–20 pesos is a good tip.
Grocery store baggers: This may seem like a strange concept to some, but it is standard in Mexico to tip baggers at the grocery store. The tip can be anywhere from 5–20 pesos depending on how many bags you have and if they help you bring stuff to your car.
Tour guides: If it's an amazing tour, a tip between 10% and 20% is a good idea.
What's the exchange rate like?
It's excellent! When you're exploring Mexico City's best neighborhoods (whether that means enjoying craft beers in Condesa or a posh dinner in Polanco) American dollars go a long way.
One American dollar ($USD) equals approximately 20 Mexican pesos ($MXN). This means you can find beer for about a dollar, and meals are usually under ten dollars.
Do places in Mexico City accept cards?
Some, but definitely not all. Big touristy attractions and popular hotels will accept cards, but it's a good idea to carry cash.
If you're looking to eat Mexican City street food, you'll want to have cash. Similarly, a lot of non-touristy activities in Mexico City will require cash. Basically—if you want to get out of tourist zones and see the *real* Mexico City, you'll need to have a few pesos in your pockets (you'll also want the advice of a Mexico City local on the best things to see).
Pro tip: Since the water in Mexico City isn't great, you'll really want to stock up on water bottles. Since these are really cheap (less than a dollar) it's easier to just pay with cash instead of trying to use a card at a corner store. Check out this Mexico City travel guide for more important tips.
Pro pro tip: A good way to get around Mexico City is just to use Uber. Easy! This doesn't use cash or cards, just the app.
Should I convert dollars to pesos before going to Mexico City?
Among the other questions that arise while preparing for a trip to Mexico City (do I need a visa to travel to Mexico City? What's the best time to travel to Mexico City?) a common question concerns having the right currency. So—should you convert dollars to pesos before going to Mexico City?
The answer: sure, but…
It's always nice to land in a foreign place with the right currency in your pocket (and you should be able to exchange dollars for pesos with your bank, travel agency, or at the airport). But you probably won't need cash immediately (especially if you're Ubering to your hotel or Airbnb).
That being said, you'll have the opportunity to withdraw cash from ATMs once you land. Just be sure you'll be *able* to withdraw money—and let your bank know about your travel plans. Having a card shut down in the middle of a vacation is a major damper on the whole trip.
Where should I take out money?
When you're traveling to Mexico City, you need to be smart about where you take out money. Withdraw cash in a bank, or at the airport—not from kiosks along the street.
On a related note, be strategic about money and valuables. Mexico City is safe, but be smart about stuff. Don't flash a ton of cash. If safety is a concern, definitely chat with someone who lives in Mexico City about best practices.
Can I use American dollars (USD) in Mexico City?
No. Use pesos. Visitors will see the dollar sign ($) everywhere, but this refers to Mexican pesos, not American dollars.
--
Voila! You are now ready to travel to Mexico City and spend those pesos. Before you jet off, chat with a local trip planner for help building your itinerary—it's like having a best friend in Mexico City make you a personalized guidebook full of local gems you'll love. Plus, they're available by phone 24/7 if you run into any issues. And if you want to learn more, feel free to drop us a line! And don't forget to check out: