Where to eat in Mexico City? Locals tell us you'll have tons of options in this sprawling metropolis. Here's what our trip planners say about where to eat in Mexico City—from places to grab a classic taco al pastor to where you should finish up a meal with a hot churro.
For personalized advice on where to eat in Mexico City, have a local plan your trip. They'll create a custom guidebook full of restaurant recs—as well as transit tips and safety advice. Learn more.
#1: For Tlacoyos...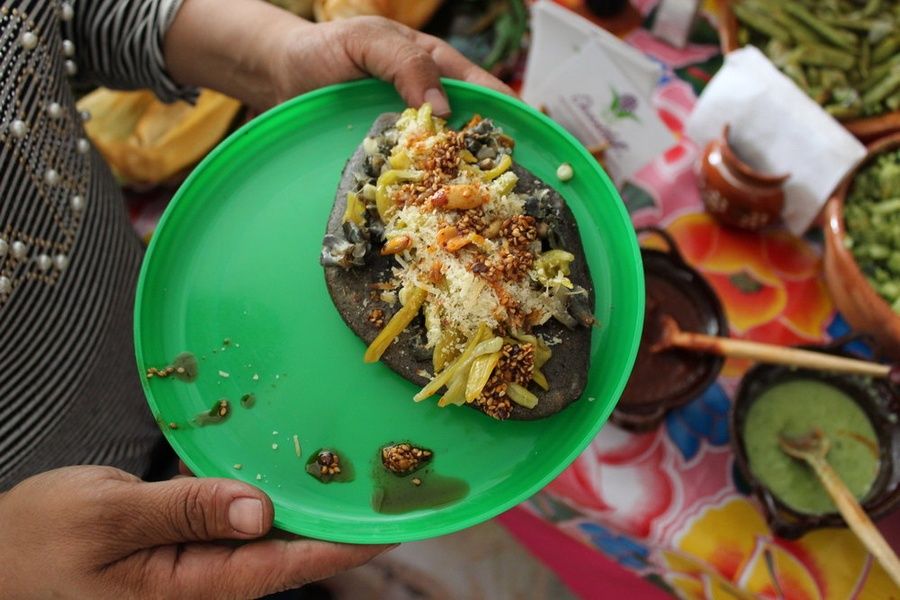 What are tlacoyos? Locals tell us that these pre-Hispanic masa patties are like thick corn tortillas, stuffed with fillings like beans, meat, and cheese. Mmmm.
With so many excellent markets in CDMX offering tlacoyos, this is definitely a good area to get some local advice. Our trip planners recommend checking out Condesa Tianguis—a small marketplace bazaar—in the gorgeous Condesa neighborhood.
Local tip: The market is only open on Tuesdays, from 10 am to 5 pm.
#2: For churros...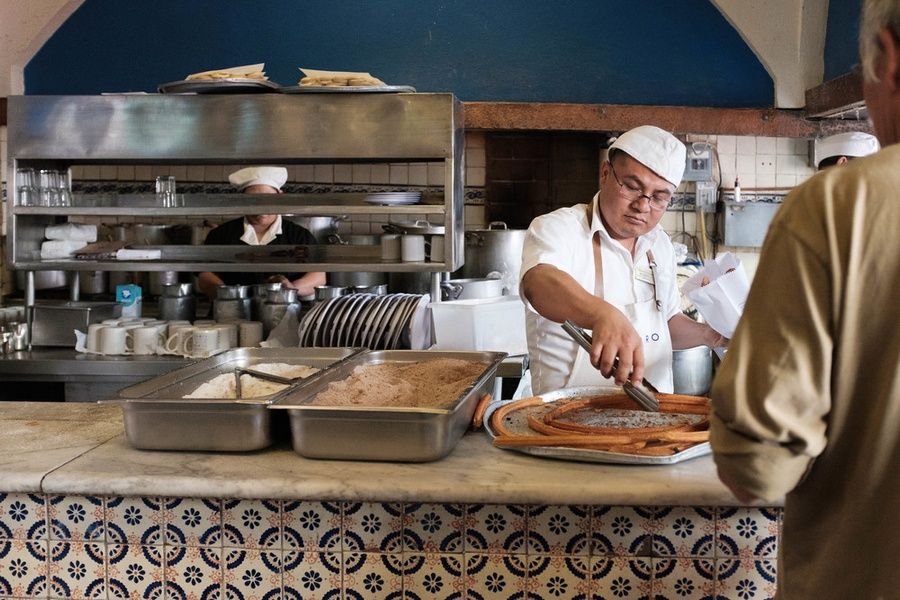 If you have a sweet tooth, then indulge in some churros. But not just any churros.
Locals recommend going to Churrería El Moro. You'll have lots of dipping sauces to choose from, and locals recommend opting for the deliciously sweet cajeta—a caramel-like sauce which is made from goat milk.
Local tip: Churrería El Moro is one of the coolest places to visit in Mexico City. They have locations in several neighborhoods including in Centro Historico, Roma, and Polanco.
#3: For Chilaquiles...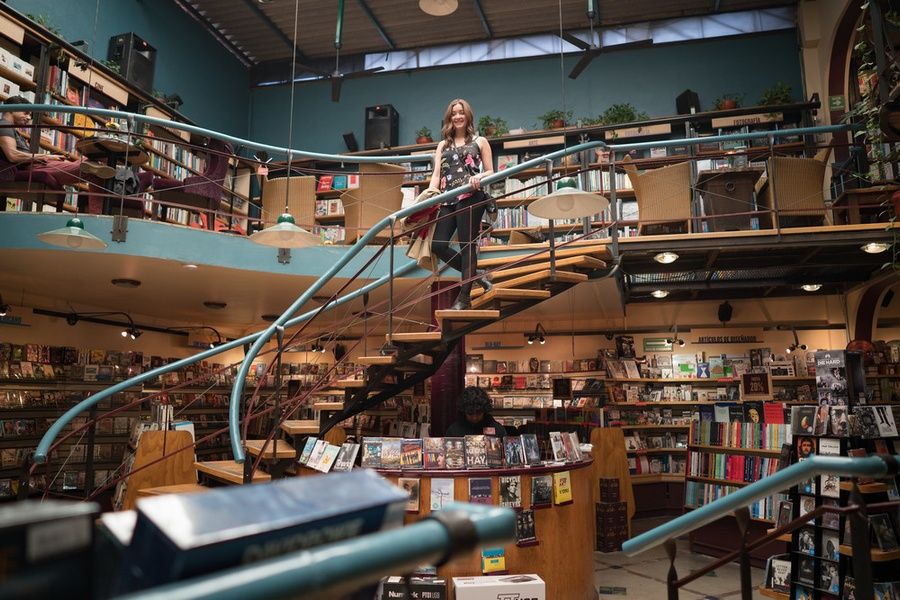 Locals tell us you'll find chilaquiles—warm tortilla chips smothered in eggs, sauce, cheese, and other toppings—all over the city. This is a popular breakfast/brunch snack—especially if you had a wild night out! So where to go?
If you want to enjoy some chilaquiles and enjoy one of Mexico City's hidden gems, then our trip planners suggest El Péndulo.
El Péndulo is a cozy, two-story bookstore filled with plants, art deco flare, and, yes, delicious chilaquiles. It's one of those incredible spots you'll find often while traveling in Mexico City.
Local tip: El Péndulo has more than one location, including one in San Angel—a cool neighborhood to stay in Mexico City if you're looking to get off the beaten path.
#4: For tacos al pastor...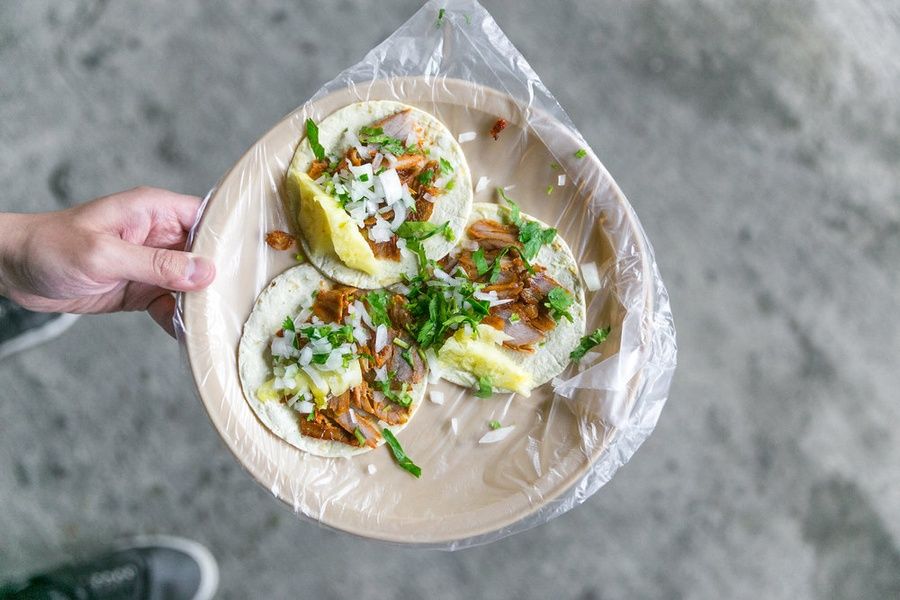 Have you ever tried tacos al pastor? Made with slow-roasted pork and pineapple, they're a quintessential Mexico City meal. Locals highly recommend grabbing a few while you're in town.
So go straight to the source! Our trip planners note that El Tizoncito claims to have created tacos al pastor.
If you're looking to go on a taco taste test, see what locals say about their favorites. Our trip planners can offer their personal recommendations.
Local tip: Tipping is different in Mexico City. Read about the rules HERE.
#5: For enchiladas...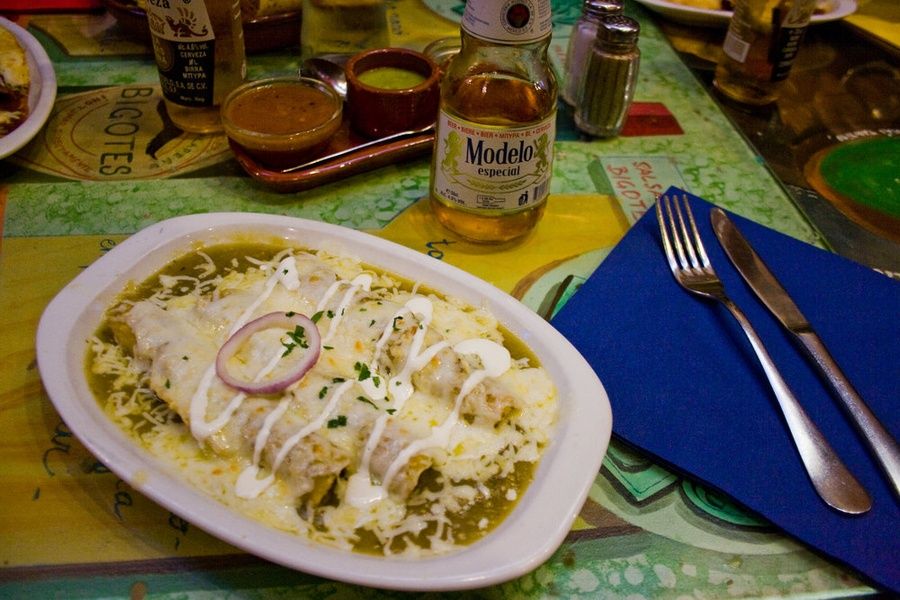 If you're looking for delicious enchiladas in Mexico City, then locals suggest the aptly named La Casa de Las Enchiladas. This small, local joint lets you create the enchilada of your dreams—you'll have a choice of tortillas and hundreds of toppings.
Plus, La Casa de Las Enchiladas is conveniently located in Condesa. This beautiful Mexico City neighborhood offers plenty of charm and space to walk off those enchilada calories.
Our trip planners suggest taking a stroll in Parque Mexico, where you'll likely find many of Condesa's canine residents out for a stroll.
#6: For tostadas...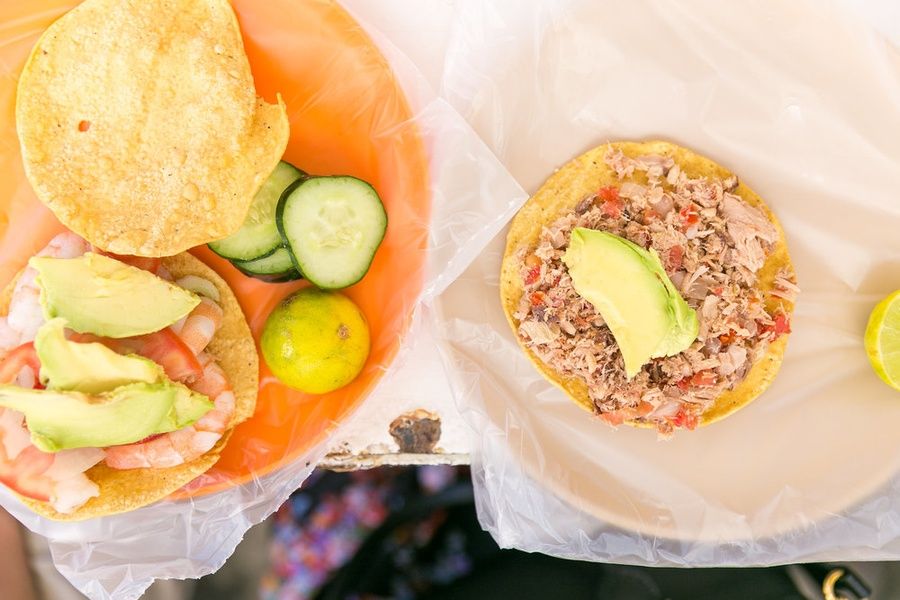 Tostados are kind of like open-faced sandwiches. They're a tortilla, deep-fried, and topped with delicious fillings—and they can be found throughout Mexico City.
Locals tell us you won't lack for choices when it comes to enjoying tostadas. So get some local advice! Our trip planners say that if your travels take you to Coyoacan, you should indulge at Tostados de Coyoacan.
Tostados de Coyoacan isn't the only great thing about Coyoacan! It's one of Mexico City's magical neighborhoods and offers tons in terms of food, art, and culture. (Locals note it's where you'll find the Frida Kahlo House.)
#7: For elotes...
Speaking of Coyoacan—locals tell us you should definitely keep an eye out for elotes, one of Mexico City's delicious street snacks. What are elotes? They're grilled ears of corn, smothered in mayo, spices, and more.
Locals tell us that you'll find incredible elotes at Mercado de Coyoacan, one of the neighborhood's fantastic markets. Actually, you'll find tons of great food here. Our trip planners say that you should also keep an eye out for tostados and fried quesadillas as you peruse the market's stalls.
Local tip: If you're wondering when to visit Mexico City in order to enjoy its markets, don't worry. Places like Mercado de Coyoacan are opened all year round.
#8: For pambazo...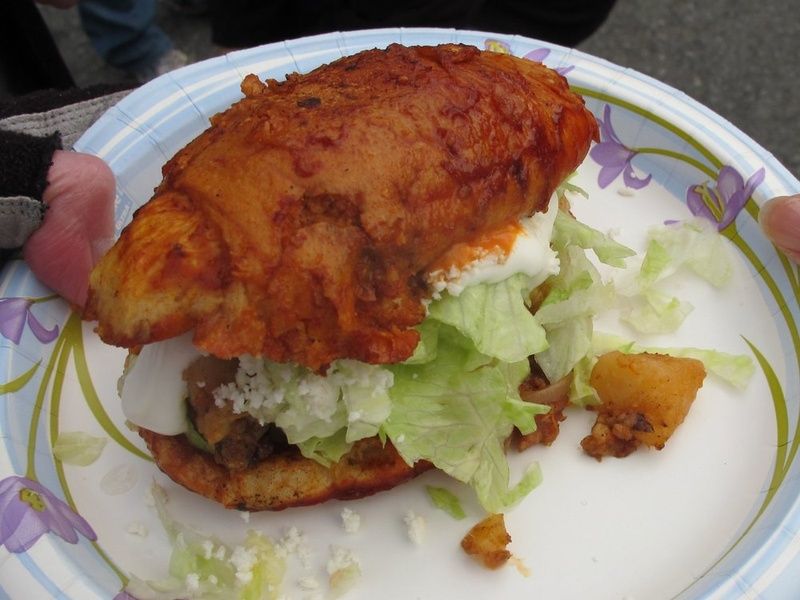 Locals tell us that pambazos are essentially sandwiches made on bread that's smothered in salsa, then fried. YUM.
Where to enjoy this spicy treat? Our trip planners suggest El Pambazo Loco.
It's a bit off the beaten path, so see what locals say about how to get to El Pambazo Loco—and any advice they have about safety in this part of Mexico City.
No worries if you're hoping to stay closer to the central part of the city! Our trip planners tell us you'll find pambazo throughout CDMX.
#9: For guacamole...
You're fine paying for extra guac. You love guac. So definitely indulge while in Mexico City! Our trip planners say it's hard to pick just one spot, but Meche y Rafael (in the Mercado de Medellin) is really fantastic. They tell us they have an all-you-can-eat guacamole and salsa bar.
Meche y Rafael in Mercado de Medellin is in Roma—definitely one of the most beautiful parts of Mexico City. Locals suggest enjoying strolling around and enjoying all the art deco mansions, street art, and parks in this part of CDMX.
--