Perched on an island in the St. Lawrence River, Montreal is Quebec's largest city and serves up a taste of Europe in North America. Don't let the French street signs and city traffic intimidate you—use this guide to Montreal's transportation for all you need to know about public buses, the metro, taxis, Uber, and (humanity's greatest pastime) walking.
Go beyond the transit tips that all tourists know. Connect with a Montreal local for unique travel advice to boost your experience from "cool" to "magnifique." Learn more.
Montreal
is a very walkable city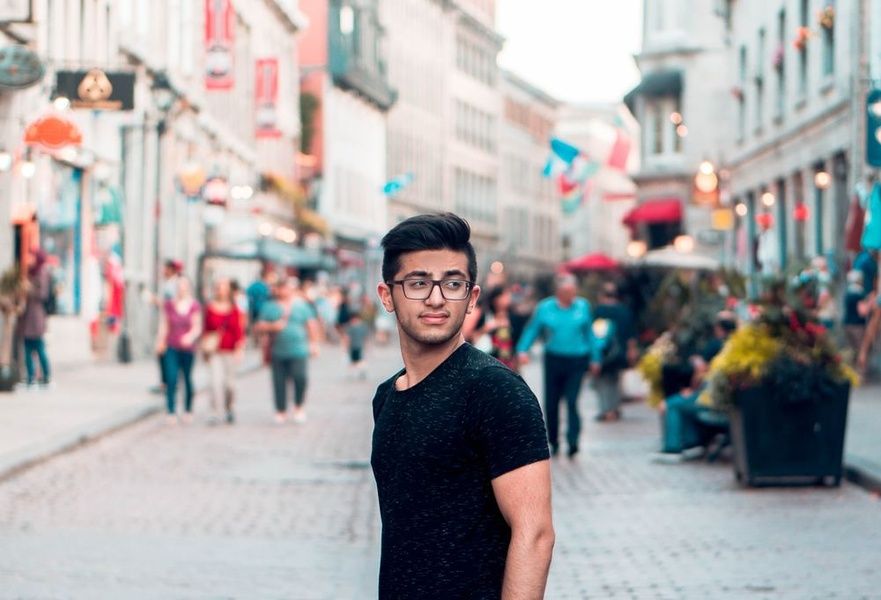 From its centre-ville (downtown) to its eclectic neighborhoods, Montreal is a pedestrian-friendly city. In fact, the neighborhood of Old Montreal has many pedestrian-only streets, including the famous Bonsecours Market and Rue St. Paul. Just keep in mind that Montreal also has some steep hills, like Vincent d'Indy and Boulevard Decarie.
We recommend walking whenever you can (as long as it's not too cold out!). Driving means you'll miss out on some truly incredible things to see, like outdoor festivals, street art, parks, and cathedrals. Plus, walking tours like The Mile End Food Tour and Haunted Montreal offer unique insights to Montreal history that you might otherwise miss.
Pro tip: For an authentic look at Montreal, connect with a local to design a walking tour—it's a unique way to explore districts like Le Petite-Patrie, Little Burgundy, and Côte-des-Neiges.
Public transportation is safe to use, even at night
Montreal's official public transport system is called La société de transport de Montreal (STM), which includes the city's buses and metros. Single-ride tickets are CAD$3.50 for both the bus and the metro.
Purchase STM tickets at bus or metro stations, keeping in mind that single-ride tickets may be used interchangeably between buses and metros. If you decide on another metro pass, such as the day or weekend pass, you'll be issued a reloadable Opus transit card for CAD$6.
The STM buses and metros are very safe to use—even at night. In fact, STM offers a safety feature called "Between Stops" created specifically for women using public transport at night. With Between Stops, women can ask bus drivers to drop them off as close to their destination as possible. Locals also use apps like Crono, Tourisme Montreal, and Transit for real-time bus and metro route updates.
Pro tip: To navigate the STM with ease, get tips from a Montreal local who knows all the ins and outs of public transport. They'll highlight STM routes that go directly to your itinerary points.
The metro can get you just about anywhere in
Montreal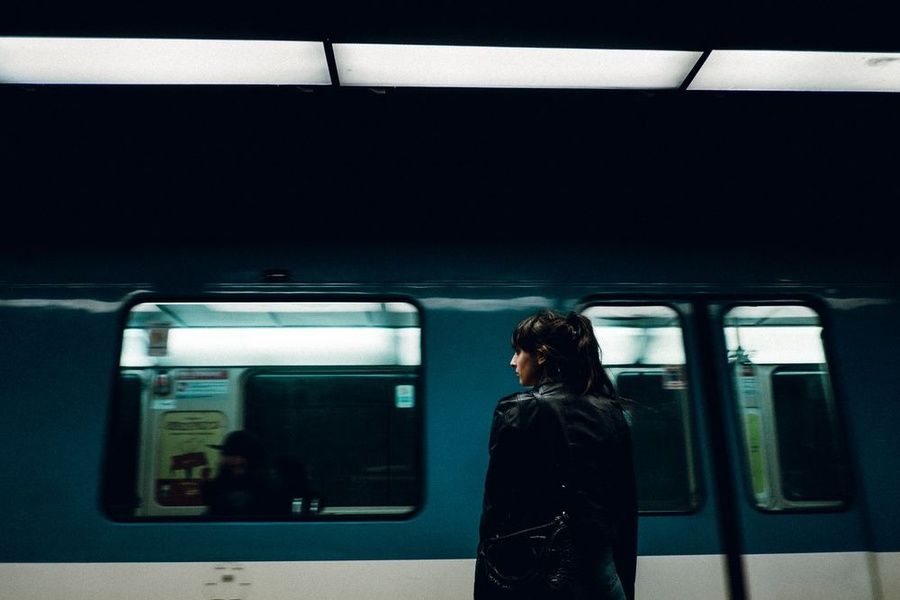 The award-winning Montreal metro system is simply known as "le metro,"—not the subway or underground, which are common tourist misnomers. The metro has 4 color-coded lines (orange, green, blue, and yellow) and 68 stops. While that might sound intimidating, the metro is actually very easy to locate and ride, and is the fastest way to get from Point A to Point B in Montreal.
To begin, simply look for blue-and-white arrow signs around Montreal, which take you to below-ground metro stations. Buy metro passes using cash or credit/debit cards. Single-ride passes cost CAD$3.50, but if you're in Montreal for more than a day, you should invest in a reloadable Opus card for CAD$6. Depending on how long you're staying in Montreal, you can buy different types of passes, including unlimited, weekend, three-day, or evening passes.
Wherever you ride the metro in Montreal, odds are that you'll happen upon Montreal's Underground City, a 20-mile network of pedestrian footpaths and shopping malls that are a blast to explore. Not only is the Underground City perfect for souvenir shopping, but its tunnels and walkways are ideal for breaks from Montreal's icy winter weather.
Public buses run 24/7 and cover more ground than the metro
Also part of the STM, Montreal's public buses have 220 lines—far more than the metro and focused more on specific areas of the city. However, waits at the bus stop can last from 5 to 45 minutes. The longest direct bus trip is 30 minutes long, but ride times definitely increase during rush hours (6:30 AM-8:30 AM and 3:30 PM-6:00 PM). Real-time bus schedules and arrival and departure updates are available on the STM website and can also be found on Canadian transit apps.
There are two essential things to remember about Montreal's public buses:
First: metro and bus passes can be used interchangeably, but only for a 90-minute period and with a special pass from the bus driver or conductor. (Yes, it sounds a bit convoluted, but

Montreal travel experts recommend

using this feature if you're visiting for a day or two.)

Second, if you don't have the aforementioned Opus card, you'll need to pay the driver the exact amount in Canadian coins, keeping in mind that you won't get change back.
Biking is a popular, efficient way of getting around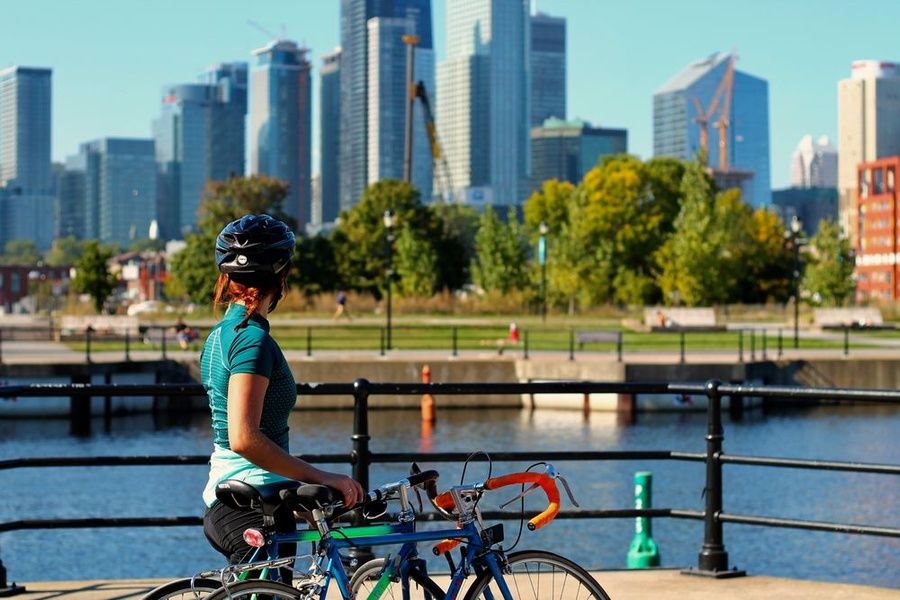 Montreal is all about being green and eco-friendly, so it makes sense that biking is a huge part of the city's culture, as well as a popular way to see the city. BIXI is one of Montreal's most well-known rental bike service, with one-way rides for CAD$2.95 and single-day passes for CAD$5.25. Private bike companies like Fitz and Follwell and Ma Bicyclette also offer daily rentals and tours starting at CAD$45+.
Montreal is very bike-friendly, with 435 miles of bike paths through public parks and popular neighborhoods like Plateau Mont-Royal, Ville-Marie, and Rosemont-La Petite-Patrie. Local travel gurus highly recommend biking trails like the Montreal Market Rosemont Route (4.1 miles), the Mont-Royal Route (2.2 miles), and, for a day trip, the West Island Loop (18 miles).
Taxis are safe and reliable but expensive
Montreal's yellow taxis are a safe and relatively efficient ways to get around, especially if you need a convenient way to get from Point A to Point B. However, your bill can add up quickly if you plan on riding more than a couple of kilometers. The base fare for taxis is CAD$3.45, with an additional CAD$1.75 per additional kilometer. This translates to almost CAD$20 for a 15-minute ride.
Many drivers speak at least a little English, but it's an enormous help to have a Montreal local translate addresses and directions into French beforehand. Alternative taxi services include Teo Taxi and Taxi Diamond, both of which have mobile apps and are well known in Montreal.
Uber and other ride-share apps work in
Montreal
Yes, Uber works in Montreal! The base rate is CAD$8, so for a short ride you'll generally end up spending about as much as you would on a taxi. You can calculate the cost of your Uber ahead of time. Other reliable ride-share options include Lyft and Ola.
Renting a car, van, or bus can be a great way to explore the city—but beware of aggressive drivers!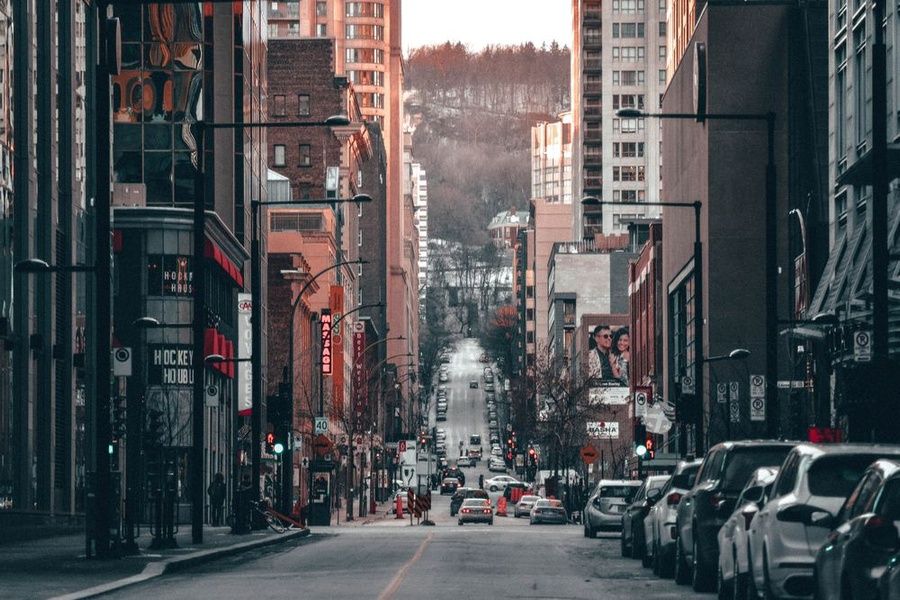 Montreal is known for its aggressive drivers (think NYC traffic on steroids). If you rent a car and risk the road rage, you'll also need to pay for car rental insurance, which tends to be twice as expensive as the rental itself. In addition, gas prices in Montreal are more expensive than in the U.S., especially since you're charged by the liter instead of the gallon. And, driving on Montreal's icy winter roads takes practice (and prudence).
On the other hand, a rental is a great option if you want to take day trips out of Montreal, add other Canadian cities to your itinerary, or visit off-the-beaten-path locations like Canada's National Parks or small towns. If you have a big party, you can skip the car and go for a van or bus. Bus.com offers bus and van rentals which makes it easy to organize large-scale transportation. They can help even if your dream Canada trip includes complicated routes and/or multiple vehicles. You can also opt for having a driver if you're nervous about getting behind the wheel.
Use public buses to easily get to and from the airport
The most direct way to get to the Pierre Elliott Trudeau International Airport is the #747 public bus. The #747 runs every day, 24/7 between the airport and downtown Montreal. If you're riding from the airport, you can choose to go to the Berri-UQAM station (on the corner of Sainte-Catherine and Berri) or the Lionel-Groulx station. However, if you're riding to the airport, you can only catch the bus from Berri-UQAM.
Pro tip: Like Montreal's other public buses, the #747 bus drivers only accept Canadian coins as payment—no change is given, so hang onto any coins accrued during your trip. You can also buy #747 tickets with credit/debit cards at the airport's international arrivals level.
--
To get around Montreal like a pro, connect with a Montreal trip planner to plan your personalized adventure. They'll design a custom itinerary that ensures you see Montreal the way it's meant to be seen—like a local (not a tourist). Learn more.