Where to stay in Montreal? That depends on you! Montreal is an absolute wonderland—full of European-style streets, fantastic old churches, and bagels that make even New Yorkers glow with jealousy. Making the most out of Montreal bliss depends on where you stay—and we're here to help, with these 8 excellent spots.
Connect with a local to design the ultimate Montreal itinerary. After all, people who live in Montreal already know all the best stuff to do in their city—from where to stay, to what to eat, to which hidden gems to check out.
#1: Old Montreal (Vieux-Montréal)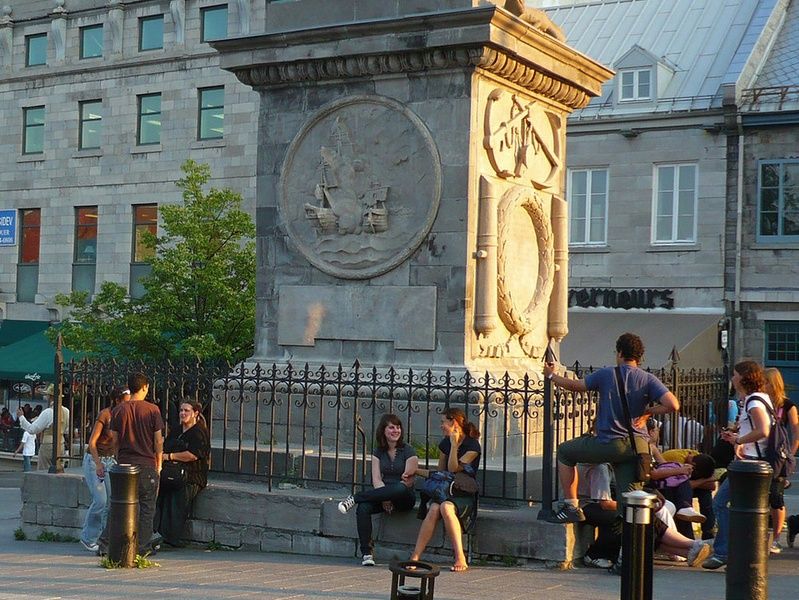 Bask in the historic roots of Montreal by staying in Old Montreal, a neighborhood filled with cobblestone streets and old-school charm you usually only find in Europe. The oldest neighborhood in the city, staying in Old Montreal puts you in the midst of top Montreal attractions like the legendary Clock Tower and awesome churches like Notre Dame Basilica. You can get to most of Montreal's popular sights without ever getting on the metro! Plus, you'll have easy access to the scenic beauty of Old Port.
Pro tip: When you're done swooning over this neighborhood's beauty and indulging in the historical gems, we recommend checking out Bonsecours, Montreal's largest public market.
#2: Downtown (Centre-Ville)
Hustle, bustle, and dazzling skyscrapers more your thing? Then stay in Centre-Ville, or Downtown Montreal. The shopping and entertainment hub of the city, Downtown Montreal is full of metropolitan bliss.
Easily accessed by taking either the green or orange metro lines, Downtown's intense energy comes from its status as the city's financial center. Apart from dodging people sprinting to work, it's great for exploring museums and local art. The Museum of Fine Art and Place des Artes, the largest performing arts center in the city, both call Downtown home.
Pro tip: Staying in Downtown also puts you within walking distance to the Underground City: a huge underground network of shopping centers, restaurants, offices, and metro stops.
#3: Plateau Mont-Royal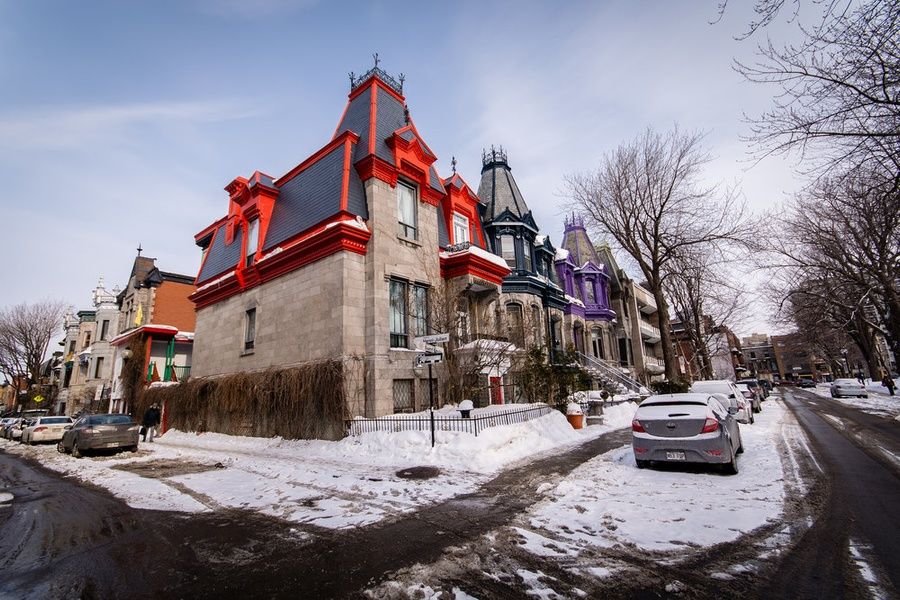 Sometimes just called "Le Plateau", Plateau Mont-Royal is the hipster haven of Montreal. Le Plateau is trendy and creative and is definitely where you should stay in Montreal if you're looking for cool.
Le Plateau is nestled into the slopes of Mount Royal, the iconic mountain Montreal is named for, and if the views from the top don't woo you (definitely hike up Mount Royal, it's worth it!), the rugged charm of the neighborhood's stone duplexes will.
If you love relaxing in hip cafes, meandering around street art, and exploring unique boutiques, then Le Plateau is the neighborhood for you. It's also the best place to try Montreal's famous poutine—word on the street is La Banquise serves a killer version of Canada's favorite dish, but it'll be up to you to see if the hype holds true.
Pro tip: Not convinced by La Banquise? Ask a local for their favorite poutine spots and see how they measure up!
#4: Mile End
Mile End is like the little cousin of Plateau Mont-Royal. Right next door to Le Plateau, Mile End is a stylish neighborhood that takes pride in its multicultural vibes and inclusivity.
If you're a foodie, Mile End is a solid spot to satisfy your tastebuds. Not only is Mile End home to a wide range of restaurants, everything from Portuguese to Japanese, but it's also the center of the greatest bagel feuds in the world. Locals have debated for decades over whether bagels from Fairmont or St. Viateur are best. Staying in Mile End means you'll be able to weigh in on the debate as well!
Pro tip: If you stay in Mile End, be sure to swing through Marche des Possibles, a park run by the community that's always hosting fun music performances and film screenings.
#5: Gay Village (Le Village)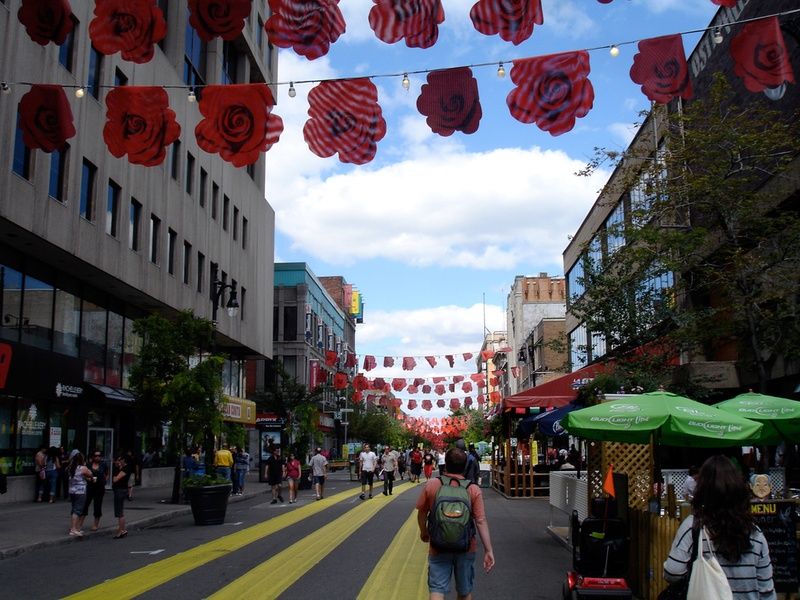 Colorful, creative, and a whole lot of fun, Gay Village (sometimes just called "Le Village") has undergone a vibrant transformation in recent years and is one of the largest LGBTQ neighborhoods in North America. It's the best place to stay if you want to experience the cosmopolitan vibrancy of Montreal first hand.
The party center of Gay Village is Sainte Catherine street, which will be your one-stop-shop for some of the best nightclubs in Montreal like Stereo and Club Unity. If you have time before the party gets started, check out Amherst Street: Montreal's hidden hub for vintage antique stores.
#6: Saint Henri
If you're after something quaint and relaxed, make sure Saint Henri is on your list of places to stay in Montreal. This former blue-collar neighborhood has had a renaissance in recent years and offers a haven from the metropolitan bustle without leaving the city.
It's a low key neighborhood lined with colorful houses interspersed with hip restaurants and cafes. You'll eat and drink well in Saint Henri, and it remains one of the more affordable neighborhoods in Montreal.
Pro tip: The real gem of staying in Saint Henri that it's within walking distance of the Atwater Market, the second-largest farmers market in Montreal. Fresh fruits, easy metro access, and walks along the Lachine Canal—a historic waterway winding through southwest Montreal—all make Saint Henri a great home base.
#7: Villeray
A quieter neighborhood in north-central Montreal, Villeray is trendy and family-friendly. Life in this safe, residential neighborhood slows down considerably, and you'll mostly find locals sipping espresso in cozy cafes, browsing in designer boutiques, and enjoying delicious crepes.
Why not join them for a relaxing stay in Villeray? Enjoy what the neighborhood has to offer, like ice cream at Cafe Vito and great picnic spots in Parc Villeray. But if you want to get to some of the busier areas of Montreal, both the orange and blue lines run through Villeray—the rest of Montreal just a quick ride away.
#8: Rosemont–La Petite-Patrie
Rosemont–La Petite-Patrie is smack dab in the middle of Montreal and has a culture of fun-loving energy mixed with refreshing green spaces like Parc Maisonneuve and the Montreal Botanical Gardens.
Above all else, Rosemont–La Petite-Patrie is a foodie's playground. Staying there means experiencing Montreal with your tastebuds. Between munching empanadas at the Jean-Talon Market—one of the largest farmers markets in North America—and devouring cannolis in Little Italy, you won't run out of delicious eats anytime soon.
You can also feel an air of creative energy in Rosemont–La Petite-Patrie, spearheaded by Cinema Beaubien. Cinéma Beaubien champions local entertainment and regularly screens Canada's best documentaries and indie films.
Pro tip: Have a local suggest the perfect food tour of Rosemont–La Petite-Patrie.
--
Connect with a local to get the in-depth scoop on all the best places to stay in Montreal. They'll design a neighborhood-specific itinerary that includes the coolest places to eat, drink, and visit. Why see Montreal like a tourist when you could see it like a local?