With the jagged Andes mountains cutting through its center and the Amazon Rainforest sprawling throughout its eastern half, it goes without saying that figuring out transportation in Peru can be a bit daunting. But don't worry!
We've got you covered with everything you need to know in order to navigate Peru like a pro, including information about buses, trains, boats, Uber, taxis and more.
For the best transit advice, connect with a Peru local to plan your trip. They'll design an itinerary with plenty of guidance on how to get from Point A to Point B—plus all the hidden gems to see along the way. Learn more.
Buses are Peru's main method of getting between cities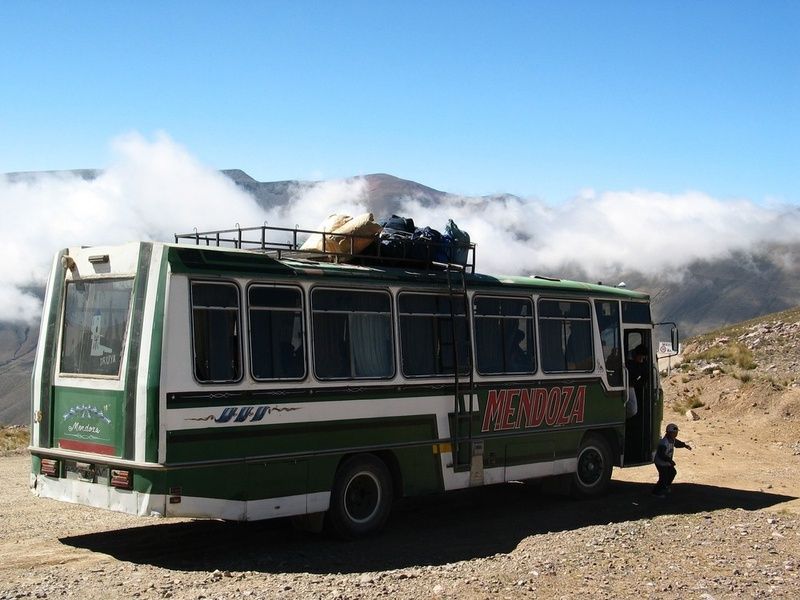 Buses are your bread and butter for getting around Peru. They are the go-to method used by most locals, and they're the most inexpensive option for getting between cities. The tricky part is that buses in Peru are operated by a whole slew of private companies, so there's no one-stop-shop for bus tickets. Which bus you choose with depends on where you're going, how fast you want to get there, and your travel style (i.e., how comfortable you want to be).
All the options for buses can feel overwhelming! For starters, here are a few companies and where they operate:
Pro tip: Again, we know all this info is overwhelming. Your best bet: get advice from a Peruvian trip planner about which companies to take and where. They use these buses every day, so they know what they're talking about.
Pay attention to departure details
Because there are so many different players in the game, Peru's bus system feels like it has a bunch of moving parts. Make sure you pay attention to departure details for each and every bus ticket you book. You'll quickly see there often isn't one central bus terminal in a city (especially in big ones like Lima).
Different bus companies will leave from different points, and the box office will often be in a different location than the departure point. Double-check those departure details on your ticket! (Again, hiring a local can make this process much easier.)
You have to choose between comfort and cheap
The private companies mentioned above are the most comfortable but also the most expensive options for buses in Peru. Less expensive companies are available, but those have to be booked in person from a box office once you're in the country.
The most affordable bus you can take in Peru is the colectivo. Colectivos are essentially small vans that gather at bus stations and then zip off to another town once they're full. You'll definitely need some Spanish to make sure you get on the right one, but they can be a very affordable and adventurous transportation option in Peru.
Buses are generally safe, but watch your stuff
Practically everyone in Peru uses the bus at some point, so they tend to be pretty reliable and safe. Accidents have happened in the past (like just about anywhere else), so it never hurts to do research on a bus company's track record and only travel with companies that have a good reputation and safety record.
Unfortunately, thieves, pickpockets, and robbers like to target crowded buses with plenty of bags lying around. Always keep an eye on your belongings when using buses in Peru (like you would anywhere).
Renting a car is great (if you're not in a city)
If your wallet can handle it, renting a car is a great transportation option in Peru. A few well known rental agencies like Alamo and Hertz operate Peru, making it super easy to grab a car and cruise through serene valleys and majestic mountain roads at your own pace. Renting a car probably isn't worth it if you're just hanging out in major cities the whole time (leave fighting Lima traffic to the locals), but if you really enjoy connecting with a country by seeing its countryside, go for it.
Most of the main roads in Peru are well-paved and great for driving, especially the portion of the Panamerican Highway that runs through Peru. In the end, having a car is ideal for traveling on your own schedule, connecting with locals in the small towns that people usually don't stop in, and easily getting to remote locations.
Some words of wisdom if you're thinking about renting a car in Peru:
Be prepared to drive A LOT. Peru is twice the size of Texas and getting from point A to point B is likely going to be a long haul.
Because everything is pretty spread out, you're probably going to rack up some miles on your rental car, so renting a car in Peru could be a bit more expensive than in other countries.
Road rules are different in Peru: the bigger vehicle has the right of way!
Make sure you're comfortable driving with a stick shift and in the mountains.
A GPS is a lifesaver—you can focus more on the beautiful mountains in front of you, not whether or not your copilot actually knows how to read a map.
Pro tip: Want to know what villages are the hidden gems you absolutely have to stop in? Reach out to a local Peruvian to get the scoop!
There are only a few train lines in Peru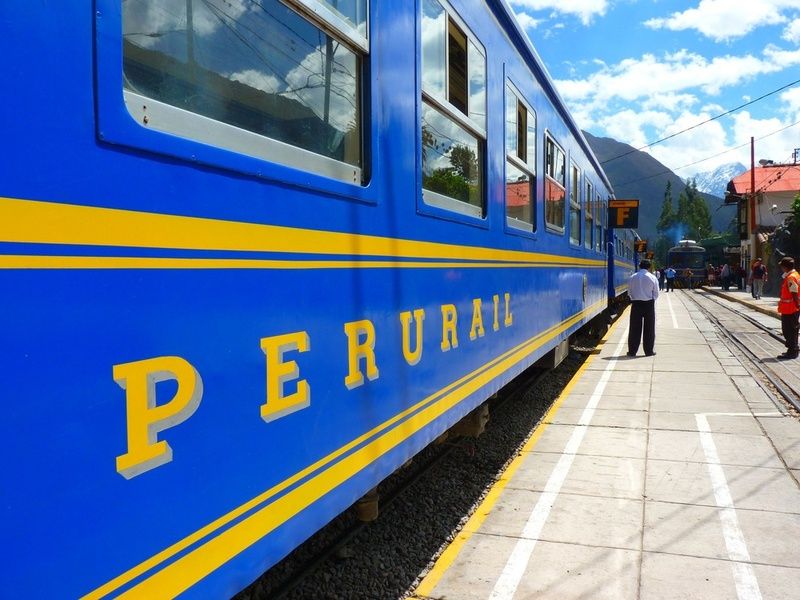 Train travel isn't the most popular option of transportation in Peru. There are only a few train lines people take to get around. The most popular are IncaRail and PeruRail, which people use to get from Cusco (or the nearby town of Ollantaytambo) to Machu Picchu.
In addition to its trips to the famed Incan citadel, PeruRail also operates trips to Puno and Arequipa. There's also Ferrocarril Central Andino, which operates the highest elevated train route in the world and connects Lima to Huancayo—rising to nearly 5,000 feet in the process. Traveling by train in Peru is a bit of a novelty experience and can often be a slow and bumpy ride, but if you want a unique way to experience the beauty of the Andes, it's certainly worth considering.
Domestic flights are becoming more common
Flying domestically in Peru has grown in popularity over the last few years. Airlines like LATAM Peru, Star Peru, and Peruvian Airlines are among some of the most popular companies on the scene. These airlines are great for traveling between Lima, Cusco, and Arequipa, as well as servicing more isolated places like Iquitos and Pucallpa.
There are other smaller carriers as well, but they're often unreliable and can go out of business as fast as they appear. Domestic flights are generally far more expensive than traveling by land (Lima to Cusco will set you back $127 by air but only $50 by bus) but can be worth it if you're looking for something speedy and super convenient.
Watch flight details carefully
Airport flow can work a bit differently in Peru than it does in the US, so it's important to keep an eye on your flight details at all times. Even after arriving at the airport and getting through security (which we recommend giving yourself plenty of time to do so) keep watching the screens. It's not unheard of for Peruvian companies to change departure times to earlier to beat a storm.
Also, if you end up going with a smaller domestic company, do some research. Many companies with bad reputations or even histories of accidents and crashes will simply change their name to keep operating. It goes without saying—we'd definitely steer clear of these.
You'll probably need to take a boat at some point
With the Pacific Ocean on the west coast and the awesome maze of the Amazon River and its tributaries to the east, odds are you're getting in the water at some point in Peru. Which is great! Because traveling by boat is as adventurous as it gets when it comes to transportation in Peru.
Passenger boats, called lanchas, are commonly taken out of the port towns Yurimaguas and Pucallpa to places further inland, like Iquitos. These journeys can take anywhere from 2-4 days and are great if you're not on a time crunch and want to relish in a lazy jungle cruise while watching the beautiful jungle float by for a few days. Just be prepared to sleep in a hammock and bring plenty of bug spray!
Pro tip: You can also use boats to get around some of Peru's large lakes like Lake Titicaca.
Avoid taking the boat between Bolivia and Peru
Boats are fantastic. However, avoid using a boat to hop the border to Bolivia.
For starters, there's no official ferry between the two countries, which means you'd have to opt for either a very expensive private boat or something more sketchy. It's far easier to just take a local bus from Puno for $4 and ride in that way. You'll have to go through immigration at the border town of Desaguadero whether you opt for bus or boat, and the process is overall easier when you come in by bus.
Taxis and
combis
are best for within cities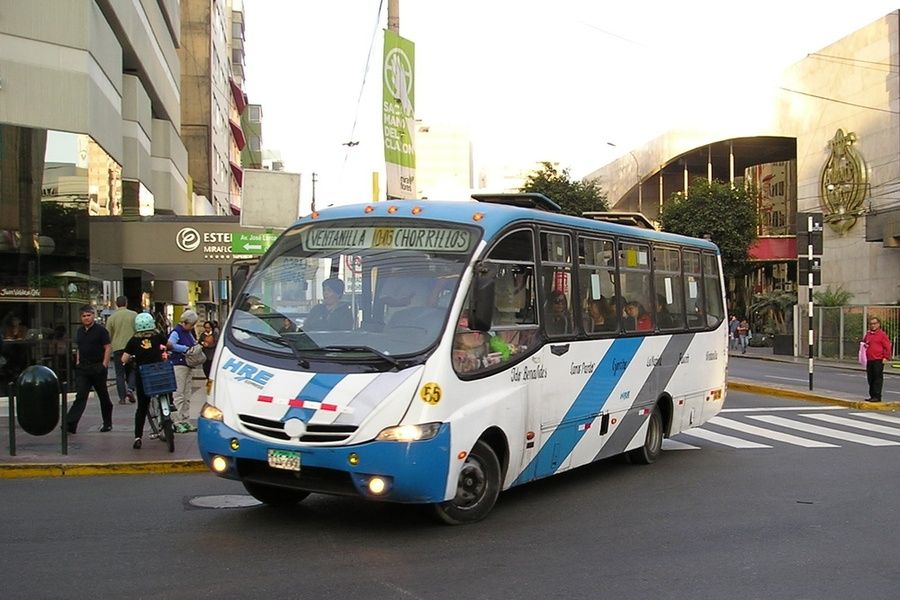 The two main options for getting around within cities are taxis and a local form of transportation in Peru called a combi. Combis are micro-buses, usually covered in stickers and packed tight with passengers, that zoom around town to between specific destinations. They're inexpensive, crowded, but widely used and reliable—just hold on tight, they tend to be a wild ride.
You can flag down a combi from anywhere and disembark whenever you want on the route as well. Just look for the destination written on the windshield or listen for the attendant shouting it from the doorway. You pay once you get on the combi—just make sure you tell the driver or attendant where you're headed and they'll make sure you get off at the right spot.
Pro tip: Want to give combis a try? Connect with a Peru local—the ultimate combi coach! They'll prep you to know exactly what combi to catch and where to get off.
Private taxis are the safest and most reliable options
Taxis in Peru can be a bit dodgy. Public taxis aren't regulated, don't use a meter, and often aim to rip off travelers. Private taxis are way safer and far less hassle. You can call private companies, like Taxi Seguro in Lima, and arrange a pickup time and location. They're reliable and usually only a few dollars more expensive than a public taxi.
If you do end up going for a public taxi, make sure it has a taxi sticker on it, flag down cars that seem to be in good condition, and always agree on the price and destination before you get in. Most short trips within the city should cost around $5.
Uber (and other similar apps) work in Peru
If you're in Lima, you can also use Uber and other ride-hailing apps like Cabify or Easy Taxi. These services really only operate consistently in Lima but are generally reliable, quick, and super clutch to avoid getting ripped off.
In general, Uber is the easiest to use, while Easy Taxi tends to have more drivers—however, you can only pay in cash (local currency only!).
Lima is the only city with a "subway" system
Lima is the only city with the luxury of a subway metro system. It's a bit limited, but there's a single train line, called Linea 1, running from 6AM-11PM seven days a week connecting Villa El Salvador in the south of the city to San Juan de Lurigancho in the north. Tickets are bought at the individual metro stations for just under $2 per ticket, and you can check timetables and stations online.
Getting from the airport is pretty simple
Odds are, you'll probably fly into either Lima or Cusco during your sojourn in Peru. It's easy to navigate from both airports into the city.
Lima, Jorge Chavez National Airport (LIM)
The best way to get into the city from the Lima airport is the Airport Express. A one-way ticket costs $8, there's room for baggage, and it typically takes 40 minutes to an hour to get to the popular neighborhood Miraflores.
Apart from the express bus, there are reliable registered taxis through Taxi Green and Taxi Directo at the airport that will cost around $15–$20. You'll also see rickety combis that cost less than $1 (2.5 sols) but have zero room for luggage and would require multiple transfers to get to a place like Miraflores.
Cusco, Alejandro Velasco Astete International Airport (CUZ)
Getting to and from the Cusco airport is a bit trickier than Lima. There isn't a bus service directly to and from the airport, meaning your best option is a taxi. Combis are available, but as we said, they're often crowded, don't have luggage racks, and can be super chaotic to navigate if you're not used to them yet.
Llama Taxis is a popular company operating out of the airport and can get you to the city center in 20 minutes for $15. If you want to try the public taxis that congregate outside the airport that's an option too. They're cheaper ($4–$10) but you'll have to haggle for a good price.
Pro tip: Arranging transportation in Peru fresh off the plane can be stressful. Reach out to a local Peruvian trip planner for unbeatable advice.
--
Ready to zip off to Peru? Before you book tickets reach out to a local Peruvian trip planner. Not only will they help you navigate Peru, but they'll design an entire itinerary full of the country's best spots. Why see Peru like a tourist when you could see it like a local?