In the Philippines, island life is the only life—but here, island life is more than just white-sand beaches (though there are a lot of them). In the Philippines, island life means bustling cities; it means mountain jungles; it means a rich culture unlike any other. Before you begin your adventure to this unique country, here are the answers to all your frequently asked questions about traveling to the Philippines, from whether it's safe to whether you can use Uber and what you should pack.
Note: Travelers must complete a Health Pass on a Philippine government website, or they can opt for an expediting service like iVisa, which streamlines and simplifies the process for a small fee.
A perfect trip to the Philippines can feel as spectacular as a standing ovation at karaoke night (a must-do activity by the way). But both require careful preparation; that's why you should have a Filipino local plan you a unique and immersive trip.
Q: What is the Philippines known for?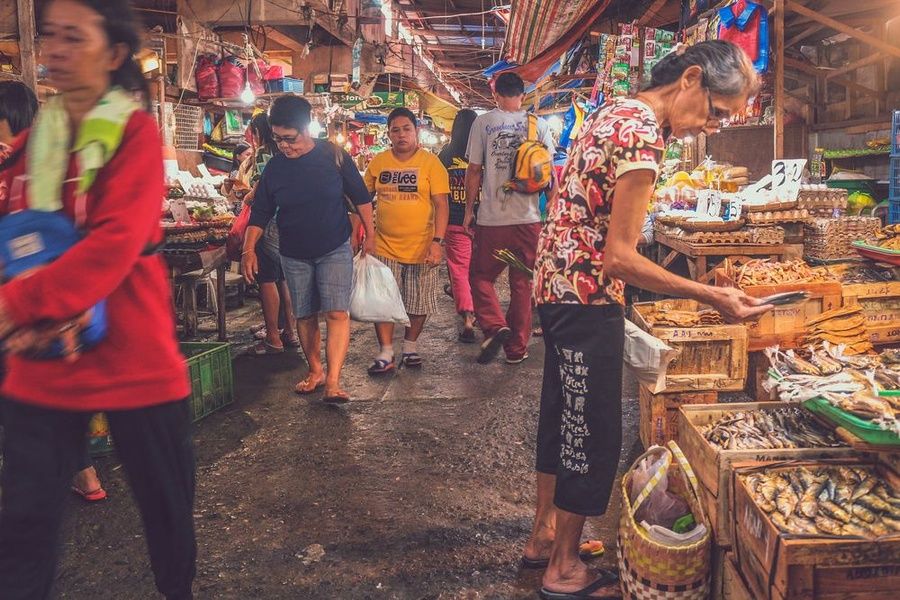 A: The Philippines is a cultural melting pot in a stunning geographical setting. As the second-largest archipelago in the world, it stretches across more than 7,000 islands.
Over the years, the Philippines has come under Spanish and US rule, but has always maintained a close cultural relationship with its Asian neighbors—especially China. The result of this multicultural history? An amazing melting pot of cultures, languages, and cuisines. Though Filipino and English are the official languages, 175 indigenous languages are spoken in the country. Its cuisine is a delectable hodgepodge unlike any other in the world. And the Philippines is often referred to as the Capital of the World's Festivities for its calendar full of festivals.
However, like many countries created by colonial rule, the Philippines has a long and unfortunate history of political strife. Today, the country is led by President Rodrigo Duterte whose violent crackdown on illegal drugs is under global scrutiny.
Q: Where is the Philippines?
A: The Philippines is situated to the southeast of China, east of Vietnam, and north of Indonesia. As an island nation, it only enjoys maritime borders with its neighboring countries (China, Japan, Vietnam, Malaysia, Taiwan, Indonesia, and Palau).
Q: When should I visit the Philippines?
A: December through February is the ideal time of year to visit the Philippines. These months fall within the country's dry season and are some of the coolest, with average temperatures in the mid-70s.
March, April, and May are also great months to visit—though expect steamier weather. The average temperature in May is around 83 degrees with the humidity reaching its highest levels. Escape the heat by heading to the mountains—there are several mountain ranges, especially on the island of Luzon where Manila, the country's capital, is located. Higher elevations provide cooler temperatures year-round.
The Philippines' rainy season spans from June to November, and typhoons are particularly likely from July to September.
Pro tip: All weather is not created equally in the Philippines; in fact, the country has four different climate zones. If your only time off is in November, that definitely doesn't mean the Philippines is a no-go. A Filipino local can tell you where to go at what times of year to have the best experience.
Q: How many people live in the Philippines?
More than 105 million people live in the Philippines, making it one of the most populous countries in the world (currently ranked no. 13). However, the country's combined land-mass is only a bit bigger than the state of Arizona.
Metro Manila is the most densely populated city in the world; there are more than 46,000 people per square mile. That's at least twice as crowded as New York City.
Q: Do I need a visa to travel to the Philippines?
A: No, US citizens don't need a visa to visit the Philippines unless they plan on staying for more than 30 days. You'll need a valid passport and a return airline ticket to enter the country. If you're traveling to the Philippines from another country, check the embassy's site to see whether or not you'll need a visa.
Q: What vaccinations do I need before going to the Philippines?
A: None. You don't need any special vaccinations to visit the Philippines, but checking that you are up-to-date on all routine vaccinations is a good idea before you go. The Center for Disease Control and Prevention specifically advises ensuring you are current on your measles vaccination.
Q: Is the Philippines safe?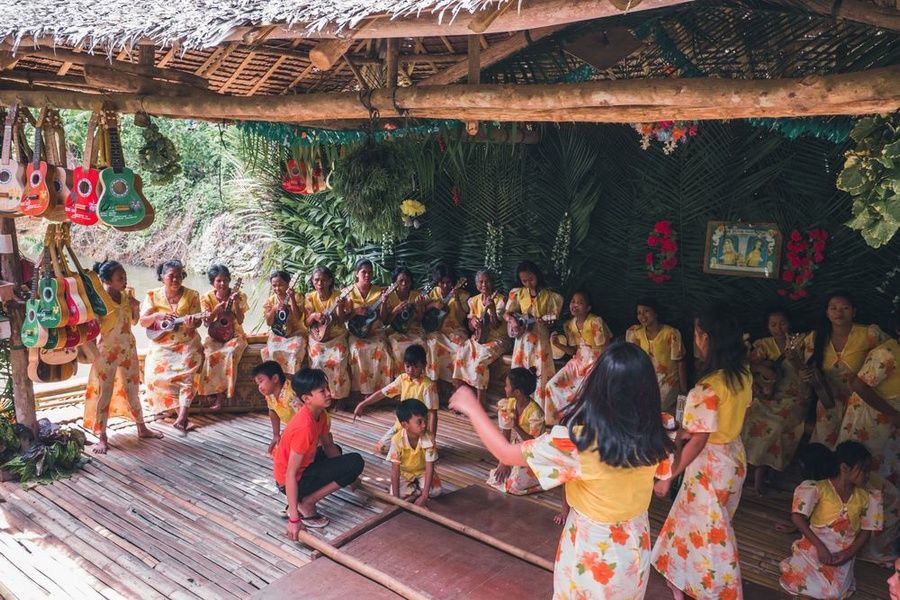 Most of the Philippines is safe, but the country's southern region should be avoided. The US Department of State advises citizens not to travel to the Sulu Archipelago. Travelers should also remain vigilant in Metro Manila and Quezon City where foreigners can be targeted as victims of robbery. Avoid traveling after dark or stick to well-lit streets; leave valuables at home, and keep a low profile.
Pro tip: One of the best ways to protect yourself while traveling to the Philippines is to secure a local resource who'll be available for questions throughout your trip. Your Filipino contact can tell you where to go and where not to go, providing safety advice before and during your trip.
Q: What are the most popular areas to visit in the Philippines?
A: The Philippines is separated into three main island groups: Luzon, Visayas, and Mindanao.
Luzon is the largest island group and home to Metro Manila, the country's capital, and Quezon City, the country's second-largest city. Its northern end is marked by several lush mountain ranges where you'll find striking terraced rice paddies. And for beach lovers, the island of Palawan is often voted one of the best in the world for its white sand, lagoons, and superb scuba diving. Additionally, Palawan's capital city Puerto Princesa boasts the second-longest underground river.
Situated in the central Philippines, Visayas is home to Cebu City. As the first Spanish settlement, this modern city attracts visitors for its vestiges of colonial architecture. Travelers also head to the island of Bohol to see the Chocolate Hills; these grassy knolls turn brown during the dry season, making them look like a giant Hershey's kisses on the ground. Visitors also flock to the picture-perfect paradise of Boracay for the island's lively party scene.
Mindanao is situated in the southern Philippines; currently, the US State Department does not recommend travel to this region due to civil unrest.
Pro tip: Which islands you visit will depend on your interests, travel style, and budget. For personalized advice, ask a Filipino local who knows the ins and outs of travel in the Philippines.
Q: Can you drink the tap water in the Philippines?
A: The Center for Disease Control and Prevention does not recommend drinking tap water in the Philippines. Stick to bottled water and make sure your ice and cocktails are made with clean water too.
Q: What do they eat in the Philippines?
A: Filipino cuisine is a delicious combination of cultures from around the globe, including Malaysian, Indonesia, Spanish, Chinese, and American. The most famous dish is adobo, stewed meat (like chicken or pork) in a salty, peppery, vinegary, and garlicky sauce. Yum!
Also, get your belly ready for lechon, a whole spit-roasted pig, kare-kare, an oxtail stew with a peanut sauce, and lumpia, the Filipino version of a spring roll. Wash it all down with fresh coconut juice.
Pro tip: Filipino food isn't as wide-spread as Thai or Chinese cuisine, so many dishes might be unfamiliar to you. There's no better way to satisfy your curiosity than to get restaurant tips from a local foodie.
Q: Is it easy to travel to the Philippines on a budget?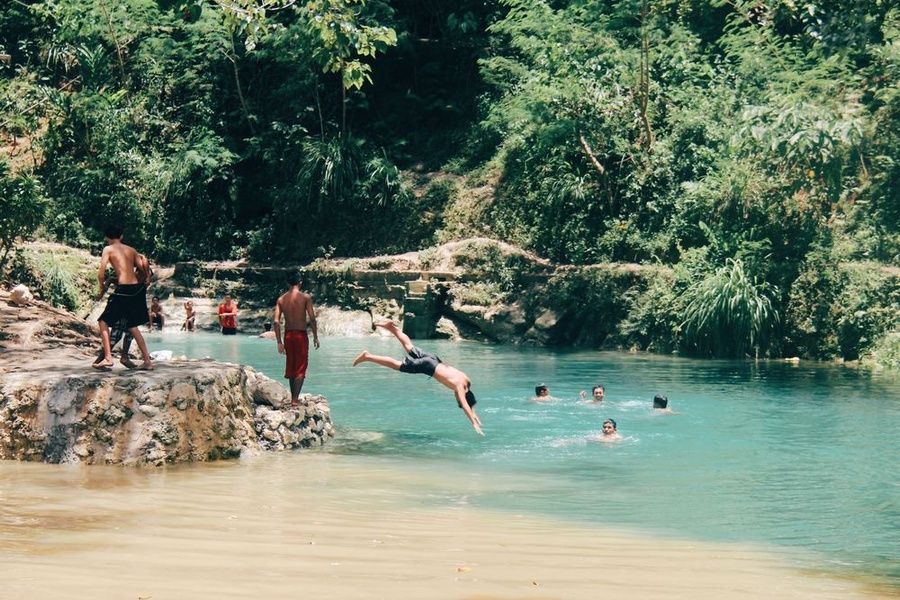 A: Yes. Budget-conscious travelers often choose the Philippines over nearby destinations, like Thailand, because of its cost-effective accommodations (and equally stunning beaches). The exchange rate between US dollars and Philippine pesos is favorable—$1 USD is roughly P50.
A mid-range hotel can be booked for as little as $35 per night, while a more high-end option might only set you back $100 per night. Additionally, if you're planning on island-hopping, domestic airfare is very affordable, with one-way tickets priced as low as $40.
Q: Do people speak English in the Philippines?
A: Yes, English is one of two official languages in the Philippines. Filipino is the other. You'll find English speakers wherever you go.
Q: What's the best way to get around the Philippines?
A: Taxis are a reliable and inexpensive way to get around the Philippines. Rides can be hailed from the street; also, be on the look-out for queues at airports. Your hotel can secure a ride from a reputable company for you as well. No matter how you get one, make sure your taxi driver turns the meter on at the start of your trip.
You'll also see colorful "jeepneys" on the road. These makeshift rides are fashioned from old jeeps left behind by the US military. Passengers hop on and tell the driver where they need to go. The jeepneys do not follow a set schedule or route, so don't go with this mode of transportation if you have a strict timeline.
And for your island-hopping needs, opt for air travel over ferry boats whenever possible. There are several domestic airlines in the Philippines providing quick, cheap flights. For more ways to get around the Philippines, read our Philippines transportation guide.
Pro tip: Jeepneys ooze local flavor but can also be hotbeds for petty theft. If you want to experience a jeepney, ask your Filipino contact for the safest way to enjoy the ride.
Q: Is Uber available in the Philippines?
A: No, Uber no longer operates in the Philippines as it was bought out by the ride-sharing network Grab in 2018. Different app, same services—Grab is the Uber of Southeast Asia and is a safe, reliable way to get where you need to go. It's currently available in Metro Manila, Cebu City, Davao City, Iloilo City, Bacolod City, and Baguio City.
Q: Which electrical plugs are used in the Philippines?
A: The Philippines uses plug types A (two flat parallel prongs), B (two flat parallel prongs and one round), and C (two round parallel prongs). The US uses types A and B, so packing an adapter in case you come across a C socket is wise.
Additionally, sockets in the Philippines provide a voltage of 220V with a standard frequency of 60hz. If you're traveling from Europe, Australia, or Asia, you're good to go. However, the standard voltage in the US is 120V. Check the input range on your devices to see if they can handle 220V (many mobile-phone chargers can). Otherwise, plan on packing a voltage converter.
Q: Do I have to tip in the Philippines?
A: Leaving a tip in the Philippines is not expected, but it is a well-appreciated gesture for a job well done. Restaurants will often add a 10% service fee, so only leave an additional tip for exceptional service.
For other services, like taxis, spas, or bellhops, tipping between P20 or P50 is a great rule-of-thumb. (For reference, P50 is approximately $1 USD.) For bar tabs, rounding up is an adequate way to show your gratitude.
Q: Anything else I should know?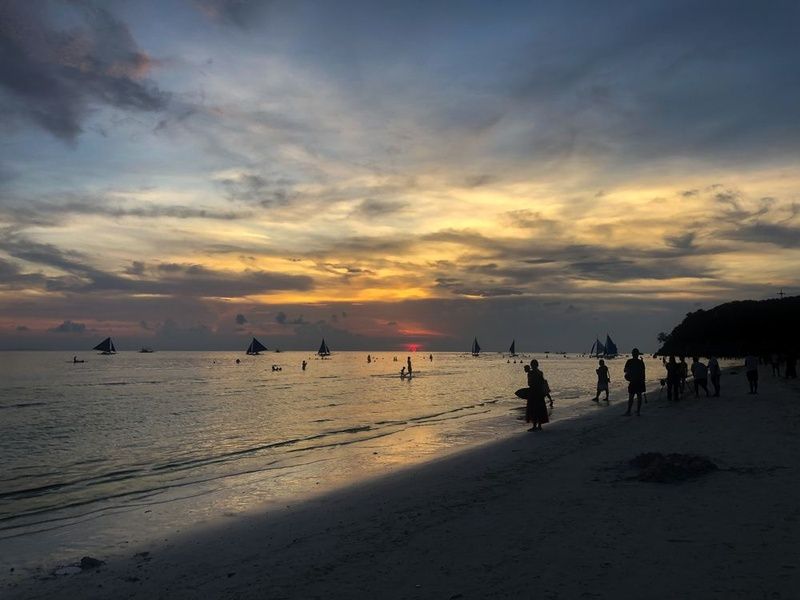 A: Here are some quick do's and don'ts when traveling to the Philippines.
DON'T arrive at social functions on time—showing up 15 minutes late in the Philippines is not only fashionable, but it's also considered polite.

DO secure an international phone plan before your trip. The Philippines is known as the "texting capital of the world"; so get your fingers ready for some rapid-fire messaging.

DON'T take yourself too seriously. Filipinos are known for their humor, so come ready to laugh.

DO pick a go-to song ahead of your trip; karaoke is a national pastime in the Philippines.
--
For answers to ALL your Philippines questions, connect with a local to plan your trip. They'll create an authentic, immersive itinerary that will help you see a unique side of the Philippines—whether you're hoping to wander white-sand beaches, enjoy the cuisine, or spend wild nights out. Why see the Philippines like a tourist when you could see it like a local? Learn more.