With over 7,000 islands to choose from, deciding where to go in the Philippines can be overwhelming. Don't worry—we've got you covered with 15 of the most incredible places to visit on your Philippine sojourn, divided by the country's three main regions: Luzon, Visayas, and Mindanao.
Go beyond the guidebook and connect with a local to plan your trip. They'll help you navigate the islands like a pro. Basically, it's like having a best friend in the Philippines. Learn more.
Luzon
Located in the northernmost end of the country, Luzon is the most populated group of islands in the Philippines and home to many of its most populous cities and attractions.
#1: Manila
Take a day or two to explore Manila, the Philippines' bustling metropolitan capital. Manila is the densest city in the world and the two million people living there create an exciting, non-stop energy. You'll find no shortage of things to do, like trying the best seafood of your life at the Pasay Seafood Market or strolling down the palm tree-lined Manila Baywalk (a two-kilometer promenade packed with cafes and jaw-dropping views of the sunset).
Definitely swing through the neighborhood of Makati, it's a great place to explore and people watch via the Salcedo Market. And don't leave without visiting the National Museum—the museum hosts some amazing exhibitions on Filipino art, archaeology, and natural history that will really help set the stage for your experience in the Philippines.
Pro tip: Manila is big—and full of hidden gems! Definitely connect with a local to get a unique look at this exhilarating city.
#2: Vigan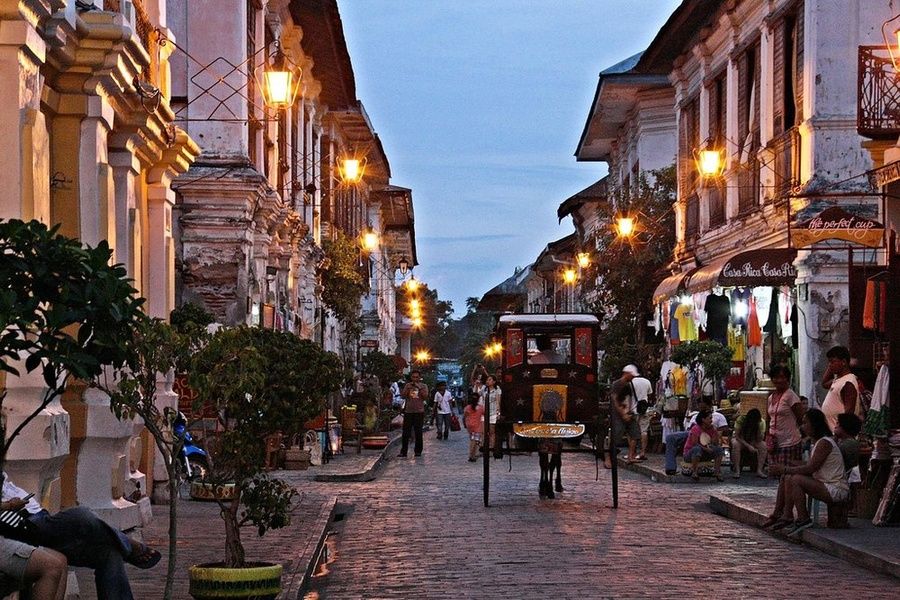 The Spanish came and went, but their influence on Vigan's architecture remained—as you wander Vigan's streets, you'll definitely notice the European influence. On the west coast of Luzon (about 6 hours north of Manila), Vigan offers tons of great historical attractions—and it's also an ideal starting point for cruises down the Mestizo River.
With tons of unique fusion between Filipino and Spanish food, Vigan is also a foodie's paradise. If there's one thing you need to try, it's Vigan Longganisa, a type of chorizo that's the star of the local cuisine. Wander down the cobblestone main street, Calle Crisologo, where you'll find great restaurants, tons of ice cream trucks, and even horse-drawn carriages.
Pro tip: There are tons of great local eateries in Vigan, so ask your local for recs about their favorites.
#3: Adams
Adams, nestled in the jungle-covered mountains at the northern tip of the Philippines, is packed with adventure potential. You'll find wildlife, wooden bridges, and twisty dirt trails that you can only navigate on foot. (This gorgeous village is remote—so definitely connect with a local for advice on how to enjoy Adams, from where to stay to what to eat to what to explore!)
One of the main draws of the village is its waterfalls, eighteen of which are scattered throughout the nearby jungle. Anuplig and Kanayupin Falls are among the most popular, but we also love the hike the Lovers' Peak, which offers a gorgeous sunset view.
Pro tip: Adams is awesome—but it takes some advance planning to get there. The trip involves a chain of buses and motorcycles from nearby villages. To avoid travel stress, get some local advice on how to navigate it.
#4: Mount Mayon in Legazpi
Mount Mayon in southern Luzon is an adventure hotspot in the Philippines—literally. Mayon is an active volcano! It's so active that visitors aren't allowed to hike to the summit—however, you can still camp and hike pretty far up. If you prefer to keep your distance, you can still admire the majesty of Mount Mayon from Legazpi. It's a quaint coastal town that offers diverse activities: admire local art at the Albay Capitol Atrium Art Gallery or rent an ATV and tear off into the surrounding countryside!
#5: Batad Rice Terraces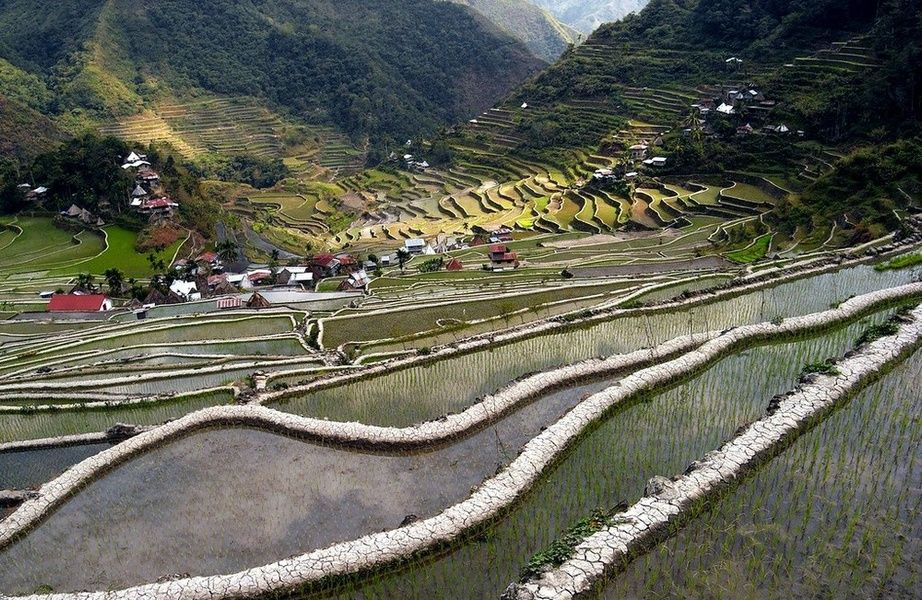 You'll recognize this spectacle in the Ifugao Province from those gorgeous Windows 95 screensavers from back in the day. (Are we dating ourselves? Oh dear). Here, the countryside is transformed into an amphitheater of rice fields known as The Batad Rice Terraces—and they will take your breath away. Not only are the formation of the rice fields incredible in themselves, but they offer a great hike that gives a close look into how the rice is harvested, dried, and processed.
If your legs are still feeling good after the hike in, you can also explore the area a bit more and try to track down the 230-foot high Tappiya Falls. Since you can't reach the terraces by car, they are a great option for getting off the beaten path. From the nearby town of Banaue, it's a 45-minute hike into the village of Batad and its stunning views of the terraces.
Visayas
From Luzon we jump to Visayas, the smaller central region of the Philippines known for its beautiful mosaic of beaches, exotic wildlife, and vibrant indigenous culture.
#6: Cebu City
Cebu City has it all: amazing nightlife, fascinating history, and easy accessibility to some of the Philippines' most gorgeous beaches. Explore the city during the day—we recommend checking out sites like the impressive 18th-century Fort San Pedro—and enjoy Cebu City's electric nightlife once the sun goes down. Mango Square and IT Park are hotspots for great nights out.
Cebu City is also a great launching point to the rest of the island! From there, it's easy to jump in the water and enjoy activities like scuba diving and swimming with whale sharks (don't worry, they don't eat people).
Pro tip: If you're in Cebu City, hop over to Mactan Island: the stunning azure waters make you feel like you've landed in paradise.
#7: Tagbilaran City
Tagbilaran, the capital city of Bohol Island, is beautiful and laid-back—the perfect place to relax at cafes, enjoy incredible views, and explore the nearby national parks. However, Tagbilaran isn't always so chill! In July, the city transforms into an enormous party for the Sandugo Festival. It's a pretty incredible experience. The festival, which celebrates the infamous, 16th-century blood pact between the Spanish explorer Miguel Lopez and Lord Sikatuna of Bohol, features street dancing, beauty contests, parades, and more!
Pro tip: Pretty awesome, right? If you can tear yourself away from the party, check out the town's blood pact monument.
#8: Boracay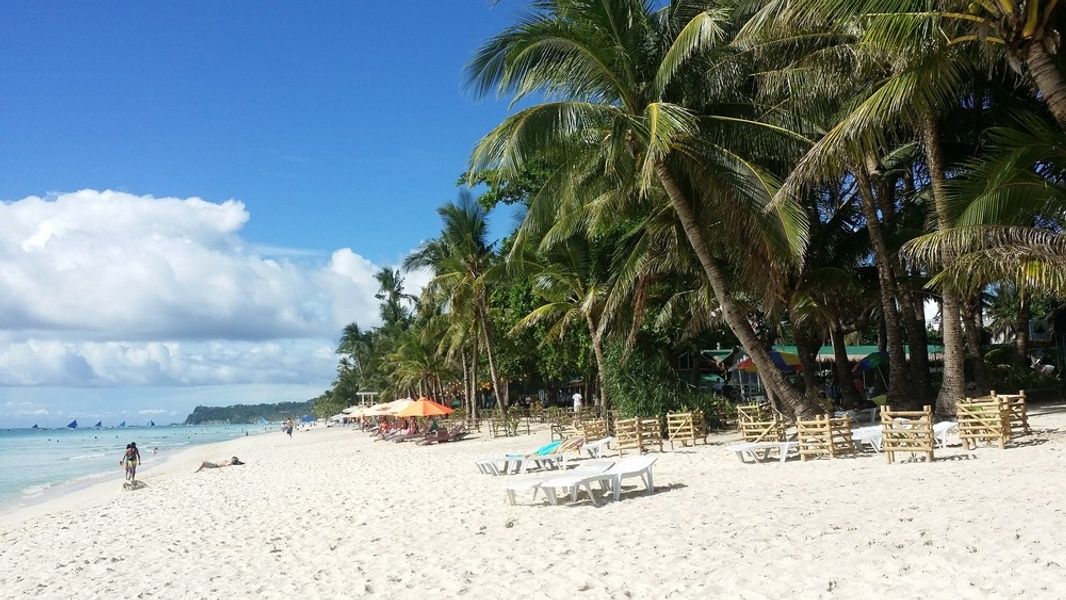 Boracay, a small island in the central Philippines, is home to some of the most famous beaches in the Philippines: White Beach on its west coast, and Bulabog on its east coast. White Beach awes with palm trees and crystal-blue waters, whereas Bualabog is all about those waves, man.
If you ever need a break from beach life—hey, no judgment, it happens!—learn how to cook like a Filipino by signing up for a cooking class, eat lots of "lechon" (roasted pork), and make your Instagram followers green with envy with all your panoramic posts.
#9: Cambugahay Falls in Siquijor
A trip to Cambugahay Falls is like an afternoon at the swimming pool—a pretty spectacular one. Cambugahay Falls is a natural waterfall-fed pool located on Siquijor Island just outside the town of Lazi. The trip to the falls is super easy—just a short drive from Lazi and a 15-20 minute walk from the parking area—but once you reach them you won't want to leave. Ever. The Falls are relaxing, beautiful, and provide hours of fun cliff-jumping and exploring the multiple tiers of warm-water pools.
Pro tip: There aren't any restaurants at Cambugahay Falls. Talk to your local about where you can grab dinner after a day of adventure!
#10: The Chocolate Hills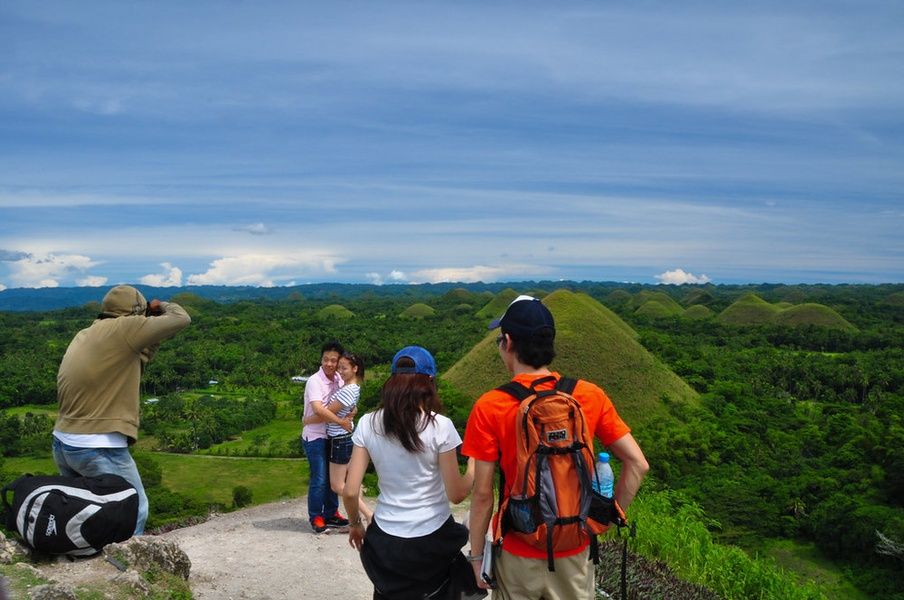 The Chocolate Hills aren't edible, but they are a feast for the eyes. The 1,200+ hills in the Bohol form wave after wave of gorgeous, chocolatey brown landscape—at least during the dry season, when the hills take on their famous hue. You can't climb the hills—they're a protected UNESCO site—so admire them from afar. Then, get to the next stop on your itinerary! The gorgeous Panglao Island and the enchanting Hinagdanan Cave are just about an hour away.
Pro tip: The best way to get to the Chocolate Hills is by taking a ferry from Cebu City to Tagbilaran City then hitching a ride via bus or renting a car from there.
Mindanao
Mindanao is the southernmost group of islands in the Philippines and is known for its incredible biodiversity and rich variety of natural landscapes.
#11: Davao City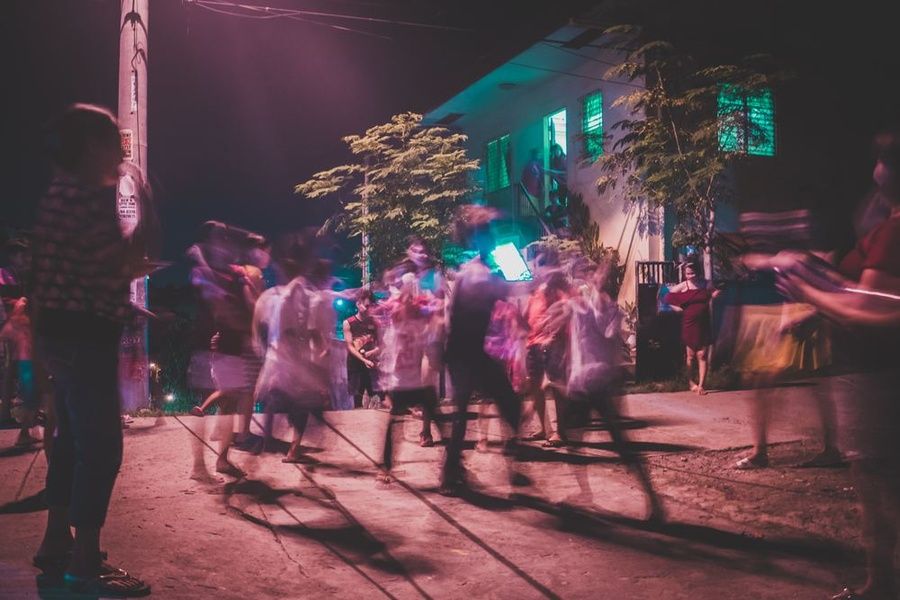 Davao City is one of the Philippines' most populated cities, and it has something for everyone. Spend your days exploring the city's great cultural sites, like the *always free* Museo Dabawenyo and the People's Park, which is full of indigenous-inspired art. The nightlife is wild—get some local advice on which of the many bars and nightclubs to check out—and the city also provides easy access to Mount Apo, the Philippines' highest peak. Awesome culture, amazing nightlife, and a mountain to climb?? We're sold.
Pro tip: Davao City is the place to try Durian, a smelly but delicious fruit that grows in abundance around the city.
#12: Siargao Island
Secluded and pristine, Siargao Island is so spectacular it was once voted the best island in the world. Surf, explore cave pools, or just soak in the vibes on the pier—whatever you do, set your mind to island time and forget about the rest of the world for a while. That's the beauty of Siargao.
Pro tip: The island is easily accessible by boat or plane!
#13: Iligan City
Whatever that song meant by "don't go chasing waterfalls", forget it when you go to Iligan City. This place is all about chasing waterfalls. In fact, Iligan, in northern Mindanao, is called the "City of Majestic Waterfalls." We're sure you've guessed why: It's surrounded by 23 different waterfalls to explore! The most well-known is Maria Cristina Falls, but all are awesome destinations for hiking or swimming. After exploring the falls, rocket through the forest canopy on a zip line or explore the local Botanical and Zoological gardens.
Pro tip: Visiting Iligan on limited time? Reach out to a local about which waterfalls they love to visit.
#14: Hinatuan River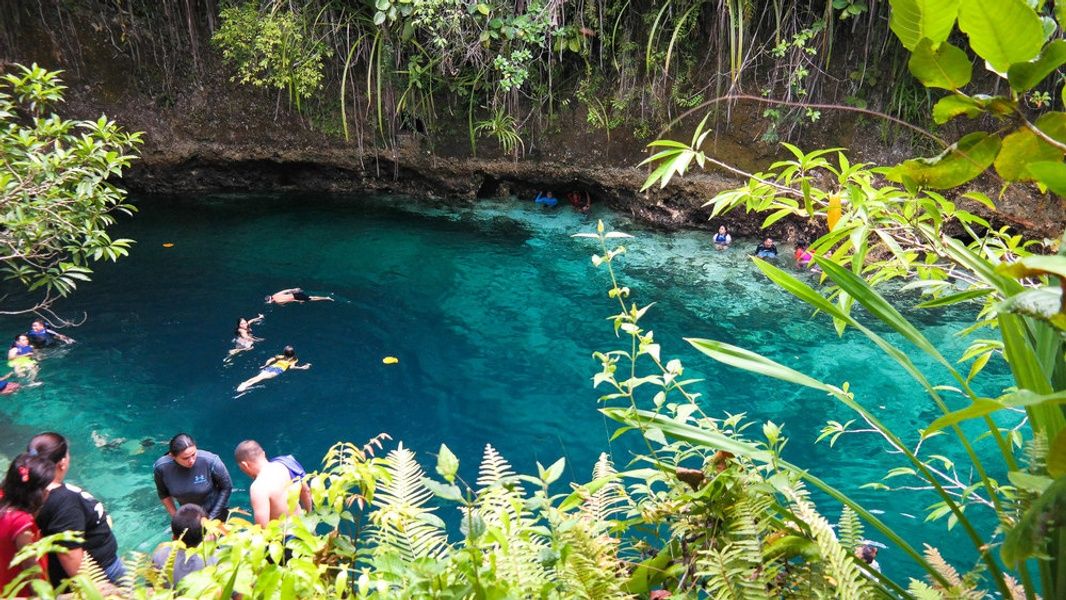 The Hinatuan River is actually commonly called the Hinatuan Enchanted River. It won't take long to understand why—the 80-foot deep, saltwater river enchants all who set eyes on it. Visit in the afternoon to watch the river's caretaker call the fish to feed by playing the "Hymn of Hinatuan."
#15: Cagayan de Oro
Cagayan de Oro spreads out along the coastline, creating a compelling fusion of city and coastal life. It's a must-stop if you're traveling through northern Mindanao. The city is really beautiful, and it makes a great home base to nearby adventures like white water rafting and exploring Mapawa Nature Park.
Pro tip: If you love Lord of the Rings, a trip to Mt. Kitanglad Agro-Eco Farm is definitely worth it. Escape from the city bustle and see some Filipino-style Hobbit holes.
--
No matter which places you visit in the Philippines, get the most out of your trip by connecting with a local. They'll design an itinerary based on your travel style and interests—whether you want to get off the beaten path or spend your vacation exploring a dynamic city like Manila. No matter what, they'll help *you* see *their* country like a local, not a tourist. Why see it any other way? Learn more.