The Philippines is an unbelievable country that's full of things to do. But with so many activities—island-hopping to tropical beaches, swimming the coral reefs, climbing incredible mountains, exploring ancient sites—you'll have a hard time picking what to add to your itinerary. Don't worry—we've got you covered. This is our guide to the 12 most incredible things to do in the Philippines.
These 12 things are just the start of your Philippine adventure. For hundreds more, have a Filipino local plan your trip. They'll build a unique itinerary based on your interests, budget, and travel style—which means you'll see the Philippines like a local, not like a tourist. Learn more.
#1: Discover the magnificent city of Manila
You'll find a lot to discover in Manila, the Philippines' dynamic capital city. Yes, sometimes Manila gets a bad rap, but its booming economy and the new wave of hip restaurants, vibrant nightlife, and world-class museums have made it one of Southeast Asia's most exciting capitals. Explore the city's huge malls, search for local crafts, taste tons of Filipino cuisine, and check out all the historic heritage sites that give Manila such fantastic depth.
Pro tip: Manila is BIG. So, ask a local about the best places to go in Manila—they'll give better advice than, er, random articles you find on the Internet.
#2: Sun yourself on the world's most beautiful beaches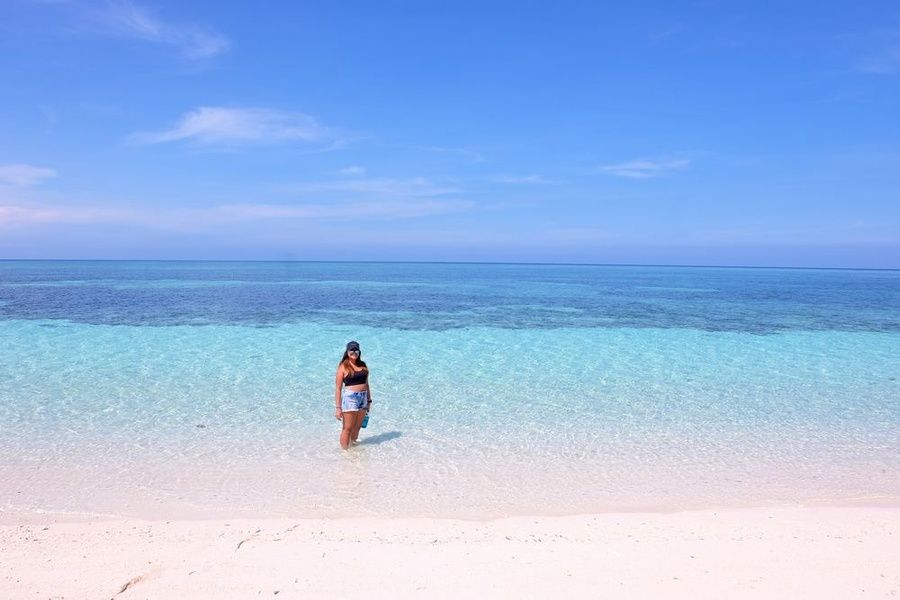 The Philippines is one of the prime beach destinations in the world. After all, the country is made up of 7,000 islands! That's a lot of sand and surf. Plant your umbrella at one of these three awesome beaches, and enjoy all that the seashore has to offer.
Nacpan Beach, Palawan
Many consider Palawan one of the best islands in the world to visit. Why? It's home to the breathtaking Nacpan Beach. Since Nacpan is hard to reach, it's almost never overcrowded, which leaves plenty of space to enjoy its gorgeous white sand and calm waters. After an afternoon in the sun, explore the thriving groups of small shops and eateries (without the throngs you might find elsewhere!).
Pro tip: Have a local trip planner set up a tour of the beaches around the Bacuit archipelago—it's truly magical.
White Beach, Boracay
Ok, you get three guesses for how White Beach got its name...Yup! This 2.5 mile-long stretch of beach on Boracay island is famous for its *white sand* (and it's turquoise blue waters). White Beach's natural beauty makes it super popular with beachgoers. Once they're able to tear themselves away from the gorgeous view, people adore swimming and snorkeling—and the risk-takers especially love cliff-jumping at Ariel's Point.
Alona Beach, Bohol
Alona Beach is the prime spot to hit while on Panglao Island. It's Bohol's top beach destination for its white sand beach, blue waters, and world-class diving. The rocky cliffs on both ends of the beach make this secluded spot a great place to relax or to dive straight into the water.
#3: Savor the Chocolate Hills of Bohol
If you didn't know better, you would think that you were walking amongst a field of giant chocolate kisses. But the Chocolate Hills of Bohol are not edible! They're actually 1,268 cone-shaped hills that are spread over more than 20 square miles, varying in size from 100 to 400 feet, which makes up for a pretty *delicious* panorama.
The best way to see the Chocolate Hills is by heading to Sagbayan Peak, a mountaintop resort and recreation center. It has a viewing deck with a gorgeous 360° view of the hills and the distant sea.
Pro tip: The hills only look like chocolate in the dry season (Nov – Mar) when the grass turns brown.
#4: Scuba dive in an underwater paradise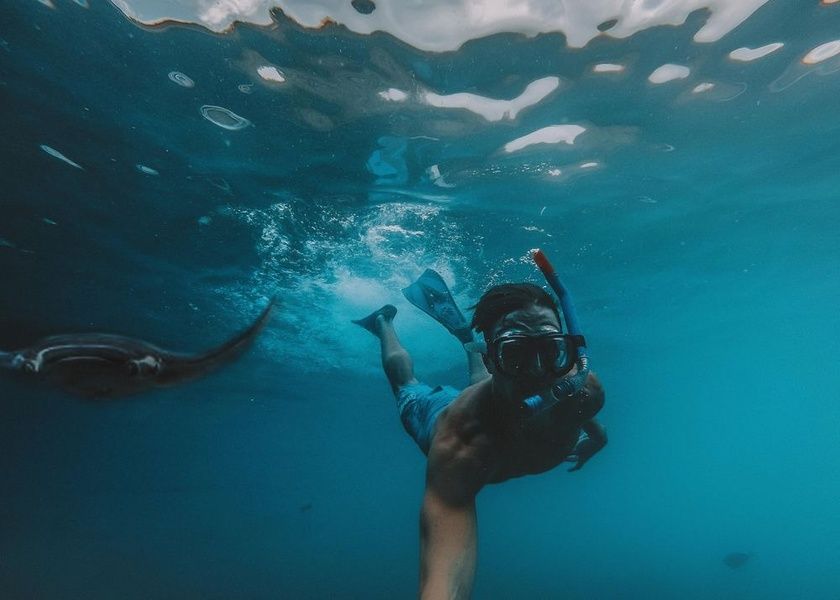 The Philippines are as beautiful underwater as above ground. Here are the best places to strap on your scuba tanks and check out some incredible undersea panoramas.
Dive with Dugongs, Palawan
The sea-beast dugong tops the chart of can't-miss wildlife. These serene ocean mammals feed along the Busuanga coastline, and are easy to spot via boat or under the surface. The Dugong Dive Center is the best outfit to get you up close and personal with these lovable marine mammals—the Dive Center also supports local dugong conservation efforts.
Coron, Palawan
The exciting dive sites of Coron include WWII wrecks and tons of diverse marine life. Try a dive at Barracuda Lake, where you can experience sharp thermoclines (transition layer between warm and cold water) and fascinating sea creatures like large barracuda.
Malapascua, Cebu
Malapascua is best known for its thresher shark sightings and should be on the bucket list of any big-fish fanatic. This tiny island offers some of the world's most highly rated dive sites. You can also explore vibrant, healthy reefs, stunning shipwrecks, and an array of fascinating undersea critters.
Tubbataha Reefs, Sula Sea
If you're really serious about having a diving adventure, then you have to check out the Tubbataha Reefs Natural Park. The reefs are southeast of Palawan within the Sulu Sea and are home to hundreds of species of corals and fish, as well as several species of sharks, dolphins, and whales. Plan ahead, as the park can only be reached by boat.
Pro tip: Find a local who loves diving to get the most out of scuba diving in the Philippines.
#5: Explore the dramatic Banaue rice terraces
Don't leave Luzon without making a special trip to see the UNESCO-honored Banaue rice fields. Definitely check out the Batad rice terraces—there, you can see how they dramatically they're perched, one on top of the other. Visitors can walk the rice fields, visit and swim in Tappiya Falls, and hike the trail from Batad Junction to get a panoramic view of the rice terraces.
#6: Do some island hopping
Sailing in and around the islands is awe-inspiring, as each has its own unique history and beauty—so, how do you choose? We'd recommend El Nido and Coron in Palawan. Or perhaps Cebu and the Calaguas and Caramoan Islands and Pangasinan's Hundred Islands National Park. But really, no one knows better than a Filipino—so connect with a local to help plan out your island-hopping itinerary.
#7: Scale the country's incredible mountains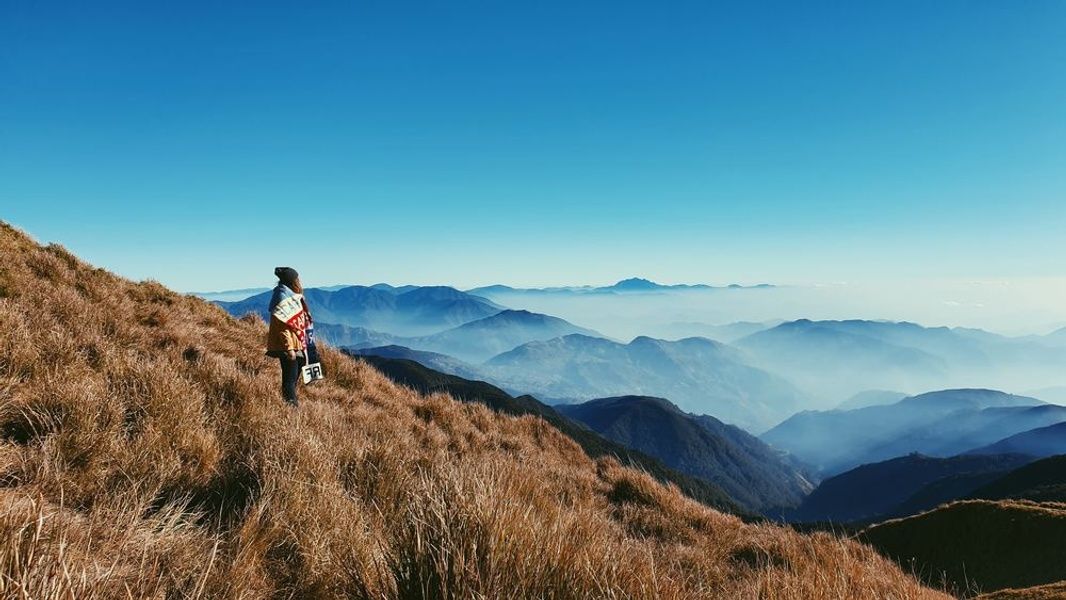 In the Philippines, you'll find rolling mountain ranges, stunning viewpoints, and beautiful natural landscapes topped with jaw-dropping summit views. Here are just a couple of Philippine mountains you need to climb!
Mount Pulag, Luzon
Mount Pulag is the third-highest of the Philippine mountains and the highest peak in Luzon. This is an extremely popular mountain to climb, even for people who aren't hikers or mountaineers. Why? It's the only mountain in the Philippines where you literally walk through a sea of clouds.
It takes about 3 hours to climb to the summit, and the climb ends with stunning 360-degree views of the Cordillera Mountain Range. Bundle up—it does get cold up there.
Mount Pinatubo
Mount Pinatubo is an unforgettable climb. The turquoise waters of its crater lake create a stunning landscape (just remember: swimming is not allowed). Although the volcano is considered active, it hasn't erupted since 1991—and it was dormant for centuries before that. Whether you're taking on the 2-hour trek to the top, or opting for the 4×4 ride for some of the way, this is by far the most historical views you will see.
Mount Pico De Loro
Another popular mountain climb is Mount Pico De Loro. The Spanish called the mountain "Parrot's Beak" since that's what it looks like from a distance. The summit climb is ideal for beginners, and the trail isn't as challenging as other mountains in the Philippines.
Pro tip: You can explore the trail without any special equipment. However, the "beak", that is, the monolith, will require climbing ropes.
#8: Explore historic sites
On top of the beaches, lush landscapes, and dynamic cities, the Philippines also has a rich culture and fascinating history. These historical sites are a great way to understand the Philippines' story.
Intramuros, Manila
In Manila, check out Intramuros (also called Ciudad Murada), which is famous for its three-mile-long circuit of massive stone walls and impressive fortifications. Once the seat of Spanish power in the Philippines, the area today is full of historic sites, like stone churches and palaces. Take a ride on a kalesa (horse with a cart) to tour the area or wander up to Fort Santiago, Rizal's Shrine, and San Agustin Chapel.
Fort San Pedro, Cebu
Fort San Pedro in Cebu City is packed with history. It dates back to the 18th-century, when the Spanish built the stone fort to guard against Muslim raids. In the 19th-century, Filipino revolutionaries succeeded in overtaking San Pedro and used the fort as a stronghold during the Philippine Revolution. Today, the fort's purpose has totally changed—it's a popular site for weddings, and for tour groups looking to learn more about Filipino history.
#9: Snorkel the endless clear, calm waters of the Philippines
If scuba diving isn't your jam, but you still want to explore the waters of the Philippines, don't worry—that's what snorkeling is for! It's fun and easy and many beaches have masks and fins to rent.
Pro tip: Have a local add a few snorkeling beaches to your itinerary.
The Skeleton Reef, Coron Bay
Head to Skeleton Reef to see a World War II shipwreck and explore the abundant underwater life. Book a boat tour to see all the hidden treasures of the reef, as well as professional assistance with diving or snorkeling.
Oslob Whale Shark Watching, Cebu
Swimming with whale sharks in Oslob is an incredible experience. Oslob is only one of two spots in all of the Philippines where you can swim with these gentle giants of the sea—don't miss out!
#10: Attend a local fiesta
Local festivals in the Philippines are known as fiestas, and just about every local town and village holds one annually. They last from a few days to a week and involve parades, contests, colorful costumes, and massive street parties. A couple of the notable fiestas are the Sinulog Festival in Cebu and Ati-Atihan in Aklan.
Pro tip: Ask one of our local trip planners to fit a fiesta into your itinerary!
#11: Try unique and unusual local cuisine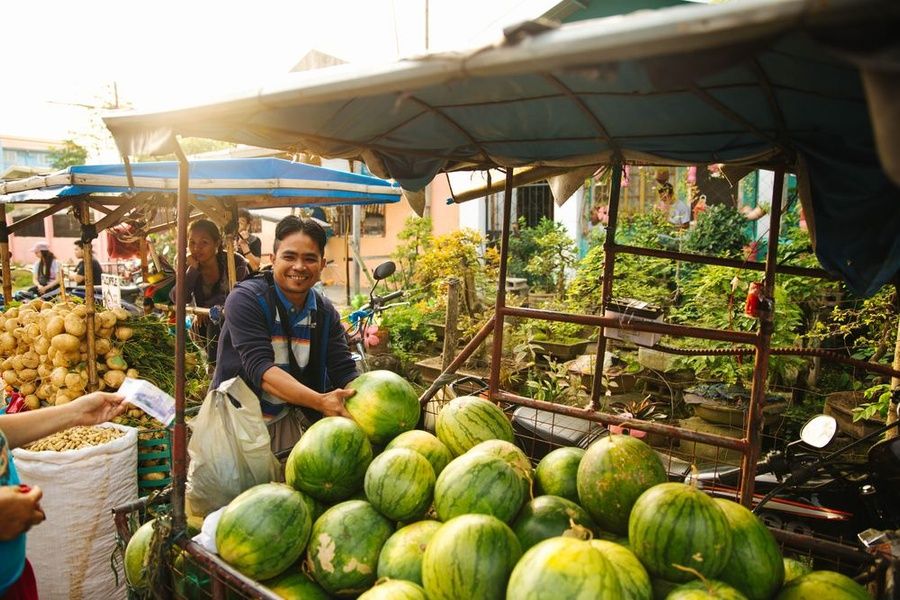 Let's be real—trying new food is one of the best parts of traveling (maybe the best?) In the Philippines, you're going to have a ton of options. Definitely get some local advice on what to try (and where to try it).
We recommend trying bangus (milkfish), sampling Cebu City's famous lechon (suckling pig), and if you dare, tasting balut (a boiled duck embryo that is a popular street food snack). And definitely have a couple of shots of lambanog—local coconut wine!
#12: Do some bird watching
The Philippines is home to a fantastic array of tropical birds. Whether you venture into a tropical forest or visit one of the country's many sanctuaries, definitely keep an eye on the skies for these colorful wonders.
The Olango Wildlife Sanctuary, Cebu
Olango Island Wildlife Sanctuary is one of four wetlands in the Philippines, and the Olango island group lies about 3 miles east of Cebu. The sanctuary is on the south-west of Olango Island and is home to thousands of migratory birds. The best time for bird watching is from September to May, at least two hours before peak high-tide, to see the largest concentration of birds.
Rajah Sikatuna Park, Bohol
As the biggest remaining rainforest in Bohol, Rajah Sikatuna Park is a haven for nature lovers and a bird-watchers' paradise. Watch the trees for rare birds—hopefully you can snap a few good pics.
--
For even more things to do in the Philippines, connect with a local to plan your trip. Not only will they create an authentic, immersive itinerary based on your interests and travel style, but they'll also give specific suggestions—like what beaches are best for snorkeling and which parts of Manila to avoid. Basically, it's like having a best friend in the Philippines. That beats puzzling over TripAdvisor posts every time.