When it comes to family vacations, you want to stay in a place that'll please everyone. Puerto Rico is filled with amazing resorts that'll do just that. Here are the 8 best Puerto Rico family resorts you need to check out before your vacation.
Headed to Puerto Rico? Have a local Puerto Rican trip planner help you plan your adventure. They'll make you a customized itinerary full of amazing activities and insider advice that fits all of your family's needs—so all you have to do is hop on the plane and enjoy your vacation! Learn more.
#1: San Juan DoubleTree by Hilton
If your family is traveling to San Juan, the DoubleTree by Hilton is an amazing option. Located in the Condado neighborhood, the DoubleTree is walking distance from Puerto Rico's main attractions, museums, and beaches. Kids love the outdoor whirlpool and the free chocolate chip cookies upon arrival.
Prices for San Juan's DoubleTree are typically around $170/night, however, prices vary depending on the time of year.
#2: Courtyard Marriott Isla Verde Beach Resort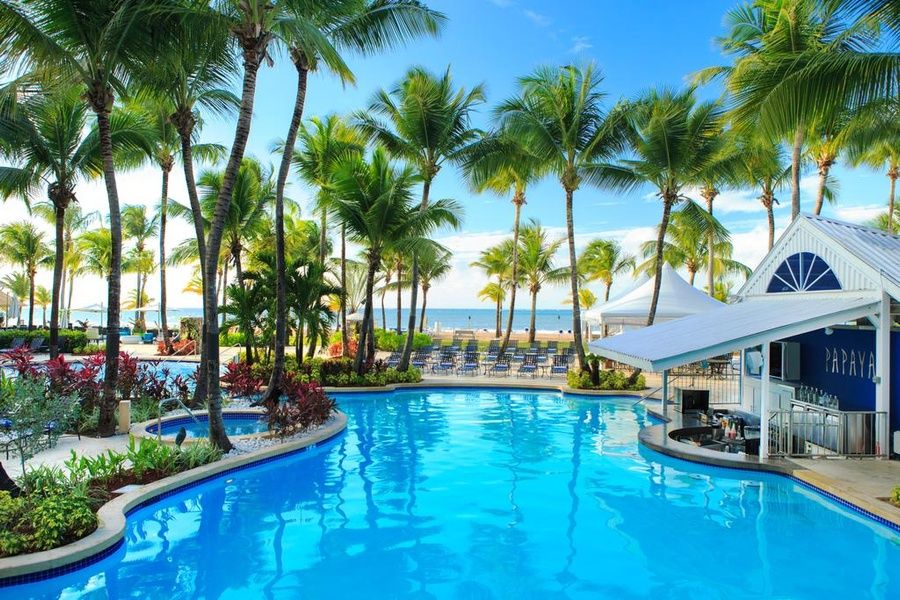 The Courtyard Marriott Isla Verde Beach Resort offers your family loads of things to do while in Puerto Rico. This beach resort has a game room, outdoor ping pong, pool, free boogie boards, beach balls, surfboards, floats, tubes, and goggles. There's also on-site babysitting and play services. All of these amenities are hard to beat and make the Courtyard Marriott a great option if you're wondering where to stay in Puerto Rico.
Prices for the Courtyard Marriott start at around $175/night.
#3: San Juan Marriott Resort and Stellaris Casino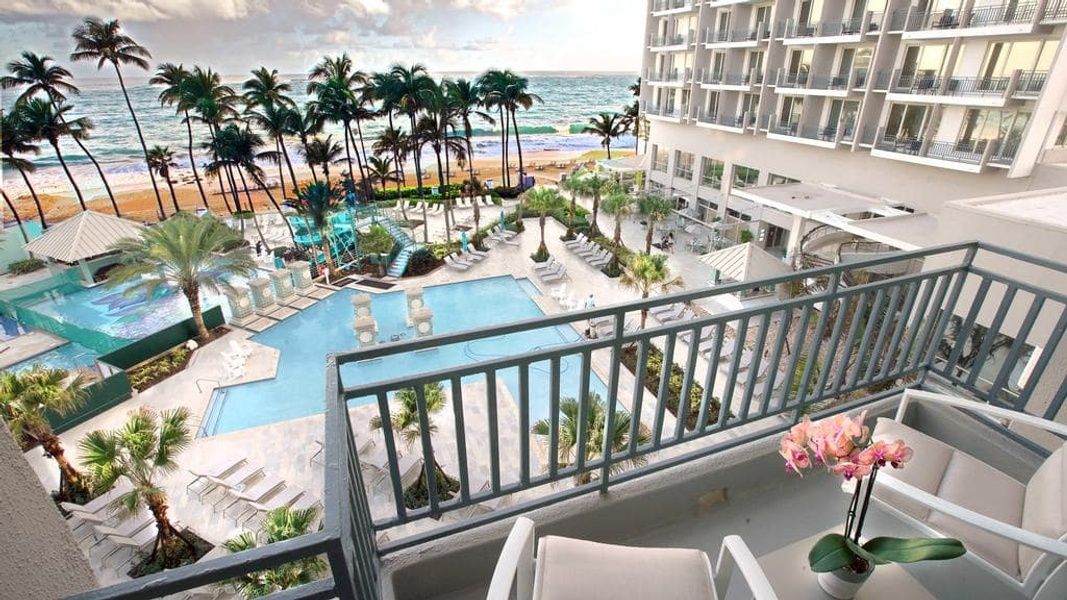 San Juan Marriott Resort and Casino offers you the best of both worlds: A centrally located San Juan resort that's also on the beach. If the multiple pools and water slides don't appeal to you, the Marriott is just a walk away from many of Puerto Rico's kid-friendly activities.
Prices for San Juan Marriott Resort and Stellaris Casino start at $270/night.
#4: El Conquistador Resort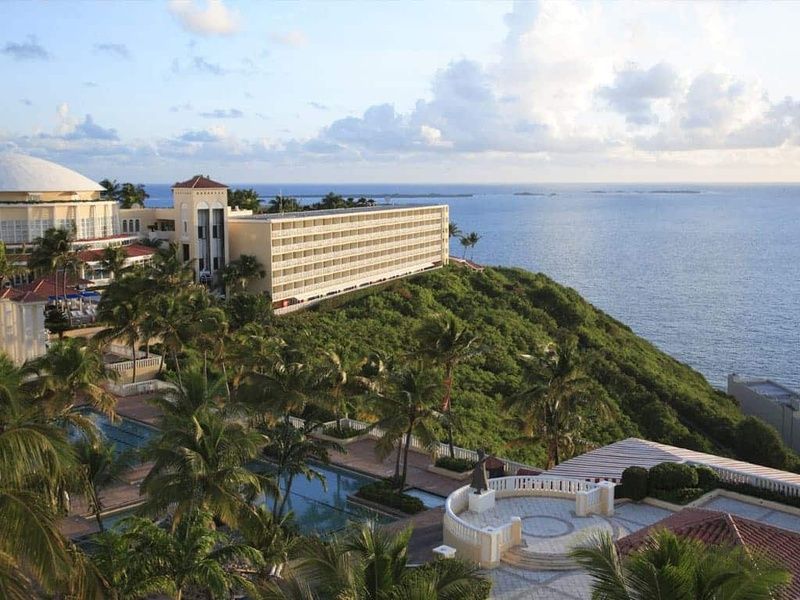 Located in Fajardo, one of Puerto Rico's most popular vacation spots, El Conquistador Resort is a kid's paradise. With an arcade, kids club, water park, and lazy river you almost have no reason to leave. Plus, El Conquistador Resort is just a short ferry ride to Palomino Island which is home to some of the best beaches in Puerto Rico.
Prices for Fajardo's El Conquistador Resort start at $200/night.
#5: Rincon Beach Resort
The quiet and laid-back Rincon Beach Resort is the perfect place to stay while on a family vacation to Puerto Rico. Since the bars close pretty early here you don't have to worry about things getting too noisy. The freeform pool overlooking the Caribbean Sea offers one of the many stunning views in Puerto Rico that are especially beautiful at sunset.
Prices for Rincon Beach Resort are typically around $180/night.
#6: Wyndham Grand Rio Mar Puerto Rico Beach Resort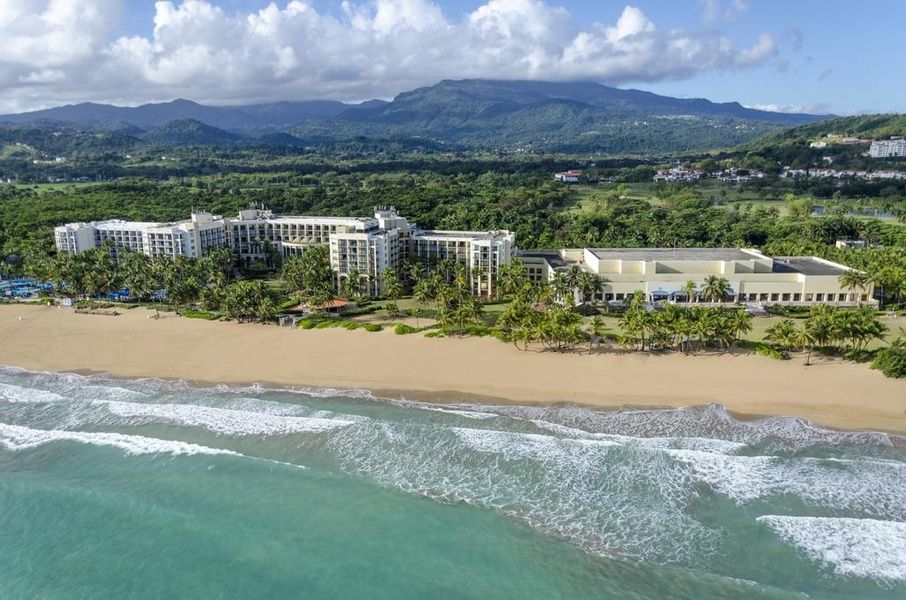 Wyndham Grand Rio Mar Beach Resort is packed with amenities. This resort offers an activity pool with waterslides, dive-in movies (you can actually watch movies while swimming), water sports, cultural and natural tours, and access to hiking and biking trails in the surrounding area. It's also close to some of the best things to do in Puerto Rico, like the El Yunque National Forest.
Prices for Wyndham Grand Rio Mar Puerto Rico Beach Resort starts at $220/night.
Pro tip: Wyndham Grand Rio Mar's beach location is popular for turtle nesting during the months of May–October, which your family will undoubtedly love. To learn more about turtle nesting, talk with a local. They'll make all the arrangements.
#7: Caribe Hilton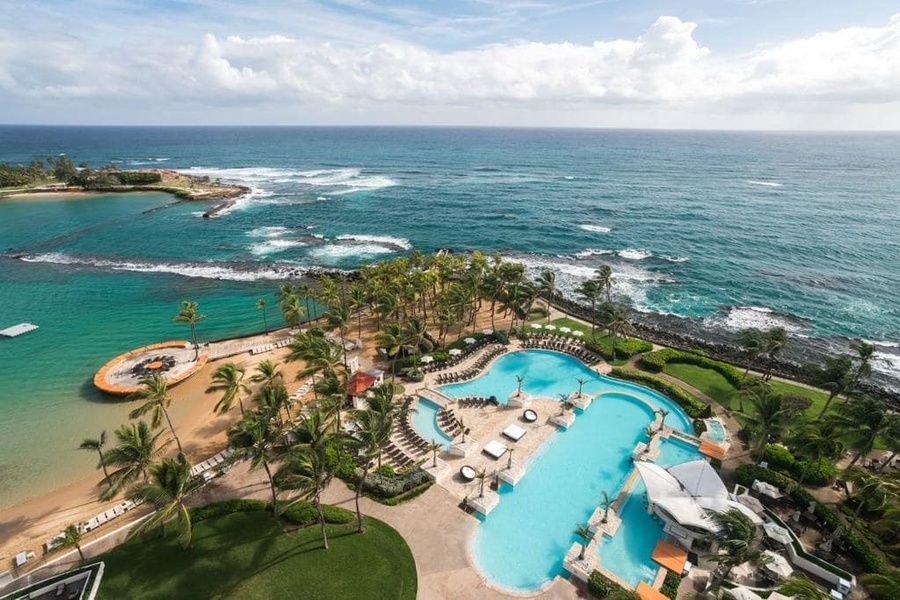 Another great place to stay in San Juan, the Caribe Hilton has oceanfront pools and its own secluded beach. The private beach gives your kids access to Puerto Rico's amazing activities, like kayaking, paddle boarding, and snorkeling. There's also a video game lounge and a kids club for your family to enjoy.
Prices for San Juan's Caribe Hilton start at around $280/night.
#8: The Condado Plaza Hilton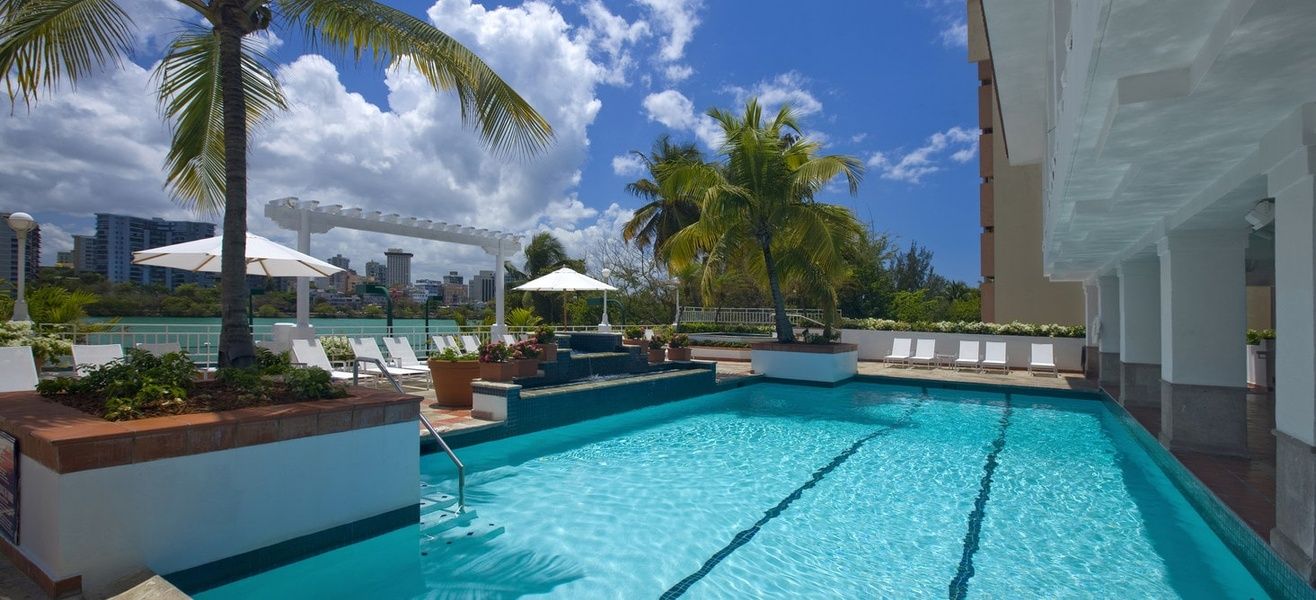 The Condado Plaza Hilton's location is perfect for families interested in outdoor and adventurous activities in Puerto Rico. Located next to Condado Lagoon, families can snorkel, jet ski, and paddleboard. There are also multiple pools and waterslides and even a scavenger hunt with fun prizes for kids.
Prices for The Condado Plaza Hilton start at $250/night.
--
With this list of awesome Puerto Rico family resorts, you and the gang are ready for an incredible trip. To avoid the stress of travel planning, have a local Puerto Rican trip planner design your itinerary. They'll handle all the logistics and will have suggestions for the best kid-friendly restaurants, beaches, and more. Questions? Message us!