Rio de Janeiro's residents are often called cariocas, a nickname that embodies their zest for life and fun-loving attitudes. So seize the day (and night) like a carioca by hitting up these top 14 places to visit during your trip to Rio de Janeiro.
And if you really want to live like a carioca, ask one to plan your trip! Connect with a Rio resident who will create a customized itinerary that fits your interests with beach, restaurant, bar, and accommodation tips that only a local can provide. Learn more.
#1: Christ the Redeemer: a warm welcome to Rio
Roughly as tall as a ten-story building, Christ the Redeemer is an immense statue of Jesus that overlooks Rio de Janeiro from the top of Mount Corcovado. With arms stretching nearly as wide as the statue is tall, this welcoming sight is the most recognizable in the city and one of the "New Seven Wonders of the World." A train can get you to the summit, and the ride through the surrounding national forest is as picturesque as the stunning view from the top.
Pro tip: As you might predict, this popular activity draws crowds. Purchase your train ticket ahead of time. Or your local Rio contact can tell you the best places to catch a van service to get you to the top of the mountain.
#2: Copacabana: a beach worth singing about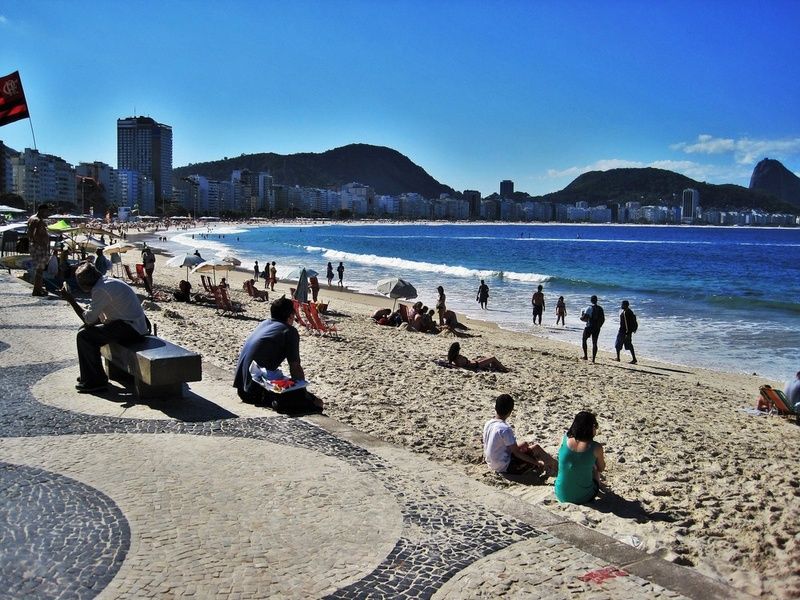 Copacabana is one of the most famous beaches in the world. And thanks to Barry Manilow's catchy tune, people have been singing its name around the world for decades.
But certainly, we can't give Barry even half the credit for Copacabana's immense popularity. This 2.5-mile sandy crescent is not only beautiful, but it is also a lively hotspot where Brazilians (and visitors from around the world) come to see and be seen, especially on the beach's iconic black-and-white patterned promenade.
From spirited soccer games to spontaneous samba dance parties, entertainment is free! And best enjoyed with a refreshing caipirinha, Brazil's most famous cocktail, procured from one of many beachside kiosks.
Pro tip: If finding a spot to squeeze in among a throng of sunbathers does not sound like your thing, ask a local for recommendations on Rio's more secluded beaches.
#3: Tijuca National Park: a rainforest within Rio's city limits
Tijuca National Park gives new meaning to the phrase "urban jungle." Nearly ten times the size of New York City's Central Park, this vast forest teems with waterfalls, monkeys, and birds. And it's less than 10 miles from downtown Rio.
Although many zip through the forest en route to Christ the Redeemer, we recommend setting aside extra time to explore its trails. If hiking isn't appealing, open-top jeeps are a popular way to experience the forest and its other famous peaks, like Vista Chinese, where a 19th-century pagoda frames a dazzling view of the city below.
Fun fact: In addition to being one of the largest urban forests in the world, Tijuca National Park is an astounding conservation success story. Its trees were replanted in the 19th century after massive deforestation threatened Rio's water supply.
#4: Sugarloaf Mountain: offering a view as sweet as its name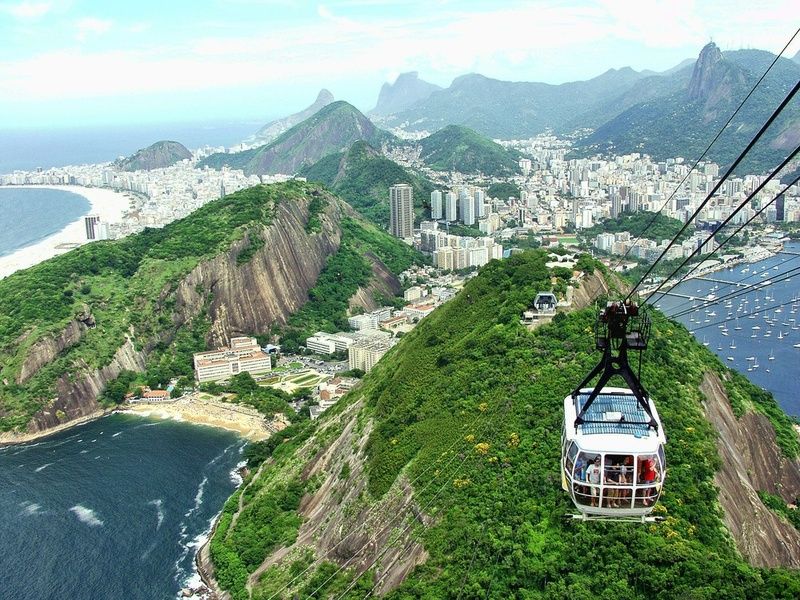 For a spectacular panorama of Rio, Guanabara Bay, and the Atlantic coastline, take a cable car to the top of Sugarloaf Mountain. This steep-sided crest is rumored to have gotten its name from a resemblance to the packaging used to export refined sugar in the 16th century. As you ride the funicular to the top, tip your hat to any lionhearted rock climbers you see clinging to Sugarloaf's sheer rockface.
Pro tip: And if you are an intrepid climber, a local carioca can suggest the best guided tours for scaling this scenic mountain.
#5: Jardim Botânico: where palm trees stretch to the sky
Founded in 1808, Jardim Botânico do Rio de Janeiro is intertwined with Rio's colonial past. The botanical gardens' original goal was to discover how to grow profitable crops, like vanilla and cinnamon, from Portugal's other colonies. Today, it is a world-leading research institution in biodiversity and conservation.
Take a stroll through these lush gardens, home to more than 9,000 plants from around the world. Situated in southwest Rio, this urban getaway is especially popular for its picture-perfect palm tree promenade and collection of orchids, more than 1,000-species strong.
#6: Maracan
ã
Stadium: where
futebol
reigns supreme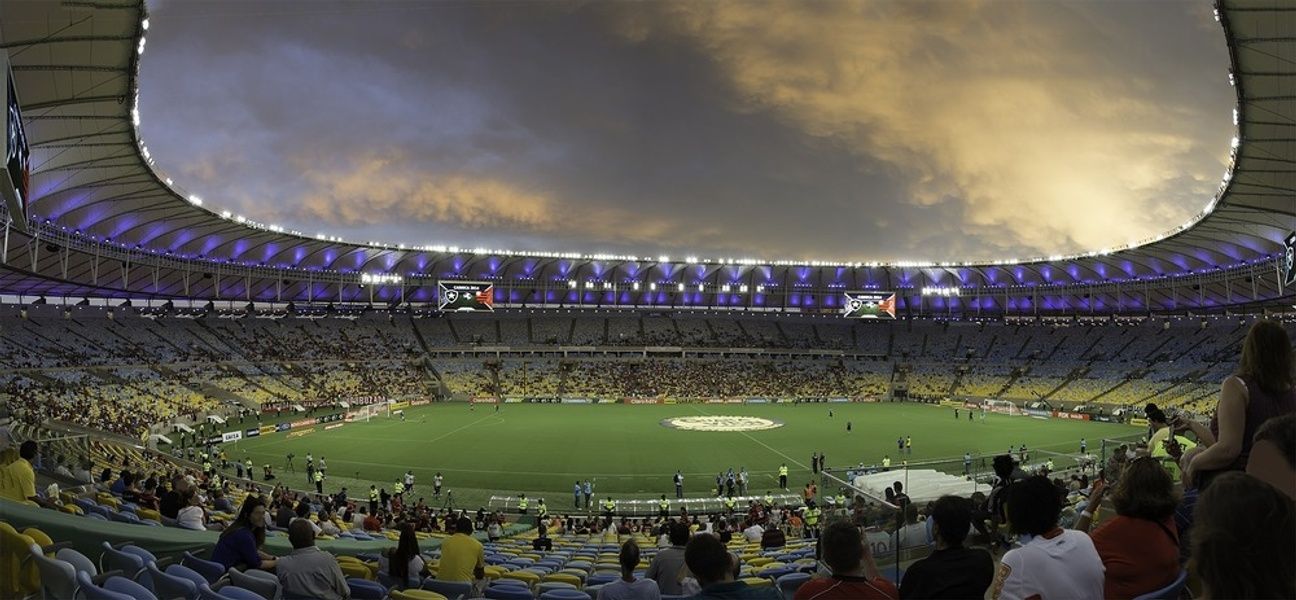 Officially, Brazil has not had a king since the 1800s when Portugal's colonial rule ended. Unofficially, King Pelé has ruled since the 1950s. Futebol (or soccer) is HUGE in Brazil. The country birthed the sport's most famous player, and Pelé led Brazil's national team to victory in three of the nation's five FIFA World Cups (the most any country has won).
So, it's only polite that any visitor to Rio pays their respects at the country's biggest arena, Maracanã Stadium. Currently, you can see Flamengo, one of Rio's professional soccer teams, battle it out on this turf.
Pro tip: Nothing enhances a sporting event like a good old-fashioned showdown. Get a local futebol fan's advice about Rio's greatest rivalry games—to see Brazil's fans at their most passionate.
#7: Museum of Tomorrow: take a peek into the future
The Museu do Amanha, or Museum of Tomorrow, rises from Rio's harbor like an other-worldly spaceship, starkly white against the city's blue sky and sea. And this downtown museum's futuristic architecture isn't the only thing that makes it unlike any other in the world.
Whereas most museums try to make sense of the past, the Museu do Amanha tries to predict the future. Here, you can get (scientifically backed) answers to your questions about how the world will look in 50 years. So, this museum is basically the time machine you've always dreamed about.
#8: The Selaron Steps: Rio's most Instagram-worthy street art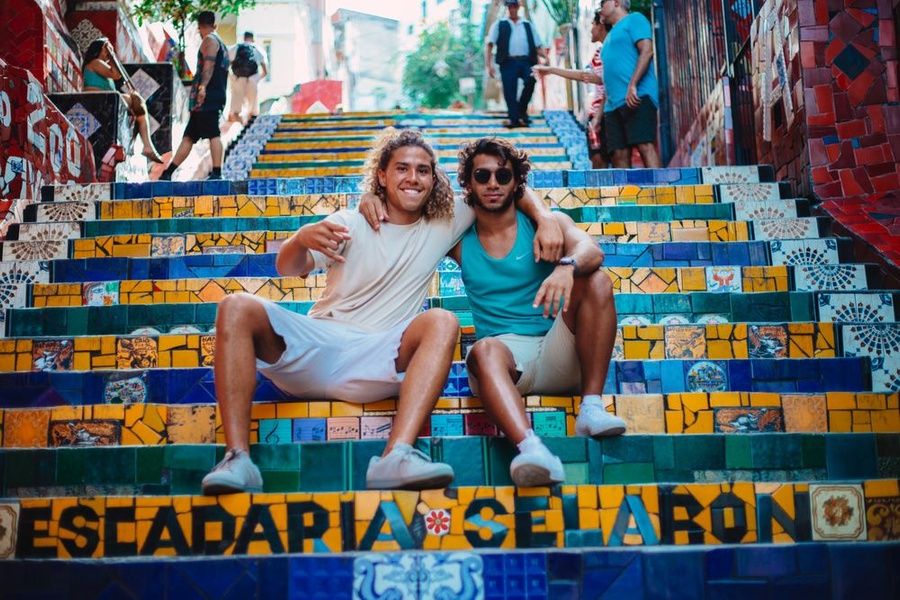 No landmark captures the vibrancy of Rio (along with its status as a top international destination) quite like the Selaron Steps. Created by artist Jorge Selarón, this colorful staircase has been fashioned by thousands of colorful tiles. At the start, Selaron recycled materials he saved from construction sites or trash heaps. But as the site grew in popularity, visitors started bringing the artist tiles from around the world.
Pro tip: The Selaron Steps are one of the must-see places on any tour of Rio's Santa Teresa neighborhood, a hilltop enclave known for its arts scene and restored colonial mansions. Your local contact can give you tips on building your day around this stop.
#9: Candelária Church: Brazil's most beloved cathedral
One look at Candelária Church's ornate facade and you won't be surprised to learn that this Catholic cathedral is hundreds of years in the making. Construction started in 1775 and this popular landmark wasn't completed until the 1870s. Leave the hustle-and-bustle of Centro, Rio's downtown business district, behind, by entering this architectural beauty to admire its frescoed dome and stunning stained glass windows.
Fun fact: Candelária Church sits on the original site of a much smaller chapel. Legend has it that a Portuguese couple vowed to build the chapel during a stormy night at sea. They survived the angry winds and waves, and so forked up the dough upon arriving safely in Brazil. Be on the lookout for frescoes within the church that tell this origin story.
#10: Parque Lage: a glimpse of glamour in the rainforest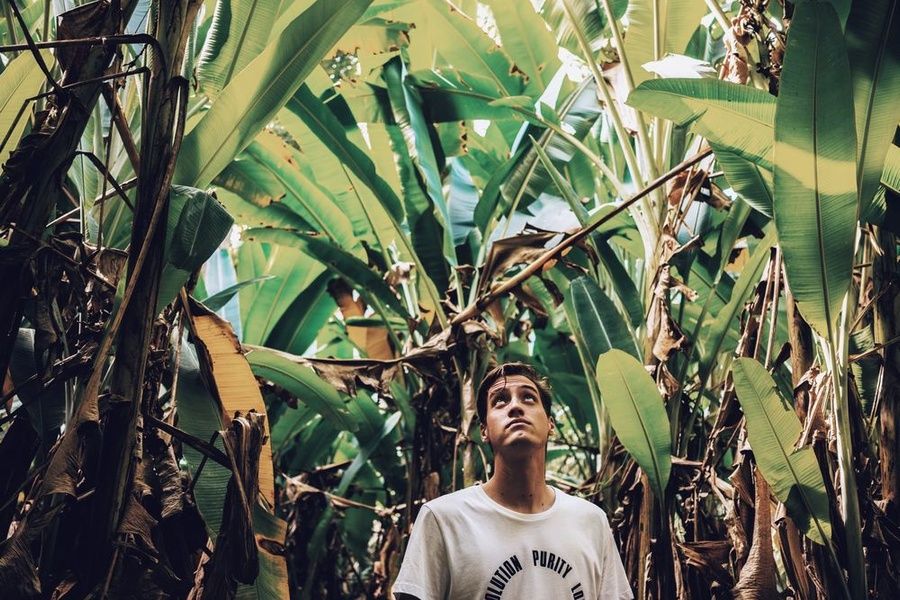 At the base of Mount Corcovado, the peak on which Christ the Redeemer stands, you'll find an opulent mansion nestled among the lush treetops of Rio's rainforest. Situated in a public park filled with trails and gardens, this picturesque palace was once home Gabriella Besanzoni, an Italian opera singer, and her industrious husband. Today, this romantic spot is home to the Visual Arts School of Parque Lage.
Featuring workshops and gallery spaces for young artists, you can explore the school's grounds while admiring works of local art and the building's spectacular views. A favorite photo spot is the courtyard's pool, where you can see the forested mountain dramatically rising above the grand estate's rooftop.
Fun fact: Don't be surprised if you see fellow visitors showing off their dance moves as they wander the grounds. The mansion has been the site of several music videos, including the one for Pharell Williams and Snoop Dogg's song "Beautiful."
#11: Arcos de Lapa: where you'll samba beneath an aqueduct
At one time the Arcos de Lapa brought fresh water to Rio de Janeiro. Today, it brings samba. Built in the 18th century, this aqueduct is located in the trendy, up-and-coming neighborhood of Lapa. It crosses a busy boulevard lined with Lapa's vibrant nightlife scene, and often the boisterous bars and nightclubs cannot contain their party-goers. The result? A dance party takes over the plaza under the aqueduct's impressive arches. The party happens nightly but is always one for the ages.
Pro tip: Lapa is also chock-full of cheap eats. Ask a fun-and-food-loving carioca for tips on the best late-night dining options.
#12: Ipanema Beach: where the rich and famous play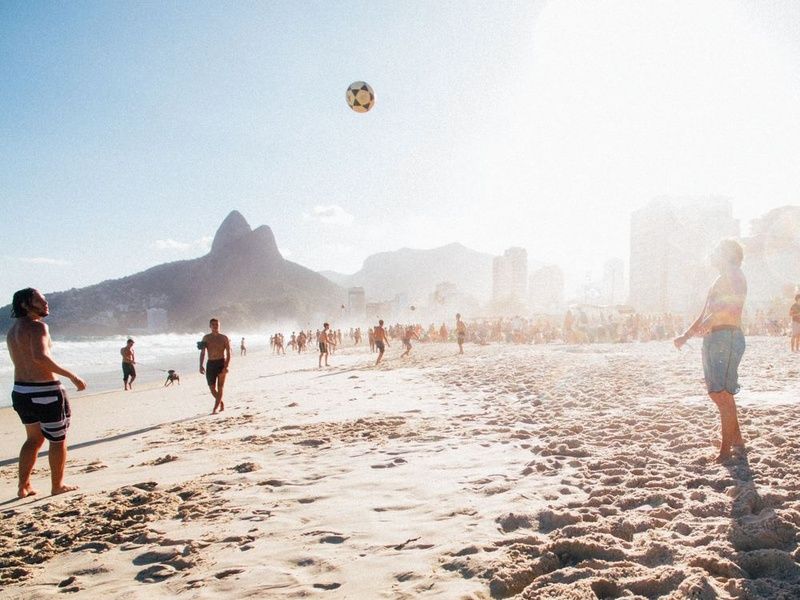 Ipanema Beach is located in one of Rio's most elite neighborhoods, earning it a reputation as Copacabana's ritzier sister. And since it's just a little further from downtown, Ipanema is also slightly less crowded than Rio's other most famous beach.
Here you'll find upscale beachside boutiques and restaurants, making Ipanema a prime destination for celebrity spotting—and for watching tall tanned beauties (both women and men) strut down the patterned promenade. (Just like the famous tune "Girl from Ipanema" promises.)
Pro tip: Ipanema Beach is demarcated by postos, or numbered lifeguard stations, and each draws a different crowd. Whether you're looking for the LGBTQ community or an action-packed volleyball game, a carioca can tell you where to post up.
#13: The Royal Portuguese Reading Room: a book lover's dream library
Avid readers, even those without a lick of Portuguese, will drool when they see the Royal Portuguese Reading Room, one of the most beautiful libraries in the world. Established in the 1800s, this public library houses one of the largest collections of Portuguese texts in the world and continues to steadily grow.
Relax with a book (in your language of choice) and admire the reading room's three-stories-tall bookshelves and intricate architecture, complete with a dramatic stained-glass dome and sparkling chandelier.
Pro tip: This spot is often overlooked by tourists (hurrah!) but is also closed on the weekends, so plan your visit accordingly.
#14: Metropolitan Cathedral: an architectural wonder
Everyone who explores the busy streets of Rio's downtown neighborhood, Centro, is sure to spot the 24-story building that resembles a futuristic honeycomb. But it's hard to imagine that anyone unfamiliar with the Metropolitan Cathedral would guess its purpose.
Serving as the seat of Catholicism in Rio, this cathedral is unlike any other in the world. Completed in 1979 and designed to resemble a Mayan pyramid, the conical church's interior is as dramatic as its exterior. Inside, you'll find vivid stained glass windows rising 200 feet tall.
--
Whichever places you visit in Rio de Janeiro, get the most out of your trip by connecting with a local to design your itinerary. They'll use *your* interests and *their* insight to create an authentic and immersive travel plan—no matter if you want to jump from beach to beach or spend time exploring the city. Basically, it's like having a best friend in Rio. Why see the city any other way? Learn more.