Should you travel to Rio de Janeiro? That's an easy one—yes! But that's probably just the first of many questions you have about visiting Rio. So here are the answers to all of your frequently asked questions about traveling to Rio—including information on safety, water quality, things to do, tipping culture, using Uber, and much more!
For even more answers to all your Rio questions, connect with a local to plan your trip. No one knows Rio like they do! Which means they'll design an authentic, immersive itinerary—one that ensures you'll see a unique side of their country. Learn more.
Q: What is Rio de Janeiro known for?
A: Rio de Janeiro is known for an energetic rhythm that keeps the city—and its residents—moving night and day. Locals are often called cariocas, a nickname that speaks to their zest for life. And with Rio's stunning natural setting along the Atlantic Ocean and at the mouth of Guanabara Bay, it's easy to see why cariocas strive to make the most of each day.
Rio is one of the most visited cities in Brazil—people come from around the world to see its famous Christ the Redeemer statue, a ten-story statue of Jesus Christ with widespread arms. Additionally, Rio is home to the famous Copacabana and Ipanema beaches and one of the world's largest urban forests, Tijuca National Park. The city hosted the 2016 Olympics and two World Cup finals (in 1950 and 2014). Each year, the city shuts down for a week-long Carnival celebration—one of the biggest parties in the world.
Q: And what exactly is Carnival?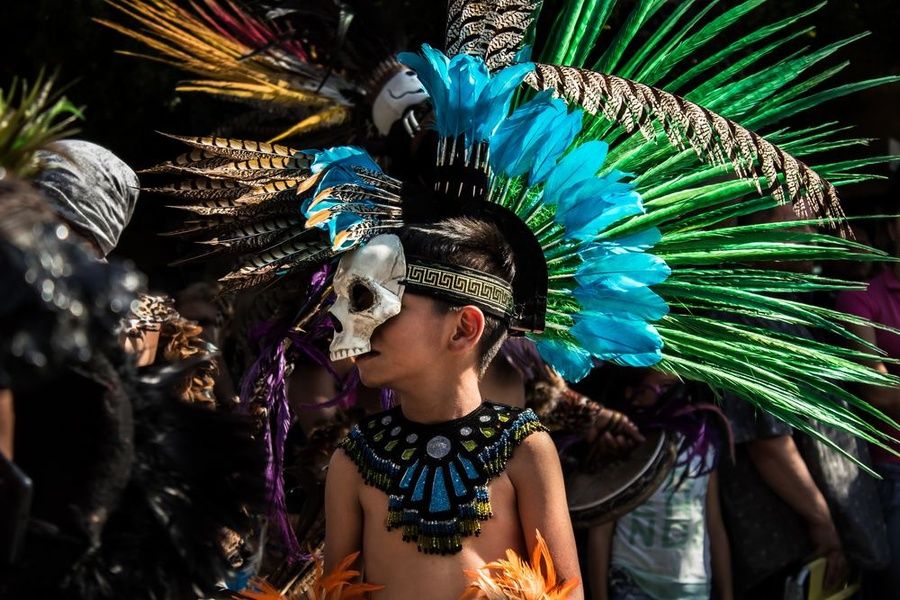 A: Carnival is a week-long festival celebrated during the lead up to Lent, Catholicism's season of fasting. Typically, these raucous festivities fall in February or March. Millions come to Rio de Janeiro from Brazil and around the world to partake in this lively celebration—essentially shutting the city down for the party's duration.
Like Mardi Gras in New Orleans, Carnival is most famous for its parades. The Carnival Parade is filled with elaborate floats topped by glamorous samba dancers representing Rio's many samba schools. The schools perform in a nationally televised competition at the Sambadrome, a 90,000-seat stadium built specifically for this purpose.
Additionally, blocos or neighborhood street parties dominate Rio's Carnival scene. Filled with revelers, music, dancing, and booze, blocos are known to last 24 hours… or longer. Alternatively, bailes are more refined (and exclusive) masquerade balls or nightclub galas where party-goers don ball gowns and tuxedos to samba the night away.
Q: When should I visit Rio de Janeiro?
A: Weather-wise, there's no bad time to visit Rio de Janeiro. So, choosing what time of year you travel will depend on your ideal itinerary.
Most travelers head to Rio during Brazil's summer, from December to March. Expect hot weather (the highs can exceed 100 degrees in December and January) and action-packed beaches, as many Brazilians take extended vacations during this time. The Carnival festivities typically fall in February or March, so if you hope to visit during this week-long party, you'll want to book your accommodations a year in advance.
Rio's "winter" months are July, August, and September, and with highs in the 70s, it'll still feel like summertime on the city's famed beaches. (At least for northerners.) Lows typically fall into the 60s during this time of year. October and November are also prime months to visit. Showers are infrequent during Rio's spring and with less humidity comes crisper, fog-free views of the city's spectacular scenery.
Pro tip: If you're determined to samba on the streets during Carnival, eliminate some of the stress of planning during this popular time by having a Rio local plan your trip. They can give you priceless advice on how to enjoy this national festivity.
Q: Do I need a visa to travel to Brazil?
A: No, as of June 2019, US citizens don't need a visa to visit Brazil unless they plan on establishing long-term residence. You will simply need a valid passport.
Q: What vaccinations do I need before going to Brazil?
A: If you're up-to-date on your standard vaccinations, then you're all set. The Centers for Disease Control and Prevention strongly recommends, however, that travelers get a yellow fever vaccination before traveling to Brazil. But proof of this vaccination is not required for entry into the country.
Q: What are the most popular places to stay in Rio de Janeiro?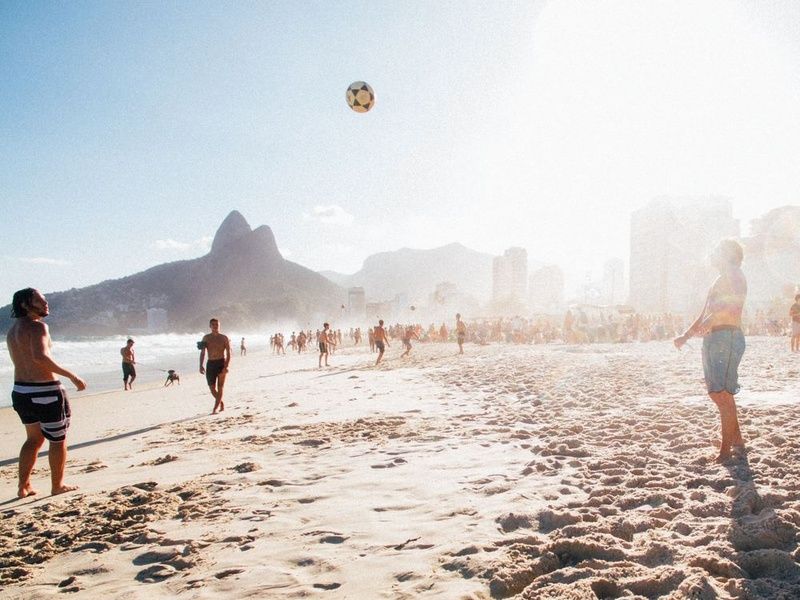 A: Rio de Janeiro is divided into zones, and most visitors stay in the South Zone or Zona Sul. Within Zona Sul, you'll find tons of neighborhoods worth exploring. The most famous is the beachfront Copacabana, where you'll find a range of accommodations from hostels to luxury seaside resorts. Just south of Copacabana is Ipanema, another lively beachfront neighborhood with a more upscale vibe.
If you're most interested in exploring Rio's history and cultural institutions, stay in Centro, the city's downtown district which is walking distance from many museums. Alternatively, the burgeoning neighborhood of Botafogo has recently garnered attention from travelers. Situated south of Centro, Botafogo has a beach of its own, a trendy bar and restaurant scene, and more affordable hotel options than Copacabana and Ipanema.
Pro tip: For even more options, read our guide to the Top 14 Places to Stay in Rio de Janeiro—or simply reach out to a local who can give personalized advice.
Q: Is Rio de Janeiro safe?
A: Yes, Rio de Janeiro is largely safe. But just like many large cities, there are neighborhoods you should avoid and some best practices to follow.
Brazil suffers from major income inequality and favelas, or slums, are highly concentrated in north Rio (though they can be found throughout the city). Avoid visiting a favela, even on a guided tour, and stick to Zona Sul (or Rio's South Zone) which is made up of safer (and more popular) beachfront neighborhoods like Copacabana, Ipanema, Leblon, and Botafogo.
Another safe option is Lagoa, a laid-back neighborhood north of the Lagoa Rodrigo de Freitas—the lake that sits in the middle of Rio. Though it has fewer attractions, this neighborhood is still close to the city's major sights and is one of the few without a favela.
While in Rio, exercise the same street smarts that you would in any major metro area. Don't carry large amounts of cash and leave valuables at home (or locked in a safe in your hotel room). Don't walk the beach after dark and take taxis or Uber to get around at night. And if you have to use an ATM, look for one inside a bank or at the airport.
And for even more safety tips, read our guide to safe travel in Rio de Janeiro.
Pro tip: The best way to ensure you stick to Rio's safe areas is to run your itinerary by a local who knows the city through-and-through. Even better, ask one to plan your trip for you.
Q: Can you drink the tap water in Rio de Janeiro?
A: The Centers for Disease Control and Prevention does not advise drinking tap water in Brazil. However, this recommendation blankets the whole country, and Rio is a cosmopolitan city where water is rendered safe through a treatment system. Many say, however, that Rio's tap water has an odd taste.
Bottom line: the safest option is to drink bottled water and ask your hotel if they have a filter system (many do).
Q: Is it easy to travel to Rio de Janeiro on a budget?
A: Yes, there are ways to stick to a modest budget while traveling to Rio de Janeiro. But in general, this is not a cheap destination. The exchange rate between USD and Brazilian real is 1 USD is about 4.09 Brazilian real.
Rio is a metropolis with more than six million people, and just like you'll pay more in New York City for a sandwich than you will in Iowa, things cost a bit more in Rio than elsewhere in Brazil. So, if you want to stay at a luxury resort, don't expect to pay motel prices. Plan to spend around the same as you would in the US for accommodations, meals, and drinks.
If your budget is top-of-mind, look for affordable hostels in Copacabana or Lapa, an up-and-coming neighborhood near downtown Rio known for its nightlife. Mid-range hotels can also be found in the trendy neighborhood of Botafogo, which is on the beach, or in Centro, which is close to Rio's top cultural institutions.
Q: Do I need to speak Portuguese to get around?
A: Sim! It would be helpful, but if you don't know a lick of Portuguese, that shouldn't stop you from traveling to Brazil.
English is not widely spoken in Brazil. And don't assume that just because the country is bordered by Spanish-speaking nations you'll be able to get by in Spanish. Portuguese is the dominant language.
You'll find, though, that Rio is filled with friendly locals who'll do their best to communicate. Here are a few helpful phrases to know before you go:
Bom dia.

=

Good morning

Boa noite. =

Goodnight

Tudo bem?

= How's it going?

Fala inglês? =

Do you speak English?

Eu nao entendo.

= I don't understand.
Pro tip: Using Google Translate on your phone can take you far, but getting 24/7 support from your local contact is an even better way to get help when you find yourself blocked by a language barrier.
Q: What's the best way to get around Rio de Janeiro?
A: Taxis are the most convenient way to get around Rio de Janeiro and your safest options for transportation after dark. They can be easily hailed on the street and are relegated by the city, so a metered fare will ensure you get a fair price for your ride.
For day travel, Rio's Metro is a cheap, easy, and cool (literally, it's air-conditioned) way to navigate the city. With only two lines, it's also much less complicated than other systems. Line 1 heads north from Centro, while Line 2 travels south to neighborhoods like trendy Botafogo, Copacabana, and Ipanema. Just be warned: it's very crowded.
Additionally, many neighborhoods in Rio de Janeiro are quite walkable. For example, in Centro, Rio's downtown district, a 30-minute walk will take you to these four highlights: the Museu do Amanha, a museum dedicated to (scientifically) predicting the future, the Candelária Church, Brazil's most beloved cathedral, the Royal Portuguese Reading Room, a gorgeously ornate library, and the Metropolitan Cathedral, a modern church shaped like a futuristic Mayan pyramid.
For a more in-depth take on getting around, see our guide to Rio de Janeiro's transportation options.
Pro tip: And for more ideas of what to do in Rio de Janeiro (like the Centro sights listed above), read our Top 14 Places to Visit in Rio de Janeiro.
Q: Is Uber available in Rio de Janeiro?
A: Yes, Uber is available throughout Rio de Janeiro. And as a bonus: you don't need to download a different version of the app to use it in Rio. Just open your US app and request a ride.
Q: Which electrical plugs are used in Brazil?
A: Brazil uses plug type N which has three circular prongs. If you're traveling from the US, you'll need to pack an adapter. But, lucky you, Europeans! Type N sockets are compatible with the two-pronged C plugs used in most of Europe (outside the UK).
Now, the good news reverses. Sockets in Rio de Janeiro provide a voltage of 110V with a standard frequency of 60hz. If you're traveling from the US, you're good to go as this aligns with the standard voltage used in the US. Visitors from Europe, however, will want to pack a voltage converter.
Pro tip: These are not hard-and-fast rules in Brazil. You might find sockets that accommodate both the circular prongs of an N plug and the flat prongs of the A plugs used in the US. You might also find sockets that provide a voltage of 220V, the standard voltage used in Europe. But these are likely to be marked as such. So, come prepared with whatever adapters you might need and double-check sockets before plugging in.
Q: Do I have to tip in Rio de Janeiro?
A: Most restaurants will include a 10% service charge on your bill, and the same goes for any nightclub tabs. If your bar tab doesn't include a service fee, consider a 10% tip for good service. For taxi drivers, round your fare to the nearest real by way of tipping.
Q: Anything else I should know?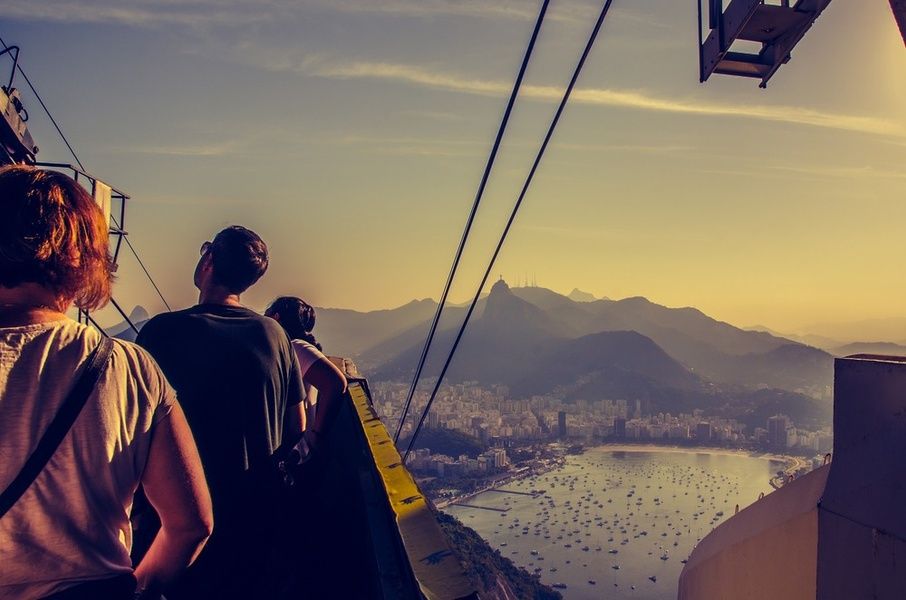 A: Here are some quick dos and don'ts when traveling to Rio de Janeiro.
DO expect to make fast friends. Brazilians are known extroverts. And a peck on both cheeks is a customary greeting for women, even when meeting someone for the first time.

DON'T express your approval with the "OK" sign (by touching thumb and index finger together). This is a vulgar sign in Brazil. Give a double thumbs-up instead.

DO use your table manners. Brazilians typically do not eat with their hands. Instead, a fork and knife are used for everything—even pizza.

DON'T expect everyone to be punctual. Arrival times are flexible in Rio, particularly for social gatherings.
--
Have more questions? Well, there's a Brazilian best friend standing by to answer them. Connect with a Rio local who can give you advice as only a "carioca" can. By asking them to plan your trip, you'll see Rio through the eyes of a local—and maybe, just maybe, you'll magically be able to samba like one too!