Hear that drumbeat? That's the rhythm of Rio de Janeiro, and this spirited city has a samba dance circle (and a caipirinha cocktail) with your name on it! From enjoying an unparalleled sunset to dancing the night away, here are the 14 essential things you must do in Rio de Janeiro.
For even more things to do in Rio de Janeiro, connect with a local to plan your trip. They'll create a customized itinerary based on your interests, travel style, and budget—which means you'll experience Rio like the locals do! Why see it any other way? Learn more.
#1: See (and be seen) on a world-renowned Rio beach
Copa… Copacabana! Do you already have a jazzy tune stuck in your head? That's because Rio de Janeiro's beaches are so fantastic that everyone is crooning about them. From Barry Manilow's catchy tune to the equally infectious bossa nova hit "The Girl from Ipanema," Rio's beaches will make you want to sing!
Rio de Janeiro is strategically situated along the Atlantic Ocean and at the mouth of stunning Guanabara Bay, making it perfect for sunbathing with a breathtaking backdrop. But don't expect a lazy scene on Rio's sandy stretches. Copacabana and Ipanema are very active beaches attracting throngs of city dwellers known for donning the skimpiest of suits.
Pro tip: The city's beaches are separated by postos or lifeguard stations. Each posto attracts a different crowd; for example, it's well-known that the young and beautiful flock to Posto 9 in Ipanema. Connect with a Rio local who can tell you where to find your people.
#2: Enjoy a stunning Rio sunset
The sunsets over Rio de Janeiro are out-of-this-world gorgeous. In fact, they are so impressive that the locals often give them a standing ovation!
There are tons of great viewing spots to join Rio's residents in the nightly ritual of applauding the sun's descent. A favorite, however, is Mureta de Urca, a sea wall in the neighborhood of Urca which juts out into Guanabara Bay. There, you can oohh and aahh as the sky changes hues. (Ideally with a cold drink in your hand.)
Fun fact: You'll hear Rio's residents referred to as cariocas, a nickname that speaks to locals' seize-the-day-yet-chilled-out attitudes. Nothing quite captures a cariocas' spirit than this city-wide appreciation for the sun's daily performance.
#3: Drink up Brazil's national cocktail, the
caipirinha
Ordering a refreshing caipirinha is a must in Rio de Janeiro. Pronounced "kai-purr-REEN-yah," this (powerful!) cocktail is made with lime, sugar, ice, and cachaça—a sugarcane spirit. The lime is muddled rather than juiced, giving this delicious drink an extra citrus-y boost—perfect for sipping seaside.
To enjoy a caipirinha, head to an upscale nightclub, just steps from Ipanema Beach, or a trendy bar in Botafogo, Rio's hipster neighborhood with a blossoming foodie scene. And if you're eager to start a conversation with a local but not sure how, just ask how you make the perfect caipirinha. You'll have the whole bar debating in minutes.
Pro tip: Your carioca contact can tell you where to get the mouth-watering combination of a caipirinha and churrasco, or Brazilian barbecue. This juicy grilled meat (typically beef) is sliced from a long skewer and usually served with chimichurri, a fresh, parsley-based sauce.
#4: Dance to the beat of Rio in a
samba
circle
Pack your dancing shoes—a trip to Rio is incomplete without shuffling your feet in a fast-paced samba circle. Samba is a spirited rhythmic dance of Afro-Brazilian origin that's central to Brazilian culture. In fact, this energetic shimmy is often called the "heartbeat of Brazil" for its infectious drumbeat. And that lively rhythm is sure to bring even the timidest wallflower to the dancefloor.
Experience a roda de samba, or samba jam session, by visiting the Samba do Trabalhador, one of the most famous weekly dance parties in Rio. It's strategically scheduled for Mondays when many musicians have the day off. Or head to Lapa, a neighborhood known for its bar scene, for an all-night samba party that spills out into the plaza under the Arcos de Lapa, a grand 18th-century aqueduct.
Pro tip: Samba isn't the only music in town. For a taste of Rio's rock scene—or reggae, funk, and every genre in between, jam out at Circo Voador, an outdoor concert venue beloved by locals.
#5: Experience the world's biggest party: Carnival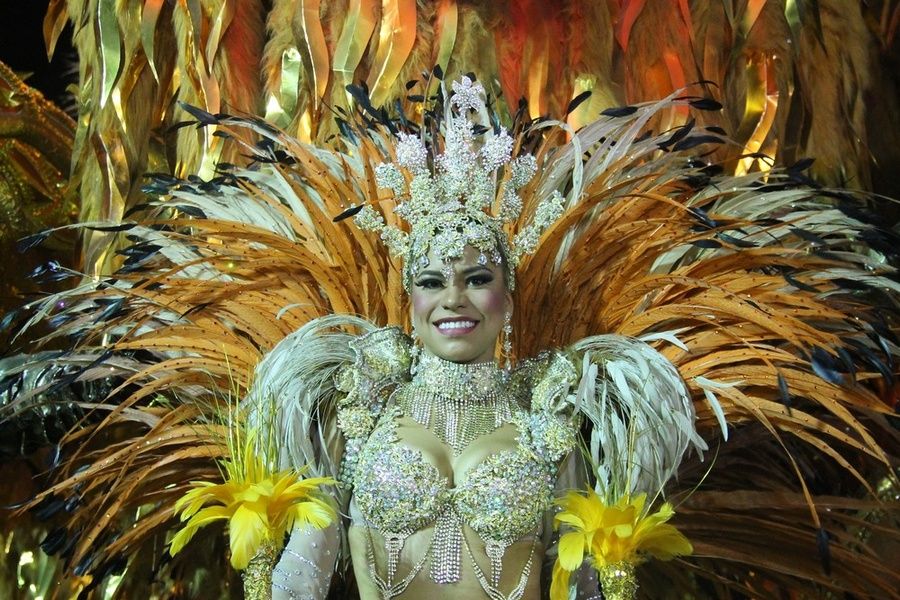 If you've ever been to Mardi Gras in New Orleans, then you have a tiny taste of Rio's Carnival—and that's saying something. Celebrated each year before Catholicism's fasting season of Lent, Carnival is an over-the-top raucous celebration with floats, parades, and dancing… lots of dancing. The week-long festival shuts the city down and attracts millions of Brazilians and visitors alike who come to samba in the streets.
If that doesn't capture just how huge this festival is, then maybe this will: Rio has a stadium solely dedicated to Carnival. The Sambadrome hosts a fierce, nationally televised competition between Rio's many samba schools. The stadium holds 90,000 and is always packed with spectators eager to cheer on their favorite performers.
Pro tip: As you might expect, visiting Rio during Carnival takes some extra preparation—you'll want to think about booking accommodations a *year* in advance. Carnival is well-worth the extra travel planning. But you can skip the stress by having a Rio local plan your trip—they'll give you a guide to Carnival that only a local could create.
#6: Take a climb for a heavenly view of Rio
Perched on the top of Rio de Janeiro's Mount Corcovado is Christ the Redeemer, a ten-story statue of Jesus Christ that is the city's most famous landmark. Not only is it worth venturing to the top of this mountain for an up-close look at this "New Seven Wonders of the World," but you'll also get a spectacular 360-degree view of Rio and its surrounding waters. (And don't worry, there's a train!)
Mount Corcovado is just one of many vantage points from which to look down on Rio's splendor. You could also take a tram to the top of Sugarloaf Mountain, a sheer-sided cliff that sits at the entrance to Guanabara Bay. Or, hop on an open-top jeep tour in Rio's Tijuca National Park, an urban forest in the heart of the city. OR, head to Vista Chinese, where you can gawk at the city from a 19th-century pagoda.
#7: Strut your stuff down Rio's iconic promenades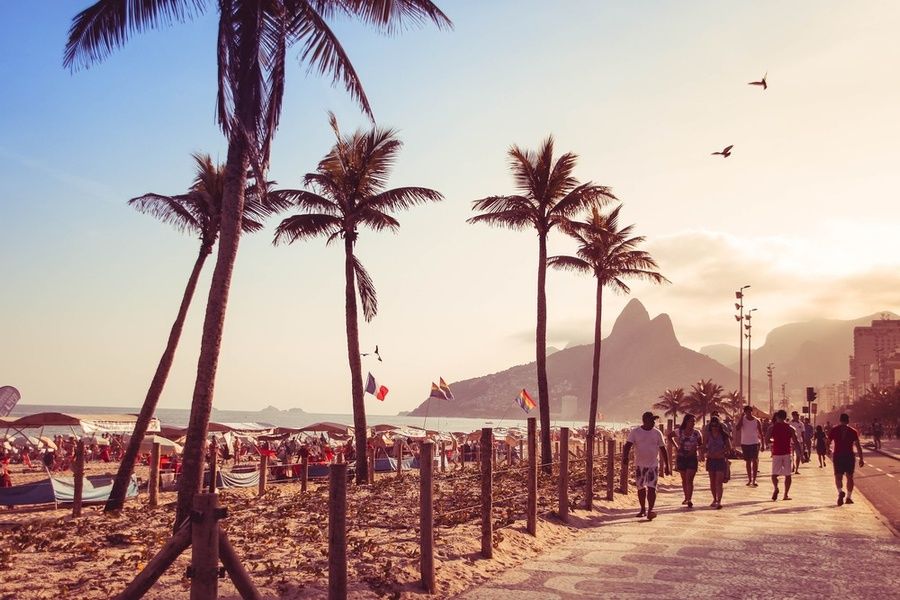 Equally as famous as Rio's sandy beaches are the city's black-and-white beachfront promenades. Found along Copacabana and Ipanema Beaches, these art deco mosaic boardwalks were designed by Brazilian landscape architect Roberto Burle Marx in the 1970s.
Seen from above, these promenades are works of art—and you're likely to spy beauty in another form while striding down them. Here, you'll see the tall, tan, young, and lovely as described in the famous song "The Girl from Ipanema."
Pro tip: An hour drive from Rio's downtown, you can schedule a tour of Roberto Burle Marx's estate, a UNESCO World Heritage site brimming with lush gardens sculpted by this master landscape architect.
#8: Find jungle tranquility in Rio's peaceful parks
With nearly 6.5 million residents, Rio de Janeiro is a bustling metropolis. But it is also home to one of the largest urban forests in the world, Tijuca National Park. To give you an idea of this lush forest's scope: take New York City's Central Park, multiply it by ten, throw in more than 30 waterfalls, and add plenty of monkeys swinging overhead. Then, you'll have Tijuca, a great place to trade in the crowds for a lungful of fresh air (and less than 10 miles from Rio's Centro neighborhood).
Another serene escape is Jardim Botânico do Rio de Janeiro, a vast botanical garden that has been boosting Rio's oxygen supply since the early 1800s. The garden is home to a picturesque stroll flanked by giant palm trees and a collection of more than 1,000 different species of orchids.
#9:
Eat up Brazil's national dish,
feijoada
Feijoada is a savory stew and a staple in Brazilian cuisine. Made with black beans, pork, beef, vegetables, and a slew of spices, this hearty dish is often served with rice or farofa, toasted cassava that has a salty, smoky taste and texture similar to couscous.
Although this stew is eaten year-round, no matter the temperature outside, many restaurants treat feijoada as a special only served on specific days. To ensure you get a taste, head to Casa de Feijoada in the neighborhood of Ipanema. This restaurant serves feijoada all day, every day, and also offers many variations on the country's favorite meal.
Pro tip: Casa de Feijoada is a safe bet, but, better yet, take advantage of a carioca's years-long search for the best feijoada and ask a local foodie for restaurant recommendations.
#10: Watch—or play—Brazil's national pastime,
futebol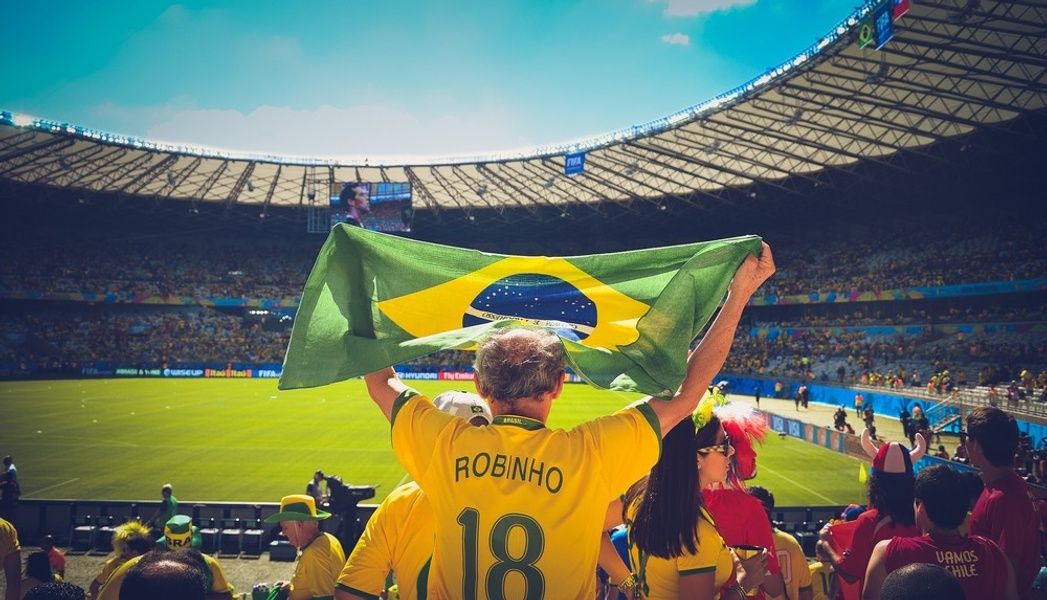 Futebol (or soccer for Americans) reigns supreme in Brazil. The country has won more FIFA World Cups than any other and gave rise to the sport's greatest player, Pelé. And Rio is home to Brazil's biggest stadium, Maracanã—a 78,000-seater that also hosted the opening and closing ceremonies of the Rio Olympics in 2016.
Catch a game (and futebol fever) at Maracanã by watching Flamengo, Rio's professional team, duke it out on the field. That said, you don't even need to set foot in a stadium to see some superb futebol. Find a pick-up game on the beach—Copacabana's postos 2 through 6 are well-known for their sports scene. But be forewarned: you need to have some serious skills to play with the locals.
#11: Get a dose of culture at one of Rio's many museums
While Rio de Janeiro might be best known for its beaches, its world-class museums are not to be overlooked. Get a glimpse into the future at the Museu do Amanha, or Museum of Tomorrow, where exhibitions provide a scientifically researched prediction of what the world will look like in 50 years. Or peruse thousands of works of modern art from international and Latin American artists at Rio's Modern Art Museum.
And to find out what all the cultured cariocas will be talking about that week, head to Centro Cultural Banco do Brasil. This institution, housed in a beautiful 19th-century downtown building, has a calendar full of visual arts, music, theater, and cinema programming.
Pro tip: Many of Rio's museums offer free admission on certain days of the week. Museu do Amanha is free on Tuesdays and the Modern Art Museum has free entry on Wednesdays.
#12: Capture the colors of Rio on camera
From vivid sunsets to vibrantly painted homes, Rio de Janeiro is known as a city full of color. Give your social media followers what they want: don't end your trip before taking an artful photo of Rio's kaleidoscope cityscape.
Snap a selfie at the Selaron Steps, a staircase decorated by thousands of tiles in every hue by artist Jorge Selarón. Or head to Orla Conde boardwalk in Rio's downtown district. This sidewalk stretches along Guanabara Bay and is lined by Etnias, a 560-foot long mural—the second largest in the world. Depicting humankind's indigenous ancestors, the painting was created as a symbol of unity for the 2016 Olympics.
Pro tip: If searching for street art is your thing, then ask your local contact for where to find the best murals in Rio. They can even create a walking map for you with recommended refreshment stops along the way.
#13: Embrace Rio de Janeiro's active lifestyle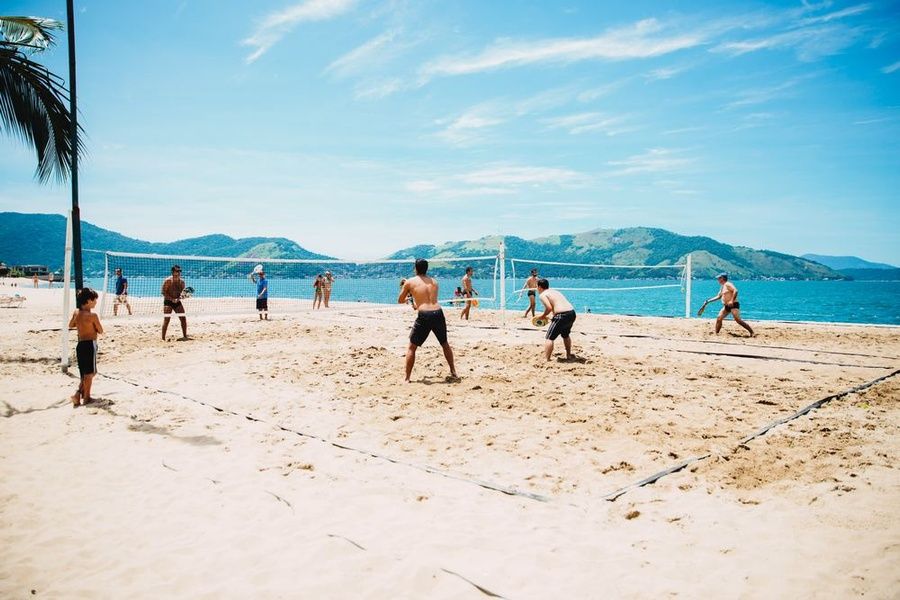 You don't get a worldwide reputation for being home to some of the best beach bodies if you're a nation of couch potatoes. Rio de Janeiro is an active city. Cariocas like to get moving, so to live like a local, you'll want to get moving too.
Lagoa Rodrigo de Freitas is a lovely lake in the middle of Rio, just north of the posh beachside neighborhoods of Ipanema and Leblon. Go for a run on the 4.5-mile path that circles the waters' edge. Or head to the beach for a yoga session or a pick-up volleyball game. You can also try your hand at frescobol, a Brazilian version of tennis played with wooden paddles.
Pro tip: If you'll need gear for your sport-of-choice or you're eager to learn how to surf or paddleboard, for example, ask a local for the best place to rent equipment or take a lesson.
#14: Gallery hop in the boho neighborhood of Santa Teresa
Situated on a hill to the southwest of Rio's downtown, Santa Teresa is a gorgeous neighborhood known for its arts scene. As one of the oldest sections of the city, these leafy cobblestoned streets are lined with artists' studios and galleries housed in restored colonial homes. Enjoy Santa Teresa's architecture and art all-in-one at the Museu da Chácara do Céu, a museum housed in a stately mansion.
And you won't be left guessing where Santa Teresa's artists get their inspiration; the neighborhood's elevated perch affords excellent views of Rio and Guanabara Bay. To avoid a hike up to this creative enclave, take the Santa Teresa Tram, an iconic yellow trolley that connects Santa Teresa to downtown Rio.
--
These 14 things to do in Rio are an awesome start, but there's way more to this sensational city. To see a unique side of Rio, connect with a local to plan your trip. They'll create a personalized itinerary that fits *you*—whether you want to samba like a true carioca or spend or days lounging on the beach. Basically, it's like having a best friend in Rio. Learn more.