With some local input, we created this in-depth guide to transportation in Spain, from Renfe (the national rail system), to buses, metros, flights, rental cars, taxis, Uber, and more—including how to get to and from the country's major airports.
Remember, American travelers over age 12 must still obtain a QR code through the Spanish government's Health Portal, or they can use an expediting service like iVisa which streamlines the process for a small fee.
Navigate with confidence with some local advice. Our trip planners are Spanish locals who will offer detailed transportation instructions *and* restaurant recs. Learn more.
Transportation in Spain
Renfe (Spain's national train network)
Domestic air travel
Coach buses
Rental cars (what to know)
Metro systems in major cities
Taxis vs. Uber
Using a scooter
How to get to/from major airports
Spain's national train network (
Renfe
) is often the best way to get from city to city
Locals tell us that Renfe, Spain's national train network, is quick, reliable, and affordable. It offers a variety of options including high-speed, regular, and suburban train lines.
Renfe's high-speed train is called AVE (Alta Velocidad) and runs between major cities. If you take the AVE from Barcelona to Madrid, you can cover the 311 miles in just 2 hours 40 minutes—and it'll only cost €50.

Make sure you

book your tickets

in advance (they are a lot cheaper), especially for AVE trains where reservations may be required.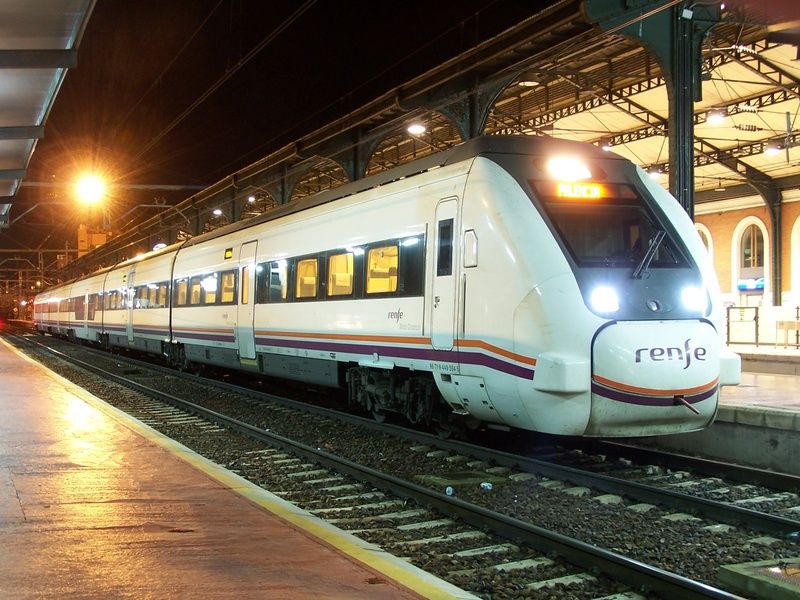 Domestic air travel is also quick and affordable
Spain boasts more than 40 airports, and there are a number of low-cost airlines that run daily flights between many cities in Spain. Most flights are under two hours unless you are heading to the Canary Islands.
Vueling

is the low-cost branch of Iberia Airlines and offers affordable tickets for domestic flights. For example, you can get a flight from Barcelona to Madrid for around €50.

Air Europa

is another great option for flying within Spain and are also a great bargain. You can fly the same route from Barcelona to Madrid for €45.

Ryanair

is another alternative for getting around Spain. They have more limited routes than Vueling or Air Europa, but their airfares are comparable (just don't expect many—or any—amenities).
Coach buses are very popular (and comfortable) as well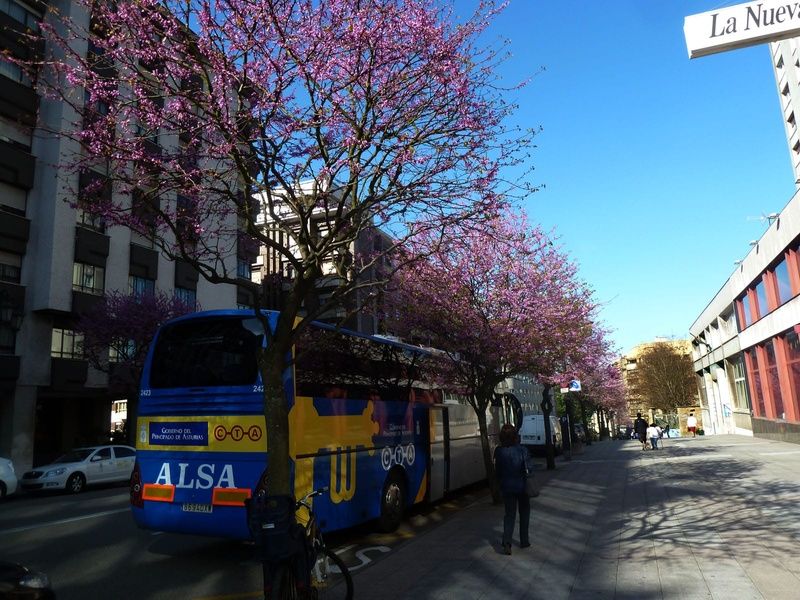 There are tons of amazing towns throughout Spain that don't have train stations—luckily, coach buses in Spain are widespread and much more comfortable and reliable than those in the US.
ALSA is the biggest bus company in Spain and has a reputation for great service. ALSA runs between major cities like Madrid, Barcelona, Bilbao, Valencia, and León as well as small towns in every region in the country. A trip from Barcelona to Madrid will take you about 8 hours non-stop and will cost about €24.
Local tip: Rest stops off Spain's major highways are really nice. Think fresh-squeezed orange juice, espresso, and lounge seating.
Rental cars are always an option, but there are some things to consider
Renting a car is a great way to get around Spain, but it has its drawbacks. If you come from a non-EU country, you'll need an International Driver's Permit (which you can get through AAA).
The largest highways in Spain (with the highest speed limits) are

autovías

.

Autovías are denoted by an "A" at the beginning of the road number.

Toll roads are called

autopistas

, and are denoted by an "AP" at the beginning of the road number. Make sure to have cash or credit card to pay for tolls.
Many major cities have great metro systems
There are metros in most major cities like Madrid, Barcelona, Seville, and Valencia. In Spain, metro tickets and passes let you travel on all types of public transportation, from city buses to suburban trains.
Spanish metros are known for their cleanliness and reliability. Though crime is very rare, locals say you should always be aware of your surroundings and be on the lookout for pickpockets—especially using the Madrid Metro (check out our article on safety in Spain for more info).
Here are some typical metro fares:
Madrid:

€2.00 per journey for most lines or €18.30 for a

bonometro

(which is valid for 10 journeys across any station in the Metro network).

Barcelona:

€2.20 for a single trip in one zone, or €10.20 for a bonometro.

Valencia:

€1.50 for a single trip in one zone or €7.60 for a bonometro.
Local tip: If you're staying in one of the big cities for a while, it's worth getting a refillable metro pass.
Taxis vs. Uber: A turf war
Because of the uproar against Uber amongst Spanish taxi drivers, Uber has had an on-again, off-again relationship with Spain.
Uber
You can get an Uber in Madrid, but Barcelona has banned Uber from operating in the city. Currently, Lyft does not operate outside of the US and Canada, so rideshare app options are limited.
Taxis
The best advice is to use a licensed taxi to get around. These can be hailed anywhere in major cities, though in smaller towns you will have to call them. Taxis in most major cities do accept cards.
MyTaxi
To call a taxi to your location without the stress of finding and hailing one, try the MyTaxi app. It also eliminates cash-vs-credit issues since you pay with the app.
See Spain on a scooter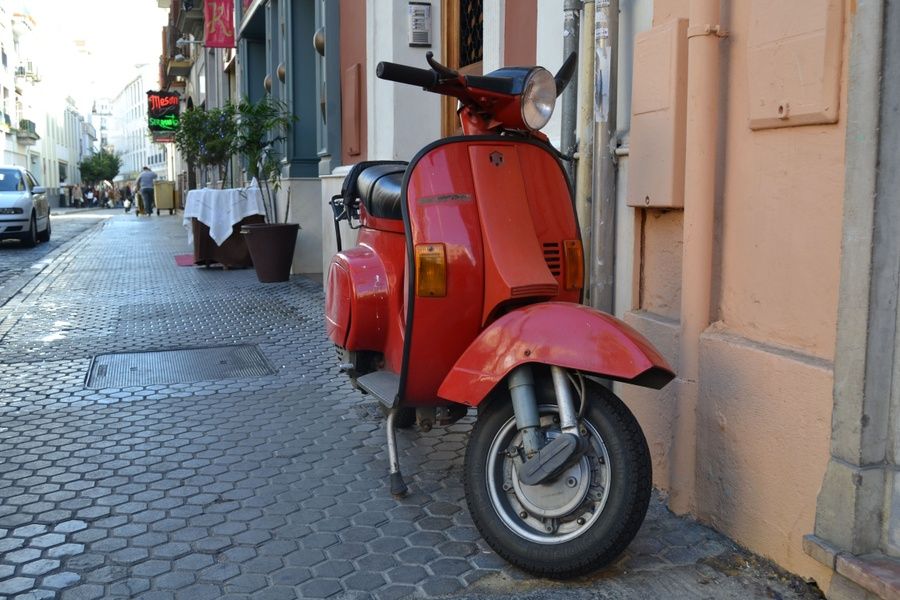 Renting a scooter to get around Spain may seem like a good idea, but you will need to have all your ducks in a row before hopping on a Vespa. Most significantly, you'll need an international driver's license and some experience riding a scooter or motorcycle. Additionally, you'll be sharing the road with some pretty aggressive drivers, so be careful!
Getting to and from major airports
Madrid Barajas Airport
The Madrid airport is located in the district of Barajas and is 5.5 miles from Madrid's financial district.
Metro:

The

metro

is the most popular way to get to and from Barajas. There are stations in Terminals 2 and 4. The fare is between €4.50 and €6.

Renfe (Train):

There is a train station on the first floor of Terminal 4. You can get to the station using a free shuttle that connects the airport terminals. You can take the train to the Chamartín, Nuevos Ministerios, Atocha or Príncipe Pío stations. The trip to Chamartín station takes 11 minutes and the fare is €4.50. During the day, the trains run every 5–8 minutes.

Bus:

There are several

bus routes

serving the airport that can get you anywhere in Madrid. The fare is €1.50 or €5 for Express Line 203.

Taxi:

Taxis are the fastest way to travel to and from the airport but they'll set you back about €30. Only use official and authorized cabs; they're white with a red stripe and have the Madrid City Council coat of arms printed on their doors. Use the

MyTaxi app

to book your ride and it's even cheaper.

Uber:

Madrid is the only city in Spain where you can get an Uber. It will cost €40–€54 to get from the airport to the city center.
Barcelona El Prat Airport
Barcelona's airport, El Prat, is 8.5 miles southwest of the city.
Metro:

The station is outside the arrival section of Terminal 1. Just follow the red M sign. The fare is €4.60.

Renfe (Train):

The train departs every 30 minutes and it takes 30-–40 minutes to get to and from the city center. The station is in Terminal 2, so you'll have to use a shuttle bus from Terminal 1. The fare is €4.50.

AeroBus:

This option departs from both Terminal 1 and Terminal 2 for the city center every 5 minutes. The trip takes just 35 minutes, and the fare is €5.90 one way (€10.20 roundtrip). You can buy your tickets

online

.

Bus:

This is the cheapest (but slowest) option. Buses leave every 20 minutes and take 50 minutes to get to the city. The price is just €2.20 one way (€4.40 for a return).

Taxi:

Barcelona's yellow-and-black taxis are the quickest way to and from the airport. You'll have to wait in line for a taxi and you catch them at either Terminal 1 and 2. The fare is €30.00–€35.00 to get to the city center. To hail a cab, use the

MyTaxi app

.
Valencia Manises Airport
Valencia's airport is about 5 miles west of the city in the town of Manises.
Metro:

There are two

subway lines

that link Valencia's airport, city center, and port. The station is on the ground floor of the regional flight terminal. The trip takes about 25 minutes and the fare is €4.90

AeroBus:

The bright-blue AeroBus has direct service to the city center and leaves the Departures Hall on the first level of Terminal 1 every 20 minutes. The trip takes about 25 minutes and the fare is €2.50.

Line 150 Valencia-Airport Bus:

This option leaves from the Departures Hall and operates every 26 minutes during the week (every 35 minutes on Saturdays). This bus does

not

run on Sundays or public holidays. The fare is €1.45, and the trip time varies from 45 minutes to over an hour, depending on traffic.

Taxi:

A taxi ride to the city center takes about 20 minutes and you can find the taxi stand outside the main terminal building. Average fares are €18–€20 plus a € 5.40 airport surcharge. To hail a cab use the

MyTaxi app

.
Conclusion: Have a Spanish local help plan your trip.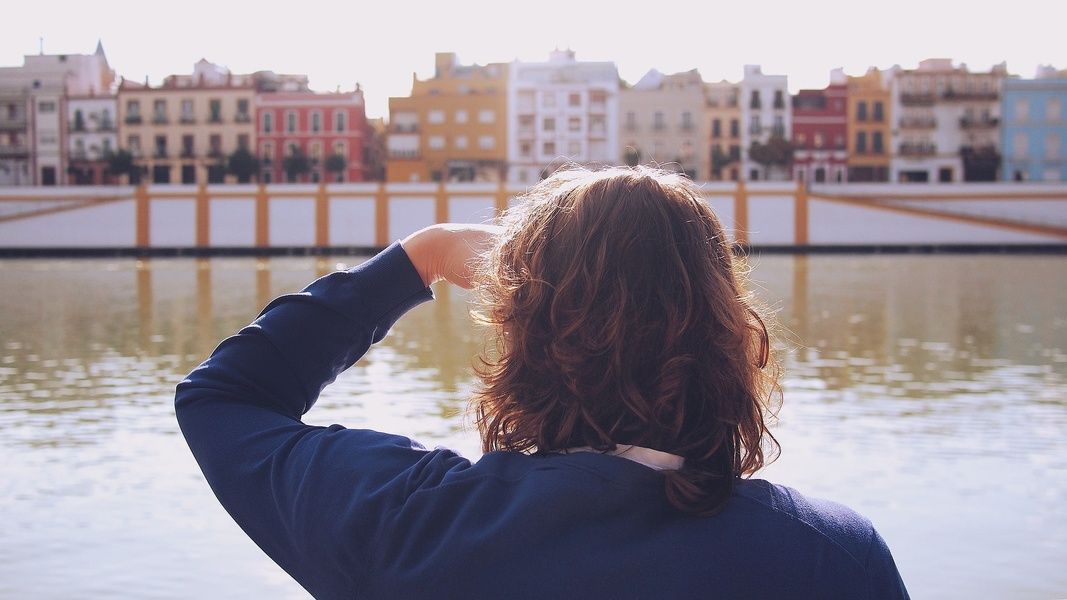 Spain, like most of Europe, has a great public transportation system, but it's not always easy for travelers to navigate (especially if they don't speak fluent Spanish). Our advice: have a local help plan your trip.
They'll provide detailed transportation options that adhere to your budget. And that's not all! When you work with a local to plan your trip, they'll help you to see a side of their country that most tourists miss—that means you'll get to learn about locally beloved bars, restaurants, museums, and parks that don't make corporate guidebooks.
--
Work with a local to plan your trip. And for more on Spain travel, check out: