The capital of Spain, Madrid, is a city steeped in history and culture. With so much on offer, make sure to start planning your trip as soon as possible! This guide of 23 awesome things to do in Madrid will give you a great jumping-off point, but once you're ready to really get down to the nitty-gritty of your itinerary, why not use a local Hero to help you put it all together?
Table of Contents: Things To Do In Madrid
Stop by Plaza Mayor
As the heart of the city, Plaza Mayor is a great first stop to get your bearings and the vibe of Madrid. The square has become a popular spot for tourists, so it can be crowded, but regardless, it's a great place to sit for a drink (albeit a slightly overpriced one) and watch as people and life go by.
Locals recommend Restaurante D'Corazon, but they also say it's best to find somewhere else to eat once you're done with your drink–which could mean a tapas crawl through Madrid. Quite frankly it's one of the absolute best things to do in all of Spain!
Learn About the History of Bullfighting at the Museum of Las Ventas
Bullfighting is undoubtedly problematic, but that doesn't change the simple fact that it is a deeply ingrained part of Spain's culture and history. A great way to learn more about it is to head to the Bullfighting Museum of Las Ventas, which will teach you about the fighters and the history of bullfighting and displays incredible works of art.
If you are worried about supporting the practice, know that entrance here is free–though capacity is limited.
Enjoy the Sunshine at Puerta del Sol
There isn't much to do at the Puerta del Sol–it is simply a spot that you should be sure not to miss during your visit to Madrid. It's an excellent spot to use as a meeting point should you need one. Plus, there is plenty of history here. If you're interested in learning more about that rich history, you might consider adding a walking tour to your Madrid itinerary.
Barrio de Salamanca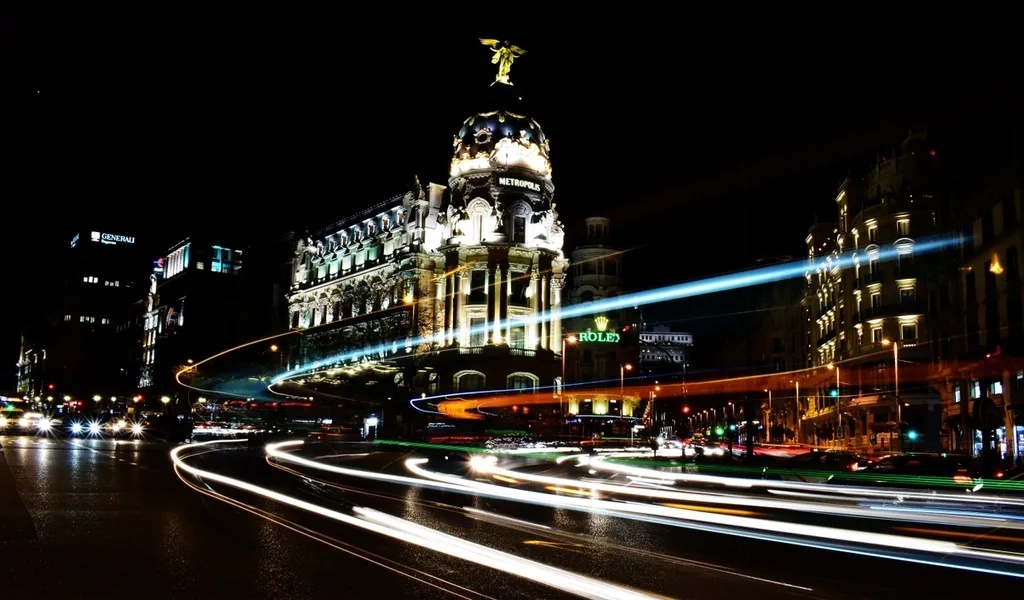 The Salamanca neighborhood of Madrid is a glitzy, upscale area that was built in the 19th century for the aristocracy. Unlike much of the rest of the city, this neighborhood has an easy-to-navigate gridded layout.
If you're looking to shop or dine out, your wallet will take a big hit in this neighborhood. But it's a lovely area to walk around, even if you don't intend to buy anything, especially in the evenings when the streets come alive and the shop windows light up.
For an alternative that is a little less swanky and a bit more hipster, check out the Malasaña neighborhood. Hanging out here is one of the most underrated things to do in Spain!
Pay a Visit to the Almudena Cathedral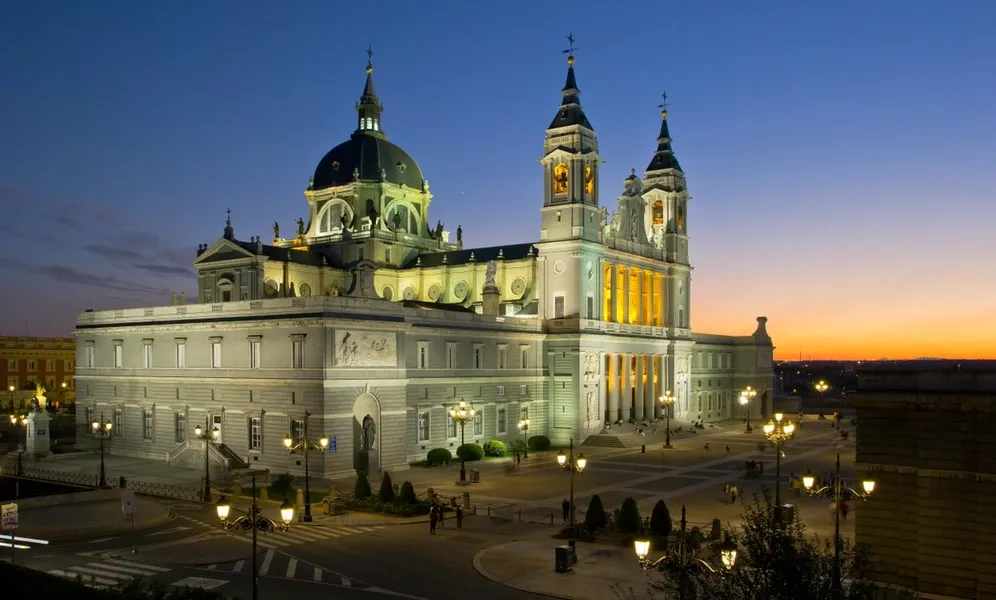 Almudena Cathedral is amazingly the only one outside of Rome to be consecrated. The building has an interesting history which actually isn't as old as one might expect. With other areas of the Spanish empire taking priority, the Almudena Cathedral was not built until the end of the 1800s.
Entering the cathedral is free, though a donation is strongly encouraged (though still not required). There is also a museum inside, but the entry to that is a required €6. There is a dome, entry to which is part of the museum price, but locals advise that it's really not that exciting, so if you're not interested in the museum you could go ahead and skip them both.
Learn About Jamón Ibérico at a Workshop
What better way to be introduced to Spain than through its food? One of the most notable delicacies from the region is jamón ibérico–a specially cured leg of ham that is cut in a very specific manner to create a truly stunning slice of meat that practically melts in your mouth.
The workshops offered in Madrid often take place under the guidance of a master carver who teaches you about the history of the meat and then guides you through the art of slicing it. Of course, a snack and a glass of wine (ask for a Rioja, if you can, having a glass is a must-do in Spain!) is part of the experience. For more help booking the perfect class for your interest (maybe it's a cooking class as an alternative to this workshop) ask a local for their tips and suggestions.
Check out the View from El Corte Inglés's Rooftop
Founded in Madrid, El Corte Inglés has grown to be the largest department store chain in Europe. Going for a walk through all the departments can be super fun for shoppers, and if you realize you've forgotten something on your trip you can be sure you'll find a replacement here. But, if you're not interested in shopping, head to the El Corte Inglés near the Gran Via and beeline it to the rooftop for a lovely view of the surrounding neighborhood. If it works for your schedule, aim for a sunset!
There is a restaurant and bar up there which offers a variety of food, but you can also just pop up for a photo before being on your way.
Dine with the Oldest of Them at Sobrino de Botin
Sobrino de Botin is the oldest restaurant in continuous operation, not just in Madrid or even in Spain, but in the whole world. It first opened its doors in 1725 and you can still dine there today. This, of course, makes it a bucket list item in Spain!
Reservations to dine must be made no less than 24 hours in advance. The menu is full of quite traditional Spanish food, but you are definitely paying extra for the fame of what the restaurant is! As part of a dining experience, you may also book a tour of the different dining areas, underground tunnels, and original oven, however, you can not book the tour on its own.
Search for Goodies at El Rastro Flea Market
The massive El Rastro Flea Market is a Madrid staple and takes place every single Sunday year-round, rain or shine. A visit to the flea market can definitely be overwhelming–there are loads and loads of stalls and if you're looking for anything specific you'll definitely want to know where exactly to look–which is something a local can help you with.
Regardless, going is an experience totally worth having. You may stumble upon a centuries-old item that you get to bring home with you, or you may just get to experience a very Madrileño day, either way, locals say it's a can't-miss market.
Enjoy the Fresh Air in Parque del Retiro
Retiro Park is a public park centrally located in Madrid, and it recently gained UNESCO World Heritage status. There is loads of space in the park so whether you're looking for somewhere to go for a run, a spot to enjoy a picnic in the sunshine, or just to take in the sights of the beautiful lawns and fountains, wandering through Retiro is an excellent item to add to your Madrid itinerary.
Discover Extraordinary Art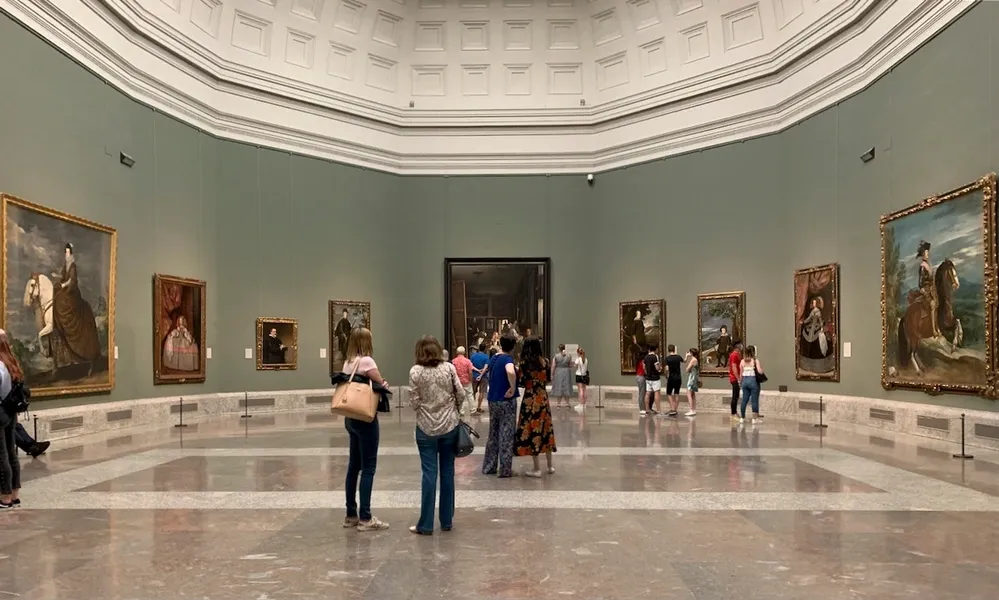 Museo Nacional del Prado
While there are several amazing museums in Madrid, the Prado is a must-visit. Home to some of Spain's most amazing pieces of artwork, you can find Velázquez, el Greco, Bosch, and Goya, amongst plenty of phenomenal others in the permanent collection.
It's highly recommended to book your tickets in advance to avoid long queues. And if you're happy to wake up early, aim to get to the museum at 10 AM when it opens for the quietest hours. There are select free hours for museum entry, but the lines to get in during those times can be very long, starting to form more than an hour in advance.
Reina Sofía
Full of 20th-century art, the Reina Sofia is another spectacular Madrid museum. And it is home to Guernica, the renowned work by Picasso which is a masterpiece not to be missed, whether you're an avid art enthusiast or not.
Like other spots, it's definitely a good idea to book in advance. But if you're on a budget you can visit for free daily after 7 PM (closing is at 9 PM). These tickets can't be booked in advance and you should expect to wait in line to get them.
Museo Thyssen-Bornemisza
Another option of a fantastic art museum to visit in Madrid, the Museo Thyssen-Bornemisza houses masterpieces by the likes of El Greco, van Gogh, and Cézanne. The same recommendations apply here–buy your tickets in advance online. Locals also say it's best to avoid visiting on weekends as that's the busiest time.
Palacio de Cristal
If you find yourself enjoying some time in Retiro Parque, why not pop in for a visit to Palacio de Cristal, or Crystal Palace, an impressive building made entirely of glass. The wonderful piece of architecture is actually now owned by the Reina Sofia and is used for their temporary exhibits but remains free of charge to access making it all the more worth a visit!
Explore the Royal Palace
With more than 3,000 rooms, the Royal Palace in Madrid is the largest in Europe. Officially it is the residence of the Spanish royal family, but they actually only use it for state visits. Locals say that the palace is very much worth visiting as it is quite an impressive building both inside and out.
You can choose to visit the palace as part of a guided tour or hire an audio guide. The main tour shows you a number of rooms including the throne room. There is an option of an add-on that allows you to also see the royal kitchen.
Root for the Home Team at a Football (Soccer) Game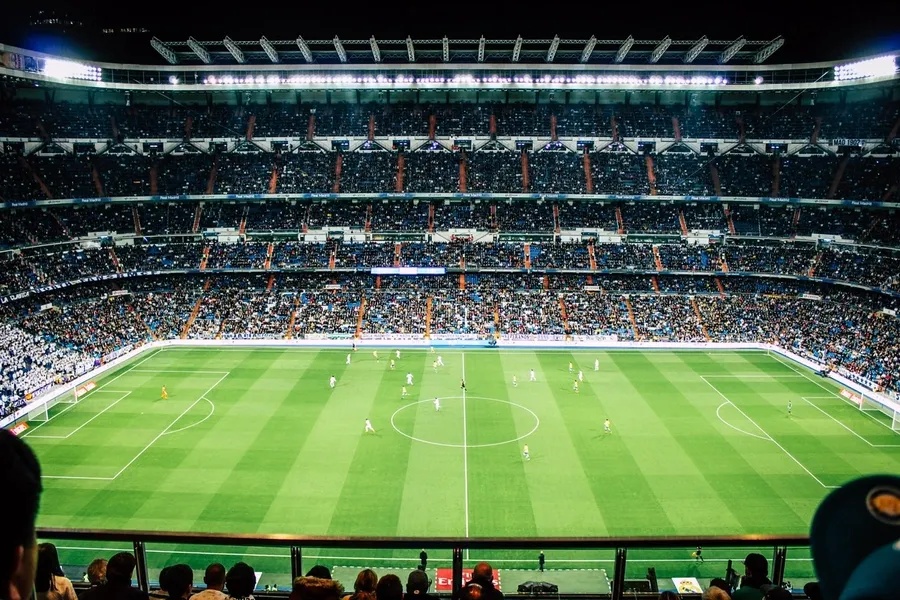 Madrid is home to three football teams: Real Madrid, Atlético de Madrid, and Rayo Vallecano. You may already have clear allegiances and know exactly which team you will be rooting for. But if you don't, and are just eager to feel the electric atmosphere of a Spanish football stadium when the home team scores, one team will be as exciting as the next.
To score a ticket you'll need to not only schedule your visit to Madrid between August and May, but you'll also need to be fairly on it in order to get a ticket before they sell out. For more tips on how to make sure you've secured a seat and which seats are the best, talk with a local about how they do it!
Window Shop Along Gran Via
If you're familiar with New York City, you're likely familiar with Broadway. The Gran Via is Madrid's Broadway–a large, historic boulevard that makes its way through the center of the city.
And, like NYC's Broadway, the Gran Via is home too to theaters galore. Grab dinner at Restaurante Ático before heading to a show at Teatro Lope de Vega followed by after-show drinks at Level Bar. Or chat with a local for more tips on what and how to experience the Gran Via.
Indulge at Chocolatería San Ginés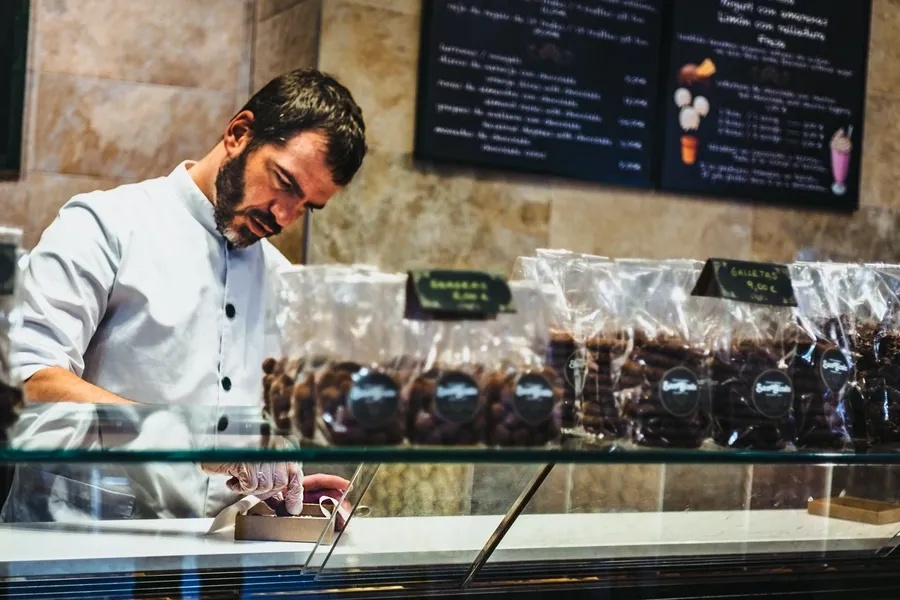 Perhaps the best thing about Chocolatería San Ginés is that whatever hour at which you find yourself with a hankering for a heavy dose of chocolate, it is open and ready to serve you.
The classic here is the churros with chocolate, and they are pretty delectable, but there are plenty of other pastries to choose from as well.
Transport to a Different World at Temple of Debod
Amidst the cathedrals and churches typical of this part of Spain you may wonder what a temple is doing here. Particularly an Egyptian temple. It was, remarkably, relocated to Madrid from Aswan, Egypt, when a dam was built that threatened the temple with floods.
It is free to enter the temple, but since entry is not ticketed nor limited you may find a long queue forming. It's highly recommended to visit during sunset when you may catch the sky lighting up as a backdrop to the temple.
Head Under the Sea at Atlantis Aquarium
Visiting Atlantis Aquarium is a bit of a day trip from Madrid. You can be there in about 30 minutes from central Madrid by car or about 45 minutes by train.
While aquariums, like zoos, can be a sensitive subject, and many may choose simply not to visit them, it is important to recognize the terrific conservation work this aquarium is doing. Particularly this is true in regard to education on climate change and the importance of protecting and preserving our oceans.
Snack at Mercado de San Miguel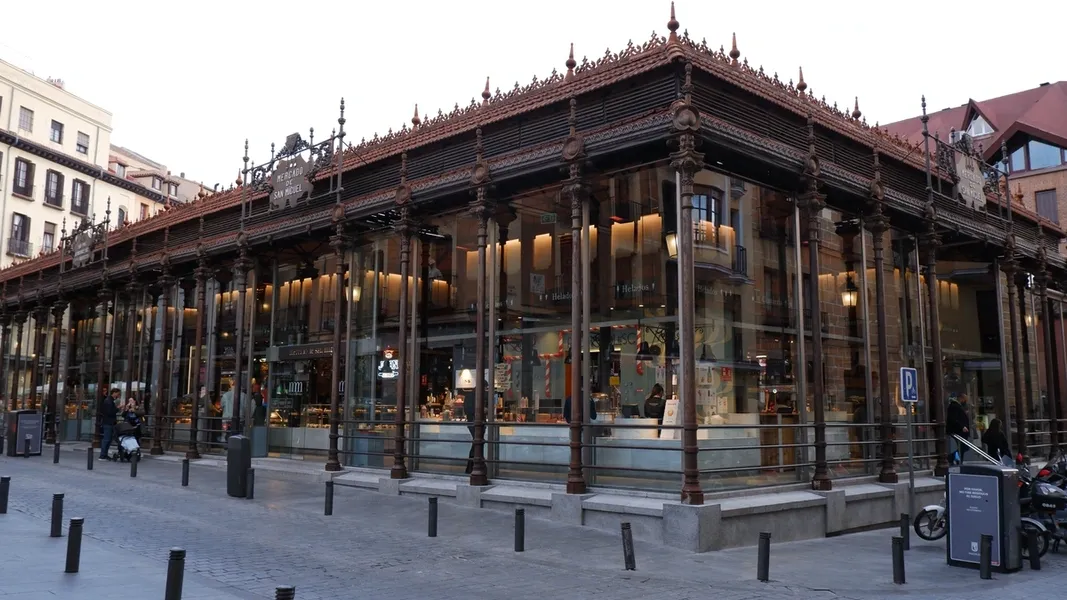 It's true that this may be one of the most popular spots in Madrid, but that's for good reason. Mercado de San Miguel has a solid history of spectacular food. So whether you're after a gourmet experience or a quick lunch to go, this is a must-stop spot.
To know exactly which stalls are really worth your time, ask a local what they recommend based on your specific preferences. Or better yet, make this part of a whole tapas tour, which is definitely a must-do in Spain!
Enjoy the Sunshine in Casa de Campo
Have a look at a map of Madrid and you'll find it difficult to ignore the large mass of green to the west of the city–that's Casa de Campo. These city lungs were made possible by 16th-century King Philip II who wanted easy access from his palace to his hunting grounds.
After centuries of being private, they were finally opened to the public, and remain that way today. So if you'd like a day in the city which feels, out of the city, head here. You can cycle, jog, picnic, or go boating on the lake.
Watch Superstars at Corral de la Morería
Not only one of the most famous flamenco venues in Madrid, Corral de la Morería is also one of the oldest. In addition to a night of great food, music, and dance by world-renowned artists, you can also enjoy the fact that you're in a space that the likes of Nicole Kidman and Salvador Dali once visited. At least one flamenco show should definitely be on any great Spain itinerary!
While the flamenco is undoubtedly phenomenal, so is the food. As a Michelin-starred restaurant, you can expect an impressive meal full of taste and flair. Be sure to book a table ahead of time to avoid disappointment. And if you need help making sure you've got the spot you want, use the assistance of a local.
Smell the Flowers at the Royal Botanic Garden of Madrid
Located next to the Prado Museum and El Retiro Park, these botanic gardens are home to thousands of species of plants. Open every day except Christmas and New Year's Day, a visit to the gardens is another fabulous way to breathe in some fresh air or learn loads about all sorts of plant varieties from Spain and around the world.
If you're in Madrid at Christmas time, check out the ethereal lights display that the botanic gardens puts on.
Wander Through Plaza de Cibeles
Another grand square in Madrid, construction on Plaza de Cibeles was started in the late 1700s. Consider stopping by the square as part of a self-guided walking tour of Madrid. And if that's something you'd like help putting together, use a local to curate the perfect tour for you based on your interests!
Head Out of Town to Toledo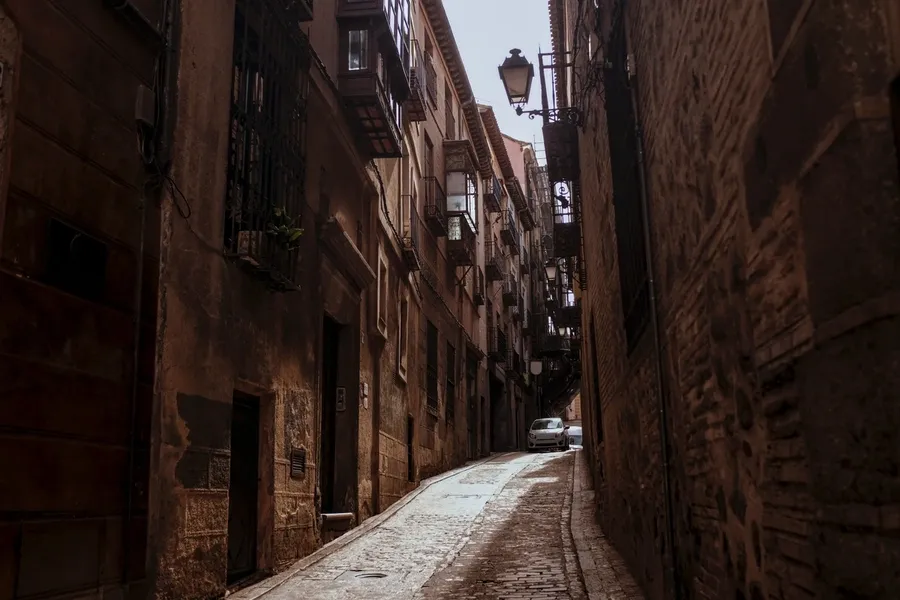 If you have enough days in Madrid that you're willing to give one up for a day trip, then Toledo is the perfect place to head for. This small city actually used to be the capital of Spain up until the late 1500s. Whether by car or bus, you can get from central Madrid to Toledo in about an hour, but the train actually cuts that journey in about half!
Highlights in Toledo include the Santa Cruz Museum (which used to be a convent), El Alcazar, Cristo de la Luz Mosque which now functions as a church but was originally built as a mosque, and the Jewish quarter (which is one of the best places to visit in Spain). To top it off with a really good, but laid-back lunch, stop by Lo Nuestro Taperia & Restaurante.
No matter what you end up doing, Madrid will surely leave you satisfied. So now, with all of this inspiration, get planning–or better yet, get a local Hero to do the heavy lifting for you by hand-picking the best spots and experiences based on your specific interests and tastes!
If you're ready to learn even more about Madrid and Spain, check out: