With more than 3,500 miles of coastline, tens of islands, 17 regions, and a population of close to 50 million people who speak five unique languages, it should go without saying that there are countless possibilities of things to do in Spain: from lounging on beaches to indulging in incredible food to exploring architectural wonders. That's why—with some help from locals—we've created this list of 20 things to do in Spain.
Not sure if you're permitted to visit Spain? Check this article out for up-to-date COVID travel restrictions on Americans going to Spain. For even more things to do in Spain, connect with a local to plan your trip. Our locals in Spain will plan a customized, safe, and unique trip away from the crowds—full of up-to-date info that you might not find online. Learn more.
20 Best Things To Do in Spain
#1: Go on a tapas crawl through Madrid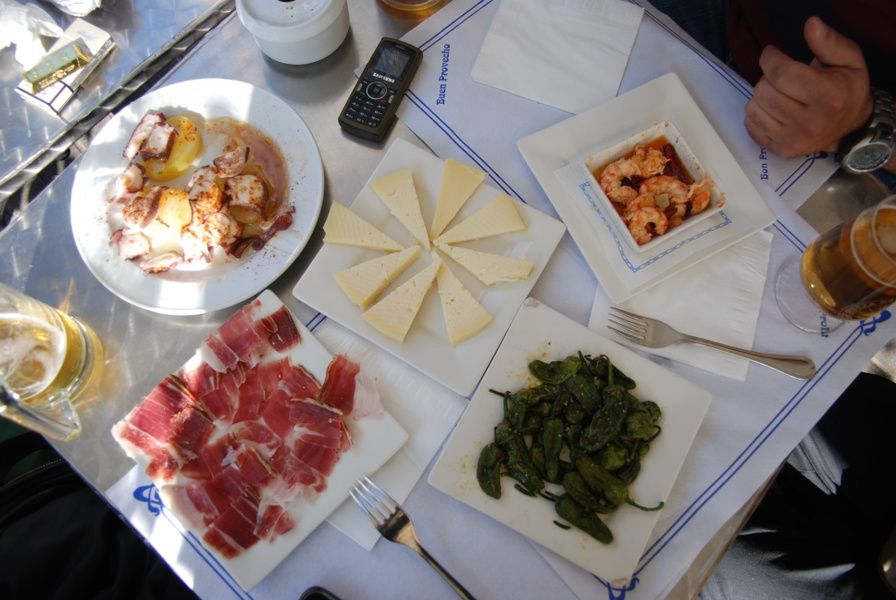 While in Spain you're going to want to eat as many tapas—bite-sized samples of Spanish cuisine—as humanly possible. You'll find tapas throughout the country, but Madrid is one of the best places to fill up!
Locals note that it's hard to find a more Spanish experience than going out for tapas. You can bar hop from place to place, snacking on delicious bites that are served with each beverage you order, and enjoy swigs of sangria until the sun comes up.
If Madrid is not on your itinerary, try Bilbao and San Sebastian where tapas are known as pintxos and are impossible to avoid and easy to fall in love with.
Local tip: Plaza Mayor, Madrid's main square, is surrounded by some of the best bars in Madrid (as is the entire Sol neighborhood).
--
Love to travel? Check out Yesterday in Travel, a podcast sponsored by ViaHero. The show covers fascinating moments in travel history, including this story about Spain tourism:
You can download Yesterday in Travel on Apple Podcasts, Spotify, or wherever you listen to podcasts.
#2: Catch a Flamenco show in Seville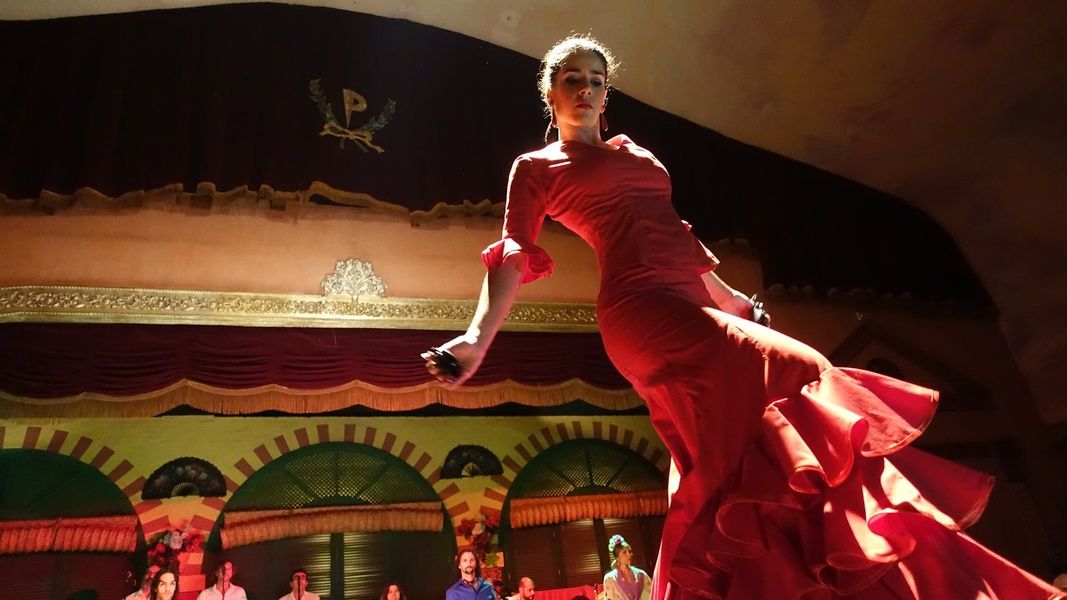 For a lively night that you'll never forget, catch a Flamenco show in Seville. The capital of Spain's Andalusia region, Seville is the place to enjoy this dynamic art form.
Featuring song, dance, and guitar, Flamenco developed over the centuries from the songs of Roma immigrants who made their way to Spain from northwest India. You'll find tons of places in Seville with awesome, authentic flamenco, like the oh-so-cool Casa del Flamenco. If you want to fit in with the locals, don't forget to yell "ole!" at the end of each set.
You can also catch an amazing Flamenco show at Corral de la Moreria in Madrid.
#3: Marvel at the fantasy of Gaudí's Park Güell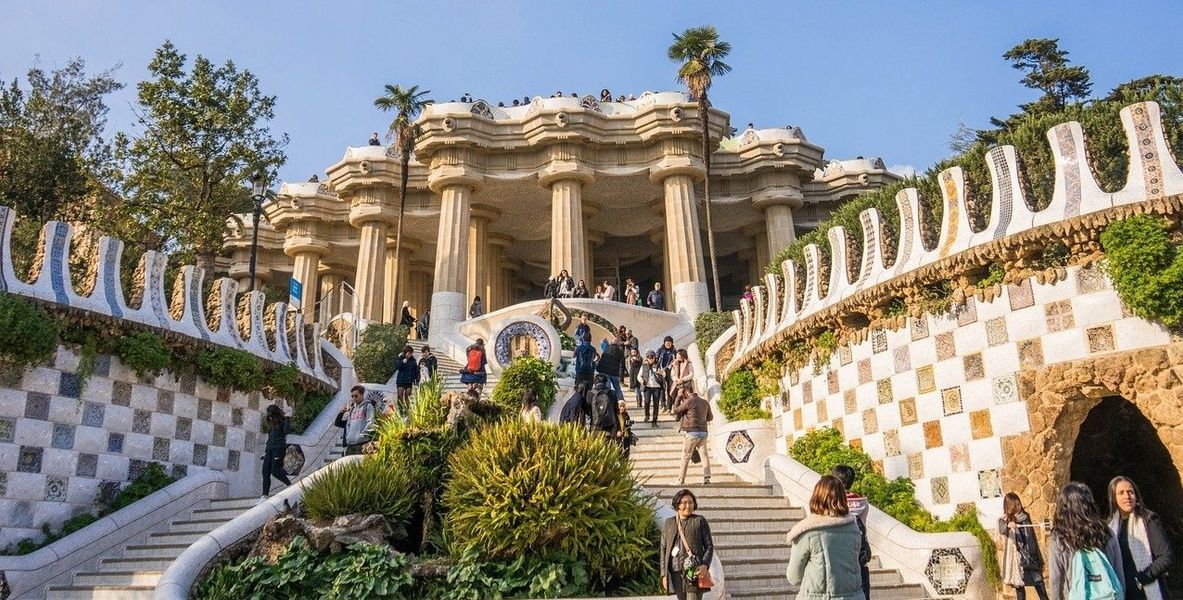 Barcelona's Parque Güell, designed by iconic architect Antoni Gaudi, is packed with amazing gardens, vividly colorful buildings, and giant lizards guarding brilliant fountains. This 100-year-old UNESCO World Heritage Site is a local favorite and a totally unique attraction not only for Spain but for the entire world.
The park is big and to see it all you'll find yourself walking a fair bit. It's a good idea to get an early start to beat the crowds and the heat as well as to make sure you're not rushed for time. Wear comfy shoes, bring water, and enjoy!
Local tip: When you buy a ticket for Park Güell, you get an admission time. If you miss that time by more than 30 minutes, you will not be allowed entry.
#4: See the amazing Moorish arches in Córdoba's ancient mosque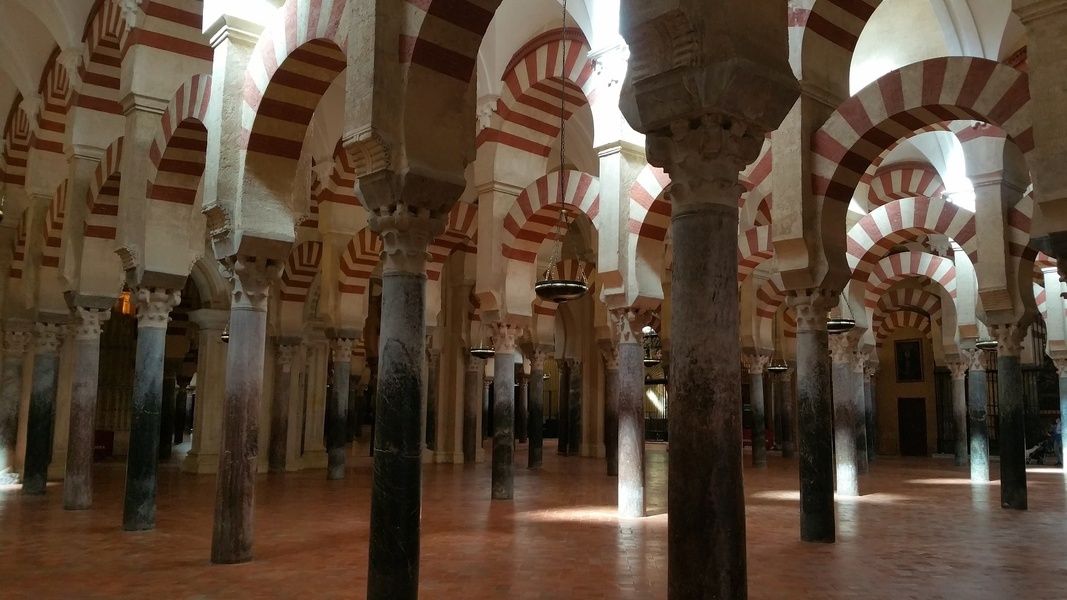 One of the most fascinating pieces of architecture in Spain's southern region of Andalusia is the 10th-century Mezquita de Córdoba: aka the Mosque-Cathedral of Córdoba.
Originally built as the city's main mosque under Moorish rule, this UNESCO World Heritage Site became a cathedral after the Catholic Reconquista. Its 850 Moorish pillars—topped with candy-cane-striped double arches and later Gothic additions—will make you feel like you're wandering in a stunning forest with layers of history. This symbol of the Islamic grandeur of Al-Andalus is beautiful and a total delight to explore.
While you'll need a ticket to visit as a group no matter what, if you're an individual you can actually enter on your own for free from 8:30-9:30 AM every morning.
Local tip: If you climb to the top of the bell tower, you'll get a fabulous view of the city of Córdoba.
#5: Party at an amazing Spanish festival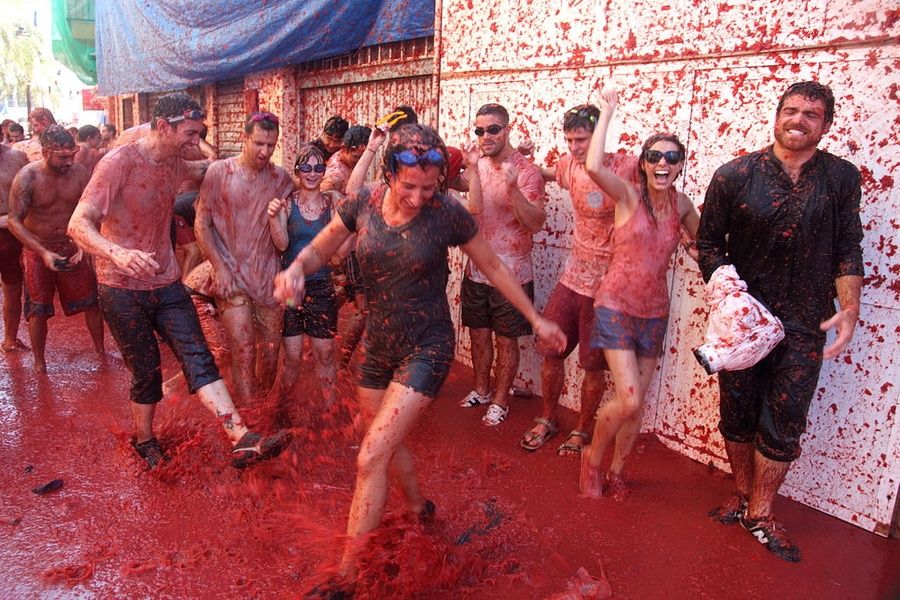 Spain has a tradition of unique, exciting festivals, and you'll find them all over the country year-round. Locals say that these are a few of the best and liveliest festivals held each year:
La Ruta de la Tapas in Frigiliana.

The town of

Frigiliana

throws a huge party at the end of August to celebrate its diversity through food, music, and art. The highlight of the festival is

Ruta de la Tapas

(Route of Tapas) where for only €2 each, you can take a tapas crawl through the town, sampling fare from local restaurants.

La Tomatina in Buñol.

Buñol hosts an epic food fight in August in which thousands flock to the tiny town for the

Tomatina Tomato Fight

. The actual tomato fight starts early in the morning, but arrive the night before and party in the streets with all of the locals in preparation for the big day.

La Batalla de Vino in Haro.

The Batalla de Vino (Battle of Wine) is a wild and crazy festival that takes place at the end of June in the village of Haro. Hordes of people flock to the wine-producing town to wage war—with wine! Spanish red wine from the famed Rioja region is squirted from sprayers and dumped by the bucketful onto the crowd. It's also customary for party-goers to gather the night before the festival to celebrate in Haro's alleyways.
#6: Wander through medieval Cáceres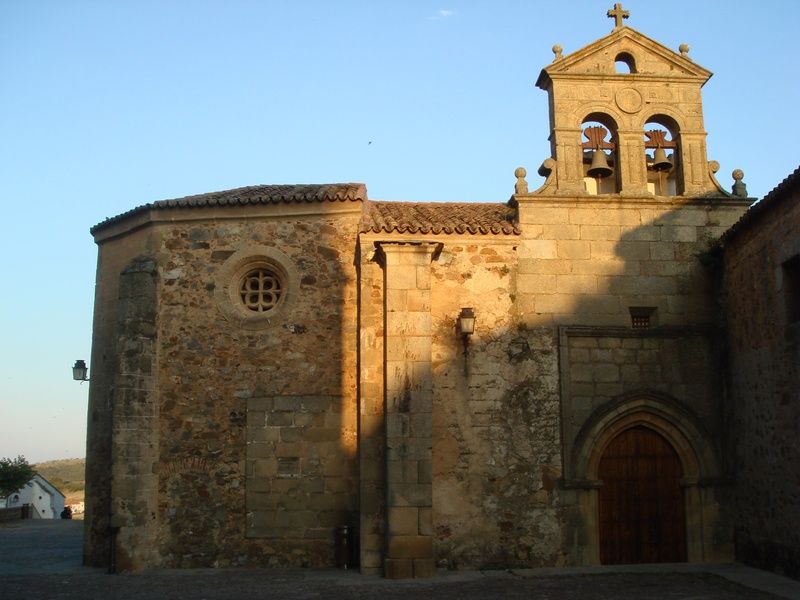 You won't find huge crowds in the medieval town of Cáceres. This off-the-beaten-path frontier town in the Extremadura region hugs the border with Portugal and has an amazing story to tell.
The Old Town's unique architecture has Roman, Islamic, and Italian influences; all of it is a relic of the many cultures who've called Cáceres home over the centuries. It's hard not to be awed by the walled city's archways, palaces, and towers.
Cáceres was also the site of many battles between the Moors and Christians during the Reconquista. And more recently it was the site of a different type of history being made: Cáceres is where many of the King's Landing scenes in Game of Thrones were shot.
#7: Eat perfect paella in Valencia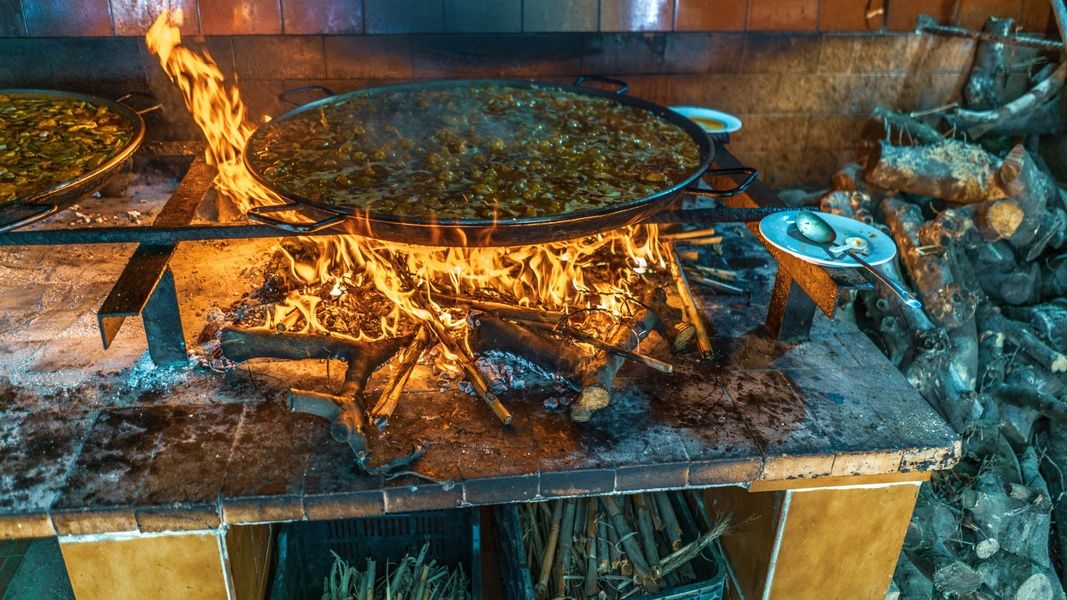 It's basically impossible to think that all paella isn't delicious, but the paella in Valencia is next-level, out-of-this-world, amazing. Unsurprisingly, Valencia is actually where paella comes from!
Locals suggest ordering paella Valenciana to get a taste of the classic version of the dish. Made with different meats like chicken, rabbit, or duck, and mixed with beans and sometimes snails, it's a sensation for the senses you won't soon forget.
No one knows paella like someone from Valencia, so be sure to ask a Valencian local for their favorite spots.
#8: Have a meal at the world's oldest restaurant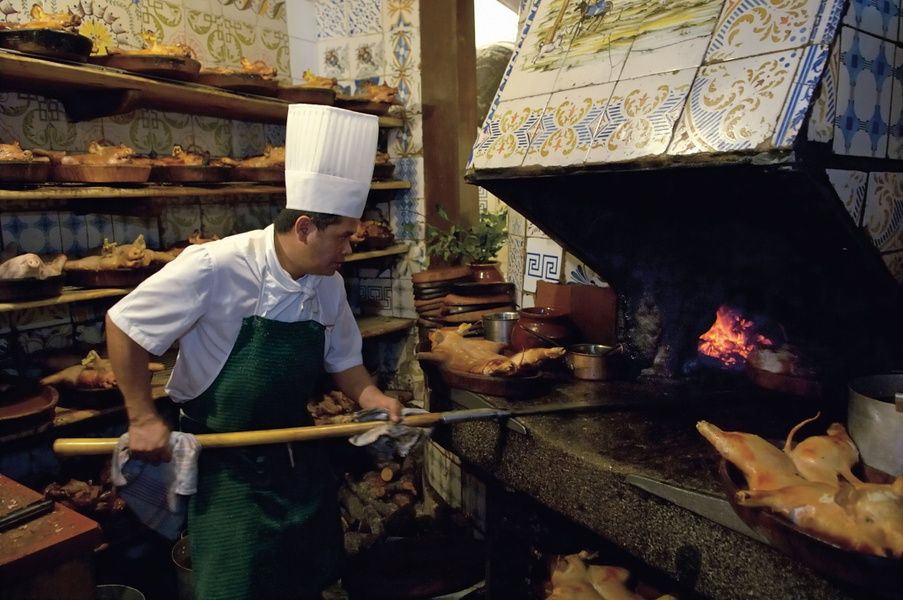 How would you like to have a meal where Goya was rumored to have washed dishes when he was young? That's how old Botín is. It was established in 1725 on Madrid's Calle Cava Baja and holds the Guinness World Record for the oldest restaurant in the world. It's the delicious food that's kept Botín in business for nearly 400 years. Try their signature dish: whole suckling pig stuffed with aromatics, doused with white wine, and then crisped in a wood-burning oven
Local tip: Ernest Hemingway invoked the restaurant in some of his most famous works: The Sun Also Rises and Death in the Afternoon. He also often mentioned Botin's roast pig in his fiction.
#9: Make a pilgrimage to Santiago de Compostela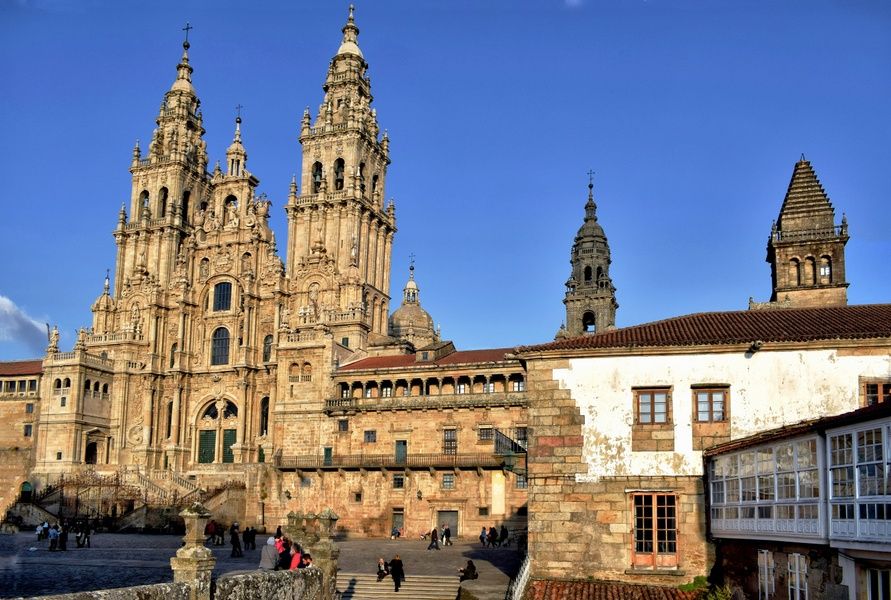 The Camino de Santiago pilgrimage route follows in the footsteps of the Apostle St. James. While there are now seven well-established Camino routes, some of which stretch as far as France and Portugal, the original route is believed to have been from Oviedo. Regardless, every route today ends at the tomb of St. James (Santiago in Spanish) at the Cathedral of Santiago de Compostela.
Whether you hike one of the many majestic trails that crisscross Northern Spain or just visit the town of Santiago de Compostela for the day, this amazing journey may just be one of the best experiences of your life—regardless of whether you are religious or not.
#10: Take in amazing art at the Guggenheim Museum Bilbao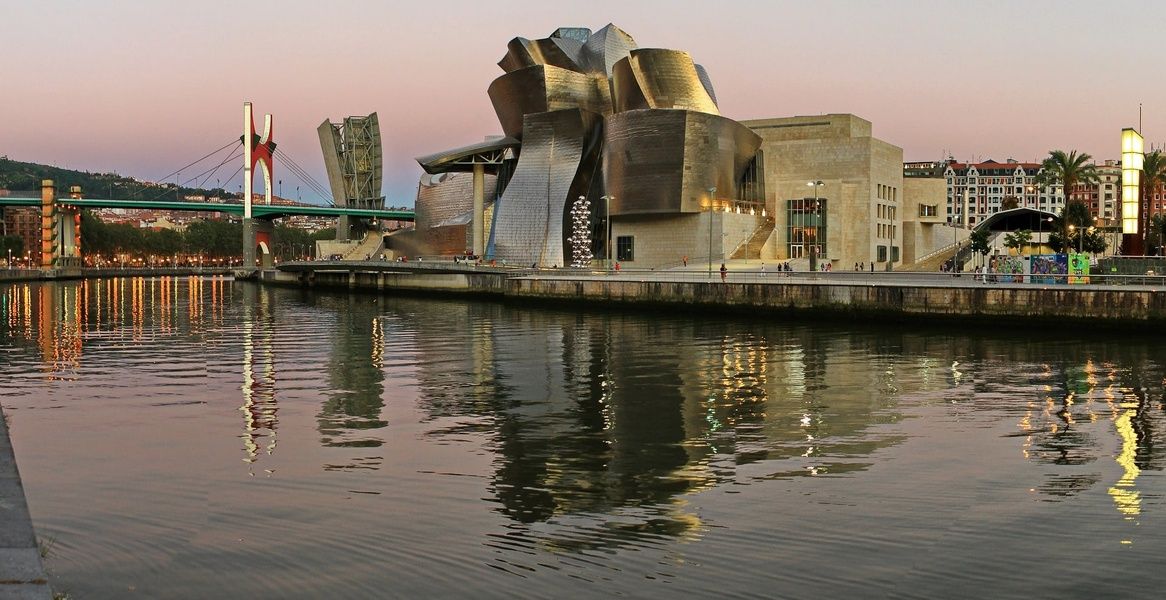 If you've ever seen the Walt Disney Concert Hall in Los Angeles or the Museum of Pop Culture in Seattle, then you'll recognize Frank Gehry's architectural genius when you see it at the stunning Guggenheim Museum Bilbao.
The beauty of the sleek, angled, silver building is second only to the amazing collection of modern and contemporary art masterpieces it contains within its walls. The museum is especially beautiful when you see it reflected off of Bilbao's sweeping waterfront.
#11: Discover the magnificence of La Sagrada Familia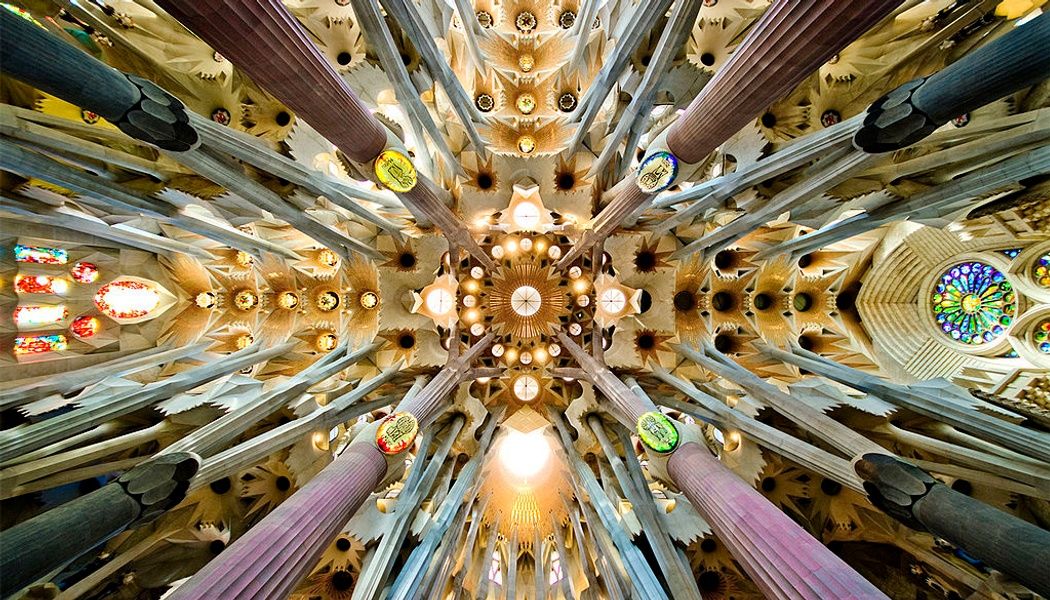 Another one of Gaudí's works that takes center stage in Barcelona is La Sagrada Familia, the iconic basilica that's been under construction since the late 1800s. (But that doesn't mean it hasn't remained one of the places you must visit in Spain!) This fantasy world of stunning stained glass, "melting" columns, and mind-bending designs echoes Gaudí's notion that the divine and the natural are inseparable.
This breathtaking Roman Catholic church is scheduled to become the tallest sacred site in Europe once it's done, which is currently scheduled to be in 2026 and has been a long time coming. But at this rate, we'll believe it when we see it!
Local tip: Use caution in crowded places like La Sagrada Familia that draw tourists. Barcelona is safe but beware of pickpockets.
#12: Get lost in the Moorish Halls of La Alhambra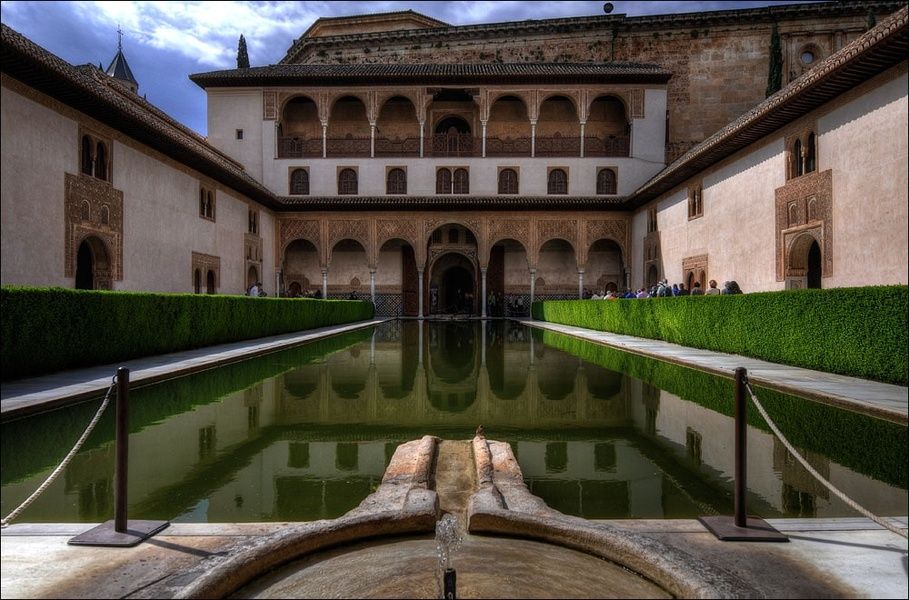 A trip to the hills of Granada will remind you of the impact that the Moors had in Iberia for 700 years. One of the most visible remnants of the Islamic influence on the Iberian Peninsula is the Alhambra Moorish fortress, a must-visit while in Spain.
This palace and fortress complex protected the city's inhabitants from invasion by the Christians during the last of the Muslim dynasties in Spain. You'll feel like you've traveled back in time as you stroll through the Alhambra's horseshoe-arched courtyards, beautiful gardens, and stunning arabesques.
#13: Stroll through Toledo's Jewish quarter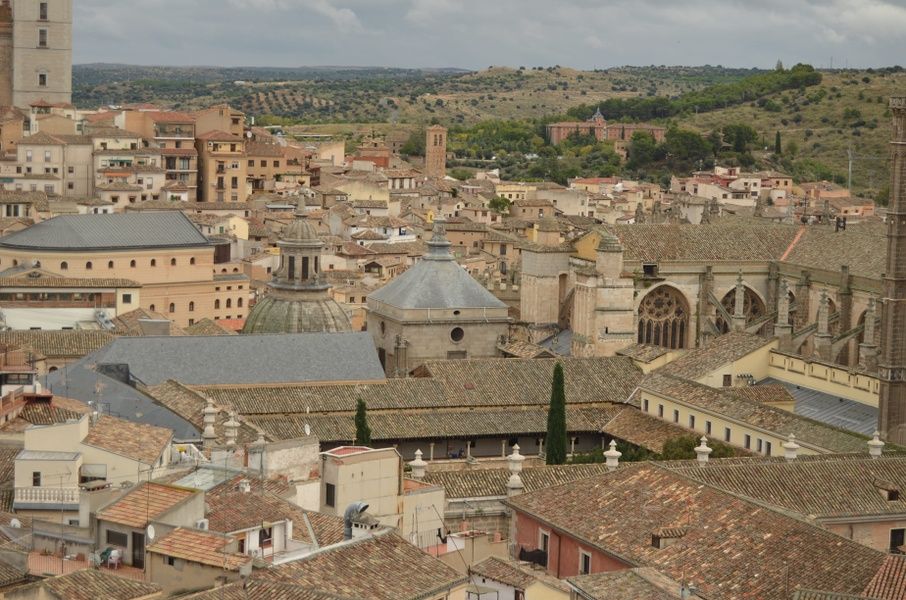 Just a short drive from Madrid is Toledo, a unique city where diverse cultures have historically lived in harmony. One of the best ways to learn about the storied multicultural history of Toledo is to wander through its historic walled neighborhoods, home to monuments from Jewish, Muslim, and Christian cultures.
One of the more fascinating parts of Toledo is the old Jewish quarter, with its narrow cobblestone streets and synagogues–one of which is possibly (it's a contested fact) the oldest synagogue still standing in Europe.
Local tip: Toledo is also famous for making the best swords and shields on the planet, so stop by a steelsmith and check out their wares.
#14: Drink Spain's most coveted wines in La Rioja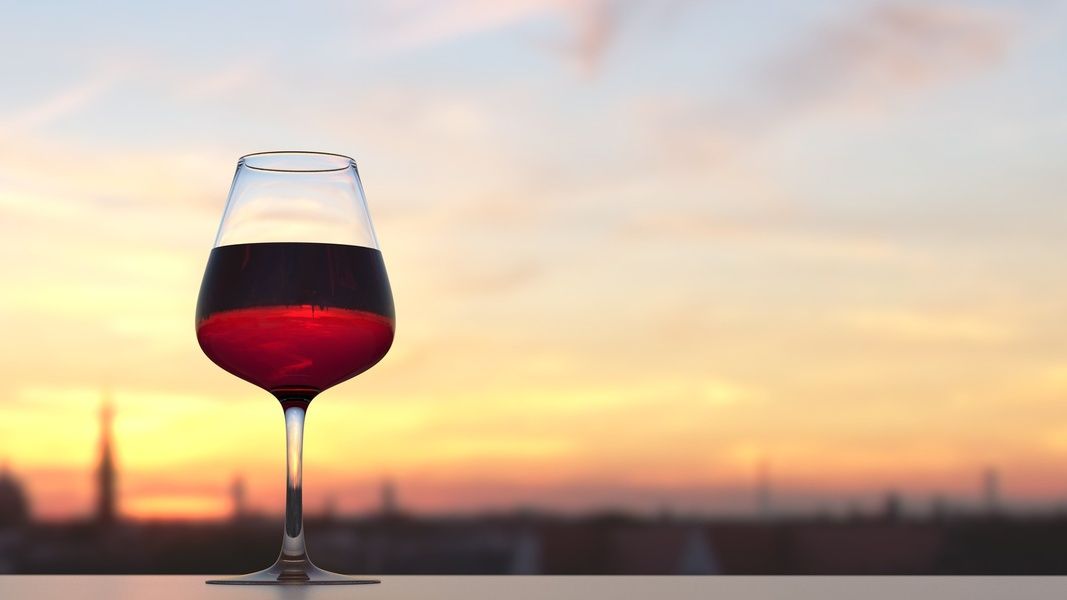 There's no arguing that Spanish wines are among the best in the world, and the region of La Rioja is internationally known for vineyards that turn out some of the most sought-after bottles on the market.
If you head to the town of Haro (home of the world's biggest wine fight—La Batalla del Vino–mentioned above) locals suggest taking a tour of Bodegas Muga. Bodegas Muga is not only a top-shelf winery but it is also one of the few wineries that still makes their own barrels.
You'll find a lot of incredible wineries in La Rioja (and some really touristy ones—so be sure to talk to a local for advice on which ones to visit).
Not going to make it to La Rioja? Check out the cava in Penedès instead.
#15: Bask in the sun on Ibiza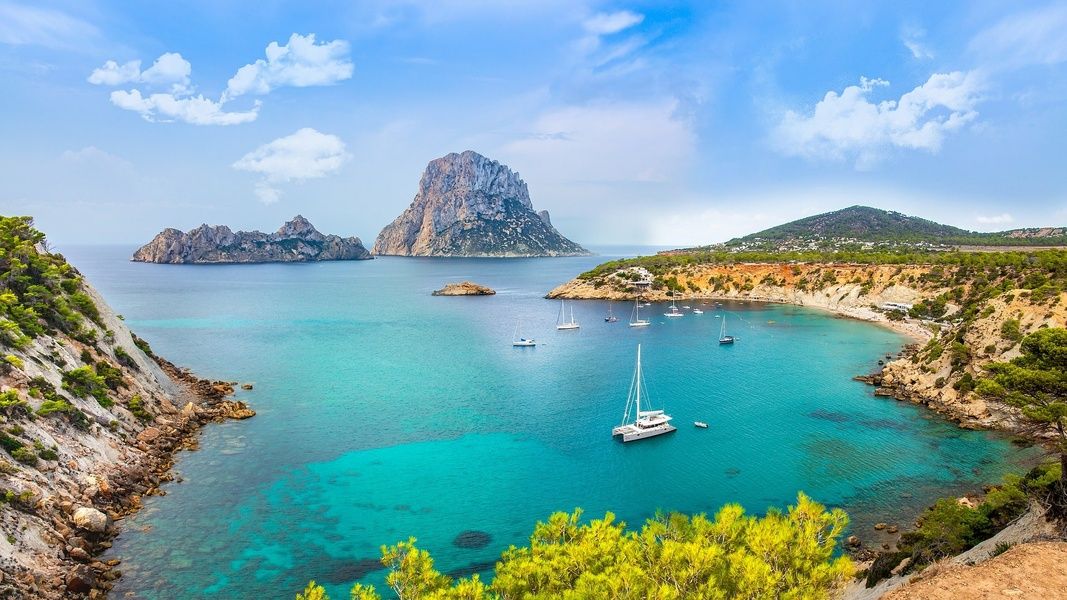 There's much more to Ibiza than A-list celebs, glitz, and glam. Spend your days at the jaw-dropping beaches and take a tour of stunning whitewashed villages in Ibiza's quiet rural interior.
Locals tell us that nature lovers will have a field day at Ses Salines, a huge wetland escape on the island's southern coast. They suggest skipping the fancy overcrowded hotels and checking out the agroturismos—traditional farmhouses turned into stylish rural hotels. There, the pace of life is slower and meals are homemade.
Local tip: Visit in October, when the summer crowds have left. Hotel prices are cheaper and you might even get the beach to yourself.
#16: Catch a soccer match at Santiago Bernabeu or Camp Nou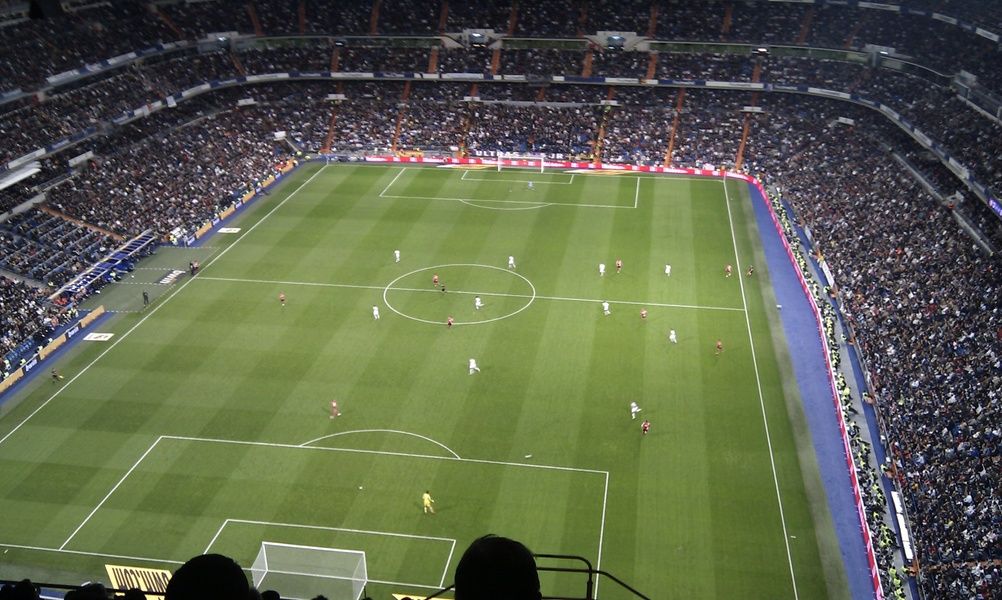 You won't find more passionate sports fans anywhere in the world than the Spanish—and their sport of choice is, of course, fútbol (soccer). The two biggest clubs in Spanish soccer are FC Barcelona and Real Madrid and they play their home matches at two of the most famed venues in Europe: Camp Nou and Estadio Santiago Bernabeu.
If you want to learn about the history of these iconic Spanish teams, both stadiums offer tours and have museums that pay tribute to their glorious histories.
But we agree with our locals in Spain. The best way to experience this slice of Spanish culture is by throwing on a jersey and catching a game.
#17: Visit the Prado National Museum

The Prado (Museo Nacional del Prado) is the official national museum of Spain and home to the Spanish royal collection. In the Prado's permanent collection are thousands of works of art by hundreds of artists including Bosch, Titian, El Greco, Rubens, Velázquez, and Goya.
Some of the most famous paintings in Prado's permanent collection are Velázquez's Las Meninas and the Garden of Earthly Delights by Bosch.
The Prado is in central Madrid and visits are ticketed at a cost, but you can also enter during some specific free access hours.
If you're not headed to Madrid on your trip to Spain, you could also check out the Picasso Museum in Malaga or the Dalí Museum in Figueres so as not to miss the opportunity to see world-famous art in person.
#18: Visit the Real Alcazar de Seville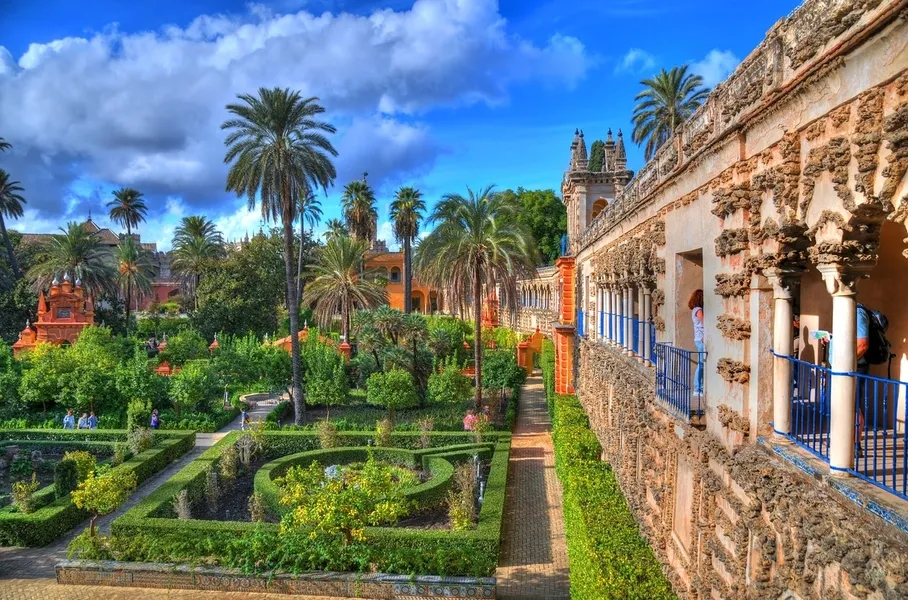 The Alcazar is an expansive property centered around the stunning palace and full of lush gardens–it's definitely one of the spots that should be high on your list of places to visit in Spain! Originally a Muslim fortress, the Royal Palace that stands today was built over top of the original structure in the 1300s for the Christian king Pater of Castile.
Visiting the Alcazar is a great day (or half day) out in Seville, but to make sure you get the most out of it and aren't just standing around in a ticket line in the sun, buy your tickets online in advance and get straight to exploring the magnificent palace and the gardens surrounding it, which have been growing for more than a thousand years. Or, head over on a Monday when entrance is free.
#19: Enjoy all the local cuisine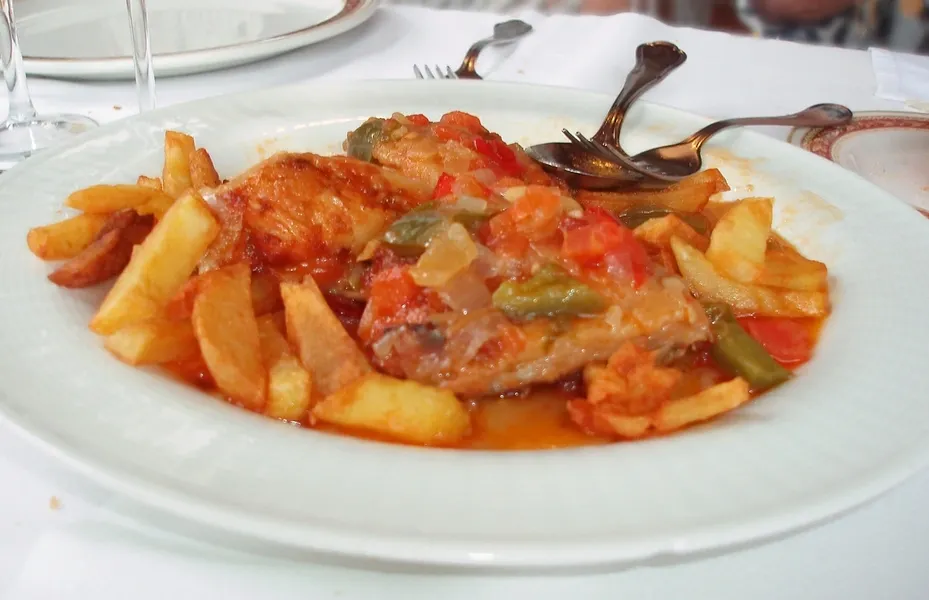 Paella in Valencia, tapas in Madrid, and pintxos in San Sebastian are all great gastronomical experiences. But there is so, so much more exceptional Spanish cuisine to be sampled and enjoyed. Some other highlights across a few of the country's 17 regions are:
Almadraba tuna in Cadiz–a tuna caught in a special way

Chilindrones in the Pyrenees–a roasted red pepper stew

Hormigos in La Rioja

–a honey-based dessert

Fabada in Asturias–a white bean stew

Tetilla in Galicia–a soft cheese
Ask your local guide for even more food recommendations in whichever part of Spain you're headed to, plus make sure to ask them to add the best restaurants to your perfect itinerary.
#20: Find a spot of sun to sunbathe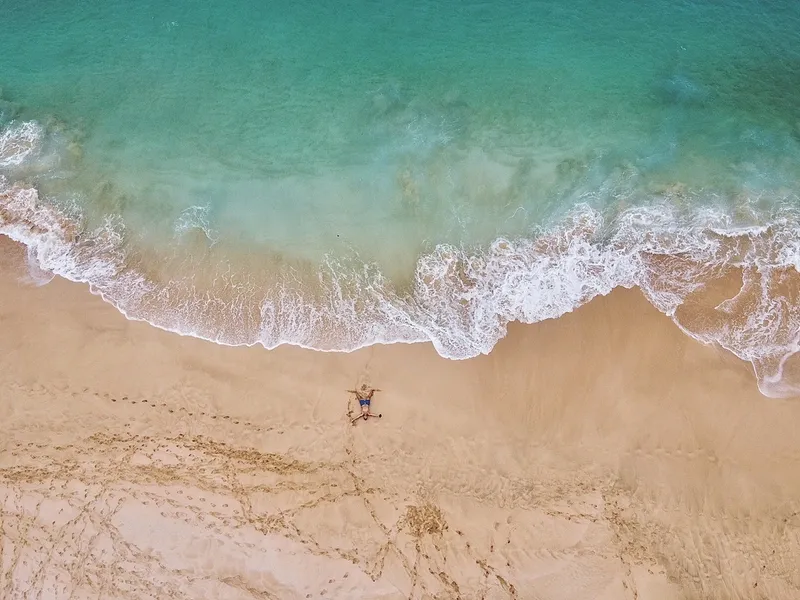 Ibiza is a great getaway with plenty of beaches to choose from, but with thousands of miles of coastline and plenty of other islands dotting the waters, it's far from your only option in Spain for stunning stretches of sand or crashing waves.
The Mediterranean coastline provides calmer seas and warmer waters while the Atlantic coast offers a more wild and rugged ocean vibe.
Check out some of the best beaches across the entirety of the country, no matter which beach scene sounds ideal to you:
La Concha Beach in San Sebastian

Ses Illetes in Formentera

Cala Agulla in Majorca

Tossa de Mar on the Costa Brava

Bogatell in Barcelona
If you're a total beach bum, try and see how many unique beaches you can fit onto your perfect Spain itinerary, just don't forget the sunscreen.
--
This list is an excellent start, but you'll still find even more things to do in Spain! For a trip that fits your travel style and budget, have a Spanish local design your itinerary. They'll create a travel plan based on your curiosities and interests, plus they can help with logistics like booking tickets or simple translations. You could leave it up to chance—or you could have someone who actually lives in Spain let you in on the country's secrets.
And before your trip, make sure to check out: