Whether you're looking for a rockin' beach party or a misty mountain town, a modern metropolis or ancient ruins, Thailand has it all. The country may be well known as the "Land of Smiles" for its fun-loving folks, but these 11 places to visit in Thailand are sure to put a smile on your face too.
These 11 destinations in Thailand are a great start, but you're going to want an expert's help to fill in your itinerary. Connect with a local who can personalize your trip to your must-sees, while recommending spots known by only those who call Thailand home. Learn more.
#1: Bangkok
Bangkok is the most visited city in the world—and you can bet that none of its 20 million visitors have ever left underwhelmed. Founded in 1782, Thailand's capital and largest city underwent several decades of lightning-fast expansion through the 1990s. The result? An endlessly fascinating (and chaotic!) metropolis where you'll be wowed by crazy contrasts.
There's the contrast between old, like the 18th-century Buddhist temple Wat Phra Kaew, and new, like King Power MahaNakhon, an ultra-modern skyscraper with a glass-floored observation deck.
There's a contrast between humble, like bargain finds among the sea of stalls at Chatuchak Weekend Market, and lavish, like sports cars and Prada pumps at Siam Paragon (a luxury shopping mall).
And there's serene, like a foot rub at the Wat Pho pavilion (where massage school students practice their new skills), versus exhilarating, like bar-hopping until the wee hours on Khao San Road (a rowdy street beloved by backpackers). In other words, there's something for everyone in Bangkok.
Pro tip: Bangkok is BIG and has a range of accommodations from luxurious to practically free. Connect with a Bangkok local to discover the best hotel for your travel style and budget.
#2: Phuket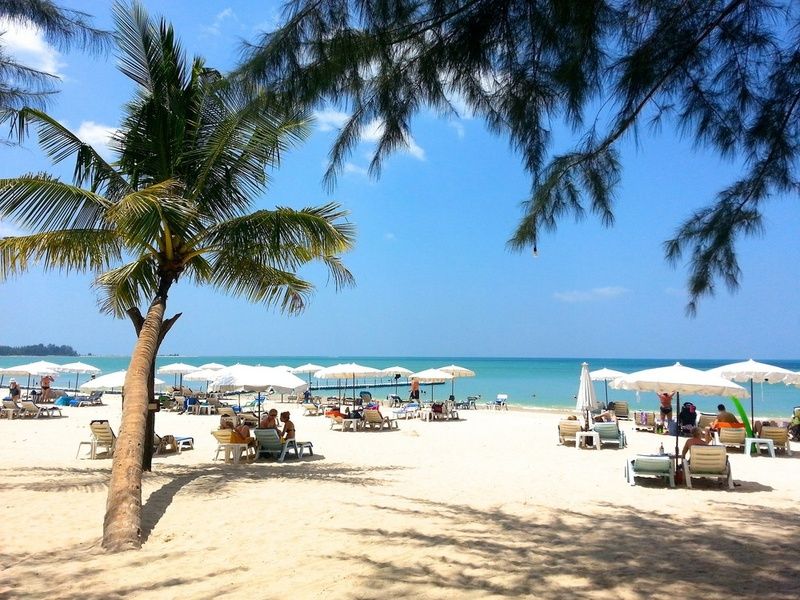 If you imagine emerald green water, bright white beaches, and striking vertical cliffs clad with lush vegetation when you think of Thailand, then you're probably thinking of Phuket. Once a 16th-century trading post, this island off Thailand's west coast boasts the country's most popular sand and surf.
People-watch from a beach club's cabana on playful Patong Beach or venture via boat to Freedom Beach, a more low-key, secluded sandy strip. Paddle a kayak through limestone caves and mangrove forests in Phang Nga Bay, made famous by its appearance in a James Bond movie. After dark, follow the neon lights to Phuket's bar-lined Bangla Road for a night out on the town.
Pro tip: Once you've had your fill of hanging surfside (if that's possible), spend a day exploring Phuket Town; the city center has a unique conglomeration of architectural influences—from Portuguese to Chinese. Your local contact can suggest a walking tour that hits the highlights.
#3: Chiang Mai
Situated among northern Thailand's vividly green and misty mountains is Chiang Mai, the largest city in the region. Founded in 1296, Chiang Mai was once the capital of the Lanna Kingdom, making it a stronghold for Buddhist culture, art, and history.
Encircled by a moat and fortress walls is the old city, where you can thread your way through ancient streets and explore the 14th-century temple Wat Chedi Luang. But don't expect a museum-quality reverence for this historic city center! A bustling market takes over on Saturdays featuring handcrafted goods, street vendors, and live music.
Pro tip: For more adventures into the past, travel just outside Chiang Mai to Wiang Kum Kam, where you'll find the preserved ruins of the 13th-century city that served as the first Lanna capital.
#4: Phi Phi Islands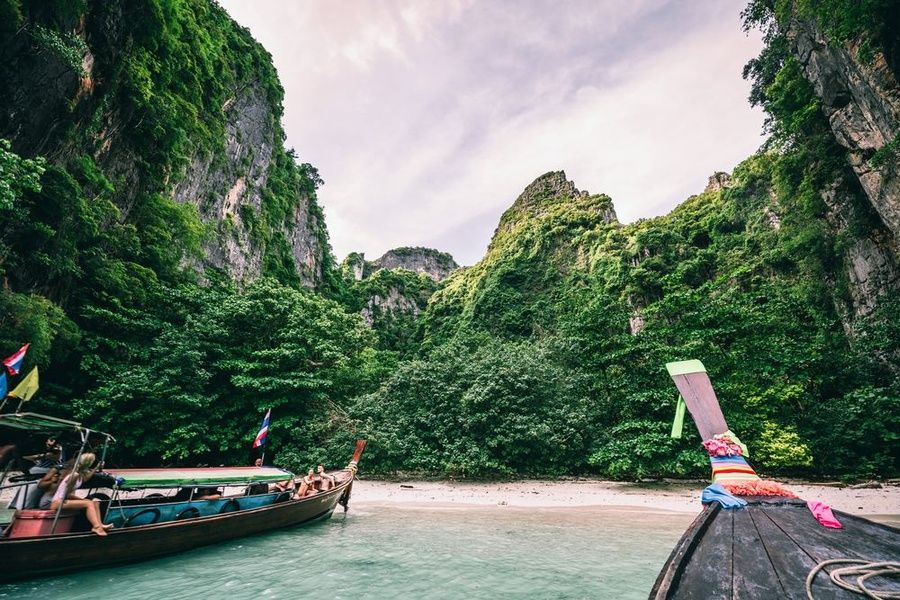 Sitting serenely in the Andaman Sea, east of Phuket, are the Phi Phi Islands. If you've ever seen Leonardo DiCaprio in "The Beach" (and turned it off before the plot goes awry), then you'll remember the Phi Phi Islands as the setting of an idyllic island paradise. Think: jade green waves gently lapping on white-sand beaches with a thick wall of mysterious jungle hovering in the near distance.
Some of the Phi Phi Islands are entirely uninhabited, others have no roads. But don't expect a quiet trip to this remote Garden of Eden. The Phi Phi Islands, and especially the spectacular cliff-ringed Maya Bay, are incredibly popular. So much so, Thailand's government has limited tourism to protect these beloved islands.
Pro tip: Even when the Phi Phi Islands are not closed due to sustainability concerns, overnight accommodations are scarce. Connect with a local for advice on when you can visit and how to experience the islands' natural beauty while making the least environmental impact.
#5: Koh Samui
As Thailand's second-largest island, Koh Samui is Phuket's east-coast cousin. Located in the Gulf of Thailand, it's known for its beautiful sand, striking limestone cliffs, dense jungles, range of beachside accommodations, and Big Buddha (standing nearly 40-feet tall).
Offshore, you'll find prime scuba-diving and snorkeling spots where sea turtles are often spotted. Or head inland to explore Namtok Na Muang, an impressive waterfall that cascades down boulders with a unique purplish hue.
#6: Koh Pha-ngan
Only ten miles from Koh Samui is Koh Pha-ngan, where the beaches looked so beautiful on a moonlit night that a grateful group decided to throw a monthly bacchanalian rave in that celestial body's honor. In other words, Koh Pha-ngan is known around the world for one thing: Full Moon Parties.
Once a month, when the moon shines brightest, thousands of party-goers converge on this island to dance the night (and morning) away. There're plenty of other activities to do here—including watersports, snorkeling, and yoga. But chances are if Koh Pha-ngan is on your list, you came to boogie on the beach (and you have glow-in-the-dark bodypaint ready to go in your suitcase).
Pro tip: If traveling to an island with 30,000 merrymakers sounds tricky, think about how the return trip will go when the hangovers hit. To skip the crowds, linger in Koh Pha-ngan and ask a local for recommendations on the best places to stay.
#7: Pattaya City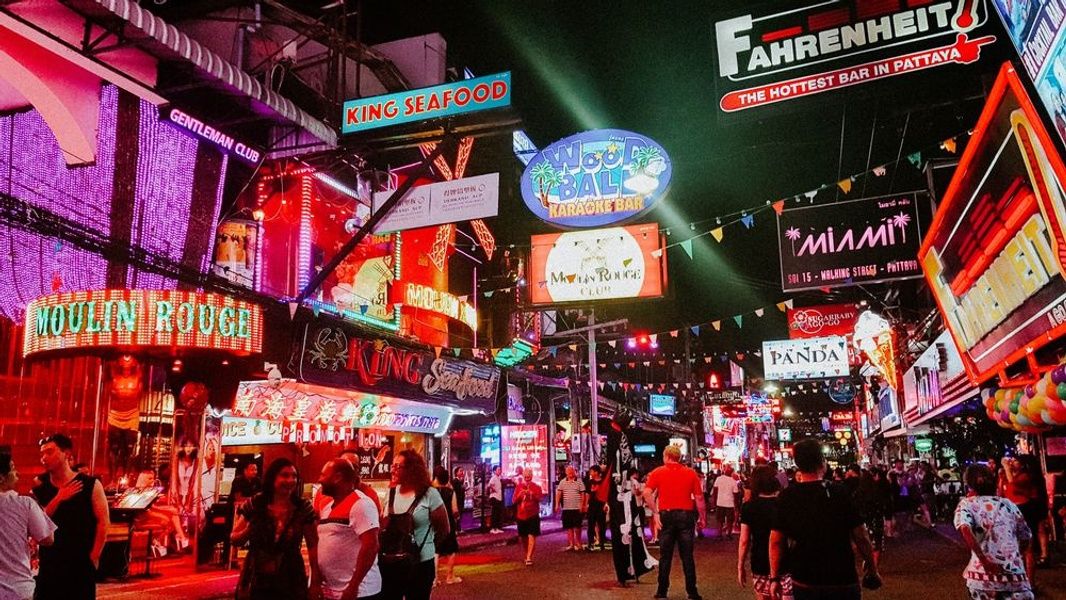 Thailand is known as a fun-loving country, and you're likely to find a vibrant nightlife scene no matter which seaside city you choose. But for those who love late nights that turn into early mornings, Pattaya City is the place to be. Only 60 miles from Bangkok on Thailand's east coast, this active resort city is brimming with beachside high-rise hotels, shopping, restaurants, and bars. Lots of bars. Pattaya City's go-go dancers and massage parlors have earned it a well-known reputation for nighttime debauchery.
But daytime amusement can also be found in Pattaya City. An abundance of waterparks (like Cartoon Network Amazone) and zoos (like Sriracha Tiger Zoo) also make it a family-friendly destination. See—once again, contractions abound in Thailand!
Pro tip: Bottom line: Pattaya City is for those seeking action-packed fun (whether that be innocent or risqué). If you're eager to quickly hit the beach after touring Bangkok, but want a more relaxed experience, ask your Thailand contact which nearby coastal town is best for you.
#8: Krabi
Krabi is a province of Thailand that stretches along the Andaman Sea and looks out toward the famed Phi Phi Islands and Phuket. With a plethora of small coastal cities and pristine beaches only accessible by boat, Krabi is a good choice for travelers seeking a more laid-back vibe and less commercial development. But there are still plenty of places to eat, stay, shop, and drink in Krabi—it's a well-traveled destination, just with fewer chain restaurants and a quieter party scene.
Krabi is also where Thailand's sheer limestone cliffs put on their greatest show, making the region particularly popular among rock climbers. Head to Railay Beach to take a rock climbing course; you're guaranteed to get a dizzying view of Thailand's gorgeous coast.
Pro tip: Whether you are a beginner or an expert, you can find a course in Railay Beach that fits your climbing comfortability. Connect with a local to ensure you use a reputable company.
#9: Khao Yai National Park
Less than three hours northeast of Bangkok is Khai Yai National Park, the oldest protected park in Thailand. Due to its vast array of flora and fauna, Khai Yai National Park is designated as a UNESCO World Heritage Site as part of the Dong Phayayen-Khao Yai Forest Complex. The park houses more than 400 species of birds, including the unique hornbill. Take a guided tour of the trails and you're also likely to spot elephants and gibbons. And though no tigers have been spied in person, cubs caught on a surveillance camera in 2017 caused quite the stir!
Pro tip: Spend a day in the park...or more. Focus your time on birds or capturing the best photos. The options are endless—a local can point you in the right direction for a tour that fits your interests.
#10: City of Ayutthaya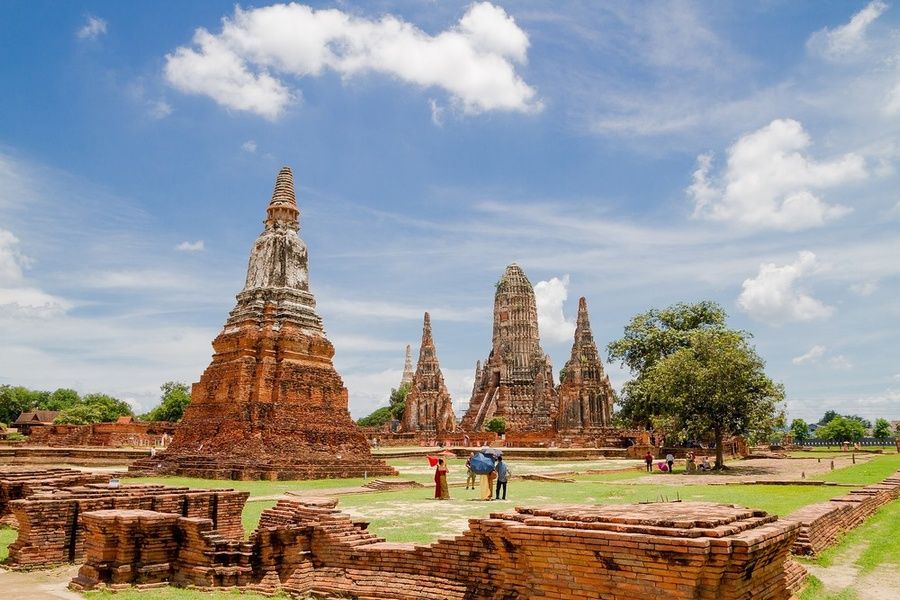 Travel north of Bangkok to visit the archaeological ruins of Phra Nakhon Si Ayutthaya, a UNESCO Historic City. Built in the 14th century, Ayutthaya once served as the capital of the Siam Kingdom. It was a powerful center of trade in East Asia until a Burmese army burned it to the ground in the 18th century.
Today, you can walk among the ruins of an ancient palace and temples. Most haunting is a statue of Buddha whose head is the only body part visible through the gnarled roots of a Banyan tree that has grown around it!
#11: Chiang Rai
Situated in the mountains of northern Thailand, Chiang Rai is less well-known than its similarly-named neighbor, Chiang Mai. But this city, and its unique arts scene, is not to be missed. In Chiang Rai, several Buddhist temples have been taken over by contemporary artists.
For example, artist Chalermchai Kositpipat opened Wat Rong Khun in 1997. This striking pure-white masterpiece blends ancient and modern in a very quirky way. You can spot a portrait of Kung Fu Panda among its murals!
--
No matter which places you want to visit in Thailand, get the most out of your experience by connecting with a local to plan your trip. They'll design a custom, immersive itinerary that will show you a unique side of Thailand—no matter if you want to visit Bangkok or Koh Samui. Why see Thailand like a tourist when you could see it like a local? Learn more.