It is easier than ever before to travel to Cuba from the United States, but what's so appealing about it? Why should you buy a plane ticket right now? Here are 10 things that'll inspire you to book the next flight you find!
Once you give the article a read feel free to chat with us directly to get answers to any questions about traveling to Cuba.
Want to explore Cuba differently? Have a local plan your trip.
Table of Contents
1. Untouched Culture
Travel to Cuba is like stepping back in time. The cars on the road are American cars from the 1950s. People talk to each other instead of constantly staring at their cell phone screens. You'll meander down cobblestone streets with dilapidated facades listening to someone singing or strumming a guitar or playing a raucous rumba song on the drums. You'll pass colorful, overflowing fruit carts and pop-up barbers who set up shop in the streets. It's a world away from the homogeneous hustle and bustle of the United States.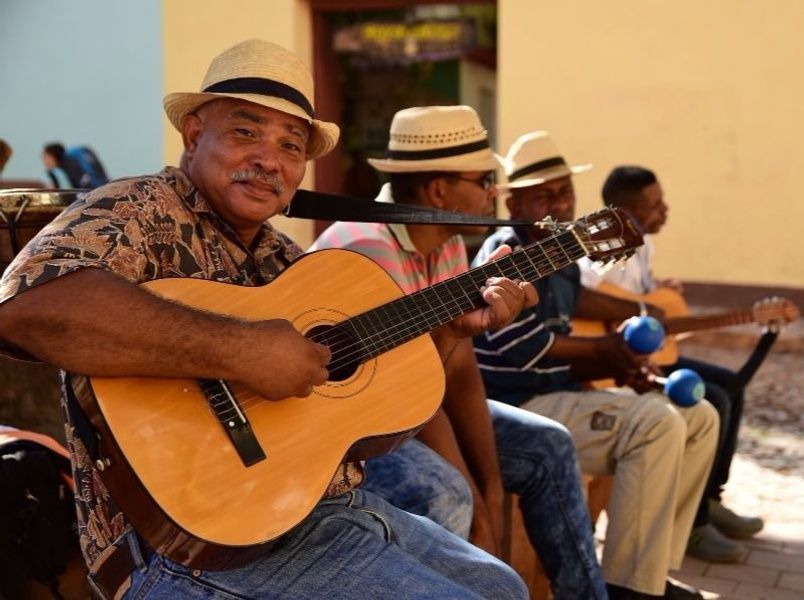 2. Music and Dance
Music and dance are woven into the fabric of everyday life. Taxi drivers will blast rumba music so loud that pedestrians will start dancing, people will serenade you with a fiddle or guitar on the street, and African drum beats will greet you when you stop for a drink.
You'll want to make sure you take the time to hear some concerts and see some dancing as well. Maybe even learn a few steps! Places like La Zorra y El Cuervo and Casa de la Musica in Havana are both wonderful places to get a taste of the music scene in Havana. La Zorra y El Cuervo hosts jazz concerts every night at 10 pm to a packed house. Casa de la Musica is the place to go to see the best Cuban salsa bands on your travel to Cuba.
3. Old American Cars
Held together by creativity, determination, and probably a few prayers, you'll notice the vintage cars when you travel to Cuba. They are a sign of the long embargo and car-buying restrictions the country faced. The roads are chock full of Studebakers, Ford Fairlanes, and Chevy Bel-Airs. These cars are not antiques, they're the everyday cars of the locals. Before the embargo, American cars were very popular in Cuba and many middle-class families bought one. At the time of the embargo, purchasing new cars became impossible for all but the wealthiest of Cubans. So people found ways to keep their old American cars running, and since car owners couldn't buy replacement parts from the USA, they had to resort to buying German and Japanese engines and parts.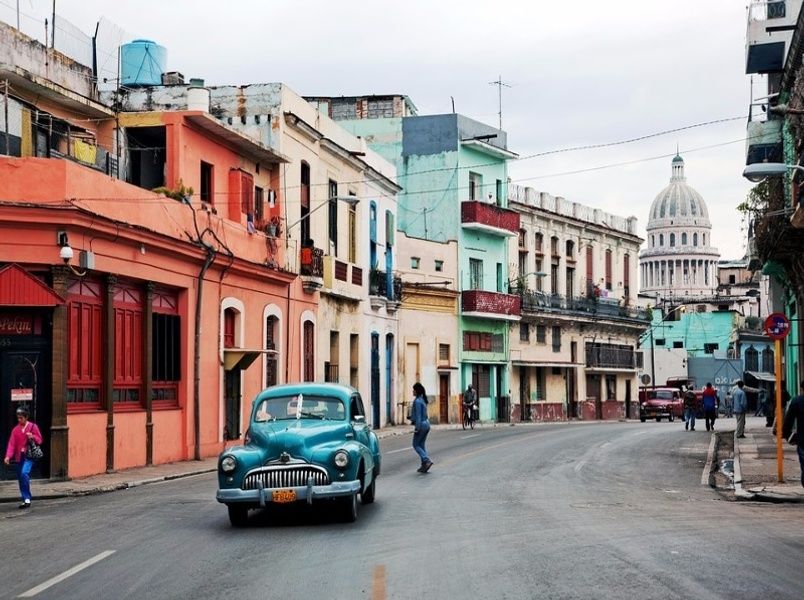 4. People
If you don't talk to the locals, you are missing the best part of travel to Cuba. Luckily, if you bring an open heart and a curious mind you're in for many lovely conversations. Cubans live their lives in the open. Your senses come alive in Cuba from the smell of cigars, food, and sea, the sounds of local music, and the sights of cars and buildings that look straight out of times gone by. The Cuban culture is casual and welcoming. People will teach you dance moves, cook for you, invite you to share a coffee, and offer directions when you need them. Take advantage of this and spend time just chatting with people.
5. Food
While Cuba isn't well-known as a top foodie destination right now, it's becoming one! Although you may have to seek out the truly amazing food, it is definitely there. Take advantage of invitations from locals for home-cooked food and eat the meals offered at your casa particular when you travel to Cuba.
Instead of state-run restaurants, seek out paladars, little places run by locals in their homes. Since the 1990s people have been allowed to open their homes to others for meals. While they typically serve Cuban cuisine, there are some of these tiny eateries opening featuring foreign cuisines like Japanese and Mexican. This is the most exciting part of the Cuban food scene, especially as restrictions are lifting that allow people to access a wider diversity of ingredients.
Street food is really cheap, will give you a chance to chat with more locals, and is a must when you travel to Cuba. Ham and cheese empanadas and ham and cheese sandwiches are street food staples. Also, keep an eye out for tamales and corn fritters.
6. Get Outdoors
The adventure possibilities in your travel to Cuba are seemingly endless. Whether you're on land or under the water there is an adventure to try. What we've highlighted here is just the beginning.
Divers and snorkelers love Cuba for being the jumping-off point for one of the world's largest coral reefs, a huge variety of fish, not to mention the crystal clear, unpolluted waters.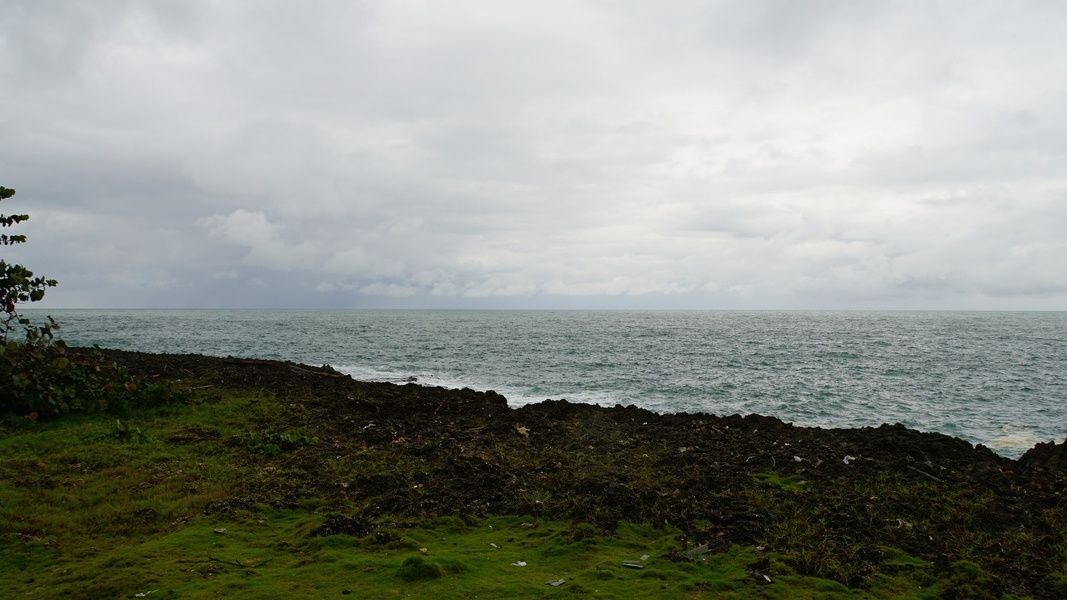 Over 20,000 caves have already been discovered in Cuba and more are being found all the time. There's something for every level of caving experience, from walking tours for newbies to speleo-diving for those already highly trained in this area.
When you travel to Cuba, hiking trips need to be carefully planned in advance as trails tend to be poorly maintained with little signage, due to the fact that Cubans just aren't as excited about hiking on the whole. On top of that, many of the best hikes go through ecologically sensitive areas that are restricted. All that said, if you love hiking it's worth taking the time to do the research on great hikes in Cuba because they're out there.
7. Casas Particulares
In the 1990s, Cubans were allowed to open their homes to foreign visitors for private homestays. These are called casas particulares. Visitors pay to stay in a bedroom in a local home instead of at a big hotel. While locals benefit from income and exposure to people from around the world, visitors benefit from the opportunity to participate in the daily routines of Cuban families.
8. Rum
There are over 100 rum factories in Cuba churning out bottles of molasses-based liquor in light, golden, and dark varieties. In Havana, you'll find classic bars home to classic cocktails like the mojito, daiquiri, and Cuba Libre. El Floridita, one of Ernest Hemingway's favorite haunts in his travels to Cuba, prides itself on being the place that perfected the daiquiri.
Locals love a dark rum served neat to enjoy the full flavor and nuances of the drink. Ron Santiago de Cuba and Ron Varadero are popular choices you'll notice when you travel to Cuba.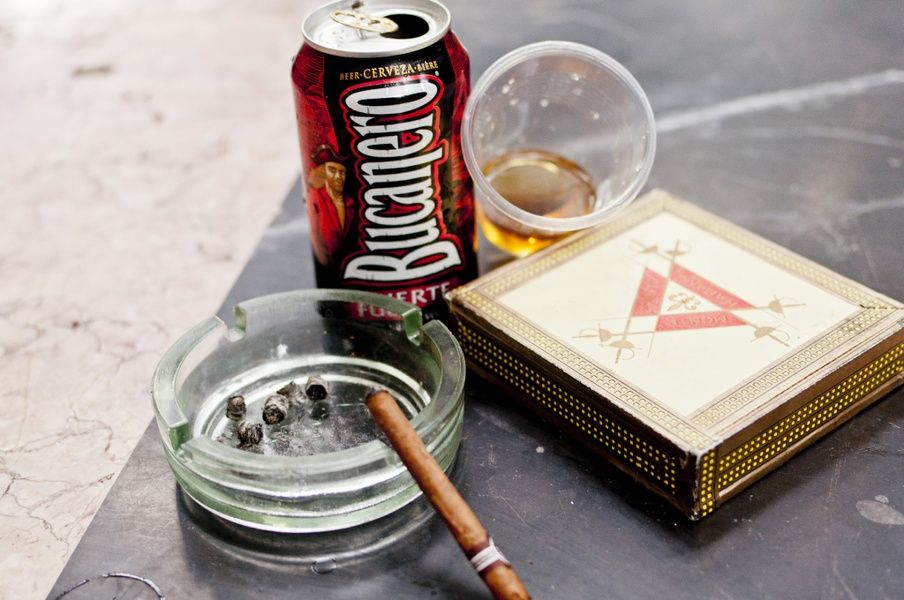 9. Cigars
No need to travel to Cuba to know their cigars are well known as the best in the world! They are made with high quality ingredients and prepared with precision. It takes over one hundred steps to produce one Cuban cigar from start to finish. There are many brands to choose from, but the top choices are Cohiba, Vegas Robaina, and Partagas. Cohiba cigars were long-favored by Fidel Castro, Vegas Robaina is one of the most difficult brands to find outside the country, and Partagas are known for their many limited edition cigars. You'll often see locals smoking Pura Cubanos. These cigars are unbranded and therefore much cheaper than the likes of Cohiba, but they are still fantastic cigars. Bring some home from your travel to Cuba.
We think of baseball as a great American sport, but it's also the national sport of Cuba and is beloved by the Cuban people. Stepping into Latinoamericano stadium is like stepping back into American baseball stadiums of yesteryear but with a decidedly Cuban flair. The snacks are often simple: peanuts, fruit, and ham sandwiches. No alcohol. If you want to catch a game, the season runs from late October to April with the playoffs in May. Baseball is also the perfect subject for striking up a conversation with a new Cuban friend. Catching a game is essential for your travel to Cuba.
--
Have more questions about Cuba? Here is a list of local Cuban Travel Experts who can help you or you can contact us with any questions you have. And before your trip, make sure to check out: