If you're keen on traveling around France (and we really don't blame you), you've got a variety of transportation options to consider. Here, we'll take an in-depth look at all of them—from SNCF (the national rail system) to intercity buses, the Paris metro, domestic flights, rental cars, taxis, Uber, and more—including how to get to and from the country's major airports.
If you want to travel France like a seasoned pro, have a French local plan your trip. They'll help you make all the arrangements so you can travel confident and stress-free. Learn more.
"Linelly helped us beyond anything we could've planned ourselves. Everything she suggested for us was spot-on, and I feel we got the best experience by following a local's guidance."
France's national train network (SNCF) is the best way to get city-to-city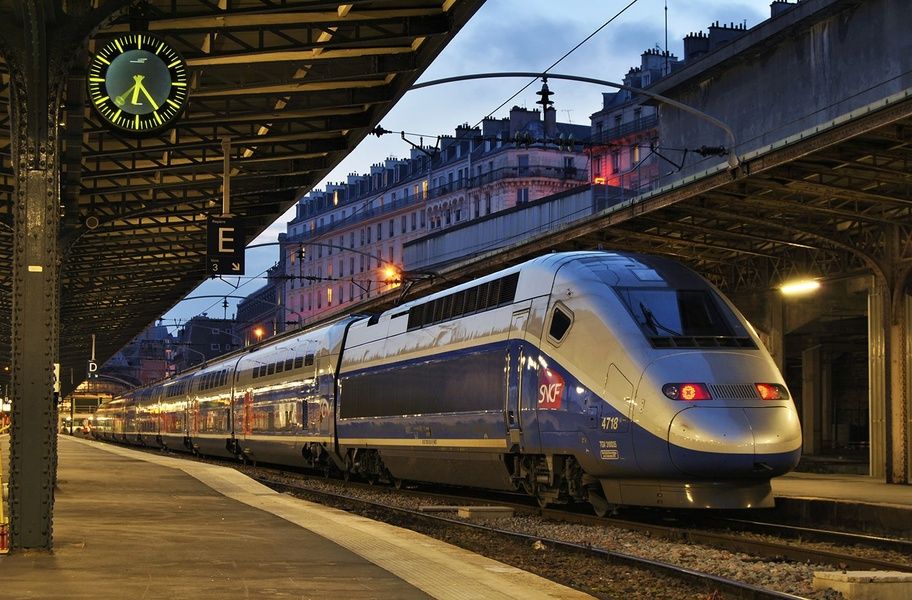 It's easy to see why SNCF (France's rail system) is a popular way to see France—and you should definitely plan on using it. SNCF services nearly every major city and operates one of the fastest trains in the world—the TGV (Train à Grande Vitesse). 
It serves 150 cities within France and her neighboring countries and can get you from Paris to just about anywhere in the nation in a matter of hours. Paris to Nice, for example, is just a 5 ½-hour journey—and the ticket costs just €45. SNCF is noted for its on-time performance and comfy trains, so use this option every chance you get. 
If you're taking the train internationally, you've got some options
But if you're going to be in France a while, consider a rail pass
If you're taking some long-distance rides or traveling to numerous cities, a Euro Rail France Pass gives you great flexibility and a great value. Alternately, single tickets are your best bet for occasional short trips. You can save up to 50% on point-to-point tickets if you book in advance.
How to purchase train tickets
The best option: buy your tickets online in advance. There's no language barrier and you don't have to figure out how to use the ticket machine or search for a ticket office. You can then print your tickets, download your ticket to your smartphone, or write down the reservation code to redeem it at a train station, ticket machine or travel agent.
Alternately, you can use a ticket machine; in Paris, there's a single type of ticket machine for local (Île-de-France) and regional trains. There are different machines for national (Grandes Lignes) and international trains. 
Finally, you can always find a ticket agent. Stations in most big cities and large towns have human ticket agents you can buy a ticket from. And (at least in big cities like Paris) they'll most likely speak English.
Pro tip: Machines and ticket agents only take chip-enabled credit cards or euros.
Domestic air service is quick and budget-friendly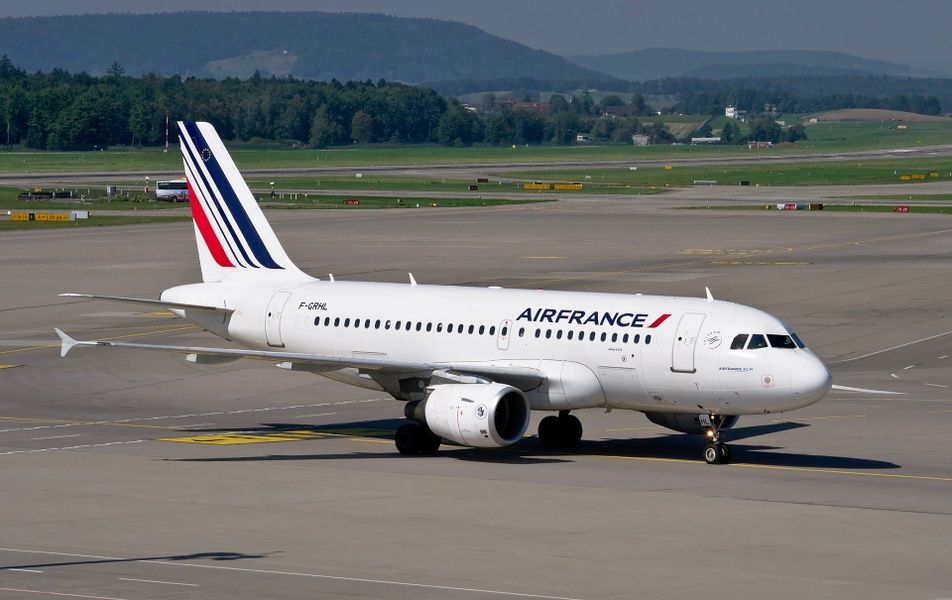 France has 185 airports that service all major cities. Air France is the prime domestic airline, but other airlines like Ryanair and HOP! offer flights to most of the cities in France.
Pro tip: If you arrive in Paris at Charles de Gaulle Airport, you may have to transfer to Orly Airport for your domestic flight. Air France operates a free shuttle for passengers between the two airports—or you can take a local train, taxi, or Uber.  
Coach service is also a great way to see the country 
Getting around France is by coach is easy and budget-friendly. Coach service is provided by three intercity operators: Ouibus, Eurolines and Flixbus, and it goes to just about every city in the country. Coaches also run on a regional level and most cities have a coach station.
Renting a car in France
If you're sticking to the big cities, trains and air travel are the best ways to get around. But if you want to explore the little villages France is known for, a rental car will give you that freedom. Popular rental agencies include Hertz, AutoEurope, Avis, and Europcar.
Here are some tips for renting a car:
You'll need to present a passport, a driver's license, and a credit card. 

Get the best deal by reserving your car before you arrive in France.

You must be at least 21 years old and have a major credit card.

An international driving permit is not required for American renters.

The majority of cars in France are manual transmission; you'll pay much more for an automatic.
Pro tip: Diesel in France is called "Gazole"... don't fill the car with the wrong gas by mistake!
Many cities in France have terrific metro systems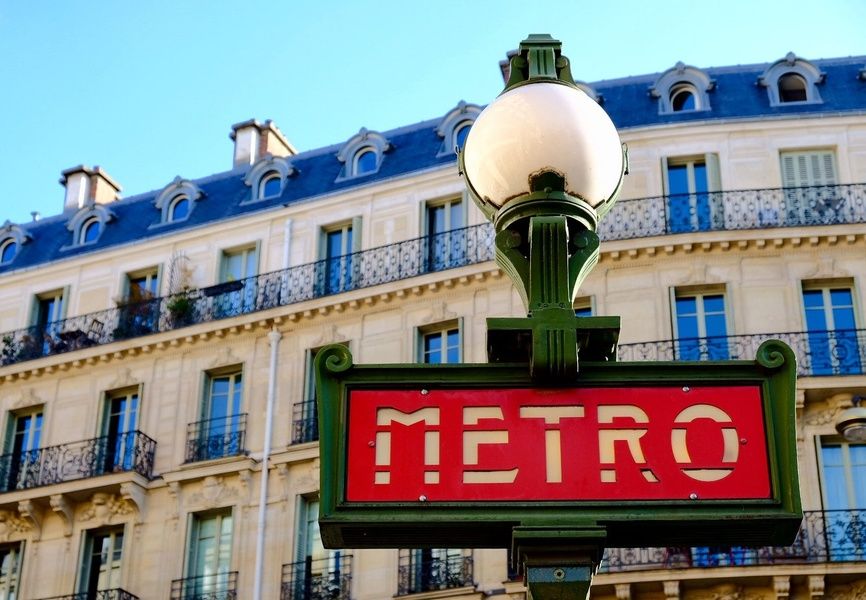 There are metros in most major France cities like Paris, Lyon, Marseille, Rennes, and Toulouse. Just watch out for pickpockets in any crowded metro station (and take a look at this article on safety in France for more info).  
Here are some typical metro fares:
Paris: €1.90 for a single ticket or €14.90 for a package of 10 tickets (a carnet). 

Lyon: €1.80 for a single ticket or €16.20 for a carnet.   

Marseille: €1.70 for a single ticket or €14 for a carnet.
Work with a local to plan your trip.
See a side most people miss.
There is Uber in France, but taxis can be a better option
While there is Uber in France, it's most prevalent in Paris—where you also have the option to take a traditional taxi. Your choice just boils down to individual preferences.
Taxis 
You can hail a taxi on any city street or, in Paris, you can call for a cab at 01 45 30 30 30 (try adding the French country code, +33, if the number doesn't work). If you use a taxi, make sure it's a licensed taxi. Taxis in Paris are metered and all have the same standard rate. Their rate may be higher than Uber, but they can use the bus lanes to get through heavy traffic—Ubers can't. Not all taxis take credit cards, so make sure to ask before you jump in. The Taxi G7 app is a great option because you can order a taxi ahead of time and they take credit cards.
Uber
Getting an Uber in Paris is a piece of cake (er, gateau). They are usually cheaper than taxis but Uber uses surge pricing, so it can cost be more than a taxi at certain times. Also, real Parisians may hate you for using it.
Biking in France
Biking around France is easy and cheap. There are self-service pick-up and drop-off stations all over major cities. In Paris, more than 20,000 bikes are available using Velib, a bike rental system with over 1,800 stations dotted across the city. You pay a fee of €1.80 for a day-long ticket or €8 for a week-long ticket—and the first 30 minutes are free!
Getting to and from the airports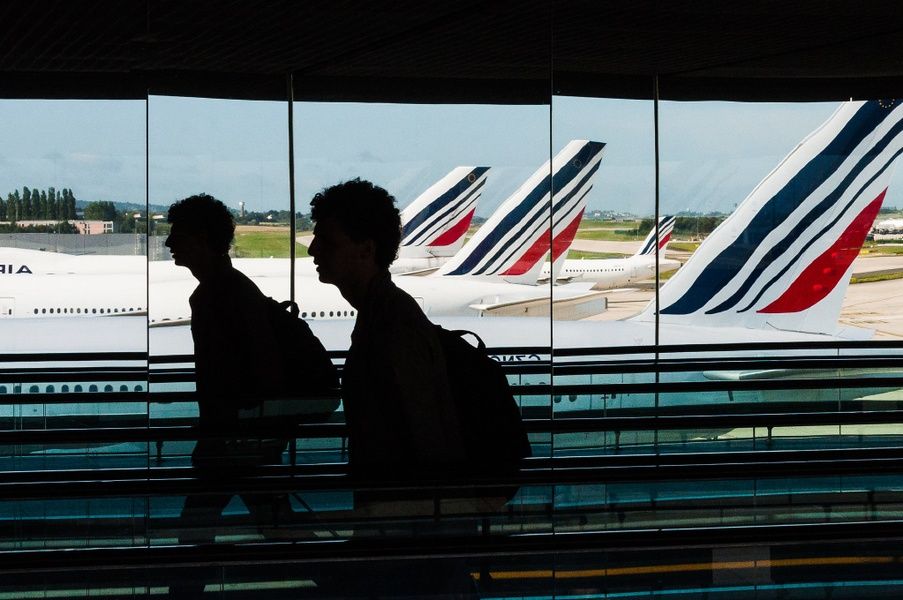 Paris Charles de Gaulle Airport
The airport is 18 miles northeast of Paris in the suburb of Roissy.
Train:

This is the quickest and cheapest ways to travel into the center of Paris. The RER B (blue) train line stops at both Terminal 2 and Terminal 3. Tickets cost €9.25 one-way and the ride takes 50 minutes.

Bus:

The Roissybus (shuttle bus) leaves from all three terminals and runs every 15 minutes. Tickets cost €9.25 one-way and it takes about an hour.

City Bus:

RATP Bus No 351 stops at the Place de la Nation station and costs 3 Paris metro tickets (€5.70). The ride is about an hour.

Coach:

This is the more comfortable option and the service is run by Air France (you can use it even if you did not fly Air France). The Line 2 coach leaves Terminals 1 and 2 and stops at the Arc de Triomphe. The Line 4 coach leaves from Terminals 1 and 2 and stops at Gare de Lyon. Tickets are cheaper if you

buy your ticket online

(€15.50 one-way). 

Taxi:

 There are taxi stands at all three terminals. A fare to the city center is about €50 and takes an hour. 

Uber:

You have to pay for your ride before your Uber can pick you. Follow the overhead signs that say Taxi. Ubers are of €50 to the Right Bank and €55 to the Left Bank.



Paris Orly Airport
Orly is about 11 miles south of Paris.
Train:

There are no direct train lines from Orly to the city center. You will need to take the Orlyval metro (shuttle) to the Anthony Train Station and then change to lines RER B or RER C. The total journey will cost €12.10 for a one-way ticket and will take around an hour. 

Bus:

The Orlybus is a direct line that takes you into the city center. The fare is €8.30 for a one-way ticket and takes 45 minutes,

City Bus:

There are also public buses that are only €2 but they make frequent stops along the way and take much longer than the Orlybus. 

Coach:

Le Bus is a shuttle service that you can catch at both the West and South terminals. The bus will get you downtown for €12 in about an hour.  

Taxi:

 A taxi from the airport to the center of Paris will take only 30 minutes and charge a flat rate of €35 to the Left Bank or €30 to get you to the Right Bank.

Uber

: Uber uses the same flat-rate fare as taxis—€35 to the Left Bank and €30 to the Right Bank.
Lyon's Saint-Exupéry Airport 
The airport is 12 miles east of Lyon.
Tram:

Rhonexpress

is the main way to get from Lyon airport to the city center. It's a tram shuttle service that runs every 15 minutes and goes from the airport to Part-Dieu, Lyon's main train station. The fare is €16.10 and takes 29 minutes.  

Taxi:

You can find licensed taxi drivers at the airport and a ride to the city center will cost around €60 and take about 25 minutes.    

Uber:

You can get an Uber from the airport to Lyon for about €65 and the trip takes about 25 minutes. 
Marseille Provence Airport 
The Marseille Provence airport is 6 miles from Marseille.  
Train:

There is no direct train from Marseille Provence airport to the city center. Take the shuttle to the Vitrolles Aeroport train station and the train to Marseille. Tickets are €5.10 one-way and the train takes 23 minutes to reach Saint Charles railway station.

Bus:

The bus is the only public transportation option that takes you directly to the city center. You can take the shuttle bus for €8.30 from the airport to the Saint Charles railway station and the ride is only 25 minutes.  

Taxi:

A taxi is a great option to get to the city quickly. They charge a flat-rate fee of €50 and it takes about 30 minutes. 

Uber:

You can get an Uber from the airport to Marseille for about €50 and it takes about 30 minutes.
--
To zip through France like a local, connect with someone who lives there to plan your trip. Not only will they give suggestions on the best way to get around, but they'll design an entire itinerary based on your interests and travel style. Basically, it's like having a best friend in France—and isn't that better than advice you found on a travel blog (even this one)?