When it comes to navigating Buenos Aires transportation, we've got you covered. Here's a guide with all the details for using the subway, trains, buses, Uber, and taxis—as well as how to get to/from Buenos Aires' airports.
Note: To comply with COVID-19 entry restrictions, traveler still need to submit a sworn electronic statement 48 hours prior to travel on Argentina's government website or through an expediting service like iVisa, which simplifies and streamlines the process for a small fee.
The easiest and least stressful way to navigate transportation in Buenos Aires? Have a local help plan your trip. They'll help you see a side of Buenos Aires that most tourists miss. Learn more.
Table of Contents
Transportation in Buenos Aires: The basics
Buenos Aires is one of South America's most exciting cities, and getting around is safe and easy. Here's a list of your transportation options—we'll break down each of them below:
The
Subte
is the best and quickest way to get around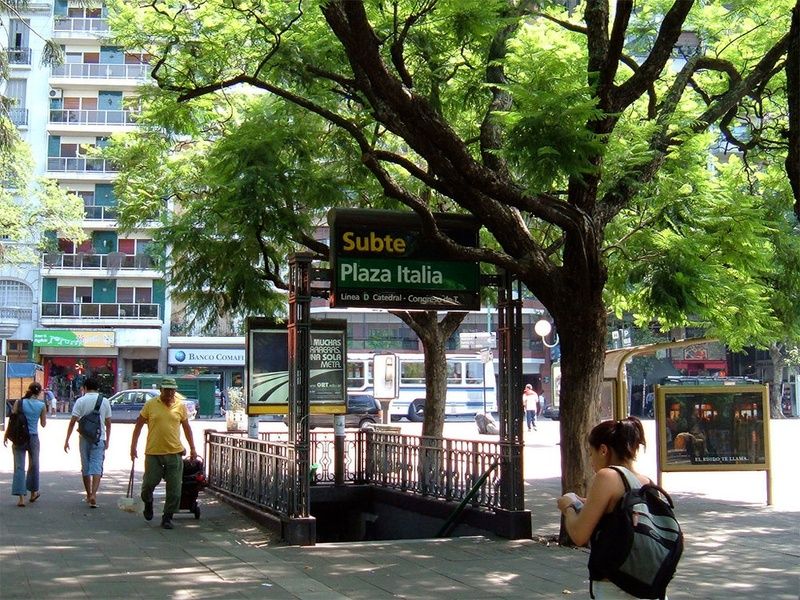 Although it can get crowded during rush hour (8 am - 10 am and 6 pm - 8 pm), the Subte is a great way to see the sights of BA. Four of its lines (A, B, D, and E) run parallel from downtown to the western outskirts. Line C runs north to south connecting Retiro and Constitución stations, and Line H runs from Las Heras south to Hospitales.
Pro tip: Some station's platforms are on opposite sides, so be sure of your direction before passing through the turnstiles.
Colectivos are also a solid form of transportation in Buenos Aires
Buenos Aires buses, known locally as colectivos, are a cheap and efficient way to get around. They run 24/7 and cover the entire city, so you'll never be far from a stop. Another option is the "Metrobús", which uses dedicated bus lanes to cut travel times on Buenos Aires' main streets.
Fares start at $12 ARS ($.20 USD) for up to 6km and $13 ARS ($.23 USD) for over 6km. Tell the bus driver where you are headed (give the name of the crossroad nearest to where they wish to get off), and the driver will select the correct fare to charge your SUBE card. Most drivers don't speak English, so do your best at pronouncing the street names.
Pro tip: If you are going to use the bus, get your hands on a Guía T—the ultimate guide to Buenos Aires buses. You can pick one up at any newsstand for cheap. Or, just connect with a local who can design an itinerary with specific transit instructions.
For both the Subte and colectivos, you need a SUBE card
If you want to travel by Subte or use the colectivos in Buenos Aires, you'll need to get a SUBE travel card. You can fill it up with credit—each trip costs $16.50 ARS ($.28 USD).
You can get a card at Subte stations, Tourist Assistance Centers, and at many "kioskos" (corner shops selling sweets and tobacco). The SUBE website also has some useful apps and places you can buy and recharge the card.
Pro tip: You can buy one SUBE card per person, or if you're traveling in a small group, you can use one card for multiple people on the same trip.
Take the train if you want to get out of the city
Taking the train is a good choice if you want to travel out of downtown Buenos Aires to areas like Tigre. Train tickets are cheap, and can be purchased at train stations with cash—or you can travel using the SUBE card. Fares start at ARS $3.25 ($.05 USD) for short trips and ARS $6.75 ($.12 USD) for longer ones.
Taxis are plentiful and comfortable, just make sure they are licensed
BA is overflowing with licensed black and yellow taxis, and they are a comfortable way to get around the city. You can flag one down on the street (if the libre sign is lit), but because of the risk of scams, it's best to book one using the e-hailing app BA Taxi.
Pro tip: Private hire taxis called remís can be booked in advance through agencies and are a great alternative to renting a car for day trips.
Uber exists but may not be the best option
Although Uber exists in Buenos Aires, using it can be a bit complicated. First of all, the city is unhappy with Uber. Secondly, taxi drivers are furious that Uber has stolen their customers.
This means that if you try to hail an Uber at the airport, you may be harassed by taxi drivers. It also means that the Uber driver will ask you to sit in the front seat, so that it doesn't look like you're in an Uber.
TL;DR: Uber exists, but it can be a sketchy way to travel. For on-the-ground advice, It's best to ask your local trip planner what they think about using Uber, and their preferred alternatives.
Hop on a free bike to discover a unique side of Buenos Aires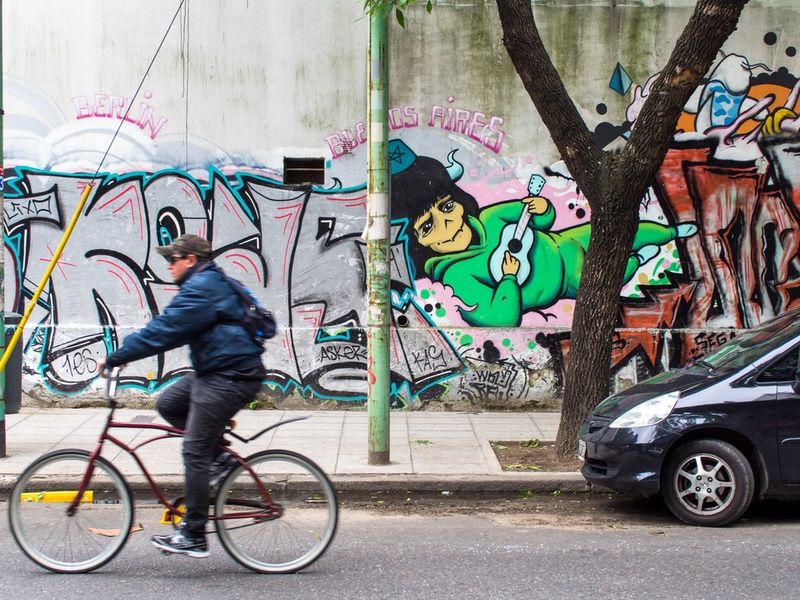 Buenos Aires has a really cool free public bike share system called BA Ecobici, and there are 3,000 bikes available to explore BA's sights. Bicycles can be taken for up to one hour Monday - Friday and up to two hours at the weekend (you can go for a second spin after a five-minute wait).
Pro tip: To get a bike, just download the BA Ecobici por Tembic app for Android or iOS.
Renting a car is a good option for day trips
If you plan to make trips outside the city, you may want to consider renting a car. The airports are a good place to get a rental, but it's always best to book a car online before you arrive. You'll find all the major companies in Buenos Aires.
Pro tip: To get the most out of your rental car, ask your Buenos Aires trip planner to add their favorite day trips to your custom itinerary.
Getting to and from the airport: here's what you need to know
Ministro Pistarini International Airport, Ezeiza (EZE)
This is the biggest airport in Argentina and located in Ezeiza, about 20 miles from downtown. Bad news: There is no train or metro service from the airport to the city. Good news: You still have plenty of transit options.
Colectivo: Take Bus Line 8, and it will bring you to Plaza de Mayo or Congreso. One way ticket costs are cheap, ARS $43 ($.75 USD), but will take between 1 and 2 hours to get to downtown.
Shuttle bus: Private bus companies like Aerobus Ezeiza, Tienda Leon, and Mini Bus Ezeiza offer excellent service to the city, and cost ARS $690 ($12 USD). You can visit their kiosks at Terminal A or book a seat online.
Taxi: Use the touchscreens in the arrival hall to order your cab. You'll get a ticket that calculates your price. Then, just line up at the taxi stop lane and give the ticket to the driver when it's your turn. A taxi ride from Ezeiza to Buenos Aires will take about 30 minutes and cost you around ARS $1700 ($30 USD).
Remís: You can order a private taxi from BA Taxi or by calling one of the private car and driver services for a remís.
Uber: An Uber to Plazo de Mayo will take about 25 minutes and cost ARS $1200 ($20 USD). Just remember—it's not the most legit way to travel, and you might be harassed by taxi drivers.
Rental Car: Major rental car companies are located at Terminal A in the International section.
Jorge Newbery Airport, known as Aeroparque (AEP)
Located in the Palermo neighborhood, this airport is within 25 minutes of the popular hotels. It serves mainly domestic flights and flights to neighboring countries.
Colectivo: You can take Bus lines 33 or 45 and get to the city center in about 35 minutes, and the fare is ARS $57 ($1 USD). If you have a lot of luggage, this may not be the best way to travel because you can't stow it.
Shuttle Bus: ARBUS is the shuttle that runs from the airport to downtown. The trip is about 35 minutes and costs ARS $275 ($4.75 USD). Tienda Leon also runs a shuttle to downtown for ARS $220 ($3.80 USD).
Taxi: Taxis take between 15-20 minutes to get downtown and cost between ARS $288 and ARS $690 ($5-12 USD) depending on how far you are going. The taxi ranks are at the exit from Terminal A.
Remís: You can order a private taxi from BA Taxi or calling one of the private car and driver services for a remís.
Uber: An Uber to Plazo de Mayo will take about 20 minutes and cost ARS $350 ($6 USD).
Rental Car: Major rental car companies are located in the Domestic Arrivals Terminal.
El Palomar Airport (EPA)
El Palomar is located 11 miles from downtown and serves a range of domestic flights to destinations throughout Argentina.
Colectivo: You can take Bus lines 53, 182, 252, 320, 236, 286, 634 and get to the city center in about 35 minutes and the fare is ARS $57 ($1 USD).
Shuttle bus: Tienda Leon provides service between El Palomar airport and the Puerto Madero bus terminal. The trip takes about 1 hour and costs ARS $220 ($3.80 USD). Tickets can be bought at the kiosk at the airport or online.
Train: If you take the San Martín line, it will get you to the Retiro station in about 30 minutes and will cost you ARS $28 ($.50 USD). You'll have to buy a SUBE card to use the train.
Taxi: It takes about 35 minutes to get downtown with a taxi, and costs ARS $468 ($8 USD). The taxi ranks are outside the Arrivals Hall.
Remís: You can order a private taxi from BA Taxi or call one of the private car and driver services for a remís.
Uber: An Uber to Plazo de Mayo will take about 20 minutes and cost ARS $850 ($14 USD).
Rental Car: Currently, rental cars are not available at EPA.
--
This guide to Buenos Aires transportation is a good start, but connect with a local for the ultimate insight on how to navigate the city. They'll design an itinerary full of specific transit instructions—and tons of awesome stuff to do, see, and eat. Why see Buenos Aires like a tourist when you could see it like a local?