Buenos Aires is known for its lively streets, amazing art, delicious cuisine, and multicultural influences. If you're planning a trip to Argentina's bustling capital, the first thing you need to decide is where to stay in Buenos Aires—and with so many diverse neighborhoods and districts, it can be tougher than you think! Here are 10 of our favorite places to stay in Buenos Aires, whether you're looking for a quiet corner of the city or a hotspot for all-night parties.
Note: To comply with COVID-19 entry restrictions, travelers still need to submit a sworn electronic statement 48 hours prior to travel on Argentina's government website or through an expediting service like iVisa, which simplifies and streamlines the process for a small fee.
Want to make the most of your time in Buenos Aires? Connect with a local to plan your trip. They'll create an immersive itinerary based on your travel style and interests. With their help, you'll experience Buenos Aires like a local (not a tourist). Learn more.
Table of Contents
#1: Retiro: The quiet waterfront district close to everything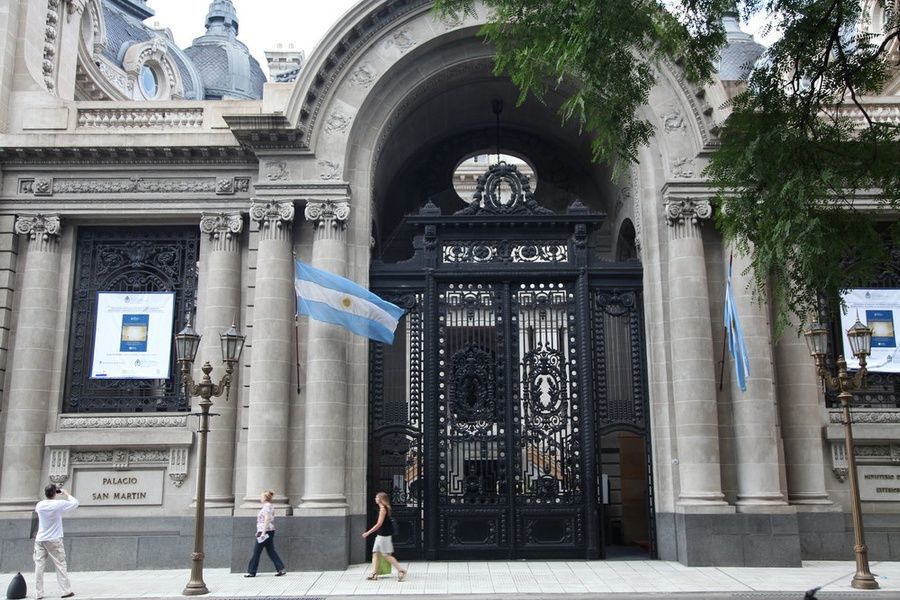 Heading to Buenos Aires for the first time? Then the Retiro district is the *perfect* choice. On the waterfront and away from the hustle and bustle of more central neighborhoods, Retiro is idyllic—but also contains two of the city's main train and bus stations. That means that getting in and out for sightseeing is super easy.
But you may not want to leave! Buenos Aires is metropolitan and multicultural, but the vibe in Retiro is laid-back and distinctly South American. While you're in the area, check out the Torre Monumental, a massive clock tower donated by British residents in 1916, and the peaceful Plaza General San Martin.
#2: San Telmo: An affordable neighborhood with bohemian vibes
San Telmo is Buenos Aires' oldest barrio (neighborhood). It's a great place to stay if you're traveling on a budget, or if you just want an authentic taste of old Buenos Aires. Once considered a poor district, San Telmo has been reinvented as an artsy bohemian paradise and a hotspot for tango—so don't be surprised if you see spontaneous dancing breaking out on the cobbled streets. Every Sunday, San Telmo hosts a famous flea market, full of street performers, food and drinks, and plenty of vendors selling souvenirs.
Pro tip: There's always something fun happening in San Telmo, whether it's a tango show or a food festival. Ask your local trip planner to add some cool events to your itinerary.
#3: Palermo Soho: The hip and happening nightlife district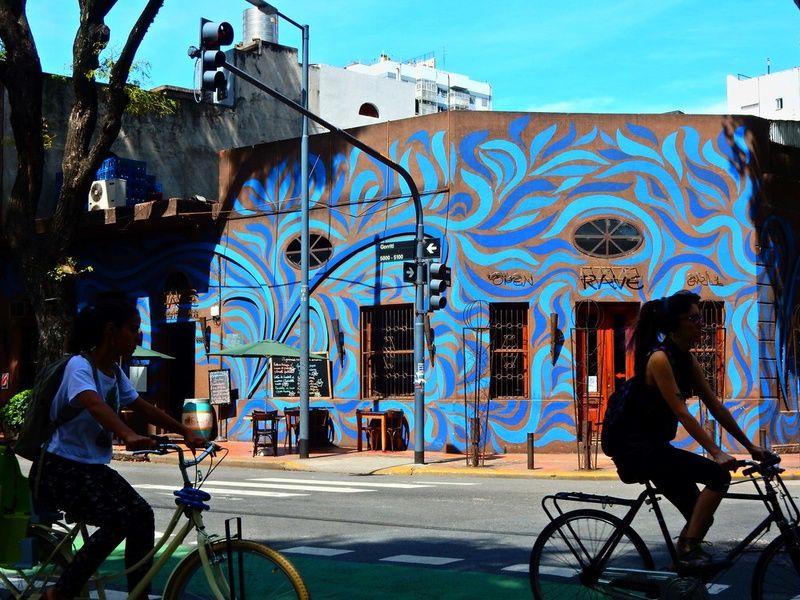 Palermo, in the northeast corner of Buenos Aires, is considered the most picturesque and fashionable part of the city (as well as one of the safest and friendliest to travelers). It's split into a few smaller barrios and Palermo Soho is its soul: both geographically, and metaphorically.
This adorable neighborhood is the ultimate destination for nightlife and boutique shopping. You'll find walkable streets lined with pastel-colored shops, as well as plenty of trendy cafes, bars, and nightclubs. It's young, hip, fun and oh-so-Instagramable—students, backpackers, and solo travelers will love this awesome spot.
#4: Recoleta: A trendy spot for luxury accommodation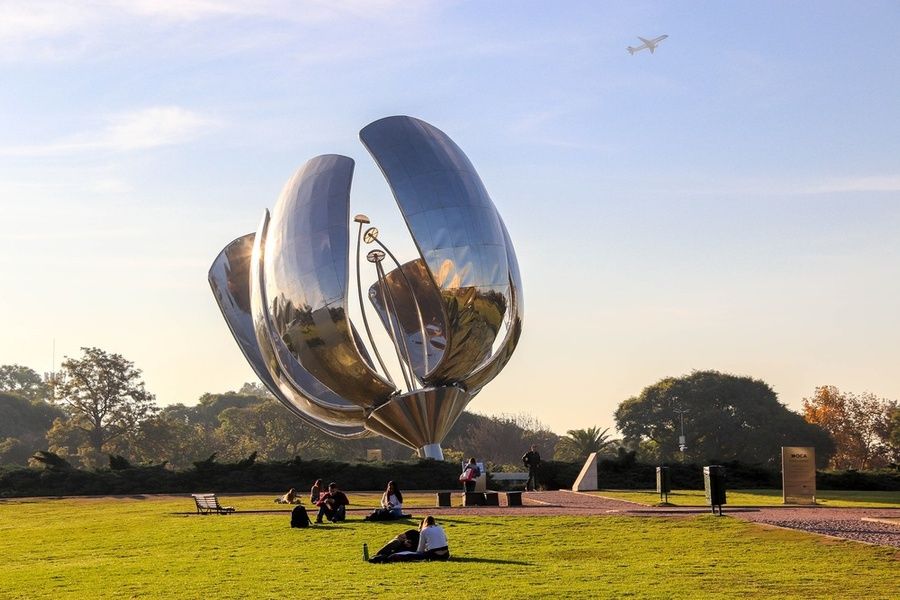 Looking to relax in style in Buenos Aires? The Recoleta district is the most affluent area of the city, home to some of the nicest hotels and incredible fine dining—definitely swanky, but far from stuffy or boring! There's tons to do in Recoleta, including visiting the gorgeous Recoleta Cemetery (it's a beautiful spot, and not nearly as creepy as it sounds), shopping at the Patio Bullrich mall, and admiring fine art in the Museo Nacional De Bellas Artes.
#5: Palermo Hollywood: Buenos Aires' best cafes and street art
Just next door to Palermo Soho is Palermo Hollywood, named for the multiple TV and radio studios established here. This little barrio has all the fun nightlife of Palermo Soho, without the glitz—it's more laid-back and bohemian. Palermo Hollywood is great for exploring on foot, with wide-open streets that are totally safe, day and night.
You'll find trendy bars and coffee shops here, with a sprinkle of traditional Argentine steak houses and hangouts. One of the highlights of Palermo Hollywood is its stunning street art—you'll definitely want to grab your camera and cruise around on foot to take it all in.
#6: Villa Crespo: A unique local spot off the beaten path
If you want to get out of the more "touristy" parts of Buenos Aires, Villa Crespo is an excellent choice. It's a relatively undiscovered corner of the city, rustic and authentically Argentinian, without any of the big shops and Instagramable boutiques you'll find in Palermo.
That doesn't mean that Villa Crespo is quiet—you'll find tons of amazing restaurants and underground bars and nightclubs here. Villa Crespo is also home to a huge Jewish community, so keep your eyes peeled for quaint Jewish bakeries and restaurants. The only downside to being outside the tourist area is that the streets of Villa Crespo can get a little dodgy at night—so we recommend taking a taxi if you go out.
Pro tip: In Argentina, a double L is pronounced sh—if you want to talk like a local, you should say Visha Crespo. Connect with a local for more important insights most travelers don't know!
#7: Puerto Madero: An up-and-coming trendy neighborhood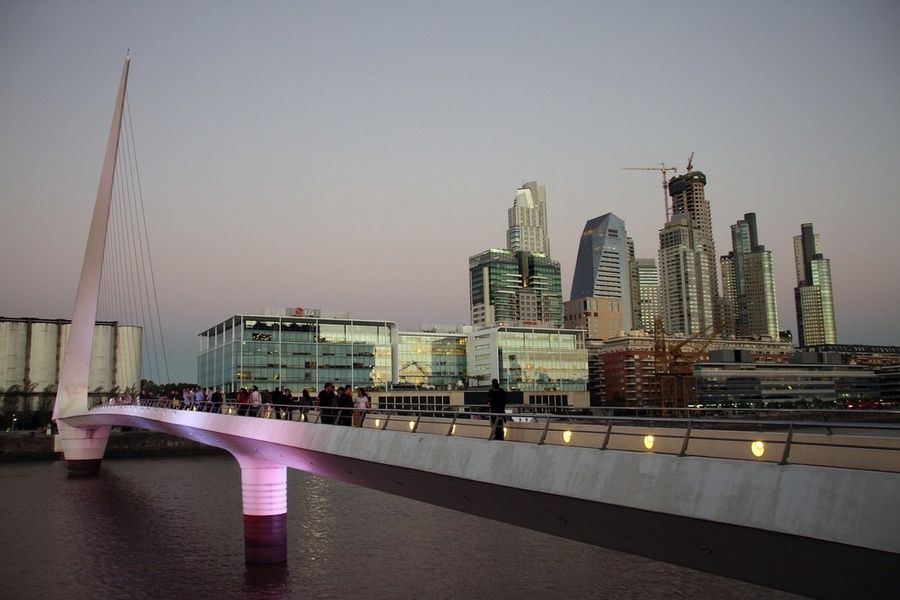 Puerto Madero, Buenos Aires' newest developed neighborhood, is a great place to stay if you're looking for somewhere safe, quiet, and low-key. The area used to be nothing but a lot of industrial buildings and docks, but these days Puerto Madero is home to tasteful low-rise buildings, classy bars and restaurants, and pleasant river views. You'll see the striking Puente la Mujer, a unique bridge crossing the Rio de la Plata, and historical brick buildings that have been updated and refurbished. While you're here, make sure you visit the Costanera Sur Ecological Reserve—a gorgeous natural landscape right outside the busy city.
#8: Belgrano: A quiet getaway for traveling families
Need a relaxing, family-friendly neighborhood for your stay in Buenos Aires? Look no further than Belgrado. Just next door to the Palermo district, Belgrano is quieter and more peaceful than its neighbor. You'll find cobbled streets shaded by big leafy trees, boutique shops and restaurants, and plenty of friendly locals out walking their dogs. Best of all, Belgrano is super safe to walk around in, day and night.
Pro tip: Buenos Aires' Barrio Chino (China Town) is right in the center of Belgrado. Check it out for some truly amazing eats.
#9: Microcentro: The busy district right in the heart of Buenos Aires
Microcentro is the neighborhood at the very heart of bustling Buenos Aires. This is the place to stay if you want to experience the true liveliness of the city. Tons of prominent attractions are right nearby, including the Obelisco, a towering spire and Buenos Aires' most famous architectural feature, and the Plaza de Mayo, the historic central square. Microcentro is the busiest, loudest part of the city—but the noise is totally worth it to be right in the heart of it all. Just take a taxi or bus at night to avoid walking those busy streets in the dark.
Pro tip: To easily navigate the bustle of Microcentro, connect with a local for advice on the best restaurants, shops, bars, and things to do.
#10: La Boca: The colorful, multicultural port district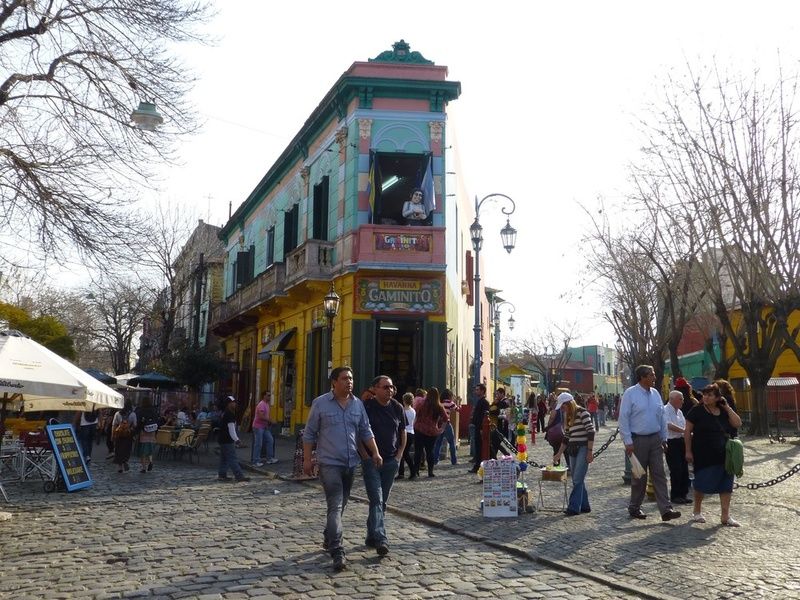 Last but certainly not least on our list is La Boca, a neighborhood that has been referred to as the most photogenic district of Buenos Aires (which is really saying something). La Boca is full of bright, colorful buildings, street art, and even painted cobblestones. Because it was originally developed as a neighborhood for immigrants, La Boca played a huge role in shaping the multicultural slang, cuisine, and art of Buenos Aires. Today, it's home to the famous Boca Juniors soccer team—so don't be surprised to hear fanatic supporters shouting from the windows.
Pro tip: As much as we love La Boca, parts of it can be unsafe for travelers. The best place to find safe, comfortable accommodation is along the main street, El Caminito (translation: little walkway). This area is of La Boca is popular among travelers.
--
Where to stay in Buenos Aires? It depends on your travel style! No matter where you pick, get the most out of your experience by connecting with a local to plan your trip. They'll give advice on where to stay, and design a customized itinerary to help you see B.A.'s best spots. No cookie-cutter trips here! You could see Buenos Aires like a tourist...but why would you want to?