Overflowing with art, music, food, and fun, Bogota is a city that absolutely cannot be missed. Located at the intersection of history and hipster, the city is at once both old and new, established and edgy—but always one hundred percent amazing. Once you check out all the highlights this fantastic metropolis has to offer, message us with any questions you have and get ready to plot your own personalized Bogota escapade!
Want to make the most out of your trip? Tap into our network of local travel planners—Heroes—who build unique, locally-curated trip plans, designed just for you. Get started.
Table of Contents
#1: La Candelaria's street art is unparalleled
Whether you think of it as street art or graffiti, there's no question that La Candelaria, Bogota's oldest neighborhood, is bursting with it. From the humorous to the political—and just downright beautiful—La Candelaria's murals are an exhibit in and of themselves. Interestingly, this often-frowned-upon art form found its outlet in La Candelaria not as an act of rebellion, but rather as a symbol of inclusion; Bogota's mayor actually legalized street art in 2011 as a means of repairing the relationship between the city's disaffected youth and its government. And while graffiti tours are common, for a more intimate art experience, feel free to ask one of our local trip experts to build you a personalized offline map that'll take you past all the must-see pieces.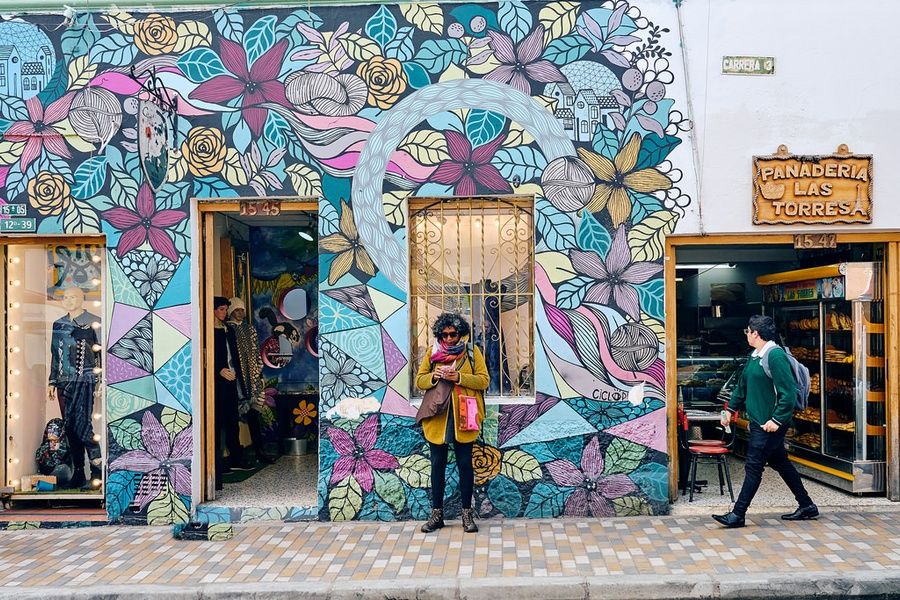 #2: Monserrate (the most incredible view you'll ever see)
The dominant feature of Bogota's skyline, Monserrate is much more than just a mountain; it's a religious icon, pilgrimage destination, and symbol of Bogota itself. Considered holy by Colombia's indigenous population long before the arrival of Columbus, Monserrate is now home to the 17th-century church El Señor Caído, a sacred site for Catholic pilgrims. Moreover, as the peak commands a majestic view of the city, the view from the top is often thought of as one of the most beautiful panoramas to be found anywhere in the world. And though pilgrims often climb to El Señor Caído via the mountain's innumerable stairs, Monserrate is conveniently connected to Bogota by both funicular and aerial tramway—a ride on either being an incredible experience in itself! All to say, no visit to Bogota is complete without seeing the from the top of Monserrate.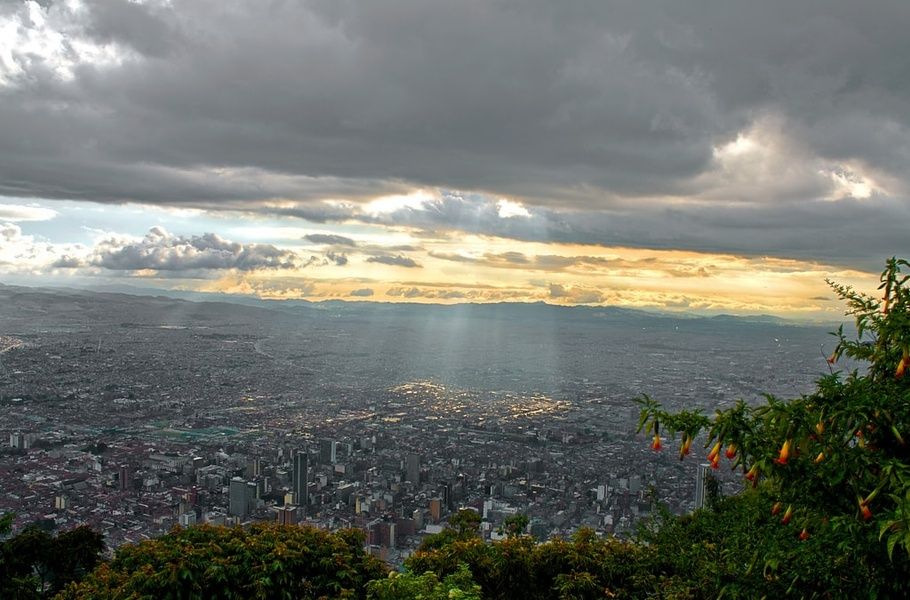 #3: Tejo (the greatest game you've never heard of)
If you've never heard of —and considering the game's almost entirely South American following, it's a good bet you haven't—you're in for quite a treat. Played by tossing a heavy metal puck at gunpowder-filled targets, is essentially a game of exploding horseshoes—with the addition of lots of beer. Locals from all walks of life enjoy this Colombian tradition, which is said to have originated with the country's pre-European native peoples. And while courts can be found throughout Colombia and its neighboring countries, for a rowdy night of sport you can't do better than visiting one of Bogota's many bars—your Hero can point you to the best ones around! Just remember: beer is an integral part of the experience (many courts are actually sponsored by beer companies), so don't be afraid to let loose and enjoy a night of explosive fun!
#4: Chapinero's hipster charm is undeniable
Step off Brooklyn—Chapinero's got you beat. Bogota's most hipster-fabulous district, Chapinero is an incredible combination of hipster charm and historical beauty. Lined with coffee shops, bars, boutiques, and even microbreweries, Chapinero boasts a friendly vibe, tons to do, and even some gorgeous Victorian architecture to boot. No Colombia itinerary is complete without an amble through the quirky storefronts and exciting venues that make up this wonderful locale! Additionally, Chapinero is home to the Plaza de Mercado de Paloquemao, one of Bogota's largest daily markets, where a hungry traveler can buy everything from farm-fresh fruit to delicious breakfast empanadas.
#5: Chow down and drink up (Bogota's food and coffee are stupendous)
Although you'd be remiss if you didn't eat your way through Bogota as part of a larger Colombian itinerary, the city does capture an excellent smattering of Colombian cuisine as a whole. Arepas and empanadas can be found on nearly every street corner, chocolate con queso appears on nearly every cafe menu, and even regional specialties like paisa can be sniffed out within the city limits. Equally as important, however, Bogota is home to some of the best coffee shops around. And while Colombians are known to prefer tinto—thick, sweet, black coffee made from low-quality beans (at least by Colombian standards)—to anything on the menu at Starbucks, coffee tastings and tours are common in the city's more hip neighborhoods. Your Hero can book you a spot on a tasting or tour of your choice, but given how safe Bogota has become of late, you might as well just wander through Chapinero until a cafe catches your eye.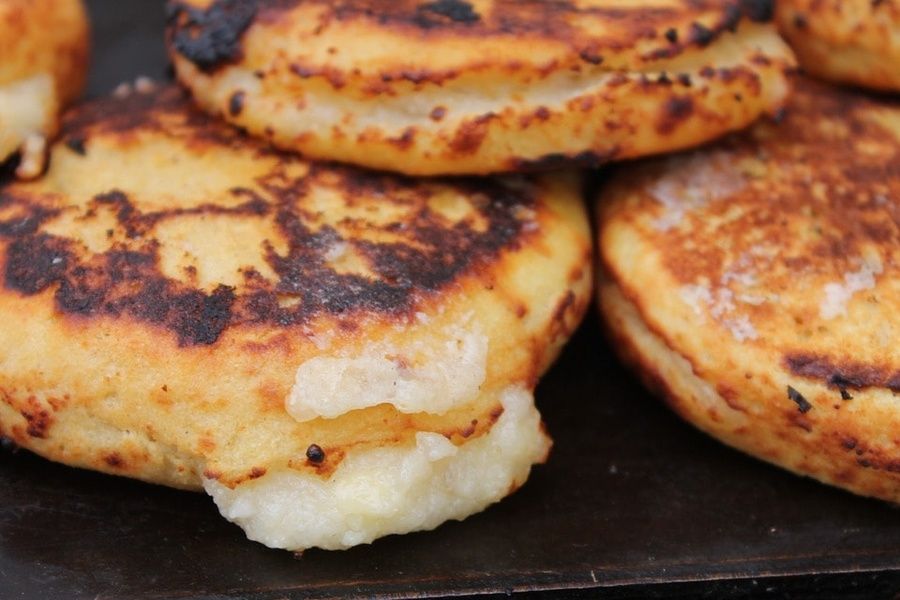 #6: Don't underestimate Bogota's public spaces
While most cities can boast public spaces of one sort or another, Bogota takes museums and parks to the next level. To wit, Bogota's legendary Gold Museum offers the largest collection of gold artifacts in the world—many from Colombia's pre-Hispanic period—and is free for both students and seniors (while eminently affordable for everyone else). Meanwhile, Simón Bolívar Park, often known as "Bogota's Lungs", offers outdoor activities for every type of traveler. Spanning nearly a thousand acres, Simón Bolívar Park boasts not only a fantastic accumulation of Colombia's fabled flora and fauna, but a sports complex, concert venue, and amusement park as well. Oh, and if that weren't enough space for public activities, it's worth noting that every Sunday, many of Bogota's main streets are closed to all motor traffic for the ciclovía—a weekly event that lets pedestrians, cyclists, street performers, and families take to the streets in safety for a pleasant morning.
Primed and ready to visit Bogota? Here's a list of our local Colombian travel experts who can help you, or you can message us with any questions you have! And before your trip, make sure to check out: