Can't decide where to stay in Rio de Janeiro? We get it—this city is so incredible that it's hard to decide. But worry not! Whether you want to relish beachside sunsets or enjoy a late-night samba circle, you'll find the perfect place in Rio. Find your ideal match among these 10 amazing spots.
No matter where you stay in Rio de Janeiro, connect with a local to get the most out of your trip. They'll give suggestions on where to stay *and* design an incredible, immersive itinerary. Basically, it's like having a best friend in Rio de Janeiro. Learn more.
#1: Copacabana: the center of the action—day and night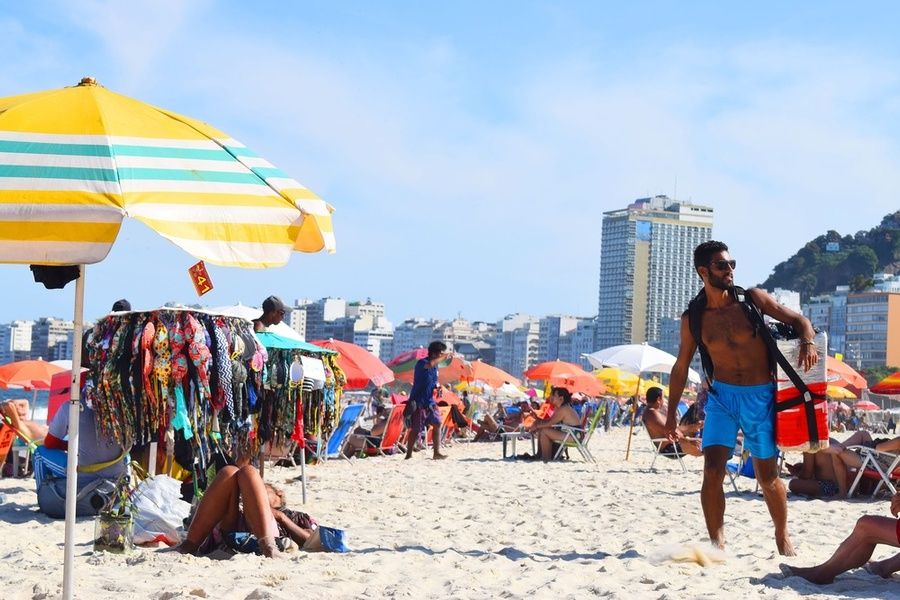 Known for its scantily-clad sunbathers, stunning setting, and vivacious energy, Copacabana is one of the most famous beaches in the world. Situated south of downtown Rio de Janeiro, this 2.5-mile crescent-shaped beach provides stellar views of Rio and the Atlantic Ocean. Copacabana's endless array of entertainment (day and night!) and quick access to public transportation make it an easy favorite for both locals and travelers. Best of luck getting Barry Manilow out of your head…
Expect to pay more for beachfront accomodations, but you can really find options for any budget here—Copacabana is full of hostels as well as luxury hotels. It's a wonderful place to stay, but keep in mind that beautiful Rio beach=some touristy vibes. If you're hoping to get off the beaten path in Rio, you may want to stay elsewhere—or just ask a local which Copacabana tourist traps to avoid.
#2: Botafogo: the new kid on the block
Botafogo is the Brooklyn of Rio. Okay, it's the Brooklyn of ten years ago before rent skyrocketed to levels that even Manhattanites can't afford. In other words, this blossoming neighborhood has experienced tons of growth of late, but normal people have not been priced out… yet.
Botafogo's location south of downtown Rio and north of Copacabana means you'll get a stunning view of Sugarloaf Mountain, the spectacular sheer-sided cliff that juts out into Guanabara Bay. The neighborhood offers mid-range hotels and beachfront views at a much more affordable rate than Copacabana. Housing several universities, Botafogo also has some hoppin' nightlife—expect hipster bars and trendy (yet affordable) restaurants galore.
Pro tip: Because gentrification tends to be contagious, Flamengo, a neighborhood just north of Botafogo, is also blooming. A bit sleepier and more residential at the moment, this area is one to keep an eye on.
#3:
Ipanema: the city's swankiest sandy stretch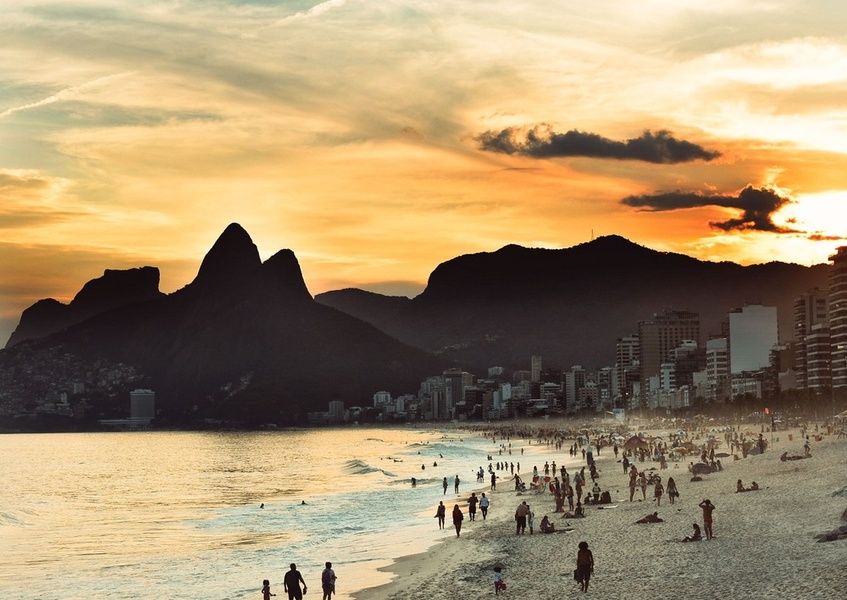 Ah, Ipanema—another sandy shore worth singing about. Ipanema is located south of Copacabana (just a few rocky outcrops separate these two famous beaches). This upscale neighborhood is squeezed between the Atlantic Ocean and Lagoa Rodrigo de Freitas, a lovely lake that sits in the middle of the city. Ipanema's smaller size only further boosts its exclusivity.
Just as the famous bossa nova tune "The Girl from Ipanema" describes, Ipanema is known for its beautiful people. Expect a lively beach, just like Copacabana, but slightly less crowded and surrounded by more fine-dining and boutique attractions. "Ritzy" is the name of the game for accommodations in Ipanema—its luxury beachfront resorts and spas make it one of the most expensive neighborhoods to stay in.
Pro tip: Ipanema Beach is separated by postos, or numbered lifeguard posts. Like tables in a high school cafeteria, each posto is known for the crowd it attracts. Whether you're looking for the LGBTQ scene or a pick-up soccer game, your local Rio contact can tell you where to plant your towel down in the sand.
#4: Leblon: beautiful beachfront with fewer crowds
Although Leblon *doesn't* have a catchy song written in its honor, this beachfront strip should not be overlooked by travelers. Rio's locals definitely don't overlook Leblon! It's one of the most elite and coveted neighborhoods in town—if you wander west along Ipanema, you'll hit Leblon's beach.
Like Ipanema, Leblon is bordered by Lagoa Rodrigo de Freitas to the north, which means the area is small. Which means that accommodations are limited and —darn you, supply and demand—pricier than elsewhere. But if you're looking for a luxurious stay with easy access to the beach, fancy restaurants, upscale (yet low-key) cocktail bars, and designer shopping, then Leblon is the neighborhood for you.
Pro tip: Leblon's beach is known for having calmer waves, making this a great option for ocean-loving kiddos (and families with a healthy budget).
#5: Santa Teresa: a boho hilltop enclave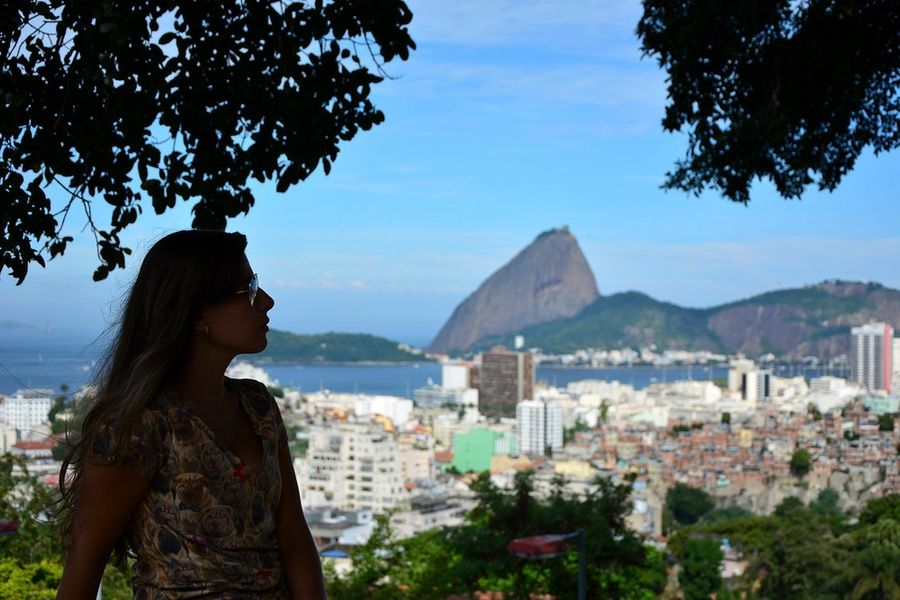 Santa Teresa, directly southwest from Rio's downtown, is a hip hilltop neighborhood offering extraordinary views of the city and Guanabara Bay from its lofty perch. Known as a center for artists and musicians, Santa Teresa's leafy, cobblestoned streets are lined by restored colonial mansions. Here, you can forgo the high-rises and stay in a cozy B&B or boutique hotel—a totally different vibe from Copacabana.
If you're hoping to taste tradition Brazilian food, Santa Teresa is an appetizing option—foodies will love the restaurant scene here. (But don't waste time searching the Internet for the best Rio restaurants—ask a Rio local for their favorites!) The only drawback to Santa Teresa? It doesn't have quick access to the beach. But a tram connects the neighborhood to downtown Rio, providing a convenient ride to the city's museums.
#6: Centro: stay a stone's throw from Rio's cultural institutions
Centro is Rio's downtown and the oldest part of the city. Perfect for architecture admirers and museum-goers, Centro is walking distance from the city's top cultural attractions. Check out the beautiful, beloved Candelária Church and the forward-looking Museum of Tomorrow.
Centro is also an affordable option for travelers, offering mid-range hotels and hostels. It serves as the city's business district, so expect to see your fair share of suits during the weekdays, and not so many folks on the weekends or late at night. But if lunch is your favorite meal and happy hour is your favorite time of day, then Centro certainly won't disappoint.
#7: Lapa: best for budget travelers who love to
samba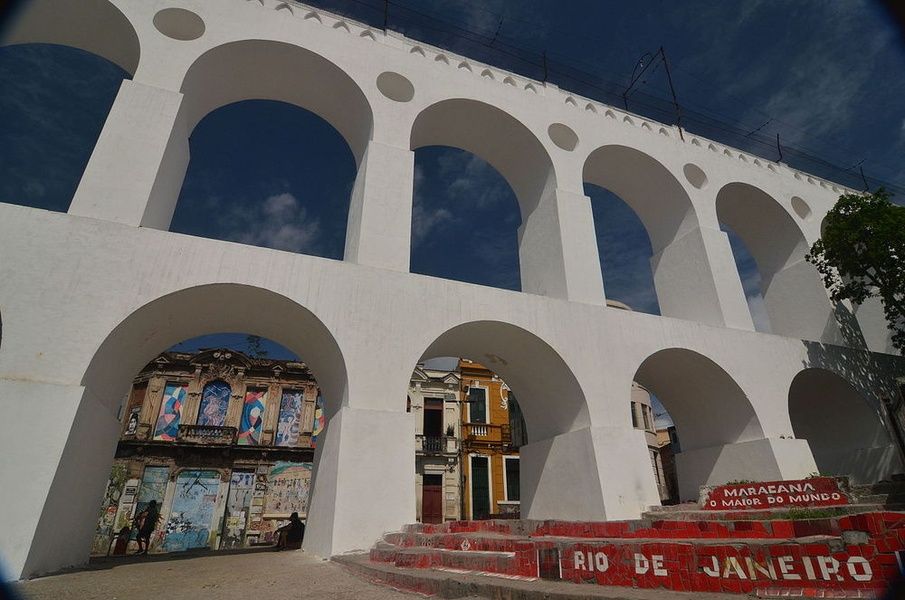 Once an off-limits area of the city, Lapa is an up-and-coming neighborhood and the center of late-night revelry in Rio. It is one of the oldest parts of the city and sits just south of downtown (and next to Santa Teresa). Lapa is known for the Arcos de Lapa, an impressive 18th-century aqueduct that today sets the stage for all-night samba dance-offs.
Many of the city's most affordable accommodations can be found in Lapa. You'll find boisterous bars, casual cheap eats, and rocking music venues lining these streets. And often the party cannot be contained by any walls—hence the open-air parties that spill into the plaza underneath the Arcos de Lapa.
Pro tip: If getting a taste for the local nightlife scene is top on your agenda, then spend a night in Lapa. But don't expect to linger in the area during the day. Though bustling at night, Lapa can feel a bit deserted in the daytime. A local can tell you the best ways to travel to other parts of the city for fun in the sun.
#8:
Jardim Botânico: tree-lined streets perfect for extended stays
Jardim Botânico is named for its famous botanical gardens, a top Rio attraction with over 9,000 plants from around the world and a stately palm-tree promenade perfect for photos. The surrounding upper-class neighborhood is also quite leafy, with shaded streets, lovely apartment buildings, and a quaint residential feel.
Bordering the western shore of Lagoa Rodrigo de Freitas, Jardim Botânico is a great option for travelers planning a lengthy trip to Rio. You can find a fantastic apartment to rent here, which will put you close to the gardens and many fine-dining restaurants. While the neighborhood is farther from the beaches, it's also a ways away from any crazy party scenes, making it a peaceful spot to stay.
#9: Urca: an escape from Rio's hustle and bustle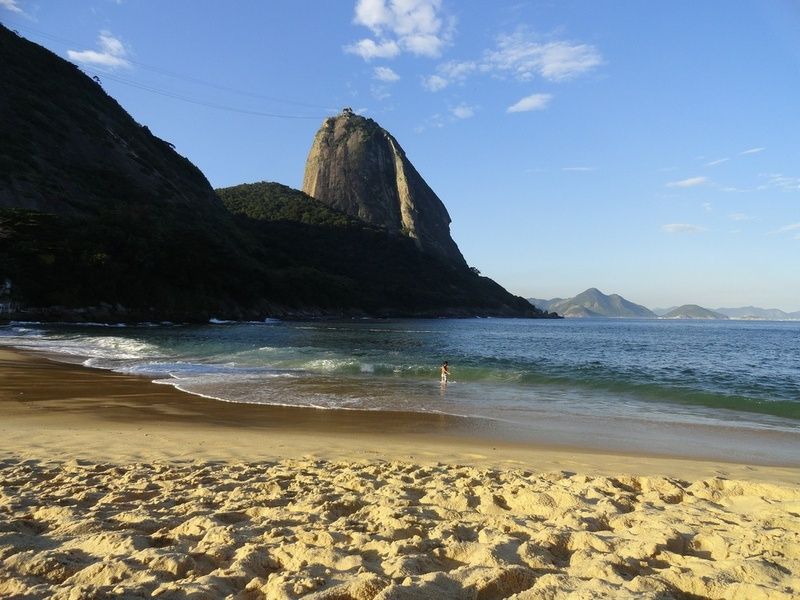 Rio is a fun-loving, energetic city, but we're not all cut out for spontaneous samba circles. If seeking a calming moment among Rio's spectacular natural beauty is top of your list, then Urca is the neighborhood for you. Situated on a small peninsula that stretches out into Guanabara Bay, Urca sits at the base of Sugarloaf Mountain, and so is the place where visitors board cable cars to reach the top of this popular sheer-sided peak.
Urca is also home to one of the best spots for watching the sunset over Rio and its surrounding waters. Mureta de Urca is a sea wall where locals cheer on the sun's descent with a cold beer in hand. FYI: This neighborhood is a little out of the way and accommodations are limited. But although there's only a handful of hotels, renting an apartment is an affordable way to stay here.
Fun fact: Urca has a lovely beach with calm waves called Praia Vermelha. Vermelha means "red" in Portuguese, and the beach was given this name for its unique red sand.
#10: Lagoa: a laidback lakefront neighborhood
As if Rio didn't have enough waterfront property already, what with the bay and the ocean, Lagoa Rodrigo de Freitas is a gorgeous lake smack-dab in the middle of the city. Lagoa, meaning "lagoon" in Portuguese, is an affluent neighborhood that borders the lake's northern shores.
Lagoa is a safe option for travelers; it's one of the few neighborhoods in Rio that does not have a favela or slum. With a 4.5-mile path circumventing the lake and plenty of sports-centric parks in the area, Lagoa is also a great option for those who live an active lifestyle. Mainly residential, it's best to look for vacation rentals here.
--
Where to stay in Rio de Janeiro? It's up to you! But no matter where you decide, connect with a local to get the most out of your trip. After discussing your interests and travel style, they'll design an immersive itinerary full of local favorites and hidden gems—no cookie-cutter trips here. You *could* go the TripAdvisor route and see Rio like a tourist...but why do that when you could see Rio de Janeiro like a local? Learn more.