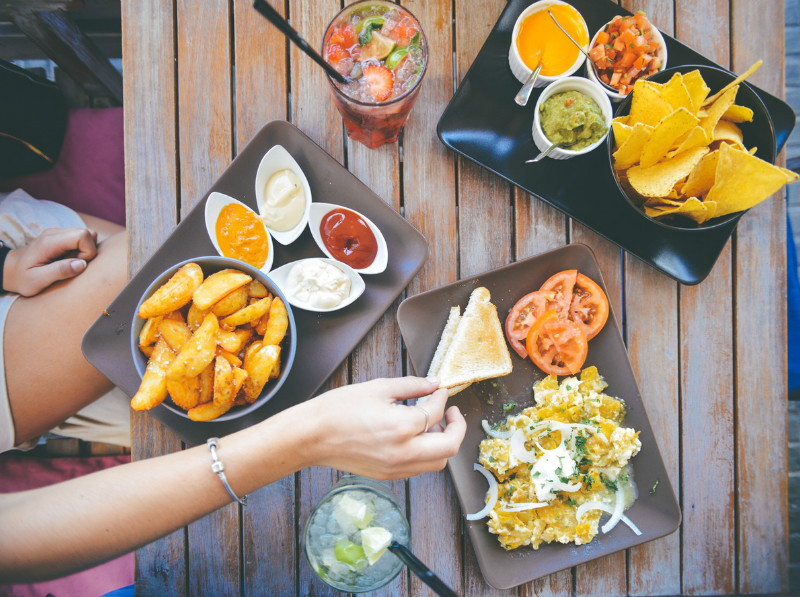 cuba
Food in Cuba

Cuban food is a delicious mix Native American, Spanish, African, and other Caribbean influences. There are many types of food to try and restaurants to visit in Cuba. Here's an introduction to food in Cuba.
Where to Eat in Cuba
There are lots of places to eat in Cuba ranging from high-end restaurants to private homes to street food. Not too long ago, food in Cuba was bland due to little access to spices, but this is rapidly changing for the better as it is easier to get spices. Still, many lower end restaurants and street food stalls offer plain meals only. Keep that in mind as you choose places to eat.
State-run Restaurants
Not long ago, travelers mainly had a single option for dining out: state-run restaurants. These are now just one of many options. They are run by the Cuban government. The food and service are generally blander than at privately owned restaurants. Prices range from 4-12 CUC. About half of these restaurants operate in CUP (the currency locals use), especially outside of Havana or typical tourist destinations.
Paladares
A paladar is an independent restaurant run by individual entrepreneurs. Paladares are relatively new to Cuba in the last 10 years, but they are primarily responsible for the gourmet food in Cuba. Prices are almost always in CUC and range from 7-15 CUC per entree. Affluent Cubans and travelers are the most frequent customers.
Casa Particulares
Casa particulares are probably the best places to get authentic, homemade Cuban meals. If you're staying at one, definitely take advantage of breakfast there, which is usually 4-5 CUC extra. Often, they will make lunch and dinner upon request, which usually runs 6-10 CUC. Even if you're not staying at a casa, you can email or call them to arrange a meal in their home, it's an experience everyone should try.
Cafeterias
Cafeterias are an option for fast food. Cubans will eat out at cafeterias regularly. You can expect to eat rice and beans, burgers, and sandwiches. The prices are almost always in CUP, and typically run around 20-40 CUP / 1-2 CUC. Many cafeterias are open 24 hours, so they're great for a late-night snack.
Bakeries
The typical Cuban bakery will sell Cuban bread (like a dense baguette), usually at a specific time of day. Many bakeries will also sell small treats like pastelitos, which are packed with fruit filling. They're a delicious cheap option and will cost you no more than 12 CUP / 0.50 CUC for a delicious snack.
Street Food
In Cuba, you'll find a variety of street food sold from windows, stands, or just from individuals with baskets. A typical street-side window will be selling empanadas, pizzas, or plain ham sandwiches. Carts might sell pre-made boxes of classic Cuban dishes consisting of meat, rice, and beans. It's nothing too exciting, but it is cheap. You can fill up for only 8-20 CUP / 0.30-1 CUC. Some smaller carts or individuals sell snacks such as peanuts wrapped in paper cones, popsicles, and ice cream. Street vendors take CUP, but if you only have CUC they will simply give you change in CUP.
Local Markets
Local farm markets, called either agromercados or agropecuarias, are the best place to find produce. You can choose some delicious tropical fruit as a snack, and vendors will often peel and squeeze fresh juice for you right on the spot if you ask. Prices are listed in CUP.
Cuban Cuisine

A typical meal will include either sandwiches or rice and beans, simple but filling. These are some of the best dishes to try in Cuba.
Sandwiches
Cuban sandwich - Sometimes called a mixto. This is a popular lunch of sliced roast pork, thinly sliced ham, Swiss cheese, dill pickles, and yellow mustard sandwiched in Cuban bread.
Medianoche sandwich - It's much like a Cuban sandwich but it is served on egg loaf and sometimes without ham. The name comes from it's popularity as a late night snack.
Pan con lechón - This is a traditional pressed sandwich. It contains roasted pork, mojo sauce, and onions on Cuban bread.
Pan con bistec - This is pressed like a pan con lechon. The main difference is that sirloin steak replaces the roasted pork.
Savory Dishes
Moros y Cristianos - Rice cooked in black beans is a traditional, simple dish served at nearly every Cuban restaurant.
Arroz con Pollo - This traditional Cuban dish is simple but delicious. It's generally chicken breast or leg served on a bed of rice.
Vaca Frita - This is a Cuban dish made with quite a few spices. To make vaca frita, skirt steak is marinated in oregano, parsley, cilantro, garlic, cinnamon, and red vinegar, then braised until it just falls apart. It's served with lime-infused onions and peppers.
Ropa Vieja - A Cuban dish made with braised shredded flank, brisket or skirt steak swimming in a flavorful tomato sauce base. Served over fluffy white rice.
Sweets
Pastelitos - These are small puff pastries that can be either sweet or savory. Most often you'll find pastelitos filled with cream cheese, guava, pineapple, and/or coconut.
Flan - Cuban flan is made with the addition of the whites of two eggs and a cinnamon stick. A similar Cuban dish is "Copa Lolita", a small caramel flan served with one or two scoops of vanilla ice-cream. Other variations include coconut, guayaba or rum raisin topping.
Tres Leches Cake - A sponge cake soaked in three types of milk: evaporated milk, condensed milk, and heavy cream.
Snacks
Tostones - These twice-fried plantain slices are similar to potato chips and just as easy to snack on.
Fried Sweet Plantains - This classic snack is made with overripe plantains fried in hot oil to produce maduros that are sweet and tender.
Malanga Fritters - Malanga is similar to a yam in appearance and a potato in flavor. For fritters, malanga is shredded and mixed up in a batter before frying. The typical dipping sauce is Tamarindo Ketchup.
Yucca Fingers - These are essentially the Cuban version of the French fry, except thicker and made out of yucca.
-
We are passionate about unique travel experiences and finding hidden gems. That's why we started a business so the everyday traveler could get personalized advice from a local.
Learn more.