As the most populated city on the planet, there are more than a few places to stay in Tokyo, Japan. But, as a visitor to the city, how do you know where to make 'home base' for the time you are there?
If you're traveling to Tokyo in hopes of finding culture, good food, and wacky shopping, don't stress. All of those things are omnipresent in Tokyo, and wherever you stay, you will be sure to find them. Read on to learn everything you need to know about bedding down in Tokyo; once you do, feel free to message us with any questions.
Want to make the most out of your trip? Tap into our network of local travel planners—Heroes—who build unique, locally-curated trip plans, designed just for you. Get started.
Tokyo has one of the most comprehensive transit systems in the world, making it very easy to travel from one part of the city to another. For a foreigner trying to see as much of the city as possible, stay in an Airbnb, apartment, hotel, or hostel close to any station on the main Yamanote (green-colored) JR line. This will be the easiest way to travel all over the city. Check out all the bookings available here.
Otherwise, where you stay should depend on what you want to see. To maximize your time, think about what you want to do during your time in Tokyo.
If you want an authentic experience…
Have a local plan your trip!
Our local Japanese experts will plan a completely personalized trip for you, based off of your travel preferences. For just $25 a day, you will receive a trip itinerary, packed with insider tips, and off the beaten path locations. Not only will you get suggestions on where to stay, but you will also receive a map with "can't-miss" sights, selected just for you. Food lover? Museum junkie? Hiking addict? Our locals have some ideas for you! Match with your Japanese trip planner today!
If you want to party…
Stay in Shinjuku District!
The Shinjuku District is a bustling section of Tokyo. This area looks exactly like your cliche image of Tokyo—neon lights, crowds of people, and street after street of shops and restaurants. This is an area for exploring, soaking up Japanese culture, and partying!
There are several famous Japanese nightlife attractions that can be found in the Shinjuku District. First is Kabuki-cho, aka Tokyo's red light district. Also in Shinjuku is the Robot Restaurant that features a show with dancing robots, loud music, and lasers.
Golden Gai is a famous block where almost two hundred bars are crammed into six tiny alleys—a feat of architecture, as much as it is a party zone. Finally, also located in Shinjuku, is Ni-chome, Tokyo's premier gay bar district.
The entire neighborhood is centered around Shinjuku Station, which is the busiest station in Japan. The nearby Shibuya District is another popular area for tourists, especially the legendary "Shibuya Scramble Crossing." For this crosswalk, ten lanes of traffic come to a halt so one thousand people can scramble across the street. There are also many trendy restaurants, boutiques, and bars in this neighborhood.
Harajuku, the famous kawaii and manga center of Tokyo, is also close by.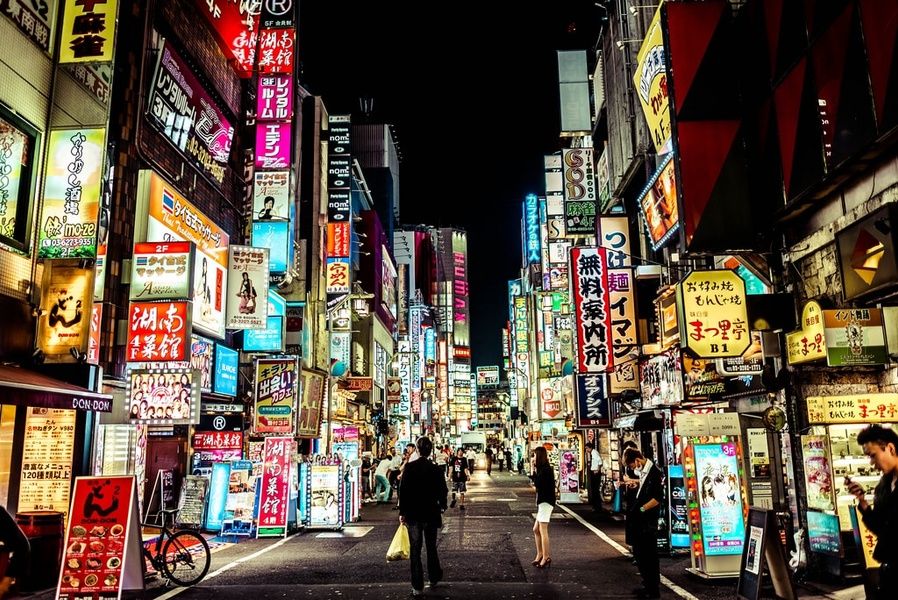 Stay in Roppongi!
Roppongi is another party and entertainment district, but more popular with tourists and ex-pats. There are many large shopping centers, as well as unique clubs and cafes, like "hostess clubs." This is a good area to stay if you want to go out and have a good time, but not worry about finding people who speak English.
Near Roppongi is the famous Tokyo Tower, which is the symbol of the city. Head to the top of this observation tower for an incredible view of the city.
The famous "Art Triangle of Roppongi" includes three world-class museums in the neighborhood. For a day of culture in Japan, don't miss the National Art Center, Roppongi Hills' Mori Art Museum, and Tokyo Midtown's Suntory Museum of Art.
If you want to be around other travelers...
Stay in Asakusa!
Home to Sensōji, a temple that is one of the most famous Tokyo attractions for foreigners and local travelers, Asakusa is one of the most popular tourist hotbeds in the city.
Visitors of the temple will enjoy the impressive Kaminarimon (Thunder Gate), as well as Nakamise Avenue, a long shopping street leading up to the entrance of the temple.
Not too far from Asakusa is the Tokyo Sky Tree, the tallest building in all of Japan. Although it will cost money to go to the top, the view has no equal, and it is certainly worth the price.
Asakusa is also known for its collection of traditional Izakaya restaurants. This is a great neighborhood to stay in if you are hoping to eat well while in Japan! For more restaurant recommendations, be sure to have one of our local Japanese travel planners share some of their favorite spots with you.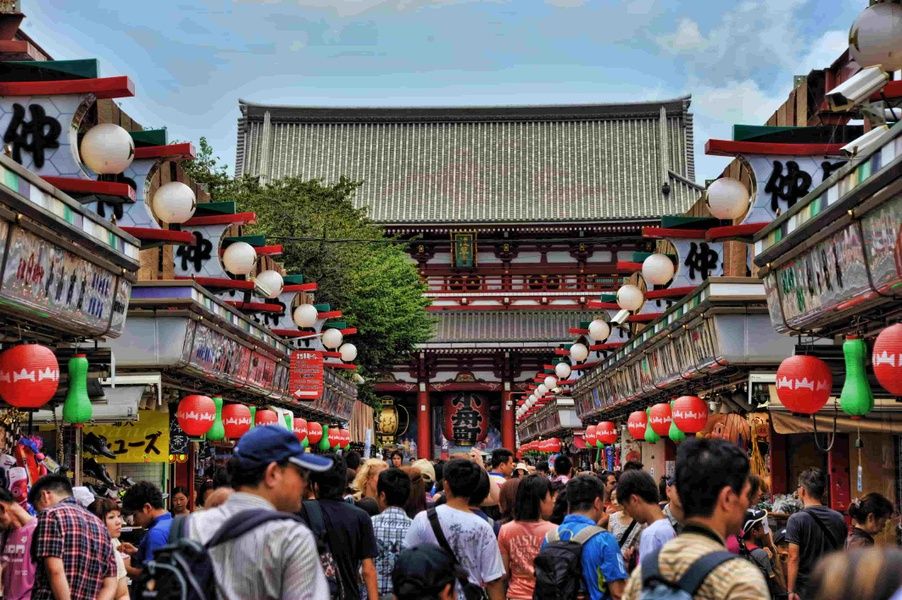 If you want to be somewhere hip and trendy…
Stay in Shimokitazawa!
Sometimes referred to as Shimokita, this neighborhood is popular with a young, trendy crowd. If you are a fan of hip cafes, boutiques, bakeries, and restaurants, there is a chance that Shimokitazawa will become your favorite neighborhood.
Shops range from designer boutiques to second-hand stores. There are so many cafes and restaurants, it would be impossible to explore them all in one day. This is why Shimokitazawa is a great place to stay in Japan, you'll never have to stray far to find a cool place to eat.
If you are looking for entertainment in Shimokitazawa, the area is known for its collection of theaters, music venues, and bars.
Consider renting an Airbnb in this neighborhood and making a home for yourself in Tokyo. It is no surprise Shimokitazawa was called "The Tokyo Hipster Paradise."
If you want to stay in "Old Tokyo"...
Stay in Ueno!
Ueno is most famous for Ueno Park, one of the most popular areas to view cherry blossoms in Tokyo since the Edo Period. However, the area is also filled with traditional Japanese homes, narrow streets, and lively street markets.
Ameyoko is the most famous shopping bazaar in the neighborhood, and it is full of stalls selling anything and everything. As opposed to other, more tourist-centered markets, Ameyoko will give you the chance to actually bargain with vendors, and see Japanese residents doing their shopping for the week.
Additionally, the neighborhood has tons of cultural attractions, like art and science museums, the Ueno Zoo (with the famous Pagoda of Kan'eiji), and several stunning Buddhist temples.
Stay in Yanesen!
Yanesen is another neighborhood that captures the atmosphere of old Tokyo. This area is known for having many historical structures in the style of Edo-period Tokyo. Don't miss the Yanakaginza Shopping Street, where you can see real Japanese street food, and shops that people use for everyday living.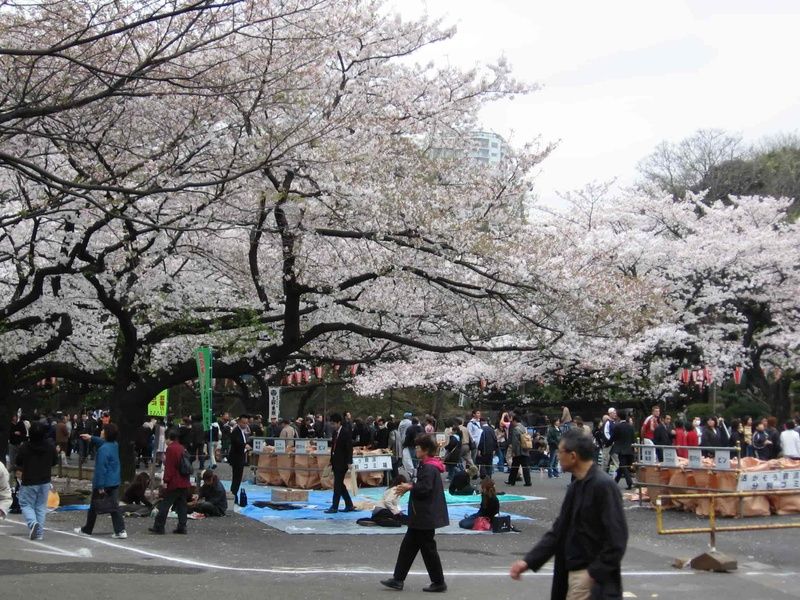 This area is known as a traditional working class neighborhood, and it is a great place to get lost and experience real Japanese life in Tokyo.
If it is cherry blossom season, Yanaka-reien cemetery is another popular place to see the blossoms.
Ready to plan your trip to Tokyo? Let one of our Heroes help! Before your trip, make sure to check out: