With its strong French heritage, international influences, and some of the best restaurants in the world, Montreal is arguably the cultural capital of North America. There's so much to see that it's hard to know where to begin! So here are 15 of our favorite places to visit in Montreal, from the gorgeous heights of Parc du Mont-Royal to the always lively Gay Village.
Want to explore Montreal like a local? Connect with someone who actually lives there. They'll show you all the ins and outs of their city, set you up with an awesome itinerary, and introduce you to the Montreal that few tourists ever see. Learn more.
#1: Parc du Mont-Royal: Stunning views in the middle of the city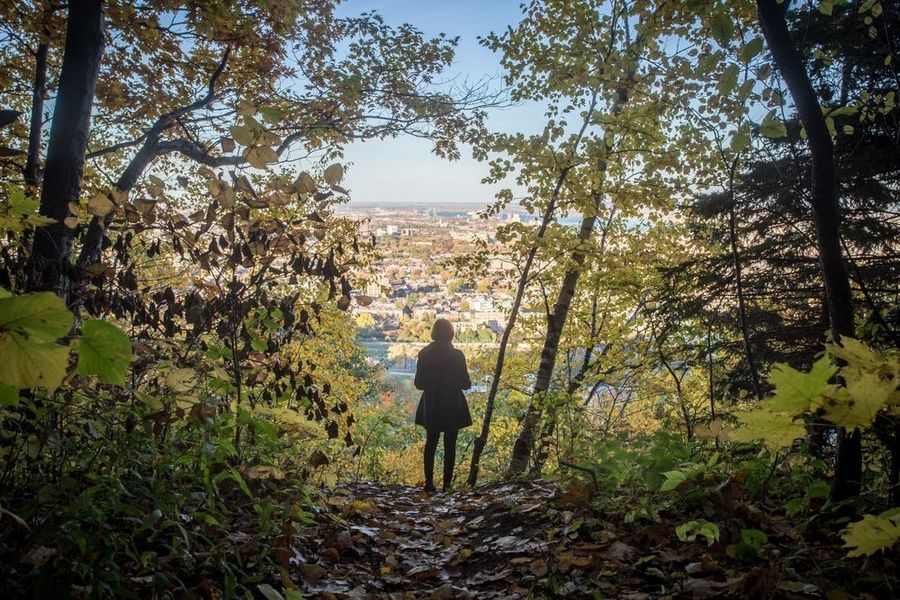 Parc du Mont-Royal, or Mount Royal Park, is the biggest green space in Montreal and a great spot for running, hiking, exploring, or just hanging out. Mount Royal, which spans the park, tumbles upwards to form the highest point in the city. It's definitely worth it to hike up to the Mount Royal Chalet for a snack and a stunning view of the Montreal skyline. Don't worry about visiting at the wrong time—Mount Royal is fantastic all year long.
Pro tip: To get to the Mount Royal Chalet, you'll climb a long set of stairs. It'll take at least 20-40 minutes—but many people take their time, stopping often to catch their breath, or to look out over the city. If you don't feel like walking, it's also possible to drive, bike, or take the bus.
#2: Gay Village: The LGBTQ capital of Montreal
Gay Village, about a 20-minute walk from Old Montreal, is one of the largest LGBTQ neighborhoods in North America. In summer, the whole neighborhood is closed off to cars, and it becomes a wonderful place to walk around, eat, drink, and shop. Bars and restaurants build summer patios that spill out into the open streets, resulting in an awesome rush of people, sights, and smells. Gay Village also has some of Montreal's hottest nightlife—dynamic bars like Notre-Dame-Des-Quilles make up a superb after-hours scene.
Pro tip: Not going to Montreal in the summer? Don't sweat it—Gay Village's best spots will still be open. Ask your local trip planner about where to go and how to get there in the snowy months.
#3: St. Helen's Island: Summer fun in the middle of the St. Lawrence river
St. Helen's Island, in the center of the St. Lawrence River, is one of the best places to go in Montreal during the summer. The lush green island has awesome running and biking paths, a few concert venues, and plenty of open space for a picnic. Not to mention La Ronde, the second-biggest amusement park in Canada. St. Helen's is the perfect destination for thrill-seekers—but if you're hoping for roller coasters, keep in mind that La Ronde is only open from May to October.
Pro tip: Although La Ronde shuts down in the winter, St. Helen's Island is still a great stop for unique views of Montreal and the frozen St. Lawrence river.
#4: Square Saint-Louis: Quirky homes around a beautiful park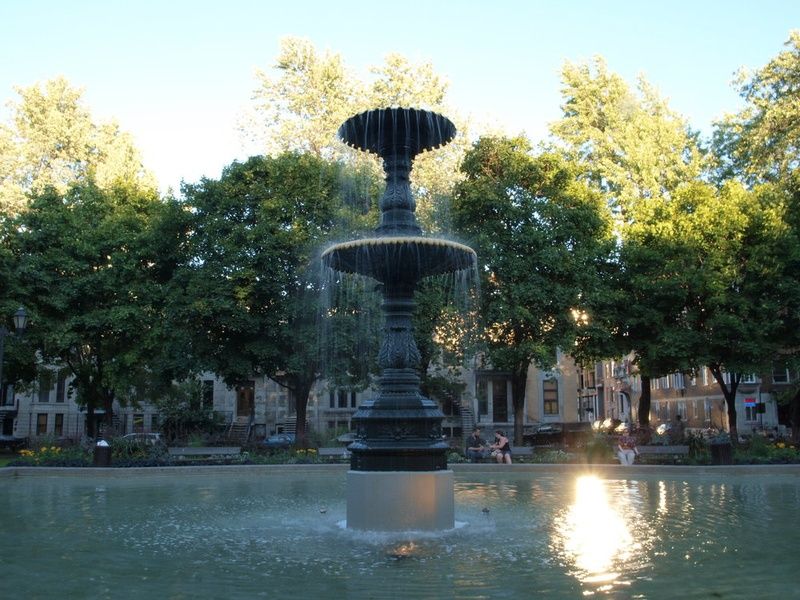 Built in 1879, Square Saint-Louis quickly became the most prestigious and desirable place to live in Montreal. It's easy to see why—the park, filled with winding paths, leafy green trees, and an impressive central fountain, is the perfect neighbor.
Wander through the park and take some time to admire the surrounding houses. Colorful and unique, some Victorian, some built like miniature castles, they give the neighborhood a wonderful texture. Plus, Square Saint-Louis offers easy proximity to rue Saint-Denis, where you'll find tons of great bars and shops.
#5: Pointe-à-Callière Museum: Descend into Montreal's past
We highly recommend visiting the Pointe-à-Callière Museum of Archeology and History while you're in Montreal. This ain't your grandma's history museum—instead of just looking at exhibits, the Pointe-à-Callière Museum actually takes you underground to see the city's original foundations, which were buried as the city grew and modernized.
As you travel up toward the ground floor, you'll watch Montreal grow from a colonial settlement to an industrial hub to a modern international city. Visual displays and fun interactive exhibits make this an incredible stop.
Pro tip: If you're hoping for a museum-focused trip, connect with a Montreal local. They'll build an itinerary that includes all of Montreal's best museums.
#6: Old Montreal: A lively historic district
Old Montreal is, well, old—it's the site of the original French colonial settlement—but today it's a stimulating mix of past and present. As you stroll through the neighborhood, you'll see centuries-old stone buildings, grand Victorian houses, and modern glass facades side-by-side. The cobblestone streets are a powerful reminder of the city's age, but the solid selection of hip coffee houses, restaurants, and bars reaffirms Montreal's status as a modern city.
Pro tip: Old Montreal is a popular spot for travelers, so be prepared for crowds. Ask your local trip planner about the best places to check out, and which tourist traps you should avoid.
#7: Notre Dame Basilica: A magnificently beautiful cathedral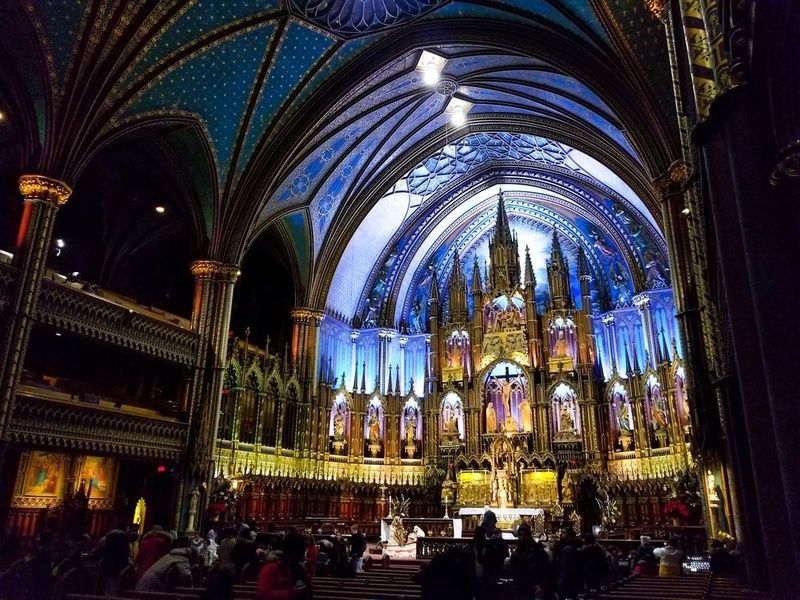 In a city as historic as Montreal, you know you'll find some incredible churches. But to say that the gothic-style Notre Dame Basilica is stunning doesn't do it justice. This cathedral is magnificent. Built in 1892 (on the site of the original 17th-century parish church) Notre Dame Basilica embodies the grandeur of the 19th century. The cathedral's arches soar upwards to its turquoise-blue ceiling, the silver organ looms over the pews, and the front of the church is a combination of stained glass and gold that will take your breath away.
Even if you aren't religious, Notre Dame is definitely worth checking out. You can take a guided tour of the Basilica, or walk through on your own—for a small admission price you can even sit onstage with the organist and watch him play!
#8: Olympic Stadium: A throwback and a great view
As the hosts of the 1976 Summer Olympic Games, Montreal built a huge, beautiful stadium to welcome their international visitors. It's still there today! Fans of the Olympics should definitely check out the Parc Olympique—you can take a guided tour or walk through on your own. Either way, it's impressive to stand where the athletes stood and peered out at the crowds. Meh on the Olympics? We'd still recommend checking it out. The panorama from the top of the 500+ feet Montreal Tower Observatory is incredible—as is the view as you zoom upwards in the glass-enclosed funicular.
Pro tip: Ask your Montreal trip planner to add one of the Stadium's special events and festivals to your itinerary.
#9: The Underground City: A totally unique way to get around
While it's not exactly a city, Montreal has a crazy underground network connecting malls, museums, hotels, and metro stops which locals call la ville souterraine. The Underground City covers about a 20-mile area, and you can walk or take the metro through the whole thing without ever stepping outside—it's perfect for shopping or exploring during Quebec's harsh winters. (And the rest of the year, too!) Stop by some of Montreal's biggest malls and shopping plazas for style and entertainment, or connect to the Musée d'art contemporain to see some awesome modern art.
Pro tip: Without any major landmarks to guide you, it can be pretty confusing for a traveler to navigate the Underground City. Connect with a local to ask about the best spots to visit and how to get from place to place—they'll add specific instructions to your itinerary so you don't get lost.
#10: Montreal Biodome: Incredible nature in the middle of the city
The Montreal Biodome, right next door to the Olympic Stadium, is an incredible place to explore natural ecosystems up-close. It's sort of like a zoo, aquarium, and botanical garden all in one! The dome is split into four distinct climates: tropical, polar, forest, and marine. Bursting with 4,500 species of plants and animals the Biodome will make you totally forget that you're in the center of metropolitan Montreal. The Montreal Biodome is a part of a larger natural science complex called Space for Life—it's the biggest natural science museum in Canada, and tons of fun for kids and adults alike.
#11: Saint Joseph's Oratory: An iconic church with an incredible view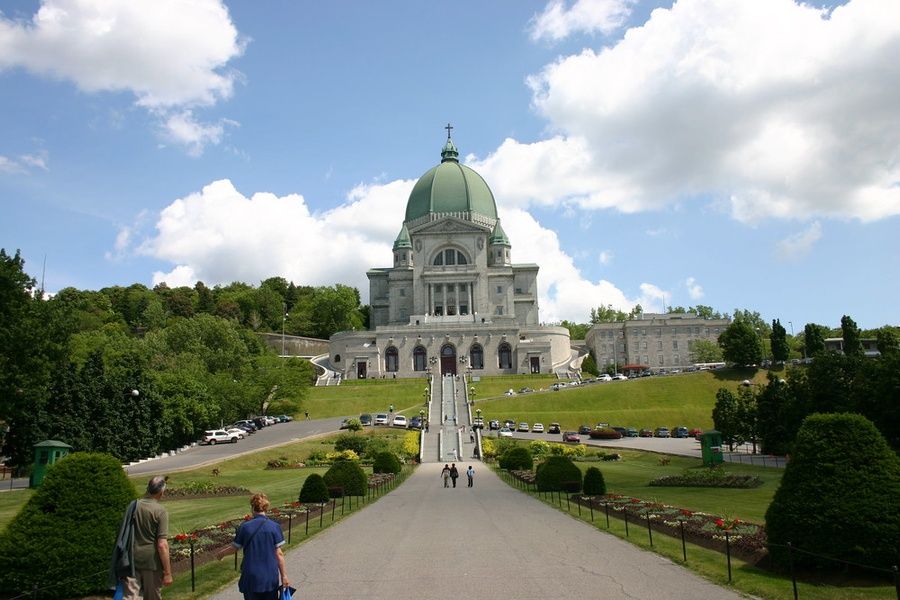 Nestled in the western end of Parc du Mont-Royal, Saint Joseph's Oratory is identifiable by its iconic green dome and regal staircase. If you decide to visit you'll be in good company—as Canada's largest church, St. Joseph's receives around 2 million visitors per year! More modern feeling than Notre Dame, Saint Joseph's sheer size is impressive—as are its stained glass windows, intricate designs, and angular arches. Enjoy a visit to the church, and definitely take a moment to admire the view of Montreal from Saint Joseph's high perch.
#12: Little Italy: The ultimate foodie neighborhood
Montreal wasn't built on French culture alone—Little Italy honors the wave of Italian immigrants that arrived in the early 20th century. While this charming little neighborhood used to be all about Italian food and culture, these days it's a hodgepodge of all sorts of international goods. Head to Little Italy for tacos, fine meats and cheeses, Vietnamese delicacies, pizza, fresh oysters and so, so much more. Make sure you check out local favorite Jean-Talon Market for delicious, fresh produce.
Pro tip: Little Italy is popular but it's definitely not "touristy"—locals love it too!
#13: Montreal Botanical Gardens: A peaceful green retreat
One of the coolest things about Montreal is how many natural green spaces are within the city limits. The Montreal Botanical Gardens is one such spot—it's been a highlight for travelers since the 1930s, and remains an excellent place to retreat and take a deep breath while you're exploring the city. The garden contains multiple themed green spaces, 10 greenhouses, and over 22,000 species of plantlife. It's beautiful during the summer, but the gardens are open during the winter, too—duck into a balmy, tropical greenhouse to escape that icy chill.
#14: Château Ramezay: See Montreal's history in style
Château Ramezay is the oldest private history museum in Quebec, and a fun place to visit for a glimpse into five centuries of Montreal's past. Set in the original, 18th-century residence of the governor of New France, visitors are welcome to stroll through this grand, colonial mansion. You'll get a taste for what life was like for nobility and servants over the years. The French colonial-style garden surrounding the museum is a pleasant place to relax and have a picnic after you've seen the exhibits.
#15: Lachine Canal: A historic urban park along the water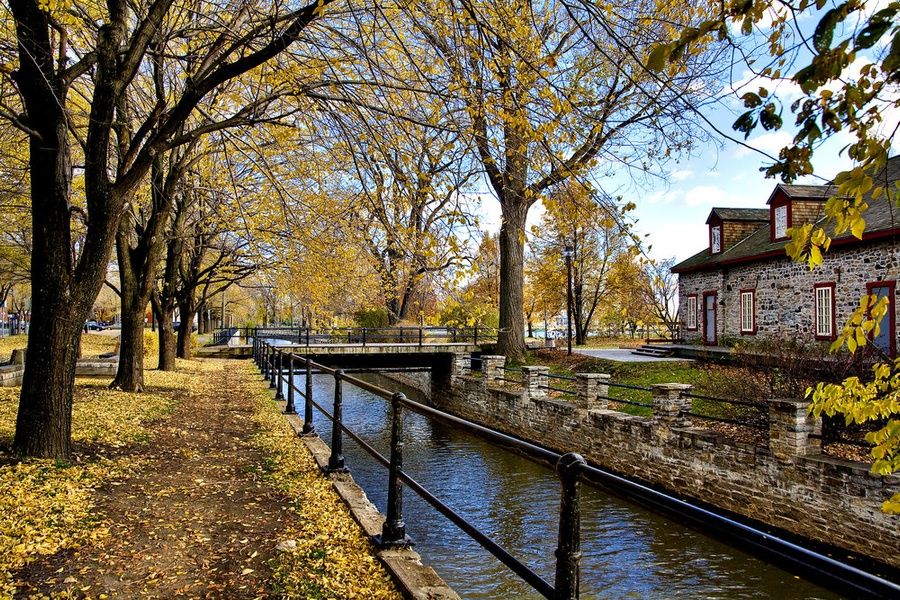 Originally built to transport goods during Montreal's industrial era, Lachine Canal today is a fun recreational park, adored by locals and travelers alike. The 9-mile trail along the canal is awesome for biking, running, or just taking a stroll. Where the canal meets the St. Lawrence river there's a little sandy beach, where you can cool off after your workout. Even in the winter months, the Lachine Canal sees tons of visitors—strap on your hat and gloves and go out for a walk along this scenic urban trail!
--
These 15 places to visit in Montreal are "incroyable"—but to get the most out of your trip, connect with a local. They'll design an itinerary based on *your* interests and *their* insight, which means you can throw that guidebook away. Why see Montreal like a tourist when you could see it like a local?