The majesty of the Andes mountains, the wonder of the Amazon rainforest, and the energy of bustling metropolises like Lima and Cusco—need more reasons to head to Peru? Well, we've got plenty in these 17 amazing places to visit in Peru. Buckle up, it gets wild!
You can read all about these places from us, but connecting with a Peruvian local is the best way to get the in-depth scoop. Why not reach out to have one plan your authentic, immersive trip?
#1: Lima
Lima is known as the "City of Kings", meaning this bustling capital is way more than just a stopover on your way to Machu Picchu. Commercial business, vibrant nightlife, and ancient history all intermingle in Lima—giving the city a vibe that appeals to history buffs and party animals alike. Whether you're rocking to a live performance at Del Carajo or accessing your inner bohemian while touring the Barranco District, it's hard not to jive with Lima in some way.
If you had to choose, two places definitely worth visiting in Lima are the Miraflores neighborhood and the Plaza de Armas. Miraflores is a popular neighborhood known for great shopping, green spaces, and breathtaking views along its six-mile-long clifftop boardwalk. Further toward the city center, the Plaza de Armas acts as Lima's history hub. It's home to amazing governmental palaces and the Aliaga House (aka the oldest house in the Americas)—which makes it a great place to take a midday break and people-watch.
#2: Cusco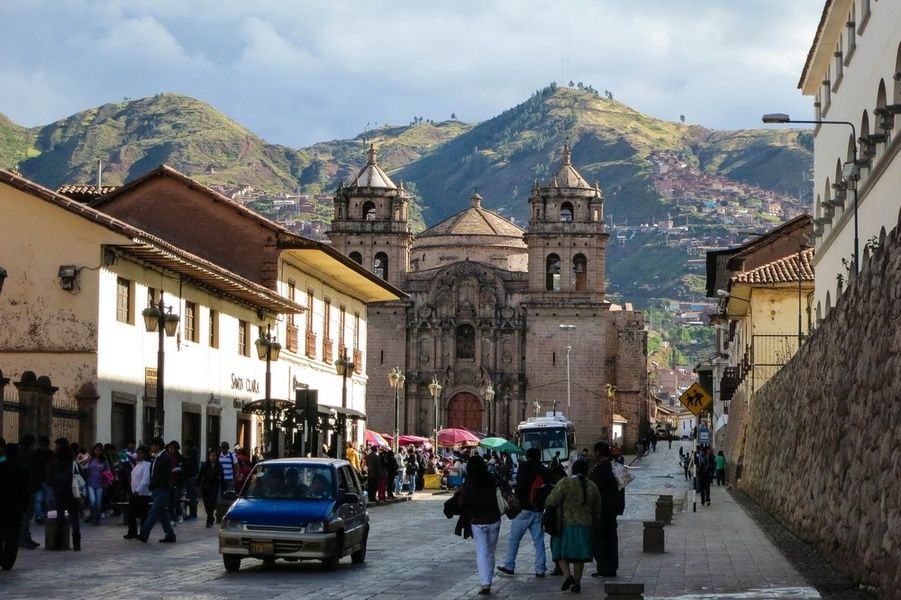 Once the capital of the Incan Empire, Cusco still glitters with remnants of its former glory. This ancient city is nestled between mountain tops—a sea of red-tiled roofs surrounded by steep bluffs—which makes it easy to feel like you're stepping into another time. (Cusco has done an excellent job of preserving its Incan and Spanish architecture—such a good job that it's a UNESCO World Heritage Site.) Wander the historic cobblestone streets and enjoy the delicious selection at the San Pedro Market.
Pro tip: Cusco's charm isn't all about history—it's also the party capital of Peru! Hit the dance floor or rock the night away at one of Cusco's many bars and nightclubs. Most of the best nightlife can be found near the city center, including some of the most well-known spots like Mama Africa and Ukuku's.
#3: The Urubamba Valley
Just 10 miles north of Cusco, the Urubamba Valley—also known as the Sacred Valley—calls out to adventurers and cultural enthusiasts alike. The Sacred Valley is a network of sleepy mountain villages brimming with Andean culture and explorable ancient sites like the ruins of Pisac. Hitting up local markets like the one in Chinchero Village is a great way to shop like a Peruvian, and when you're done relishing in quiet mountain life, you can take things up a notch by white water rafting in the Urubamba River or hiking nearby trails in the Andes.
#4: Maras Village
Maras is a quintessential Andean village complete with adobe houses, a slow pace of life, and the occasional cow or donkey wandering the streets. Since few people stop in Maras, it's the perfect place to get an authentic glimpse of rural Peruvian life.
Once you've ducked into the village, you can continue on to one of the wonders of the region: Las Salineras de Maras (the Maras Salt Mines). With nearly 3000 man-made pools used by the Incans (and still used today!) to harvest salt, the salt mines are totally unique to the region. You can hike up from the village to see the pools of salt carved into the mountainside—even though they're manmade, they're a geological anomaly that will leave you awestruck.
#5: Machu Picchu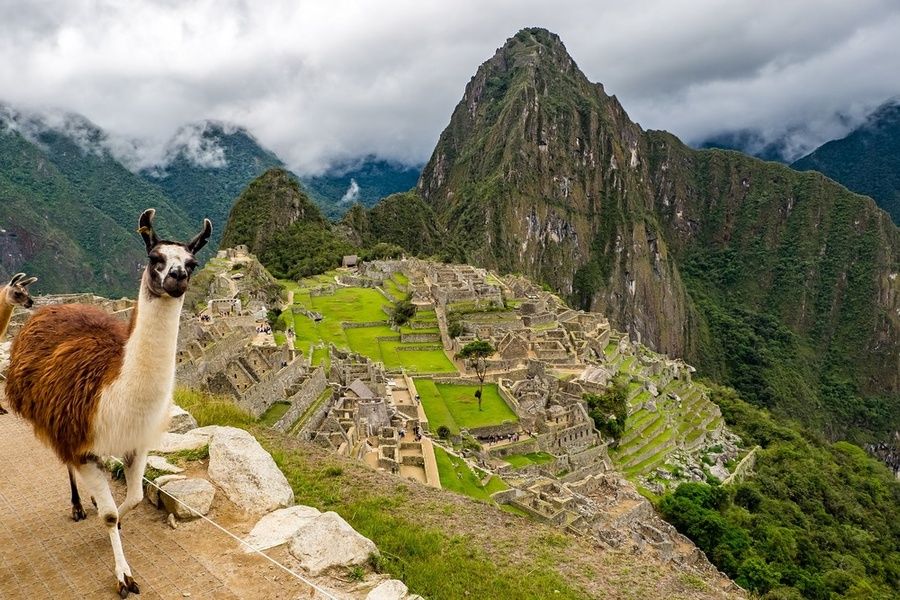 People don't just label something one of the new Seven Wonders of the World on a whim, and it's clear that the Incan citadel of Machu Picchu has earned the title in full. Originally built in the 15th century, Machu Picchu was basically the NYC of the Incas. Throngs flock to see it, and you should too! There's something otherworldly in gazing upon the ruins of Incan buildings stacked on mountainside terraces and shrouded in mist.
A trip to Peru would be tragically incomplete without seeing Machu Picchu, but make sure to put some thought into how you want to get there. The easiest way involves a train to the village of Aguas Calientes near Machu Picchu. However, if you're the type that likes some challenge with your travel, arrange to see Machu Picchu while trekking the Inca Trail.
Pro tip: A trip to Machu Picchu can actually be a pretty extensive process. You need to book in advance, arrange travel plans, and figure out what order to see things in. A local Peruvian travel planner can tackle these details like a pro, so why not reach out?
#6: Lake Titicaca
Peru may have some nice beaches, but it's the lakes that really steal the show—particularly Lake Titicaca on the Bolivian border. Lake Titicaca is fun to both say and visit, with islands of indigenous villages dotting its picturesque expanse of blue water. You can unwind at an eco-lodge on the beautiful Isla Suasi, learn the secret of masculine knitting at Taquile, or go full local and fall in love with the area's famous giant frogs—though if you prefer to admire that last one from a distance, we understand. Lake Titicaca is huge, so definitely plan on spending a day or two there to get the best of it.
#7: Iquitos and the Peruvian Amazon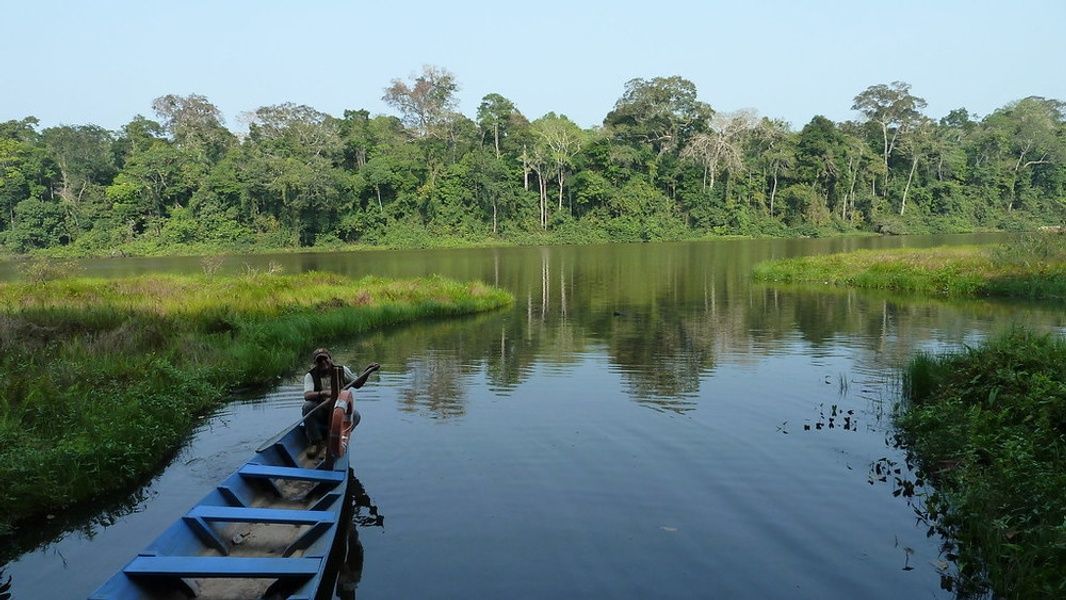 The Amazon Rainforest is usually associated with Brazil, and no shade to Brazilians—but the Peruvian Amazon is where it's at. The massive forest dominates the whole eastern half of the country, but you'll definitely want to visit the jungle city of Iquitos in the northern Peruvian Amazon. From its houses on stilts to the ridiculously cool floating market of Belen (which sells goods straight from the jungle), Iquitos is an enticing jungle city full of explorable gems and amazing Amazon cuisine (ever heard of Juanes?).
After you're done enjoying the relaxed lifestyle that characterizes much of the city, use it as a base for wilder adventures into the Amazon Rainforest. Take a river cruise to see pink river dolphins or get an in-depth jungle experience by staying at a remote eco-lodge at the Tapiche Reserve.
Pro tip: Iquitos can only be reached by boat or plane! Reach out to a Peruvian local to get help ironing out the travel details.
#8: Huascaran National Park
Just when you think you've seen all the natural beauty Peru has to offer, Huascaran National Park proves you've only scratched the surface. Huascaran National Park is located in central Peru in the Cordillera Blanca mountain range—the highest tropical mountain range in the world. It's got hundreds of crystal blue lagoons surrounded by snow-capped peaks and glaciers. For those of us yearning for unspoiled, natural beauty, it doesn't get much better.
Huascaran is isolated, rugged, and very high in elevation—22,000 feet above sea level at its highest point. If you're extra adventurous and want to get off the beaten path, Huascaran is a great place to test your trekking skills, do some paragliding, or simply enjoy some of the greatest biological diversity in Peru.
#9: Rainbow Mountain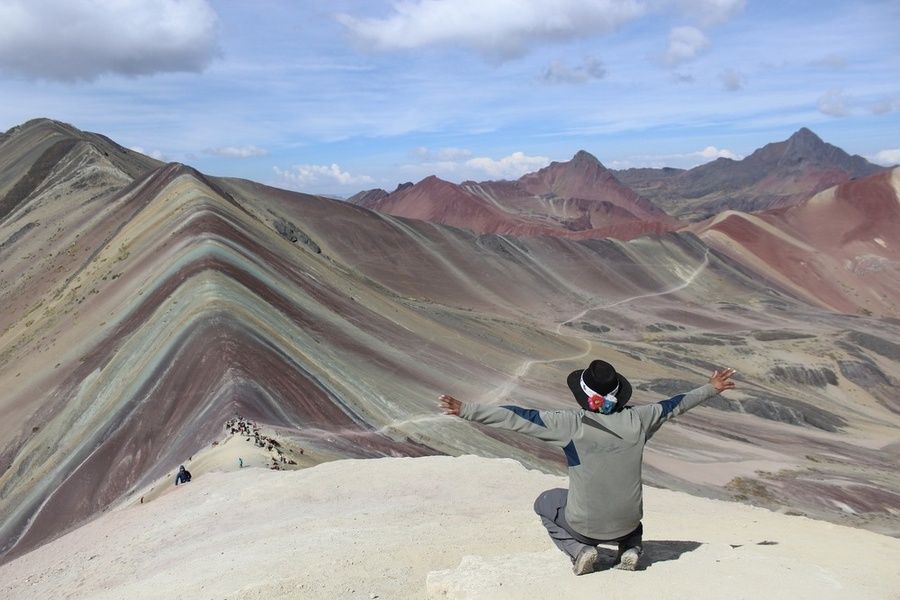 Rainbow Mountain is one of the most interesting geological quirks in Peru. Locals call it the Mountain of Seven Colors—because it looks like Picasso himself painted them with streaks of red, yellow, green, and purple. In reality, experts say it was melting glaciers mixing with ground minerals that gave the mountain tops these unique colors. Either way, they're awesome to see. The best way to see Rainbow Mountain is via a six-mile hike that can be reached from Cusco by bus.
#10: The Colca Canyon
Ancient indigenous villages, epic hiking routes, and a fissure deeper than the Grand Canyon are just some of the things that put Colca Canyon on the map. Just four hours northwest of Arequipa, the amazing views and colorful villages that dot this rugged landscape are reason enough to visit.
Want another reason? It's also home to the absolutely massive Andean Condor, which can be seen from the Cruz del Condor lookout point. When you're done hiking and watching for birds large enough to steal a baby hippo (maybe), take a relaxing dip in one of the canyon's natural hot springs.
#11: Paracas National Reserve
When you've had your fill of humid rainforests, go for something on the opposite side of the spectrum in the Paracas National Reserve. Here, the tropical features of the rainforest give way to an epic, rugged coastline that's full of adventure and incredible rock formations.
If you're down for camping, diving, hiking, or just being a beach bum for a bit, Paracas National Reserve is heaven. The best way to see the Paracas National Reserve is by zooming around on an ATV you can rent from the town (also called Paracas) at the entrance to the reserve. Just make sure you don't miss a chance to see the huge mysterious drawing etched into the cliffside that has perplexed people for years.
#12: Casa Hacienda San Jose
Peru goes next level when it comes to keeping skeletons in their closet—by keeping them in a hotel instead! Casa Hacienda San Jose, located near the town of Chincha (just three hours from Lima), was once a luxurious sugar plantation. Today, it's a renovated hotel steeped in 300 years of history. It still retains its 17th-century architecture—as well as remnants of the darker side of Peruvian history.
Under the hotel, a network of hidden tunnels was once used to smuggle slaves into the region, hide from pirates, and most recently, to bury dead bodies (hence the skeletons). Whether or not you decide to stay for the night, Casa Hacienda San Jose is worth the stop. If you're up to it, venture down the catacombs to get a glimpse of the nitty-gritty realities of colonial-era Peru you won't find elsewhere. Afterward, lighten the mood by heading back into town to experience peñas, parties held in local clubs featuring Afro-Peruvian music.
#13: Ballestas Island
If you want to see some wildlife that's out of this world, head to Ballestas Islands. Penguins, sea lions, and birds like the Peruvian Pelican and Guanay gather in droves on the three small islands that make up Ballestas. They fittingly call these islands the Peruvian Galapagos, and the only way to see them is by boat from nearby Paracas. And while you can't land on the islands, the boats get you plenty close to see colonies of Humboldt penguins and hear the awesome chorus of thousands of barking sea lions.
#14: Arequipa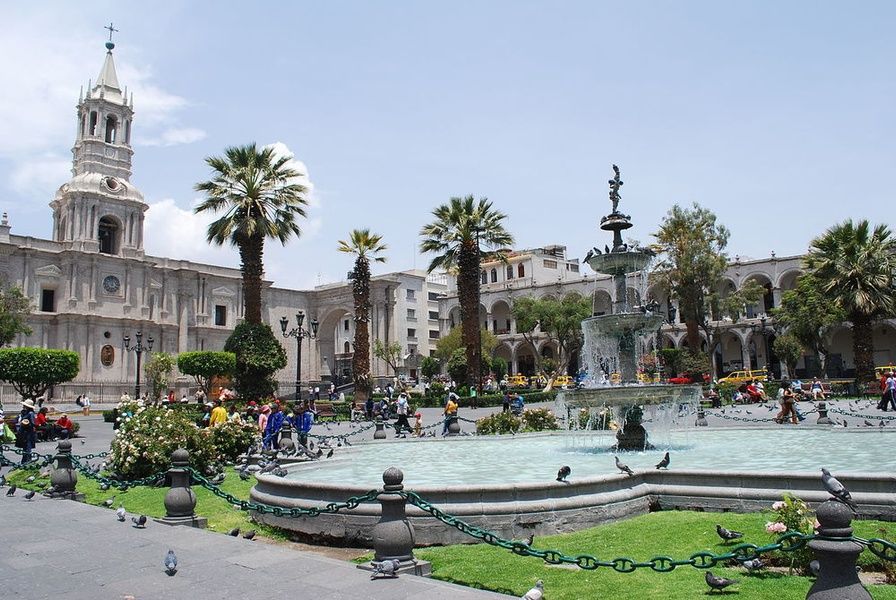 Arequipa is known as "the White City" after the white stone that many of its buildings are made from—and if the architecture doesn't dazzle you, the three volcanoes surrounding it certainly will. Arequipa is an alluring mix of cosmopolitan bustle as well as cool historic vibes stemming from its roots as the mestizo cultural capital of Peru.
Apart from visiting epic historical sites, like the "city within a city" that is Santa Catalina Monastery, Arequipa is also a great dive for the foodie looking to expand their horizons. Some of the city's specialties include ceviche and the (strong!) locally brewed spirit, Pisco.
Pro tip: Ceviche and Pisco are just the beginning of the Arequipa foodie scene. Have a Peruvian local help you map out your own food tour based on the Peruvian foods you want to try.
#15: Huacachina Oasis
Four hours south of Lima, the Huacachina Oasis is the ideal spot to party in the desert. You'll never look at the desert the same after spending a night or two in this beautiful conglomeration of lush land and palm trees all surrounding a small watering hole.
The oasis is home to only 115 people, so if you're looking to get away from the metropolitan hustle, you'd be hard-pressed to find a better spot. The oasis is the perfect base for spending the day enjoying desert adventures like sandboarding and then kicking your feet up at night to enjoy a nice glass of local wine from the nearby Tacama winery.
#16: Puno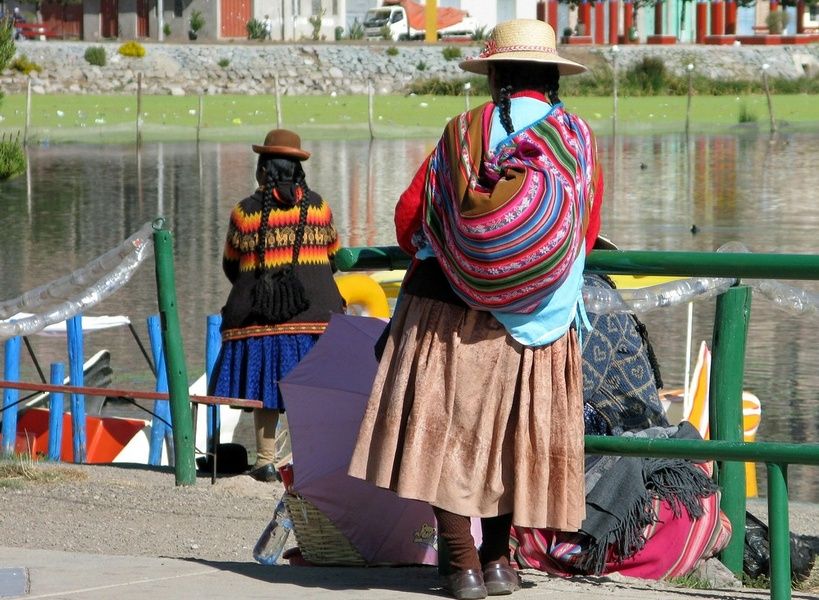 Love getting lost in a good story? Then you'll love visiting Puno. This city on the northeast coast of Lake Titicaca is the folklore capital of Peru, and it's the perfect place for getting knee-deep in the tales and legends of Peru's indigenous people. The city of Puno itself is quite simple but comes with remarkable views of Lake Titicaca, as well as some great gems like the market street of Jiron Lima and the majestic Catedral de Puno.
But the greatest allure of Puno is its proximity to the floating Uros Islands, named after the people that inhabit them. The Uros Islands are the home of 1,200 Uros people living on islands they've been constructing themselves for hundreds of years out of totora reeds!
Pro tip: The islands are well-known and often visited, but don't let that keep you from going. It's still one of the most unique ways to connect with indigenous Peruvians willing to share their story with visitors.
#17: Mancora
When you're ready to have your toes in the sand and a drink in hand, head to Mancora. Mancora is a trendy beach town with quaint cafes and luxurious resorts tucked away in the northwest corner of Peru. It's a hidden surfer's paradise, so if you're not laid back catching some rays then you should be in the water catching some waves. Since most people think ancient ruins and alpacas when visiting Peru, Mancora is a bit under the radar. But if you want to enjoy dreamy sunsets on horseback, learn to windsurf, or just relish some sun rays while indulging in the local cuisine, head to Mancora.
--
No matter which places you visit in Peru, connect with a local to get the most out of your trip. They'll design an authentic, immersive itinerary based on *their* knowledge and *your* interests—which means you'll feel at home as soon as you hit the ground. Why see Peru like a tourist when you could see it like a local? Learn more.