So you're planning a trip to Thailand—you've picked your city, booked your hotel, and know exactly what you want to see and do (preferably with some help from a Thai local)—and that's when it hits you: how am I supposed to get around?? No worries, we've got you covered. Here's everything you need to know about transportation in Thailand, including boat travel, intercity travel, and taking Uber.
Want to learn more about traveling in Thailand? Get in touch with a Thai local to help you plan your trip—they'll build you the perfect immersive itinerary, keep you informed the whole way, and be available 24/7 to answer your questions.
Between Thai cities, air travel is your best bet
If you plan on hopping between major cities or regions while you're in Thailand, the best way to do it is by plane. There are tons of affordable airlines operating in Thailand right now. They're cheap, safe, and quick—you'll get to your next destination without any hassle.
Not a fan of flying? You can always take a train...
Even though air travel is faster, traveling by train can be a really fun experience and a great way to see more of the country. Thailand is well-connected by railways—you can take an overnight sleeper train across the country (the northern connection between Chiang Mai and Bangkok is one of the most popular lines for travelers). We recommend buying an affordable second class sleeper ticket—generally around $15—and getting to know your neighbors along the way!
...or you can always take a boat!
Of course, you can't take a train to any of Thailand's gorgeous island destinations. If you're heading off the mainland, you'll want to hop on a ferry at a major port—Phuket, for example, is connected by ferry to Bangkok, Krabi, Ayutthaya, Chiang Mai and tons of other cities. Ferry travel is safe and super affordable (around $20 for a 12-hour trip), and it's not just restricted to the islands—you can also take a ferry between coastal cities.
For a shorter distance, there are
tons
of transportation options in Thailand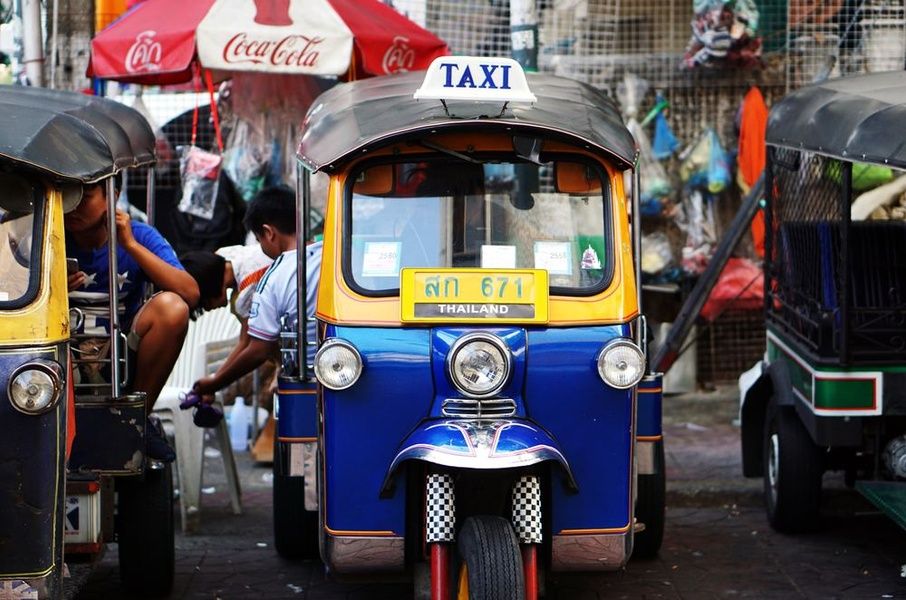 When it comes to getting around in a Thai city, you have plenty of options to choose from. Here are the main methods of public transportation:
Taxi

: Taxis are cheap (

under $5

for a trip of a few miles) and easy to find—a lot of the time drivers will pull over to see if you need a ride.

Tuk tuk: A tuk tuk is a motorized 3-wheeled cart that operates just like a taxi. They can be super fun for short distances, but they are a little more dangerous than taxis—we recommend sticking to cars in the most congested, busy areas.

Bus: It's as easy to hop on a bus in Thailand as it is anywhere in the US. Buses are color coded to show price and comfort level: take a yellow or orange bus if you want air conditioning (trust us, you do.)

Motorcycle taxi

: Exactly like it sounds: hop on the back of a motorcycle to get to your destination. This

is

the most dangerous option in a high-traffic area—but, if you're traveling on your own, it can be tons of fun.

Speedboat

: Express boats run up and down the river in Bangkok, along the coast and between islands. They're fun, fast and refreshing on a hot day.
In big cities, traffic can get pretty crazy
We've all seen the images of crazy Bangkok traffic in movies and TV—honking cars, buzzing motorbikes, and swarms of pedestrians clogging the street. It's true—traffic in major Thai cities, especially Bangkok, can get chaotic. In fact, Thailand was ranked the world's most congested country for traffic in 2016.
But fear not! There are ways to beat the traffic. Here are a few tips:
If you're in Bangkok, take the elevated

skytrain

whenever you can—it zooms right over the busy streets and lets you off at every major hub.

Avoid the roads at peak traffic hours (around 7:00 - 10:00 in the morning and 5:00 - 8:00 in the evening).

Plan ahead! If you're on a schedule, look up your route ahead of time and make sure you account for time stuck in traffic

Don't bother walking on busy streets—it may seem faster, but it can be dangerous. Just wait it out in a taxi, rideshare, or tuk tuk.
The best thing you can do to combat traffic, wherever you're staying, is to get the inside scoop from someone who lives there. Connect with a local to plan your travel itinerary around the traffic and choose the best transportation options.
There is no Uber in Thailand, but there is Grab
Since April of last year, there is no more Uber in Thailand. But there is a similar ridesharing app called Grab. All you have to do is download the app and enter your destination, just like you would with Uber. It is a little more expensive than a taxi or tuk tuk, but the cars are safe, secure and usually air-conditioned—totally worth it for a cross-city journey.
For taxis and tuk tuks, always map out your route and set your price
The most common transportation scam in Thailand is for a taxi, tuk tuk or motorcycle driver to rack up charges by taking you the long way around. Here's how to prevent that from happening to you:
Map out your route on your phone ahead of time, and show the driver the way you want to go when you get in the car.

Only get into a taxi that has a working meter (ask if the meter works before you open the door).

If there is no meter, or if you're in a tuk tuk or on a motorcycle, agree on a price with the driver before you get going.

Trust your instincts! As soon as you feel like you're going the wrong way, just ask to get out at the next convenient stop and find another ride.

Ask a local

about the best ways to spot and avoid scams in the area you're staying.
You can rent a car in Thailand…
You can rent a car in Thailand, but remember what we said about the crazy traffic! We only recommend a rental car if you plan on traveling long distances through rural areas. And be prepared: in Thailand, they drive on the opposite side of the road—it's going to take some getting used to!
...or a scooter!
If you're staying on one of Thailand's beautiful islands, renting a motorized scooter can be a super fun way to get around. They cost as little as $8 a day, plus a security deposit (in some locations, you can leave your passport as a deposit). They're awesome for touring around rural backroads and coastal cliff tops, taking in the scenery on your own schedule.
There is no single best way to get around in Thailand
When you get right down to it, the best way to get around in Thailand all depends on where you're staying, where you're going, and your budget, schedule, and travel style. You're definitely going to want to try out different transportation options for every situation—seriously, if you just rely on Grab or taxis the whole time, you'll end up wasting tons of time and money and missing out on some really fun experiences.
The best way to figure out what to take, when? Plan your trip with a Thai local. They know all the ins and outs of transportation in Thailand, and they'll make sure you make the right choices.
--
There you have it—everything you need to know about transportation in Thailand. Curious to learn more? Get in touch with a local who can help you plan your trip and answer all your questions, 24/7.