Medellin's flawless climate, stunning Andean locale, and incredible surroundings make it the ideal Colombian city from which to launch a hiking adventure—so read on to discover the best hiking spots in and around the "city of eternal spring"! Once you do, feel free to message us with any questions you still have.
Want to make the most out of your trip? Tap into our network of local travel planners—Heroes—who build unique, locally-curated trip plans, designed just for you. Get started.
Table of Contents
Guatape: Climb to Colombia's most colorful town
On the outskirts of Medellin lies a truly amazing hike… to the top of a massive rock. Anticlimactic? Think again! One of the region's natural wonders, the Rock of Guatape is a historical and natural marvel, standing alone amongst the rolling landscape of Medellin's outskirts, stairs zigzagging to the top. Even more lovely than the climb up the Rock itself, however, is what you'll find after the trek—the quaint town of Guatape. Established all the way back in 1811, Guatape is known for its vibrant colors and immaculately-preserved colonial architecture; in fact, it's often called "the most colorful town in Colombia". In addition to the opportunity to explore this unique Colombian wonder, the hike up Guatape also offers unparalleled views of the gorgeous Guatape Reservoir and the green islands (formerly hilltops, before the reservoir was created) that dot its crystal-clear waters. For an easy and safe way to travel from Medellin to the fabled rock of Guatape, you can take a bus that leaves from Medellin's North Bus Terminal and goes directly there—or simply take Uber!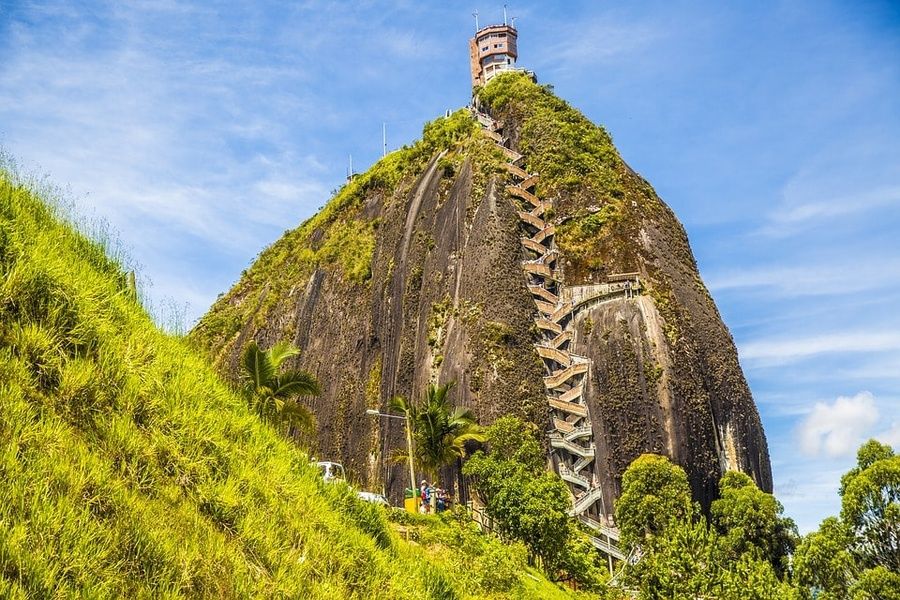 El Salado Eco Park: Take a hike through the Coffee Triangle
Full of unrivaled coffee and bewitching jungle, the Coffee Triangle is one of the most incredible destinations in Colombia. To that end, you can't miss a hike in El Salado Eco Park, a lovely nature reserve just five short minutes from the town of Envigado, and only 25 minutes from Medellin. With hiking trails ranging from brisk 30-minute jaunts to days-long treks, El Salado offers incredible journeys through the lush greenery of the Coffee Triangle. When you've finished your hike, don't forget to stop by a coffee plantation to taste the local brew and learn all about the coffee making process from the farmers themselves!
Arenales Waterfall: Trek up and cool down
Jumping into a swimming hole that's fed by a majestic waterfall may just be the best way to end a hike, ever. The path up to Arenales Waterfall is about an hour long and traverses rolling green hills, lush forests, and wild streams. Only a 20-minute ride from Envigado (which lies on the Medellin Metro line), this subtropical adventure is a must-add to any nature lover's Colombia itinerary. But while the entire hike is enjoyable and relaxing, the bus trip from Envigado to the Arenales trailhead can be a bit hair-raising—so be sure to chat with one of our Heroes to help you map out the journey beforehand.
Arvi Park: Enjoy an urban journey to a nature-filled haven
An excursion to Arvi Park, located at the very tip-top of Medellin's mountainous locale, begins with a ride on Medellin's famed —complete with one-of-a-kind views of the city and mountains. And it's it too; Arvi Park attracts travelers from all over Colombia and the world around due to its wealth of walking trails, boat rentals, butterfly garden, and much more. Without ever leaving the city, a walk through the dense foliage of Arvi's hiking paths makes for an incredible, outdoorsy Colombian adventure nonetheless!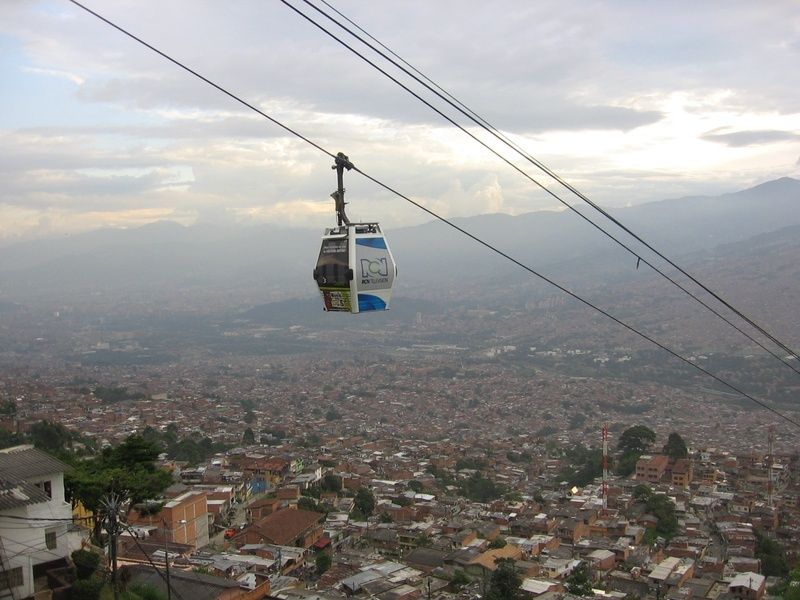 Have questions about hiking in Medellin? Message us or reach out to one of our local travel planners for answers! And before your trip, make sure to check out: