From picturesque Andean coffee plantations to urban cafes, and even to the small sweet cups of tinto that Colombian locals enjoy daily, Colombia's coffee is absolutely unparalleled. So whether you're looking to embark on an overnight jungle adventure or simply craving a quality cup of the freshest joe around, you need to visit one of Colombia's fabled coffee farms for one of the most incredible experiences Colombia has to offer. Keep reading to learn everything you need to know about Colombia's incredible coffee farms. Once you do, feel free to message us with any questions you might have!
Want to make the most out of your trip? Tap into our network of local travel planners—Heroes—who build unique, locally-curated trip plans, designed just for you. Get started.
Table of Contents

The Coffee Triangle is Colombia's coffee
For the serious coffee fanatics of the world, the Coffee Triangle—otherwise known as Zona Cafetera—is a must-visit Colombian locale. Made up of three main districts—Caldas, Quindio, and Risaralda—the Coffee Triangle is perched high in the Andean rainforest. Rugged, wet, lush, and cool, this area is often thought of as one of the most beautiful in the world. Home to thousands of coffee plantations that range from large industrial operations to farmer-and-mule setups, the Coffee Triangle accounts for much of the volume of Colombia's coffee production—the third largest in the world, in fact! So whether you're traipsing through Colombia or a coffee connoisseur on a mission, make sure to see the Coffee Triangle! Short tours, day trips, and even overnight stays abound throughout the region.
Many coffee plantations offer incredible overnight lodging
One of the most exciting ways to experience the Coffee Triangle is to bed down in the region itself! The number of charming bed and breakfasts, traveler-friendly hostels, and luxurious hotels within the Coffee Triangle is growing every year—and each option offers copious amounts of hands-on activities, gorgeous vistas, and delicious coffee to enjoy at every turn. So whether you want to get your hands dirty picking fresh beans and learning firsthand about the bean-to-cup economy from local farmers or whether you'd rather sample your coffees in luxury at an elegant hacienda, an overnight stay in the Coffee Triangle is well worth a spot on your Colombian itinerary. Let one of our local travel experts help you find the perfect Coffee Triangle destination.
Get off the beaten path with local farmers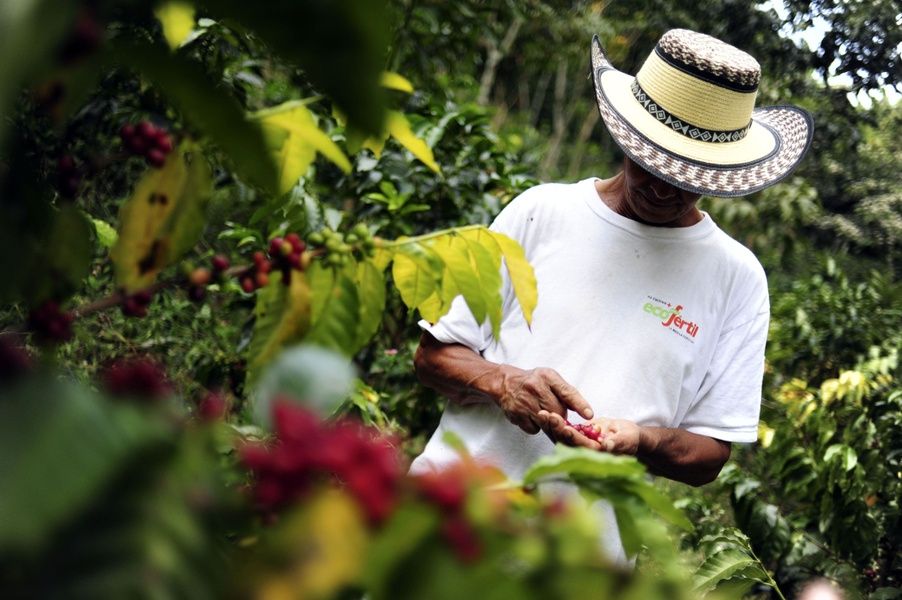 Whatever farm you choose to visit, and whether it be an overnight experience or simply a day trip, we can't recommend enough that you book a tour from one of Colombia's local coffee farmers. A Colombian adventure that includes details of the entire coffee process from bean to cup—as well as a ton of local history and coffee tasting—a local tour is an off-the-beaten-path experience you shouldn't miss. Our Heroes can book one for you wherever you choose to go!
Colombia's coffee scene extends into the cities
As one might expect, you can find a quality cup of coffee just about anywhere in Colombia—so don't worry about leaving the lush green coffee farms of the Zona! From coffee shops to street vendors, Colombia's cities offer an incredible coffee culture all their own. From small cups of tinto, the sweet, strong, and cheap elixir of the masses, to hipster locally sourced lattes, coffee is ubiquitous throughout the country. Bogota's highlights are especially rich with sleek coffee shops like Azahar, a chic local favorite, and Medellin's student districts are a great place to grab some of the best coffee around.
Ordering Colombian coffee couldn't be easier (but just in case, here's a guide!)
You don't have to travel through Colombia to learn how to order your perfect drink, because we're happy to give you all of the details! Latte lovers and black coffee drinkers alike are certain to find their ideal beverage in Colombia—plus, the combination of low price and high quality makes coffee one of Colombia's top highlights.
Tinto

: This is the most popular caffeinated beverage in Colombia, and its average price is only 20 cents a cup! Tinto is comparable to a thick, strong black coffee; however, it's typically sweetened with a bit of unprocessed sugar. The drink of the masses, tinto is generally made with mid or low-quality beans—hence its affordability. That being said, tinto is totally delicious and vendors are widely available on just about every corner, so get ready to drink up!

Perico

: For a cup of coffee that's not as strong, go with a . This beverage is half tinto and half milk, which makes for an extremely delicious, creamy cup of coffee.

Cafe con leche

: Latte lovers, worry not—because cafe con leche is right up your alley. Similar to a typical latte, this drink is made with warm milk and a hot shot of espresso.
Have more questions about Colombian coffee farms? One of our Colombian travel experts would be happy to help, or you can message us directly. And Before your trip, make sure to check out: