You've decided to go to Colombia—great choice!—and now you have questions. We've got answers. With some local advice, we've created this guide to Colombia FAQs. It covers everything from travel safety, to visa requirements, to transportation, and beyond.
For answers to everything Colombia, ask the people who know best. Our trip planners are Colombian locals who will design an immersive guidebook to introduce you to their home. Learn more.
Table of Contents
Q: Do I need a visa to travel to Colombia?
A: Nope!
The Colombian visa process is easy to navigate, especially for Americans. If you're traveling to Colombia as an American tourist, you don't have to apply for a visa in advance. When you land, show your passport and a valid return ticket, and you'll receive a standard tourist visa. This is good for 90 days.
Q: Is Colombia safe?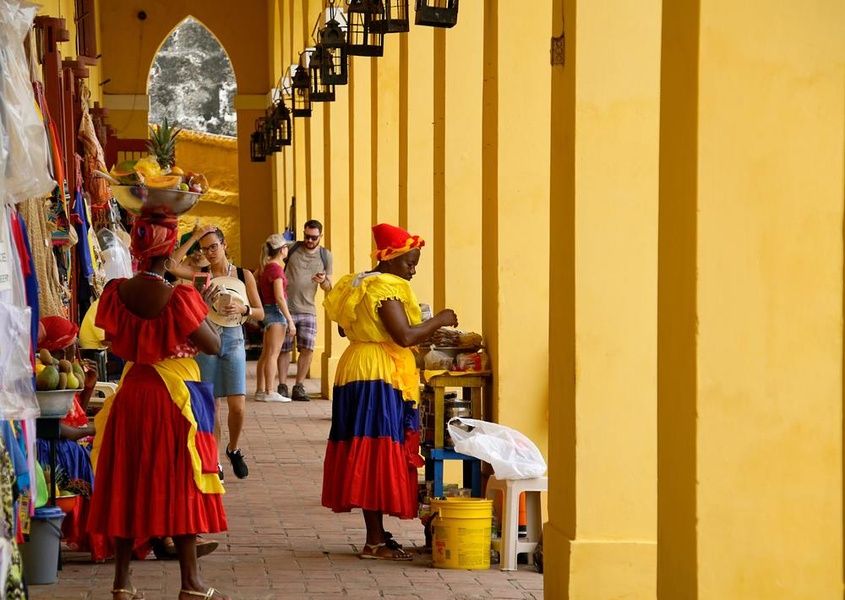 A: Yes—even for solo and/or female travelers
Let's dispel the rumors now—Colombia is safe to visit. It's actually one of Latin America's safest places to visit! Even big-city Bogota has a violent crime rate lower than that of Indianapolis, Indiana.
Staying safe in Colombia is also easy for solo and female travelers. Concerned about your solo trip to Colombia? When you have your trip planned by a local, they can share how they navigate the country safely.
Q: What vaccines do I need before going to Colombia?
A: You probably have all your necessary vaccinations already.
If you already have up-to-date routine vaccinations, like chickenpox and polio, you're halfway there. The CDC also recommends that all travelers to Colombia get vaccinated against hepatitis A and typhoid before visiting. Depending on where you're traveling in Colombia, talk to your doctor about vaccinations against hepatitis B, rabies, malaria, and yellow fever.
Q: Can I drink the water in Colombia?
A: Depends on where you're going
Colombia's major cities are known for the high quality of their tap water. However, consuming tap water in the countryside can be a bit of a different situation. See what locals say about water quality if you're going off the beaten path—our local trip planners can explain what precautions you should take.
To travel in a sustainable way, invest in a reusable water bottle with a filter. That way, you won't be buying plastic bottles during your entire trip.
Q: Is it possible to take taxis?
A: Yes...but keep a few things in mind
You can definitely use taxis in Colombia. However, keep in mind that they will likely be a more expensive form of transportation. Your driver might not speak English. And, as a non-local, you might get overcharged—so definitely negotiate the price before getting in the car.
Locals tell us that public transportation is also an affordable and safe option for Colombia tourism. For insider advice on how to get around, just ask a local—our trip planners can explain how they navigate their hometown.
Q: Is it safe to use my credit card in Colombia?
A: Yes, but it's good to carry cash
In big cities like Bogota, Medellin, and Cartagena you shouldn't have a problem using your credit card.
However, it's a good idea to carry cash. Our local trip planners tell us that you'll need cash if you use taxis, grab a snack, or buy a small souvenir. They say it's generally best to withdraw cash from ATMs in banks, hotels, or at the airport.
Q: How's the exchange rate?
A: If you're using the dollar, it's great.
Americans will find that the dollar (USD) is especially strong against the Colombian peso (COL). In fact, the exchange rate is currently is around COL$3,200 to the dollar. To put that in perspective, you can get a good lunch in Colombia for less than $5.00 USD.
Q: Do I need to tip?
A: Only sometimes.
Most Colombians don't tip in casual restaurants unless the service is out-of-this-world good. If it is, they may leave behind $1,000 COP to $2,000 COP (that's fifty cents to a dollar). At nicer restaurants, a 10% tip is a good idea. Some high-end places will automatically add a 15% tip to your bill.
Q: How's the weather in Colombia?
A: Depends on when and where you go.
The weather you'll experience in Colombia can vary wildly depending on where you go. Off the Caribbean coast, the Rosario Islands have generally hot weather with occasional rain, whereas the northern rainforest stays wet and warm year-round. Bogota and Medellin, on the other hand, are located in the Andes and have extremely mild climates (58° to 72°F).
Q: Is the food good in Colombia?
A: It's incredible!
Eating traditional foods is one of the best parts of Colombia. Try staples like arepas (crispy, fluffy maize dumplings often filled with meat or cheese) or feasts like bandeja paisa (a platter of rice, beans, three kinds of meat, fried eggs, ripe plantain, and avocado). Get local advice for where to go—our trip planners will suggest their favorite restaurants in town.
Local tip: For a unique and delicious snack, try chocolate con queso (cheese dipped in hot chocolate).
Q: How is the coffee in Colombia?
A: The coffee is divine—and a cultural staple.
With over half a million coffee farms scattered throughout the country, coffee is an essential Colombian highlight. Home to "The Coffee Triangle," each of Colombia's coffee farms produces phenomenal beans, all with their own distinct characteristics and flavor profiles—so spend your week in Colombia by drinking as much as possible.
Q: Can I take public transportation in Colombia?
A: Yes, Colombia's public transportation is extensive.
It's quite easy to navigate Colombia's cities using nothing but public transportation. Medellin's famed metro system is currently Colombia's only available metro. However, each major city has its own well-organized buses and colectivo (small private buses often used by locals).
Q: What if I get sick on my trip?
A: Don't worry—Colombia's top-notch hospitals have your back.
Offering excellent quality of care—often at a fraction of the price it would be in the United States—Colombia's medical tourism industry is already attracting tens of thousands of people a year to its private and state-owned clinics.
You can always contact your ViaHero trip planner if you run into any issues.
Q: What cities are worth visiting?
A: It depends on you, but these are three of our favorites:
Bogota
Colombia's capital and largest city, Bogota is nestled in the Andes a whopping 8,500 feet above sea level. With its mix of colonial Spanish architecture and modern skyscrapers, Bogota boasts a plethora of incredible things to do, including museums, clubs, restaurants, and live music scenes.
Medellin
Forget Pablo Escobar—Medellin is very safe and 100% worth the trip. Surrounded by the stunning peaks of the Andes, Medellin is home to over a dozen universities, a wealth of public art, and a thriving infrastructure, this "City of Eternal Spring" averages an ideal 72.5° Fahrenheit year-round.
Cartagena
The quintessential Caribbean paradise, Cartagena boasts miles of picturesque beaches and islands lined with stunning resorts and electrifying nightclubs. Fill your Cartagena itinerary with walks through the cobblestone streets, breathtaking churches, and flower-covered balconies.
Q: Do I need to speak Spanish to go to Colombia?
A: No, but it does help.
Outside of resorts and other locations frequented by tourists, English isn't widely spoken in Colombia. However, Colombia is known for its travel safety and openness to foreigners, so travelers can get by in Colombia with minimal Spanish.
However, knowing a few phrases can make a difference. Our locals in Colombia can suggest important Spanish words to know!
--