ViaHero · Updated November 21, 2019
If you're thinking about traveling to Colombia, there's never been a better time. From incredible food, music, and nightlife to pristine rainforests, beautiful beaches, and breathtaking coffee plantations, Colombia is absolutely bursting with charm and adventure. Keep reading for answers to Frequently Asked Questions about travel to Colombia; then, message us with any questions you still might have about building your own Colombia itinerary.
Want to make the most out of your trip? Tap into our network of local travel planners—Heroes—who build unique, locally-curated trip plans, designed just for you. Get started.
Q: Do I need a visa to travel to Colombia?
A: Nope!
How awesome is that? If you're traveling to Colombia as a tourist, you don't have to apply for a visa in advance. When you enter the country, just show your passport and a valid return ticket, and you'll have 90 days to experience Colombia on a standard tourist visa. Check out this article for more information on the Colombian visa process including restrictions, extensions, and fees.


Q: Is Colombia safe?
A: Yes! Colombia is actually one of the safest travel destinations in Latin America.
Sure the '80s were rough, but in the decades since, Colombia has become one of Latin America's safest travel destinations. In fact, Bogota is one of the safest urban areas in South America, with a violent crime rate lower than that of Indianapolis, Indiana. Here's some more information about avoiding theft and scams in Colombia.

Pro tip: If you're still concerned about staying safe on your trip, get some tips from a Colombian local on the best neighborhoods to visit, which to avoid, etc. It's always good to make sure a local's got your back, even if just for peace of mind. 
Q: What vaccines do I need before going to Colombia?
A: You probably already have all your necessary vaccinations already.
Along with routine vaccinations like chickenpox and polio, it's recommended that all travelers to Colombia get vaccinated against hepatitis A and typhoid before visiting. Additionally, the Centers for Disease Control (CDC) recommends that certain travelers to Colombia be vaccinated against hepatitis B, rabies, malaria, and yellow fever, depending on where in the country they're traveling and what they'll be doing there. For a complete list of Colombia vaccine recommendations, visit the CDC's page here.
Q: Can I drink the water in Colombia?
A: Absolutely.
Colombia's major cities are known for the high quality of their tap water, so don't be afraid to enjoy some juice or a drink on the rocks. However, as is the case in most South American countries, consuming tap water in the countryside can be a bit of a gamble. If you're planning on going off the beaten path, chat with a local expert about the water situation before you drink up.
Q: Is it possible to take taxis?
A: Sure, but Uber is safer and easier.
While traditional taxis can still be found throughout Colombia, Uber is becoming increasingly more ubiquitous by the day—largely as a response to the pricing issues of Colombia's private cabs. With that in mind, be careful if you do decide to take a traditional taxi; drivers have been known to tamper with meters, and non-metered prices are often notoriously overestimated.  
Q: Where should I stay during my trip?
A: Most people use Airbnb, but Colombia's hotels are incredible.
Whether you prefer the authenticity of an Airbnb or the charm of a hotel, you'll find it with ease in Colombia. Airbnb is popular throughout the country, and many travelers credit the friendliness of their hosts and neighbors for their excellent stays. Hotels are similarly common. International and local chains can be found throughout major cities, and hostels can be found nearly anywhere.
Q: Is it safe to use my credit card in Colombia?
A: Yes!
Credit cards are accepted in all major shops, restaurants, and hotels throughout Colombia—particularly in major cities like Bogota, Medellin, and Cartagena. While Visa, MasterCard, and American Express are the most common, feel free to check with one of our local Colombian trip planners for more information on common money practices.
Q: What's the best way to exchange currency in Colombia?
A: ATMs are your best bet for exchanging money.
ATMs are your best bet for taking out Colombian pesos, as currency exchange desks are notorious for exorbitant pricing. Just remember: Colombian ATMs do charge usage fees, which can add up if you're not careful. And as always, be cautious when taking out cash—always try to use in-bank ATMs, and be aware of your surroundings. 
Q: How's the exchange rate?
A: Unbelievably good.
The Colombian peso (COL$) isn't particularly strong; in fact, the exchange rate is currently around COL$2,820 to the dollar. To put that in perspective, an average business-district lunch in Colombia costs around COL$12,727—about $4.50 USD. With prices like that, it would almost be wrong not to live it up in Colombia.
Q: Do I need to tip?
A: Only sometimes.
Although Colombians are known for their courtesy, tipping isn't particularly widespread. Most Colombians don't tip in casual restaurants unless the service is excellent; in that case, it's common to leave between COP$1,000 and COP$2,000 ( fifty cents to a dollar). At higher-end establishments, an ordinary tip is around 10%. But beware: many of these nicer restaurants will automatically add a service charge (or propina) of up to 15% to your bill!
Q: How's the weather in Colombia?
A: Awesome, but specifics depend on where and when you go.
Because Colombia is so close to the Equator, its seasons aren't particularly pronounced (save for a rainy season from May to October). That being said, the weather you'll experience in Colombia can vary wildly depending on where in the country you are. While Cartagena's Caribbean coast is quite hot and only occasionally rainy, the northern rainforest stays wet and warm year-round. Bogota and Medellin, on the other hand, are located in the Andes and have extremely mild climates. Bogota's average temperature is a surprisingly cool 58° Fahrenheit, and Medellin's is a perfect 72°. With weather like that, it's no wonder they call Medellin "The City of Eternal Spring"!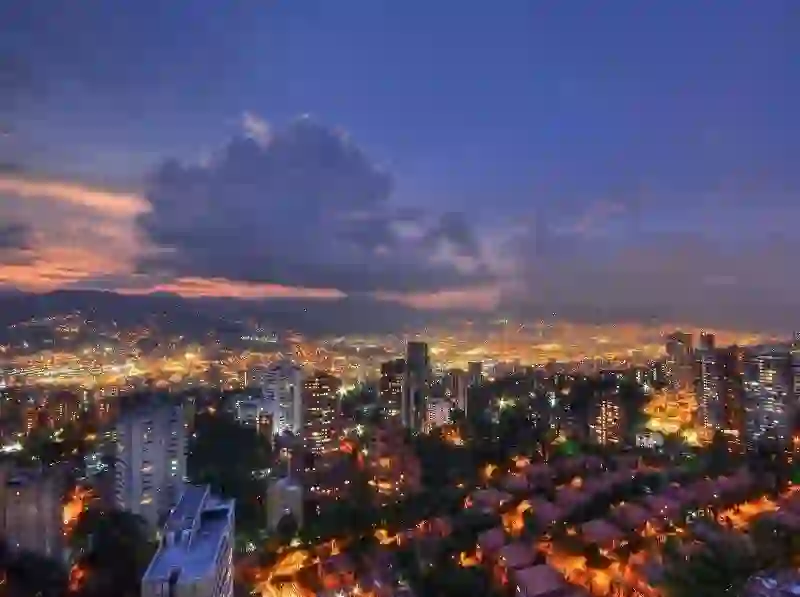 Q: Is the food good in Colombia?
A: Colombian food is massively underrated.
To call Colombian food "delicious" would be an almost criminal understatement. From everyday staples like arepas (crispy, fluffy maize dumplings often filled with meat or cheese) to sumptuous feasts like bandeja paisa (a platter of rice, beans, three kinds of meat, fried eggs, ripe plantain, and avocado), traditional Colombian food is awesome. These days, however, Colombia is undergoing a gastronomic renaissance, and more and more restaurants devoted to haute cuisine are popping up in major cities all around the country. In 2016, four restaurants in Bogota alone won places on Restaurant Magazine's list of the 50 Best Eateries in Latin America!
Pro tip: Like anywhere else, it can be hard to find truly amazing food if you're on the tourist trail. Our advice: get some restaurant recommendations from a local. 
Q: Is the coffee in Colombia worth the hype?
A: The coffee is divine—and a cultural staple.
With over half a million farms scattered throughout the country, coffee plays a pivotal role in Colombia's culture. Images of coffee beans appear everywhere from jewelry to architecture, and it's not uncommon for Colombians to drink cup after cup throughout the day—even at night! That being said, we're not talking lattes here—most Colombians almost exclusively drink tinto, a strong, cheap brew sweetened with raw sugarcane. Commonly served in a small plastic cup, tinto usually costs around 20 cents and is made with budget-quality beans. Though fancier, hip cafes are beginning to pop up all around Colombia, tinto remains the go-to brew for most Colombians. Tinto aside, however, if you're a coffee aficionado Colombia is definitely the place for you. Each of Colombia's coffee-growing regions produces phenomenal beans, all with their own distinct characteristics and flavor profiles—so sample as much as you can! You know, for science.
Q: Can I take public transportation in Colombia?
A: Yes, Colombia's public transportation is extensive.
Aside from Medellin's famed metro system—which was named one of the top transportation systems in the world in 2012—trains aren't particularly common in Colombia. However, this lack of rail transport is more than made up for with some of the most extensive bus services around. From Bogota's well-organized Bus Rapid Transit (BRT) service to fleets of colorful, irregular, and occasionally perilous colectivos (small private buses often used by locals), it's quite easy to navigate Colombia's cities using nothing but public transportation. That being said, if the crowding and stress of public transit aren't for you, you can always take a taxi or call an Uber!  
Q: What if I get sick on my trip?
A: No need to worry! Colombia's medical tourism is top-notch.
Interestingly, Colombia is quickly becoming one of the world's foremost destinations for undergoing elective procedures! Offering excellent quality of care—often at a fraction of the price it would be in the United States—Colombia's medical tourism industry is already attracting tens of thousands of people a year to its private and state-owned clinics. Plus, for $30/day you can always make sure a Colombian travel expert is on hand with 24/7 phone support if you run into any issues.


Q: What cities are worth visiting?
A: Each of Colombia's main cities has its own unique culture:
Bogota
If your vision of Bogota involves palm trees and sandy beaches, you couldn't be more off! Colombia's capital and largest city, Bogota is nestled in the Andes a whopping 8,500 feet above sea level. With its mix of colonial Spanish architecture and modern skyscrapers set atop the lush green peaks of the Andes, Bogota is considered by many to be one of the most beautiful cities in the world. At once both hipster and historical, Bogota's museums, clubs, restaurants, and live music scene are second to none.
Medellin
Forget Pablo Escobar—Medellin is so much more than Narcos! Surrounded by the stunning peaks of the Andes, Medellin is often regarded as Colombia's center of art and learning. Home to over a dozen universities, a wealth of public art, and a thriving infrastructure, this "City of Eternal Spring" is leading Colombia's cultural renaissance. In 2013, it was named The World's Most Innovative City, and in 2016, it won the prestigious Lee Kuan Yew World City Prize for urban development. Oh, and that nickname isn't just idle talk—Medellin's average temperature is a perfect 72.5° Fahrenheit!
Cartagena
The quintessential Caribbean paradise, Cartagena boasts miles of picturesque beaches lined with stunning resorts and electrifying nightclubs. Only minutes away, its perfectly preserved old town abounds with cobblestone streets, breathtaking churches, and flower-covered balconies. Cartagena's gorgeous setting, warm locals, and countless bars and restaurants make this colonial gem is a perfect vacation destination!
Q: Do I need to speak Spanish to go to Colombia?
A: No, you don't need to speak Spanish to get around Colombia, but it does help.
Outside of resorts and other locations frequented by tourists, English isn't widely spoken in Colombia. That said, it's not uncommon for travelers to get by in Colombia with minimal Spanish thanks to the friendliness and helpful attitude of the Colombian people! Whether with body language or Google Translate, you'll definitely be able to make yourself understood. However, if you'd rather avoid chronic miscommunication, have a local help you plan your trip.
Ready for your Colombian adventure? Talk to a local Colombian trip planner for help building your dream itinerary. It's like having a best friend in Colombia—they'll work with you to make you a personalized guidebook full of local gems you'll love; plus, they're available by phone 24/7 if you run into any issues. As always, feel free to message us with questions, and make sure to check out: