Whether your trip to Medellin is part of a larger Colombian adventure or whether you're just looking to beat the winter cold in the "City of Eternal Spring", you're going to have the time of your life. Colombia's home of gastronomy, art, innovation, and (formerly) Pablo Escobar, Medellin has something for every type of traveler. Keep reading to see how you should spend your three days in this incredible city—and if you have any questions at all, don't message us for information on all things Medellin!
Want to make the most out of your trip? Tap into our network of local travel planners—Heroes—who build unique, locally-curated trip plans, designed just for you. Get started.
Table of Contents
Day 1: Arrive and get excited
Get settled in the poppin' El Poblado
Twenty-five years ago, Medellin was named the "Most Dangerous City on Earth"—but now, it's a must-see for anyone traveling to Colombia. To that end, where lodging is concerned, El Poblado is a top pick for travelers since its known to be one of the safest neighborhoods in Medellin due to its luxurious gastronomy, vivacious nightlife, and hipsterific art scene. Whether you stay in one of its many high-end hotels or an Airbnb, El Poblado has plenty of lodging options. Our Heroes can recommend an awesome lodging that fits your taste and budget!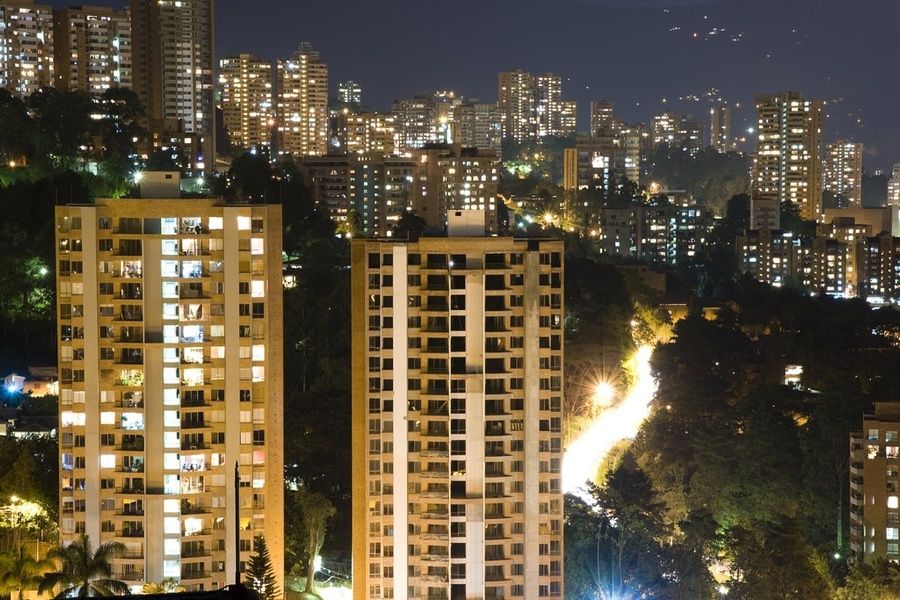 Kick-start your day with coffee
Colombia is known for exporting some of the best coffee beans in the world, but locals usually opt for a cheap cup of tinto—a strong, thick, cup of coffee sweetened with unprocessed sugar. It's sold in cafes and by street vendors on every corner, any hour of the day, for around 20 cents a cup. But while tinto is common for natives of Medellin, for those who do want to experience a more extravagant coffee culture, El Poblado is the place! While the neighborhood is brimming with higher-end coffee spots, locals particularly recommend Pergamino Cafe, a coffee shop known for its locally-grown, high-quality beans. Whatever you opt for, your coffee cravings will be nothing short of satisfied!
Metrocable up the mountains
Medellin's public transportation system is its crowning glory. In the past two decades, it has absolutely revolutionized the city by giving formerly marginalized areas access to education, healthcare, and everyday essentials via a system of buses, streetcars, subways and most of all, a suspended metrocable! This social innovation is the reason Medellin was named Most Innovative City of The Year in 2013 by the Wall Street and garnered the Lee Kuan Yew World City Prize for urban development in 2016. To see all of Medellin's magnificence in a few hours, you can hop on the subway at Poblado, go straight up to Acevedo and transfer to the metrocable for a mind-blowing view of the whole city! You'll be in awe of the gorgeous scenery—something you cannot miss while in Colombia.
Dine and dance in Parque Lleras
After a long day of sightseeing, it's a good idea to stay close to home for the night. Luckily, Medellin's number-one nightlife district, Parque Lleras, is right next to El Poblado! Parque Lleras is full of vibrant lights, beautiful people, and hot spots that will keep you busy from dusk till dawn. Many solo female travelers report feeling perfectly safe in Parque Lleras, even while bar hopping at 3 a.m.! You can first grab a bite to eat at any one of the city's opulent restaurants (after all, Medellin is now a foodie capital) and then head to the popular Club Mansion before checking out some of the other dance clubs for a classic Colombian night out. In the event that you're looking for something more lowkey and off-the-beaten-path, our trip planners can give you stellar recommendations on all sorts of nightlife activities.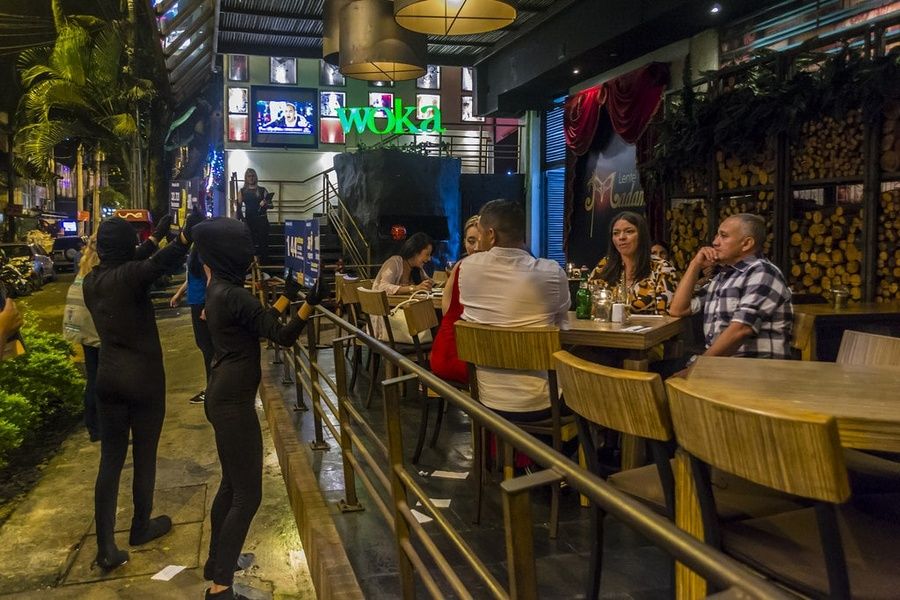 Day 2: Adventure awaits in all areas of Medellin
Save on breakfast with a street vendor
Since your second day in Medellin is going to be chock-full of activities, you have to stay effectively energized! Look for a stand that sells bunuelos, a popular and traditional Colombian breakfast treat. Bunuelos are delectable little balls of yucca flour and cheese, deep fried until golden brown and served piping hot with a cup of tinto. Ask your Hero of choice where to find the best ones in town!
Touch the sky and paraglide
If the metrocable view of Medellin isn't high enough for you, paragliding is a popular attraction among adrenaline-seeking travelers due to Medellin's spectacular summits—so if you're the adventurous type, make sure your trip planner works it into your trip! You have to make your way up north a bit, but don't worry about getting there—most paragliding companies will pick you up and drop you straight off at your hotel, and your Hero will book everything for you!
Stay down south and see the water
Since Medellin is known for the perfect weather, you'll want to cool off and relax by the water. A destination you can't miss is Laguna de Guatape, one of the most Instagrammable places you will ever visit. The wondrous man-made body of water is two hours by bus from the center of the city, but visitors say you can definitely see it in half a day, so it won't take up too much time in your Medellin excursion. Its most notable landmark is Penol Rock, which stands 200 meters high and gives you an unmatched view of the blue lagoon. Other than hiking, Guatape also offers ziplining, speed-boating, kayaking, and fishing for all sorts of family fun!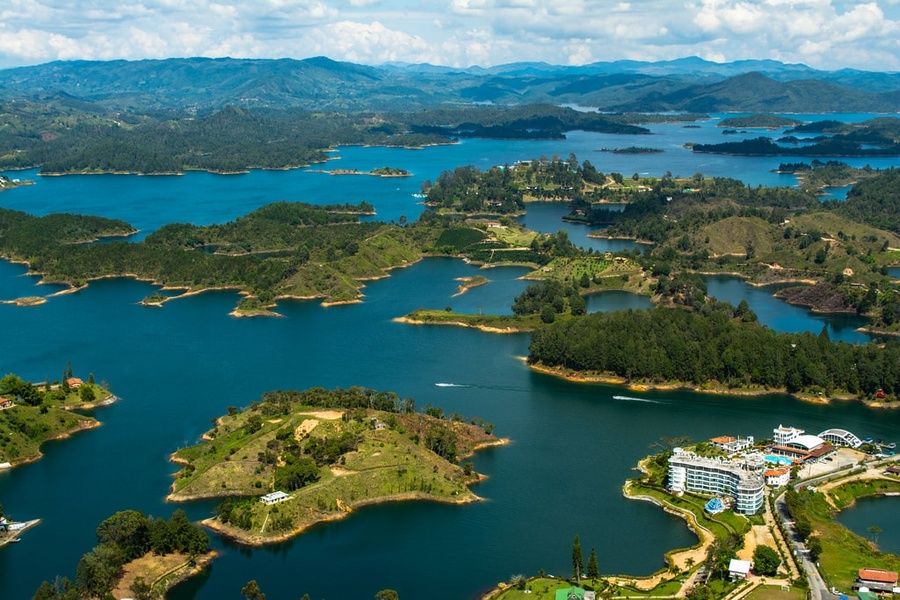 Experience molecular gastronomy at the famous El Cielo
Having exerting all your energy in the bloom and beauty of nature, it's the perfect time to treat yourself at a world-famous, award-winning restaurant. El Cielo is one of the eateries that helped put Medellin on the map for culinary enthusiasts. Specializing in molecular gastronomy with a Colombian twist, the eatery also prides itself on social responsibility. Chef Juan Manuel Barrientos Valencia's personal goal for the restaurant is to "cook to peace" in Colombia, which he accomplishes by hiring and supporting ex-guerillas, wives of kidnapped soldiers, and others affected by Colombia's long years of civil strife. So don't feel guilty for eating haute cuisine—when you dine at El Cielo, you're supporting the people of Medellin!
Day 3: Appreciate the art scene
Sleep in and start your day with bandeja paisa
Colombian cuisine would be nothing without its beloved bandeja paisa. While you can find bandeja in all areas of Colombia, there's nowhere better than to experience it than in Medellin— of the Paisa region. The dish features a platter of rice, beans, fresh avocado, fried eggs, rice plantains, and three types of meat! It's a staple that will fill your belly up to complete contentment so you can be ready for your day. Warning: You might have to fight through a food coma after eating this meal.
Escobar's hideout is now a hipster heaven
Nothing is better than an adrenaline rush! In the days of Escobar, the Comuna 13 neighborhood was a center of cartel activity and violence. Ever since Escobar's demise, however, the neighborhood has been on the upswing. Covered in vibrant colors and striking murals, Comuna 13 is now a prime example of Colombia's incredible street art scene. The escalators to this hidden gem (Medellin is in the mountains, after all) can be rather hard to navigate, and the neighborhood itself retains a bit of its grit—so very few travelers venture in without a guide. Not to worry, though, as your Hero can book one for you!
Museum Hop in El Centro
Before it gets dark, you have to head downtown into center of El Centro. What used to be the business center of Medellin, El Centro has turned into a place for the alternative crowd to hang around and enjoy the city's incredible art. You can enjoy historic and modern art in the Museo de Antioquia, and Botero Plaza, filled with 23 statues by Medellin's favorite son, is right next door! In addition, El Centro offers a plethora of street food, so make sure to sniff out some Colombian delicacies before being sucked into all the sculptures.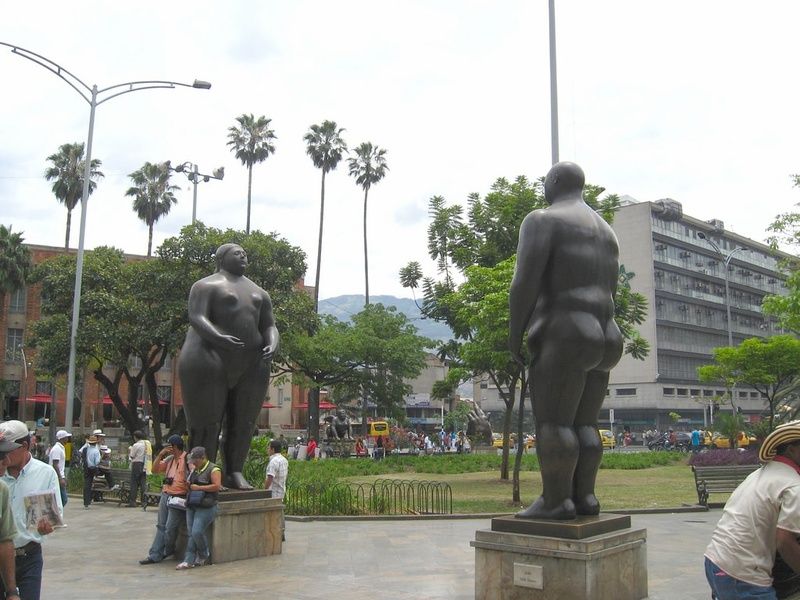 Pack your bags and make your way back home
After the striking scenery, perma-pleasant weather, and gratifying grub of Medellin, it's no surprise that it will be hard to say goodbye. Hopefully, you'll be spending a few days in charming Cartagena and a night or two in beautiful Bogota before you leave Colombia, but if not, Medellin will be patiently awaiting your return!
--
Feeling the powerful need to travel to Medellin? Who could blame you! Have one of our local travel experts plan your customized Medellin itinerary, and feel free to message us directly with any questions. And before your trip, make sure to check out: