ViaHero · December 19, 2018
Regardless of what your cruise line might say, you can absolutely go on independent Cuba shore excursions when you travel to Cuba on a cruise ship. Here's how.
Want to explore Cuba differently? Have a local plan your trip.
I'm taking a cruise to Cuba. Can I travel there independently?
So you've decided to travel to Cuba on a cruise. That's awesome! We're thrilled you've booked a trip to one of our favorite destinations. But perhaps you're also wondering how you can see what you WANT to see in Cuba, not just what the cruise line wants you to see? We understand, and we're here to help. There's no reason to book a cookie cutter Cuba shore excursion just because you're arriving by ship.
Tourist Cards and the Cuba Shore Excursion Myth
Reading cruise lines' websites on how to travel to Cuba can be confusing.
After reading them, you might feel like you've trapped yourself into seeing Cuba on a group tour organized by the cruise line. This is simply not true. You have options.
Regardless of how you arrive in Cuba or how long you stay, if you are visiting Cuba from the US then all you need is:
That's it. No fine print, no hidden agendas. Just two simple things.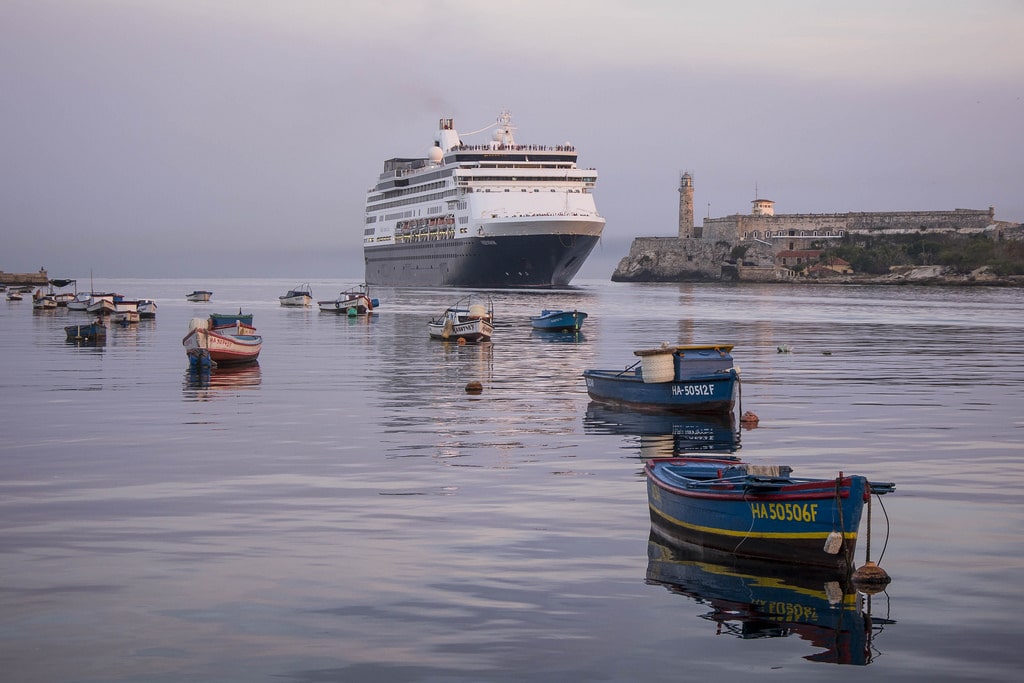 Only one of these things is a piece of paper that you need to have—the Cuban tourist card. Once you have the tourist card (sometimes called a Cuban visa), you may enter Cuba and travel independently, doing as you please.
Most cruise lines make it super simple for you to get a tourist card as part of the booking process. But you may also purchase one online, in advance of your trip, with companies like Easy Tourist Card.
The travel category is even easier to manage than the tourist card. It's just a self-declared reason for your visit. You don't need to fill out any paperwork, just choose the category that best suits your trip. There are twelve approved reasons for travel, but most independent travelers qualify under the Support for the Cuban People travel category. Activities like exploring museums, taking walking tours guided by locals, shopping at independent markets, and chatting with locals you meet all count as Support for the Cuban People.
That means regardless of what your cruise lines might say, you can 100% travel independently in Cuba if you have your Cuban Tourist Card and an approved category of travel.
Still have questions about travel categories or tourist cards? Have a local travel planner help you with the details.
How to take an independent shore excursion
If you've made up your mind to skip out on the Cuba shore excursions offered by most cruise lines, then you need a plan for how you will spend your time. ViaHero travel experts can make you a carefully curated guidebook itinerary for you that lets you see exactly what you want to see and skip what doesn't interest you. It's all on your phone, at your fingertips, so you can go at your own pace and travel independently.
A local Cuban Hero can book vintage car tours, recommend authentic restaurants, and give you the inside scoop on activities your cruise line won't tell you about (like how to find studios run by independent artists who sell their work). Plus, you'll get custom maps, phone support, and someone you can pepper with questions about Cuba before you even leave on your cruise. It's like having a best friend in Cuba planning your trip.
Things to do in Havana

Even if you only have one day to explore Havana, there are many wonderful activities that you can enjoy on your own. These are just a few ideas to inspire you to think outside the Cuba shore excursions box by booking a unique and fun day.
1. Take a Walk Through Old Havana (La Habana Vieja)
Have your travel planner book you a guide for an hour or two, or take an independent Havana tour on your own. Walk the cobblestone streets to admire the colonial architecture. Stop at street stalls for snacks and handmade souvenirs. Your Hero can recommend excellent guides to show you Old Havana's hidden gems.
2. Visit the National Museum of Fine Arts
Immerse yourself in Cuban culture by learning about Cuban art from the colonial period to the present in a building dedicated solely to Cuban art. Or experience art from around the world in the second building run by the National Museum of Fine Arts. Both are sure to impress.
3. Grab some grub at El Chanchullero
This tiny restaurant serves hearty, Spanish-style meals for about $5 per entree. It's off the beaten path and well worth the trek. Wash down your meal with some of the coldest beer in Havana.
4. Go on a food tour and learn to salsa dance.
Dreaming of taking a Havana food tour or learning to salsa dance? Or maybe you'd like to see a baseball game or drink mojitos where Hemingway once did? A Havana local can plan a day filled with your dream activities and be your phone support during your trip. They'll really do everything but pack your bags.
Don't believe your cruise line if they say you have to use their tour company. You can absolutely plan an independent Cuba shore excursion, personalized just for you by a local expert. And if you have any questions at all, message us any time!