A handy guide to New York City prices for travelers when it comes to transportation, lodging, food, and beyond. Learn what things cost, how to budget your trip, and more! Questions after reading?
NYC is accessible on any budget (but you need to know what you're doing)
The cost of living in New York City is higher than in other parts of the country (which makes sense: it's basically the center of the universe). But honestly, NYC is totally accessible at any price point. When it comes to eating out in NYC, yeah, you can totally find tasting menus in the $200 range. But you can also find excellent pizza for just $1 at places like 2 Bros.*
The same idea applies for most everything—transportation, activities, etc.—which we'll get into below. The big takeaway: if you know how to avoid the tourist traps and experience the city like a local, New York is totally affordable.
*The best dollar pizza spots are highly debated. Talk to a New Yorker for more pizza recs.
Food and drink
can
get pricey, but there are cheap options everywhere
New York is home to some of the best high-end restaurants in the world, but there are also thousands of out-of-this-world budget spots if you know where to look. See what New York locals say about where to get the best dollar dumplings, pizza slices, and food truck grub in the city. Their recommendations can make NYC budget travel so easy.
Transportation within the city can range dramatically in price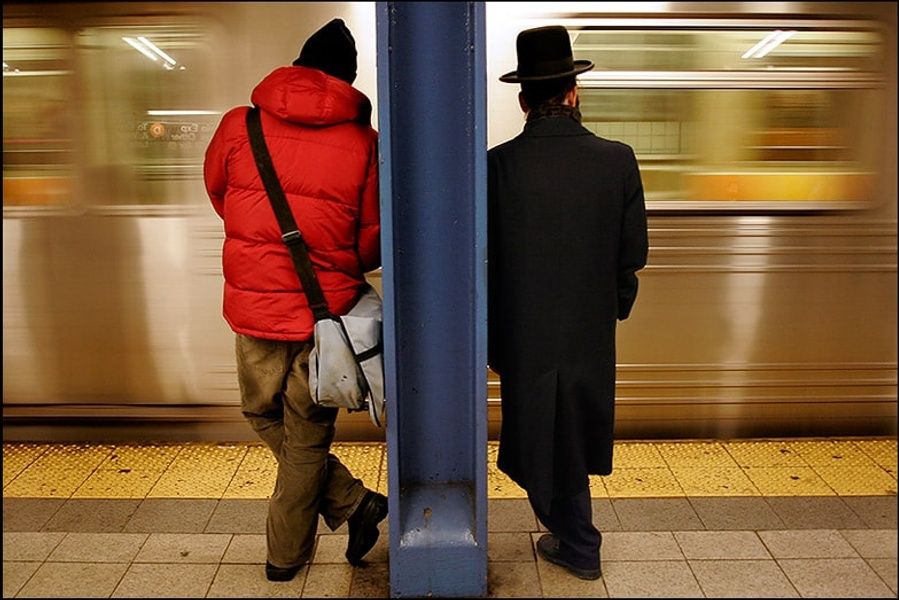 The subway is the best and least expensive way to get around the city (tickets are only $2.75, or $3.00 for a single ride). Four million people use the subway every day, so it's a safe and easy way to explore.
Aside from the subway, you can take taxis or use rideshare apps like Uber or Lyft (or Via or Juno or anything else—if it's new, New York likely has it). If you want to rent a car (and we can't say we recommend it: Manhattan parking, HAH) it'll be about $50–$100/day, depending on the car and company.
Finally, there is a free way to get around New York City… walking! NYC is flat and super easy to navigate (thank you, grid system).
Pro tip: New York City is safe, even at night. But if you ever feel uncomfortable walking or talking the subway, go ahead and call that Uber. Safety is priceless.
You can find awesome activities to fit your budget
No matter what you want to do, you can likely find it on the cheap in New York. Excited about comedy clubs but unwilling to spend $20 for a show? Check out an open mic night. Into museums but worried about the price tag? Many NYC museums offer pay-as-you-can deals or have specific free days.
Plus there are free activities everywhere, like the Staten Island Ferry, the Chelsea High Line, and so many more. Talk to someone who actually lives in NYC to get the low-down on the coolest activities, all tailored to your budget!
Knowing where to stay depends on your budget and neighborhood preference
Where you stay in New York City really depends on what you want to be close to, and what your budget is like.
If you want to live like Friends, check out Greenwich Village. To indulge in hipster activities like great craft beer and street art, maybe Bushwick is more your speed. The neighborhoods in NYC are all really different, so talk to a local to narrow down the best place for your tastes.
You might even want to spend a night or two in upstate New York. Areas like the Hudson Valley and the Catskills are gorgeous. They're wonderful places for a day trip or for camping and hiking! We can connect you with a local in upstate, too. Learn more.
You can get to and from NYC's airports at any price point
There are multiple airports that serve NYC, each with multiple ways to get to/from the city.
JFK: A taxi from JFK to Manhattan costs a flat fee of $52, although cabs are metered going to the airport. An Uber can cost anywhere between $45–$55 or more ( or possibly less if you choose the UberPool option). You can also take the subway—it's the cheapest, but least time-efficient. JFK's AirTrain transfers straight to the A train.
LaGuardia (LGA): Many of the options to and from LGA are the same as those to and from JFK: you can take a taxi, Uber, or use public transportation. Note: there is no flat taxi fare from LGA to Manhattan. Also, LGA doesn't have an AirTrain like JFK—instead, you can take the M60 bus into the city or to a free subway connection along the way.
Newark-Liberty (EWR): The EWR AirTrain will take you to NJTransit or Amtrack trains (both of which go straight into Manhattan). Or, you can Uber or grab a taxi. If you choose to take a cab, there's $69 flat fare from Manhattan to EWR.=
--
The truth is, an NYC trip can be as budget-friendly or over-the-top as you want it to be. So have one of our New York locals start planning your trip! They'll design a custom itinerary around your budget, travel style, interests, and preferences. Plus, they'll offer tons of insider tips (best happy hours, anyone?), and they'll be available by phone 24/7 in case you run into any issues. Get started! And don't forget to check out: