Weekend getaways from NYC are spectacular! Small towns, hikes, and camping sites abound in the Hudson Valley and the Catskills—and most are an easy hop, skip, and jump from downtown Manhattan. Locals tell us that these are 5 great weekend getaways from NYC.
For everything from safety tips to hiking how-tos, work with a local to build your trip. Locals upstate can share insights about their beautiful backyard! Learn more.
#1: Beacon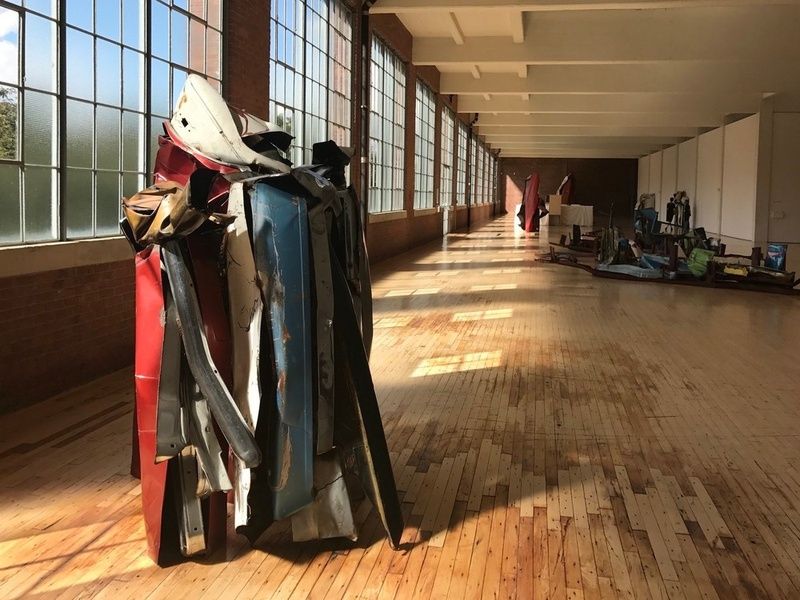 How to get there from Manhattan: 1 hour 15 minutes by car; 2 hours 10 minutes by train (Metro-North from Grand Central Station)
Quirky, charming, and artistic, the town of Beacon is a fantastic place to visit in New York. Beacon Mountain looms over the town, making it the perfect weekend getaway if you're looking for a small-town scene with great hikes.
Love art? You'll find plenty of great activities in NYC. But Beacon is home to Dia: Beacon, a sprawling art museum with more exhibition space than the Guggenheim, the Whitney, and the Museum of Modern Art—combined.
Beacon is also home to several excellent breweries (locals love Hudson Valley Brewing), as well as restaurants, shops, and boutiques. There's a strong artsy energy here, which can feel refreshing after the bustle of NYC. Beacon is known as a haven for creative types.
Local tip: If you're looking to plan a weekend getaway for a large group, consider a service like Bus.com. They connect travelers with vetted bus partners across North America, making it easy to organize large-scale transportation. (Even for complicated routes and/or multiple vehicles.) Bus.com also offers van rentals, both with a driver and without, which is a great option for groups traveling in the current climate.
#2: Bear Mountain
Distance from Manhattan: Less than 1 hour by car
If you're looking to plan your NYC weekend getaway around an NYC budget, plan a camping trip to beautiful Bear Mountain.
This sweeping, 5,000+ acre state park is perched on the west bank of the Hudson River. That means gorgeous river views, lovely hikes, and plenty of opportunities to set up camp. With literally thousands of trails, you may want some local advice about where to go...
Because of the coronavirus, some rules about camping and parking have shifted. Locals in the Hudson Valley can help explain what you need to know before your visit.
Local tip: It's $10 to enter the park. Cash only.
#3: New Paltz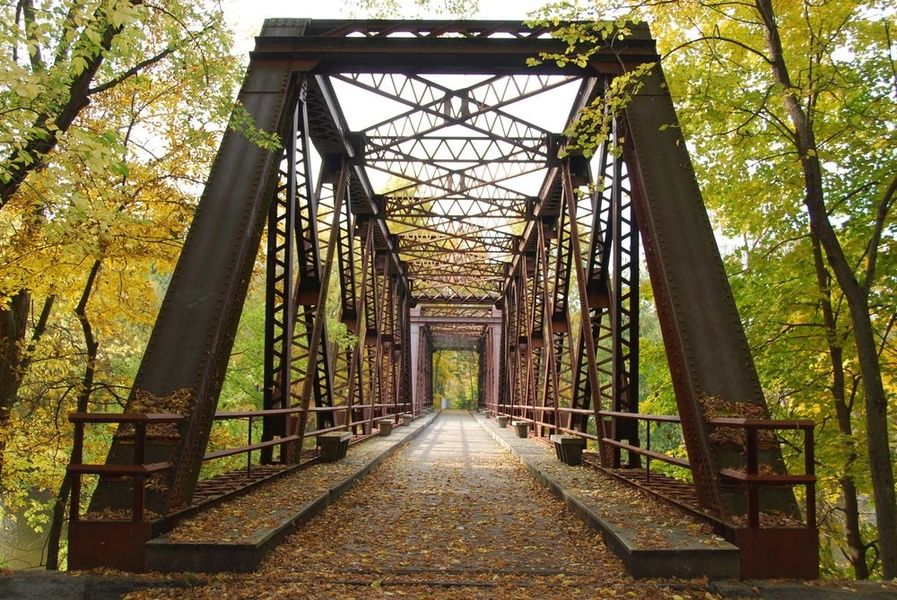 Distance from Manhattan: 1 hour 30 minutes by car
If you're looking for an active weekend getaway from NYC—perhaps one that combines rock-climbing and enjoying local beer, wine, and spirits—locals recommend New Paltz.
This beautiful town stretches out alongside the Wallkill River. Here, you'll find fantastic rock climbing, unique trails, and beautiful state parks. Definitely take time to walk or bike along the Wallkill Valley Rail Trail, a 20+ mile trail, formerly the Wallkill Valley Railroad.
New Paltz also offers a great selection of local spirits! You can find fantastic distilleries, vineyards, and breweries in town or nearby.
Local tip: History buffs will love the Historic Huguenot Street, the well-preserved core of the original settlement.
#4: Hudson
Distance from Manhattan: 2 hours 20 minutes by car; 2 hours by train (Amtrack from Penn Station)
From Brooklynites looking for a weekend escape, Hudson may feel like a home-away-from-home. In this charming small town (pop. 6,200) you'll find a fantastic culinary scene, a charming mix of Victorian and Queen Anne buildings, and stellar boutiques.
Plus, some wonderful river views. The Hudson-Athens Lighthouse is beautiful!
Locals tell us that Hudson is a great place to visit in New York if you're looking to stroll picturesque streets and enjoy good food. Or hit up farmers' markets. Or peek into art galleries. They especially recommend hitting up quirky spots like Spotty Dog Books and Ale, a part-bookstore, part-bar.
#5: The Catskills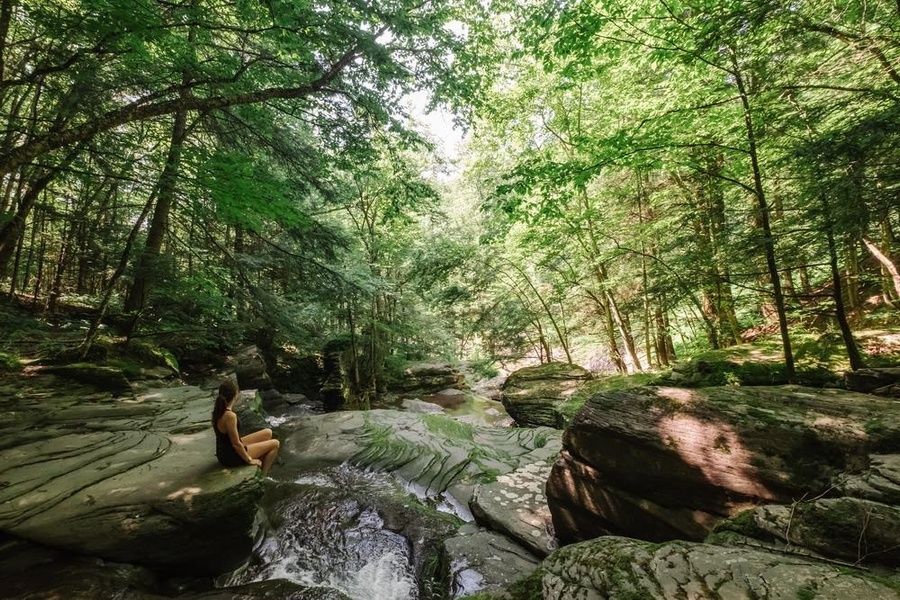 How to get there from Manhattan: 2 hours 20 minutes by car—though it depends exactly where you're going.
You may want to extend your weekend getaway from NYC if you go to the Catskills—there's so much to explore in this beautiful part of the state! Get some local advice about which small town to visit. Locals tell us that these are some charmers:
Roscoe

: This town is small (pop. less than 600) but doesn't lack for activities. Roscoe is known as a great destination for fly fishing

and

an excellent home base if you're looking to hike up to

Giant Ledge

. You'll also find some great breweries and distilleries nearby.
Saugerties:

The crown jewel of this picturesque town is the

Saugerties Lighthouse

, a 19th-century river lighthouse, now B&B, on the Hudson River. But the town offers much more! You'll find fantastic locally-sourced restaurants, like

Miss Lucy's Kitchen

, and tons of beautiful nature to explore nearby.
Woodstock:

Perhaps the most famous town in upstate New York, Woodstock's rock and roll past makes it an ideal homage for music fans. Woodstock's charming small-town vibes are matched by its easy access to nature. Overlook Mountain offers some great hikes.
The Catskills are a lovely place to visit in New York if you're looking to reset, unwind, and explore. Locals recommend driving up so that you can explore one or two towns during your visit.
--
We offer trip planning services in both New York City and select destinations upstate. Connect with a local upstate to plan a trip to the Hudson Valley or to the Catskills. Or, work with a local in NYC to plan your city trip.
And for more about traveling to NYC or to upstate New York, check out: