Tucked away against immense, verdant mountains, Santiago de Cali is home to meandering cobblestone pathways and nightlife. Whether you explore the city in the morning and siesta in the hottest parts of the day or sleep in and drink in the day-long Colombian sunshine, Cali provides authentically Colombian adventures that can't be found anywhere else in the world. To make Cali part of your customized travels, just send us a message with any questions you have!
Want to make the most out of your trip? Tap into our network of local travel planners—Heroes—who build unique, locally-curated trip plans, designed just for you. Get started.
Table of Contents
Discover Cali's soul for salsa
Checking off Colombia's not-to-be-missed cities from your bucket list? Love the feeling of a pulsing salsa beat in the soles of your feet? Strap on your heels or dancing shoes of choice, and dance your way into Cali's world-renowned nightlife! With wind in your hair, whirl to the dynamic salsa rhythms of Cali's dance clubs, or .
Even if you're a newbie, finding a dancing partner is never difficult in Cali, whose residents are known for their quick salsa steps and open, friendly attitudes. Ask your Hero for a custom map from your hotel to San Antonio, where you can find Cali's hottest interspersed among enchanting colonial-era churches and townhouses. Curious about which streets and venues are visitor friendly? Chat with your local Hero–they know where to send you for a taste of Cali's vibrant culture without the stress.

Catch your breath on the hills above the city
In your Colombian adventures, you'll come across stunning sights and lush landscapes, but it will be hard to match the breathtaking bird's eye views from Cali's peaks. Adventurers of all ages enjoy the trek from downtown Cali to Cerro de or Hill of the Crystals. From here, one can easily hike to Cali's famous Cristo Rey, the world's 10th tallest statue of Christ, while taking in the inspiring Stations of the Cross created by artist Carlos Andrés Gómez.
For another summit-level view of Cali, from the suburbs to the surrounding mountains, Cerro de Tres Cruces is absolutely extraordinary. While the hike to Cerro de Tres Cruces is a little more physically demanding than the hike to Cristo Rey, if you come prepared with water bottles and clothes that can get dirty, you'll be rewarded with some of Colombia's best sights! Load up on the bug spray and sunscreen to stay comfy. Our Heroes know exactly what to bring and where to go to see more of Colombia's natural wonders!
Come face-to-face with Cali's wildlife
For a taste of the rainforest without leaving the city limits, head over to Zoologico de Cali, where Colombia's creepy crawlies, endangered species, and colorful creatures live as neighbors. A great way to see Colombian conservation efforts in action, Cali's local zoo is home to Latin American animals like tapirs, llamas, giant otters, and Burmese pythons.
If you're looking for more interaction with Cali's wildlife, venture into the shaded glens of Mariposario Andoke. Cali's butterfly hub, Andoke offers affordable admission for entry into a garden paradise. Also home to dragonflies, native birds, and tropical greenery, the Mariposario allows a glimpse of untouched natural beauty. Maybe you'll even get to see a butterfly hatch from its chrysalis! Not into crowds? Leave the navigating of Cali's go-to spots to your Hero, and enjoy Colombia's unparalleled biodiversity with a clear mind.
Chill out with Cali's cool cats
In your experience of Colombia's diverse destinations, every city has its unique, sometimes mysterious features—for Cali, it's El Gato de Rio! Sculpted by Hernando Tejada, the massive three-ton "Cat of the River" is known for its large, googly eyes and poofy tail. The unblinking feline, resting in one of Cali's municipal parks, inspired a city-wide project that created 15 other cat sculptures.
A scavenger hunt for Cali's hidden gems, finding these fantastical felines is a relaxing way to spend an afternoon in the city. Since artists put their own personalized takes on their Cali cats, choosing your favorite is no small undertaking! Best of all, El Gato de Rio and his friends reside in the family-friendly park, Parque del Gato de Tejada. No Wifi? No problem! Making Cali's cool cats a part of your Colombian adventure is a breeze with our offline app.
Stop for a quiet moment in Cali's sacred places
See a vital part of Colombian culture for yourself in Cali's breath-taking cathedrals and quaint chapels. For the non-religious and spiritual pilgrims alike, these hushed spaces are ideal for self-reflection and admiration of Colombian art. These architectural wonders represent the beauty and wonder that Cali offers to its visitors. To experience this magnificence in person, head over to San Pedro Cathedral, a Cali icon with its neoclassical domes and imperial arches. Your Hero can tell you all about the hidden gems of San Pedro—including paintings from the eighteenth century!
To journey further back in time, don't miss La Ermita, a stunning Gothic cathedral in the heart of Cali. With its awe-inspiring rose window and a carving rumored to cause miracles, La Ermita is a fascinating place abounding in local heritage and Colombian lore. Whether basking in the glow of stained-glass windows or viewing the spires from a distance, these sacred places show a uniquely Colombian balance of the vibrant and the contemplative.
Celebrate holidays with people who know how to party
Sometimes the best parts of any adventure are the moments that you anticipate—and everyone in Colombia gets excited about Cali's world-famous festivals! Organizing your custom trip around Colombia's highlights, your Hero can tell you all about the in's and out's of Cali's festival seasons, with the most popular being Petronio in August and Feria de Cali in December. Whether you're looking for a day-long or week-long fiesta, Petronio is the perfect way to celebrate Colombia's African roots, with scores of bands competing to see who can get the most dancers onto the floor.
For a taste of summer in the holiday season, salsa your way through Feria de Cali in late December. Feria de Cali is also time to cheer for on the heroic bullfighters as they tempt fate in the stadium! With your Hero's help, scheduling your Colombian adventure around these festivals is completely worth it, since visitors get a comprehensive taste of Cali's most scrumptious food, toe-tapping beats, and creative flair.
Redefine "paradise" with a day trip to the mountains
Adventure beyond the city bustle of downtown Cali and into a tropical wonderland in Chorrera del Indio. A lush valley complete with a river and waterfalls, where water splashes clean and clear over mossy stones, and birds chirp lazily overhead, Chorrera del Indio is a key part of experiencing Colombia. Green as far as the eye can see, Chorrera del Indio is part of Colombia's West Andes mountain range, also known as Farallones de Cali. You might just be lucky enough to spot one of the incredible creatures who call these mountains home, like the Colombian spider-monkey or the white-headed capuchin. Since these stunning views are only 45 minutes away from Cali by Uber, setting up a day trip to Chorrera del Indio is a cinch for your Hero!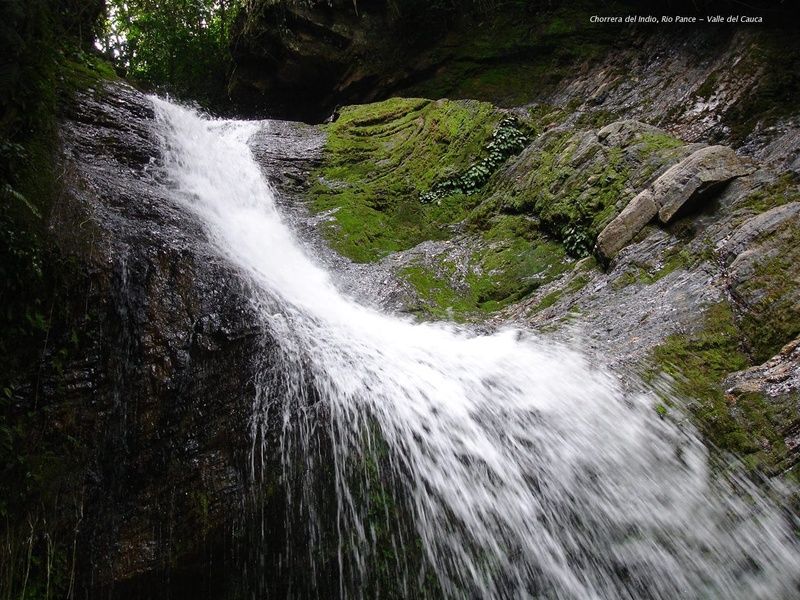 If Chorrera del Indio creates a craving for more splendid sights, ask your Hero to personalize your Cali adventure with a day at Calima Lake. Especially during Colombia's summer (December–July), Calima Lake abounds with blue skies, cool breezes, and plenty of adventures you'll only find in this corner of the world! Adrenaline junkies can try out kitesurfing, while laid-back visitors can enjoy an afternoon horseback ride along the lakeshore. Questions about staying safe in Colombia? Check out these comprehensive tips for ways to enjoy your customized trip while sticking to the safe side.
Unwind with a cool drink in Cali's parks
When you're looking for a way to soak in the Colombian sun without leaving downtown Cali, venture no further than Cali's local parks. Conveniently located within walking distance of each other, these open spaces are great for joining an impromptu match or simply people watching with a , a famous drink with its roots in Cali's culture, in hand. For the best views of the while relaxing after your many adventures, visits to El Puente Ortiz and Parque del Perro are certainly in order. Cali's prestigious place on the list of up-and-coming Colombian destinations makes visiting these local icons truly worthwhile.
Encounter Cali's truly unique cultural character
All Colombian cities have distinct personalities with fun, one-of-a-kind spots for everyone! For a taste of Cali's cultural roots, ask your Hero to customize your tours to Caliwood and La Merced.
Caliwood, only a few minutes walk from your old friend, Gato del Rio, showcases how Colombian films incorporate the glitz of Hollywood. Caliwood stands out with its local emphasis and collection of cameras and reels all the way from the 1880s! Caliwood lets you feel the vibes of Cali's 1970s cultural revolution, as locals made their marks on Colombia's artistic scene. For a journey back in time, visit Cali's veritable treasure trove of ancient artifacts at La Merced Archaeological Museum. Filled with statues and pottery from the pre-Columbian era, the museum is a priceless part of Cali's history, a proud display of work from the region's indigenous groups hundreds of years ago. Dedicated to Cali's patron saint, Our Lady of Mercy, the museum features colonial architecture, Roman Catholic chapels, and archaeological gems.
Ready to trek through Cali's mountains and salsa through the city streets? Message us with any questions, or reach out to a local Hero to jumpstart your customized Cali experience! And before your trip, make sure to check out: