Colombia is known for its extremely welcoming and accepting culture, so it comes as no surprise that it's one of the most gay-friendly countries in Latin America. Here's everything you need to know about the LGBTQ+ community, attitudes toward LGBTQ+ individuals, and LGBTQ+ points of interest in Colombia. After reading, if you still have questions, don't hesitate to drop us a line!
Want to make the most out of your trip? Tap into our network of local travel planners—Heroes—who build unique, locally-curated trip plans, designed just for you. Get started.
Table of Contents
Colombian cultural views toward
LGBTQ+ rights are evolving
Although not perfect, Colombia is growing to be more accepting and affirming of its LGBTQ+ community's rights. While Colombia is heavily influenced by Catholicism, (an estimated 90% of Colombia's population identifies as Catholic), it is generally accepting towards the LGBTQ+ community. Gay marriage was legalized in 2016, making it one of only three independently-governed South American countries to do so; and since Pope Francis' ascent to the papacy and his generally more accepting approach to homosexuality, Colombia's view of the community has progressed significantly.
Colombia is safe for LGBTQ+ travelers
Colombia is safe in general, but is Colombia safe for gays? Absolutely! Although there is still some stigma and prejudice against the LGBTQ+ community, it is unfortunately no more than gays experience anywhere, including the United States. And as in the US, it is considerably less likely you will experience discrimination in one of Colombia's major cities like Bogota, Medellin, or Cartagena than in smaller, more rural towns. Bogota is particularly safe for members of the LGBTQ+ community, as the capital is very liberal and has a prevalent gay community—Medellin is also considered very safe.
You can see Colombia's LGBTQ+ culture in full swing at one of Colombia's many festivals
Pride Parades—Many of Colombia's major cities host parades to celebrate June's gay pride month. While Bogota and Medellin have the biggest

Pride festivals

in Colombia, many other Colombian cities also gather together to celebrate.

Cartagena's Rumors Festival—

Cartagena

is home to the huge LGBTQ+

Rumors Festival

. Rumors place during Pride season and is a vibrant celebration of the international LGBTQ+ community. Rumors is a music festival, so come ready for some bopping jams, and fashion-forward outfits!

Bogota's Halloween Fiesta—An LGBTQ+ friendly event, people from all different walks of life come together to eat, drink, and celebrate Halloween. Bogota's fashion scene is popping so go all out with your costume and enjoy the festivities.
Barranquilla's Carnival—

Barranquilla's

yearly

Carnival celebration

is internationally known for its plethora of parades, fantastic music, and wild costumes. While Carnival lasts four days, one day is actually devoted to the LGBTQ+ community!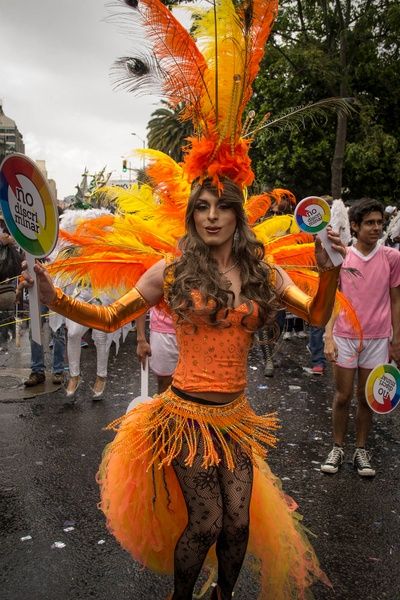 Embrace Colombia's LGBTQ-friendly nightlife
Colombians love to dance and the LGBTQ+ community is no exception. Here are the highlights of Colombia's gay-friendly nightlife:
Bogota
There's always something to do in Bogota. Regardless of your orientation, you can't talk about clubbing in Colombia without mentioning Theatron, Bogota's larger-than-life gay club. The biggest gay club in Latin America, Theatron is situated in an old movie theater, boasting 13 mini-club dance floors (each with a different theme), fantastic music, and all-you-can-drink beverages for only $15!
Bogota's artistic Chapinero neighborhood, similar to New York's Greenwich Village, boasts numerous gay-friendly bars, clubs, and cafes. No doubt one of the best areas to visit in Colombia, Chapinero has affectionately been dubbed, "Chapi-gay" for its plethora of LGBTQ-friendly hangouts and activities. The biggest problem you're likely to have in Bogota is picking from the endless possibilities, but if you need help, reach out to a local Colombian Hero to help plan your time!
Medellin
Medellin is a safe, beautiful, and fascinating city. Medellin's LGBTQ+ community isn't quite as big as Bogota's, but still has a thriving gay culture based in the Parque Lleras section of town. There are lots of things to do in Medellin, including visiting its wide variety of gay bars, cafes, and clubs. Bar Chiquita is a well-known interesting and laid back gay bar, perfect for a chill night or pregame before hitting the clubs. Vivo Discotek is a large and fun club—complete with different rooms and unique vibes.
Cartagena
Cartagena is no doubt one of the most beautiful places in Colombia. Cartagena's gay scene is not very big, but vibrant nonetheless. The town has two prominent gay bars—Le Petit and La Plancha, both very intimate. Studio 54 is a trendy gay club located in Cartagena's hipster Getsemani area. With Cartagena's countless other seaside clubs and bars with flowing drinks and fantastic music, It's not hard to find something fun to do in Cartagena.
--

Have more questions about traveling to Colombia? Here's a list of our local Colombian travel experts who can help you, or you can message us any questions. And before your trip, make sure to check out: