If you're looking for an island paradise vacation in Puerto Rico, look no further: we've gathered 10 of the most incredible beach resorts in Puerto Rico to help you out!
Make your trip even more luxurious by removing the stress of planning! Instead, have an expert Puerto Rican local plan your itinerary for you—including everything you want to see and do, plus amazing hidden gems and local recommendations. Learn more here.
#1: Condado Vanderbilt Hotel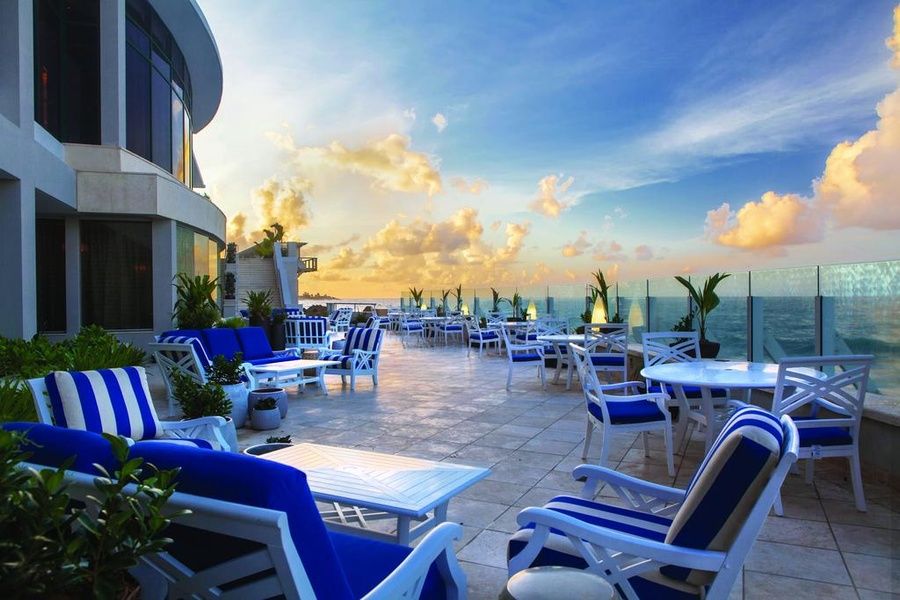 Stretch out poolside at the Condado Vanderbilt Hotel, where the stunning blues of the pool, ocean, and sky paint the perfect picture of luxury. Guests rave about the attentive staff, killer cocktails (especially the piña coladas), and the incredible beachside location. Plus, the resort is in one of the best places to stay in San Juan: glitzy, glamorous Condado.
Price: Rooms start at $309/night
#2: Hilton Ponce Golf & Casino Resort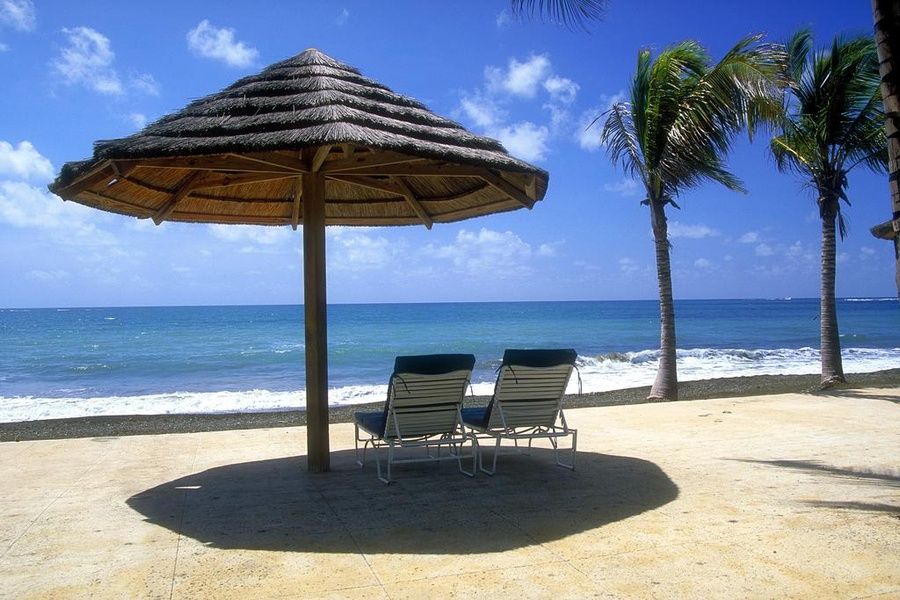 The Hilton Ponce Golf & Casino Resort is practically its own community: it offers guests access to a secluded beach, a 27-hole golf course, and a casino. You could spend your entire vacation here—the resort has five restaurants, two bars, and a full-service gym.
But there are so many incredible things to do in Ponce, like tasting local rum and exploring the boardwalk. Seriously—some of the coolest stuff to do in Puerto Rico can be found in Ponce or just off its shore. For an unforgettable experience in Ponce, just ask a local for their suggestions!
Price: Rooms start at $174/night
#3: Dorado Beach Ritz-Carlton Reserve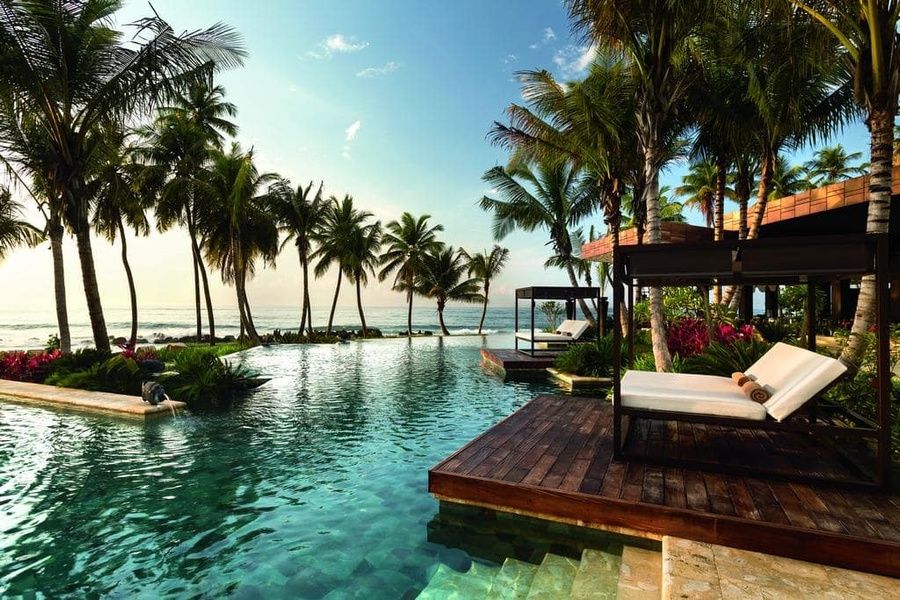 The Dorado Beach Ritz-Carlton Reserve claims to exist at the sweet spot between "idyllic and perfection". The resort also boasts that its guests "depart speechless". In fact, guests have plenty to say—they rave about rooms with plunge pools (shallow, warm pools meant for relaxation) as well as the resort's attentive staff, and the resort-provided bikes that guests can use to pedal along oceanside trails.
The Reserve is expensive, but you get a lot of luxury for the price—staying here feels like an episode of The Bachelor (don't judge, it's our guilty pleasure). Plus, the romantic, luxurious vibes make it an excellent destination for anyone planning a Puerto Rico honeymoon.
Price: Rooms start at $900/night
#4: St. Regis Bahia Beach Resort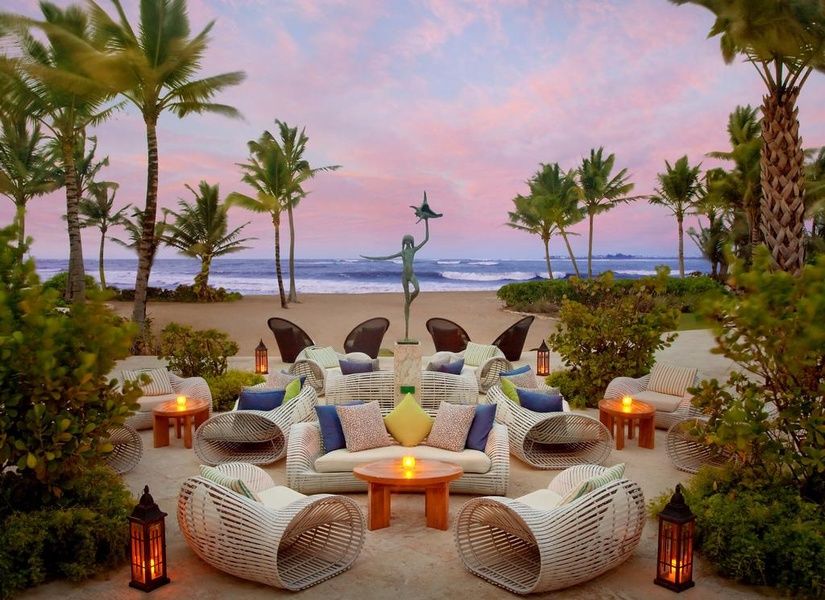 The St. Regis Bahia Beach Resort is a good choice for those who want to mix activities with their relaxation—the resort offers kayaking, art lessons, bird watching tours (it's an Audobon Signature Sanctuary), paddle-boarding, and much more. The abundance of activities is an added bonus to the Resort's gorgeous rooms, which include sweeping balcony views of the Atlantic Ocean.
But St. Regis isn't so secluded that it's hard to see the rest of the island. El Yunque rainforest is only a 15-minute drive away (hiking through the forest is hands-down one of the coolest things to do in Puerto Rico). San Juan is just a 25-minute drive—which means that after spending the day relaxing at St. Regis, it's easy to indulge in all the activities San Juan offers at night.
Price: Rooms start at $439/night
#5: La Concha Renaissance San Juan Resort
La Concha Renaissance is named for the shell-shaped roof over its dining area, just adjacent to its infinity pool. This *splash* of creativity and class is what makes La Cocha so special. That, and the gorgeous ocean views (the resort is right on Condado beach, one of the best beaches in Puerto Rico). La Concha also includes several restaurants, which guests have noted as a highlight of their stay.
Guests have easy access to nearby Condado and Old San Juan, and our local Puerto Rico trip planners can suggest amazing bars and restaurants, make reservations on your behalf, and answer any questions you have about the town.
Price: Rooms start at $179/night
#7: Wyndham Grand Rio Mar Puerto Rico Golf & Beach Resort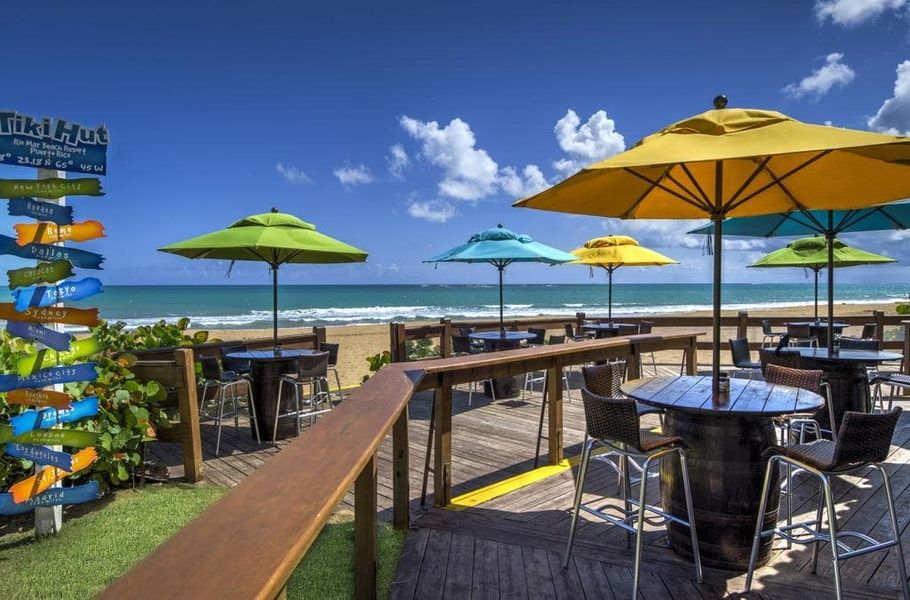 Wyndham Grand Rio Mar Beach Resort allows guests the opportunity to mix luxury with adventure. You can easily lounge poolside or explore the almost mile-long stretch of beach in front of the resort. They also provide activities like tennis, golf, and dance lessons, as well as access to seasonal sights like sea turtle nesting and iguana feeding.
Like the St. Regis, The Wyndham is close to El Yunque. A vigorous hike in the rainforest makes for a classic Puerto Rican activity during the day, before relaxing poolside in the evening.
Price: Rooms start at $233/night
#8: Resort Caribe Hilton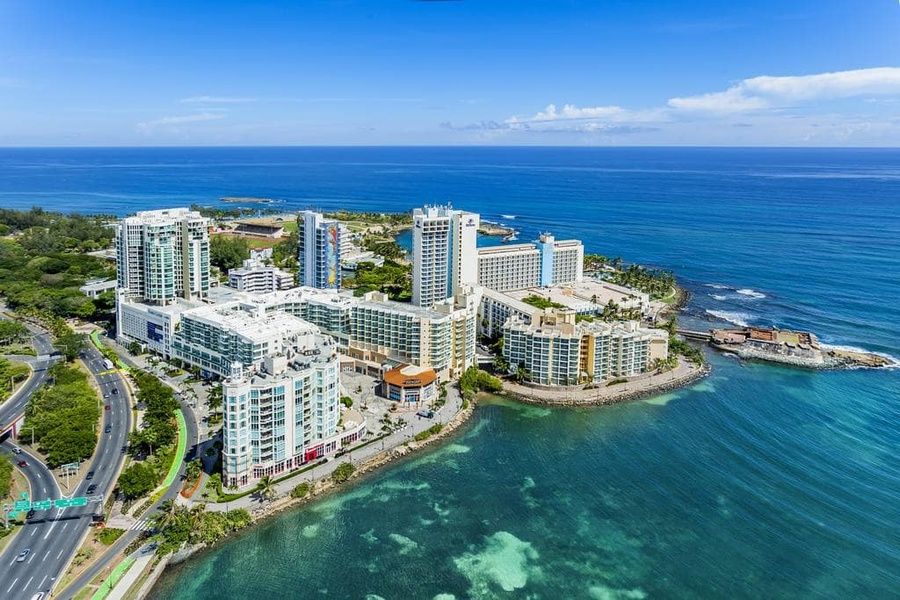 The Resort Caribe Hilton is a wonderful choice if you're visiting Puerto Rico with kids: touting itself as a family-friendly destination, the Caribe Hilton provides family rooms, 9 on-site restaurants, and 17 acres of gardens, which are home to exotic birds like parrots and peacocks. Situated between San Juan and Condado, the Resort Caribe Hilton also provides easy access to many of Puerto Rico's top tourist attractions.
Pro tip: One of the most fun things to do in San Juan is to drink piña coladas—and the Caribe Hilton claims to have invented them!
Price: Rooms start at $239/night
#9: Villa Cofresi Hotel & Restaurant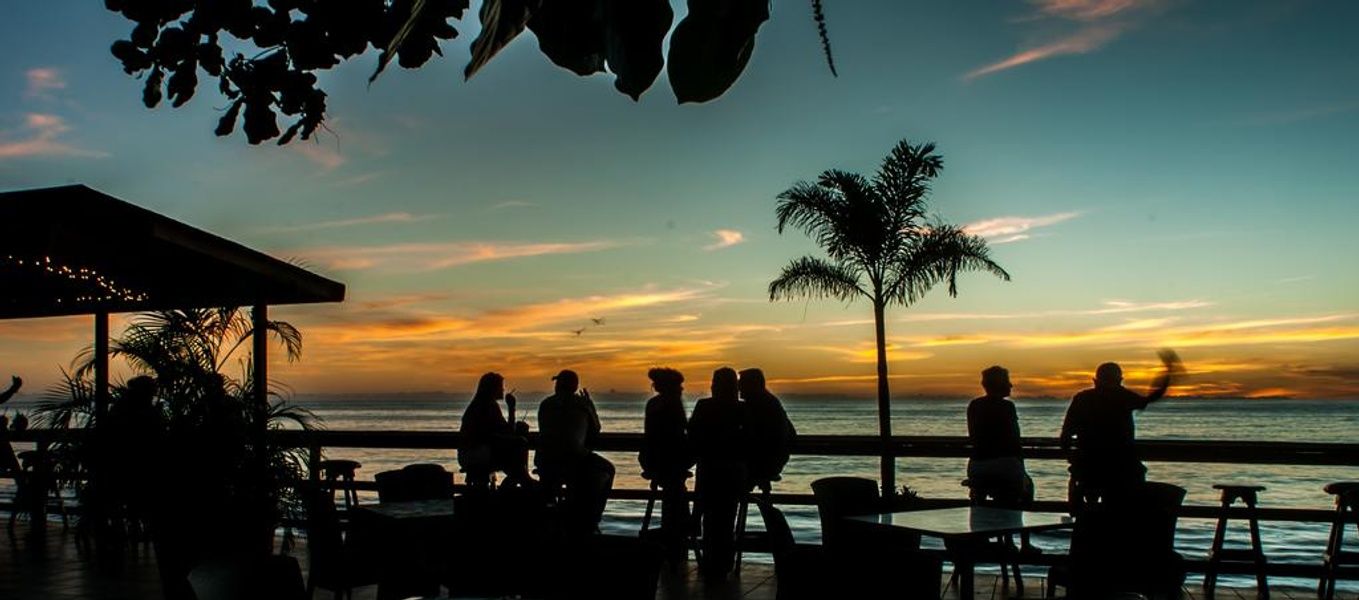 Obviously, one of the best things about traveling to Puerto Rico is trying the amazing food. At Villa Cofresi Hotel & Restaurant, an amazing culinary experience comes with your stay—the on-site restaurant specializes in seafood, steak dishes, and Puerto Rican cuisine.
Next to the ocean and with a great pool, Villa Cofresi is the perfect place for people who love to be in the water. Plus, the Villa is in Rincon—and one of the best things to do in Puerto Rico is to surf in Rincon.
Price: Rooms start at $132/night
#10: Copamarina Beach Resort and Spa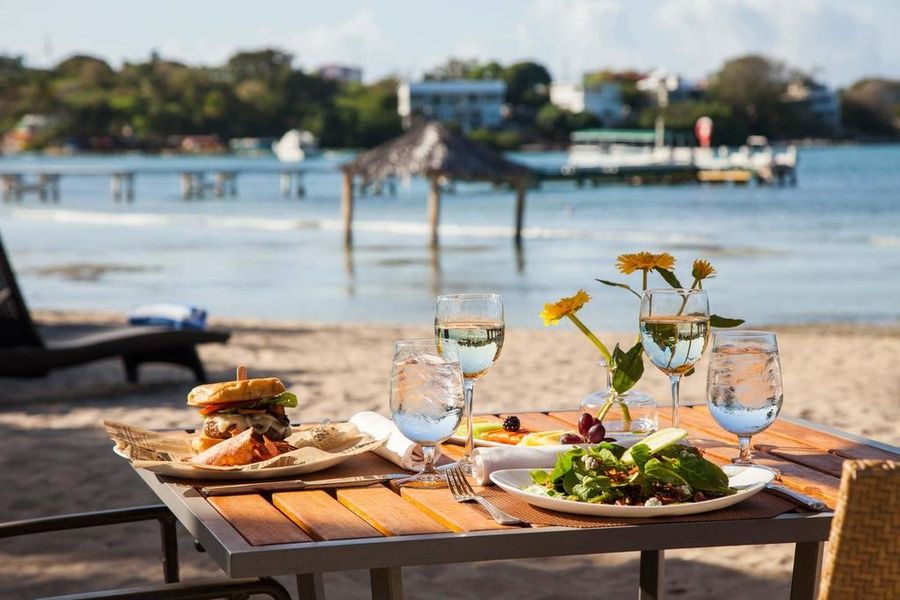 The Copamarina Beach Resort and Spa calls itself one of the island's best-kept secrets (so shhhh). Beachside on Puerto Rico's southwestern coast, the resort offers activities like diving and sailing. It's also in close proximity to one of Puerto Rico's coolest excursions: The Guanica dry forest, where visitors can hike, take in nature, and visit scenic Fort Capron.
The Resort is also near one of Puerto Rico's best vacation spots, for those who want to get away: the gorgeous, secluded Gilligan's Island (yes, really!).
Price: Rooms start at $175/night
--
Chase your dreams of beachside luxury (and beachside cocktails) with this list of 10 incredible Puerto Rico beach resorts. Remove all the stress of travel by having a local Puerto Rico trip planner design a custom itinerary based on your interests. They'll also be around 24/7 with phone support in case you run into any issues. Questions about how it works? Send us a message!