Whatever Colombian gems you want to experience—Cartagena and the tropics, Medellin and the Coffee Triangle, even Bogota and the cloud forest (or all of the above)—we've got you covered. Here are 3 amazing itineraries for 10 days in Colombia. Mix and match these itineraries for an amazing Colombia vacation—or better yet, build your own! Any questions? Just message us.
Want to make the most out of your trip? Tap into our network of local travel planners—Heroes—who build unique, locally-curated trip plans, designed just for you. Get started.
Table of Contents
Itinerary 1: Cartagena and the Tropics
Days 1–5: Explore Cartagena and its nearby towns
Days 6–8: Relax in the Rosario Islands
Days 9–10: Tour Tayrona National Park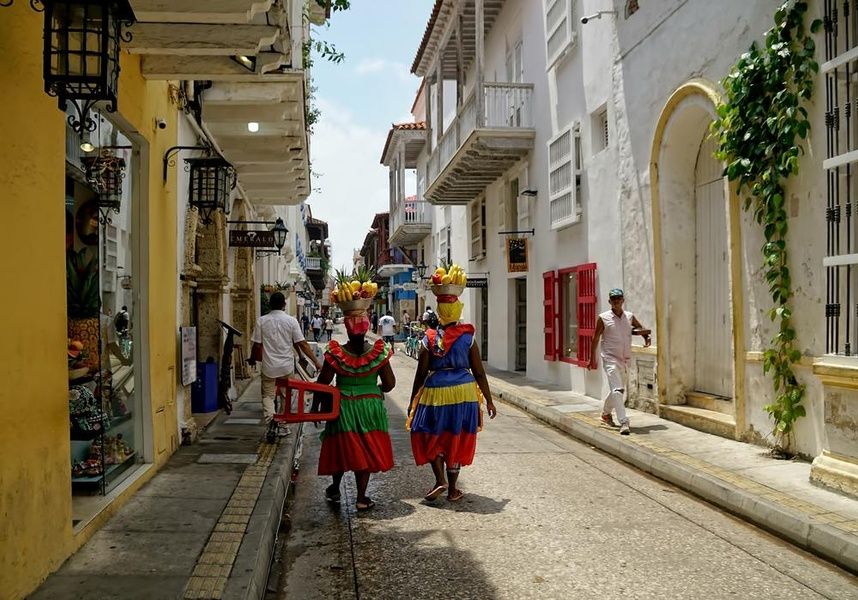 This is the ultimate Colombian itinerary for those with an upbeat and adventurous heart. It begins with five days spent exploring Cartagena, a city packed with tropical color and culture. From its boisterous nightlife to its incredible colonial Old Town, Cartagena is a beautiful coastal city you won't want to miss. Whether you wish to climb the San Felipe Castle, visit the Venu Gold Museum, or take a city walking tour, there's plenty to do to keep you busy. And while Cartagena is safe, you can always get some tips from a local when you plan your trip for extra peace of mind.
Whatever you do, make sure to leave time in your Cartagena itinerary for a night on a chiva (aka a party bus), an afternoon kayaking through the mangrove forests of nearby La Boquilla, and a day spent relaxing in the famous El Totumo Mud Volcano (it's basically a spa, we swear). Plus, you can't spend enough time relaxing on the city's ridiculously beautiful beaches—they're without a doubt one of Cartagena's best highlights.
Pro tip: Looking for somewhere to stay? Cartagena is home to a rare style of vacationing: the floating eco-hostel. Yes, we're serious, and yes, it's exactly what it sounds like.
The next segment of your travel itinerary will take you to some of Cartagena's surrounding islands—more specifically, the absolutely stunning Rosarios. Located less than 25 miles off the coast of Cartagena, these islands are absolutely stuffed with untouched beaches and glorious nature. Chat with a Cartagena local to find out which ones you have to visit and where to stay when you do.
The finale of your tropical Colombia itinerary couldn't be more glorious. Just outside of the town of Santa Marta (a stone's throw from Cartagena), the Santa Marta Mountains crash dramatically into the Caribbean. At this junction of the jungle, mountain, beach, and ocean lie Tayrona National Park. To experience Tayrona's unreal hikes to its exotic wildlife (and of course its absurdly-Instagrammable beaches), a day trip from Cartagena just isn't enough. We recommend spending at least two days here to experience all that Tayrona has to offer.
Itinerary 2: Medellin and the Coffee Triangle
Days 1–5: Discover Medellin
Day 6: Get outdoors in Guatape
Days 7–10: Visit the coffee triangle and Salento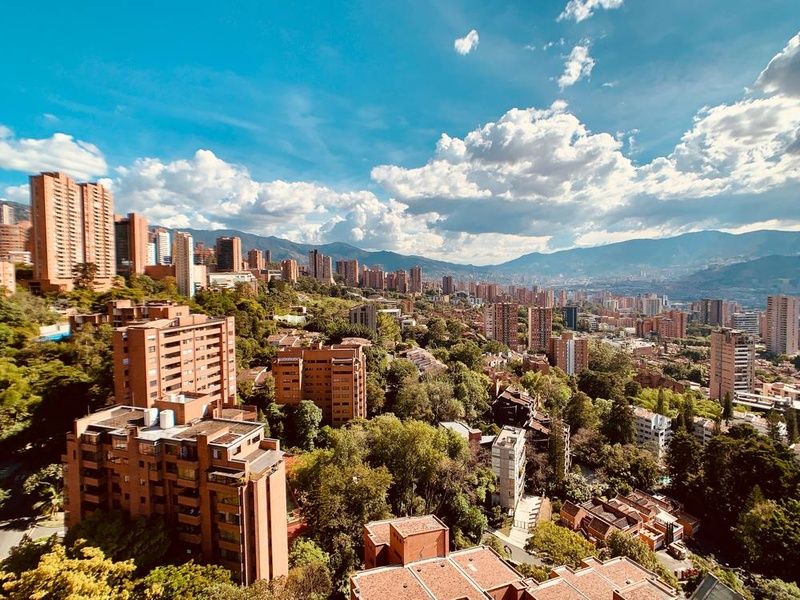 This is the best Colombia itinerary for those who are ready to become enamored with Paisa—the mountainous region of Medellin. Colombia's second biggest city, Medellin is often referred to as "city of eternal spring" thanks to its consistent pleasant weather. It's also perched in the Coffee Triangle (aka Eje Cafetero) where the world's best beans are grown, harvested, and processed.
Located in high in the Andes, Medellin is a must-see city of natural beauty. Green hills, amazing skies, bright colors… basically, Medellin is what you think of when you envision the Andes. And contrary to most people's (uninformed) beliefs, Medellin is really safe to visit as well.
Of course, any Medellin itinerary has to be packed with plazas, parks, botanical gardens—but its the city's hipster highlights that steal the show. From amazing street art in not-commonly-visited neighborhoods like Comuna 13 to phenomenal museums (the city is home to famed artist Fernando Botero) to unreal food… basically everywhere, there's so much to do in Medellin, five days will be barely enough. Our recommendation: have someone who lives in Medellin help plan your itinerary to make sure you don't miss out on all the amazing local gems.
To really get a feel for the charms of the Paisa region, you can't miss a trip to Guatape, a little town just two hours outside of Medellin. The colorful town is littered with signs claiming it has some of the best views in the world, and they're not wrong. This colorful colonial town is overshadowed (literally) by the gorgeous Peñon de Guatape, a massive climbable rock, and is perched on the edge of a gorgeous island-filled lake. It's perfect for waterskiing, swimming, and even boating—so if you're an outdoorsy person, this is the spot for you.
To round out your ultimate itinerary in Paisa, you have to visit the coffee triangle. While the region itself is huge, the town of Salento is a great jump-off point to see all that it offers. Spend a few days at a romantic coffee farm-turned-bed & breakfast, or an actual functioning coffee plantation (lots of them offer of different types)—whatever you choose, given the amazing views and even more amazing coffee, you can't go wrong.
Itinerary 3: Bogota and the cloud forest
Day 1–4: Explore Bogota
Day 5–6: Hike the cloud forest
Day 7–10: Take trips to the surrounding areas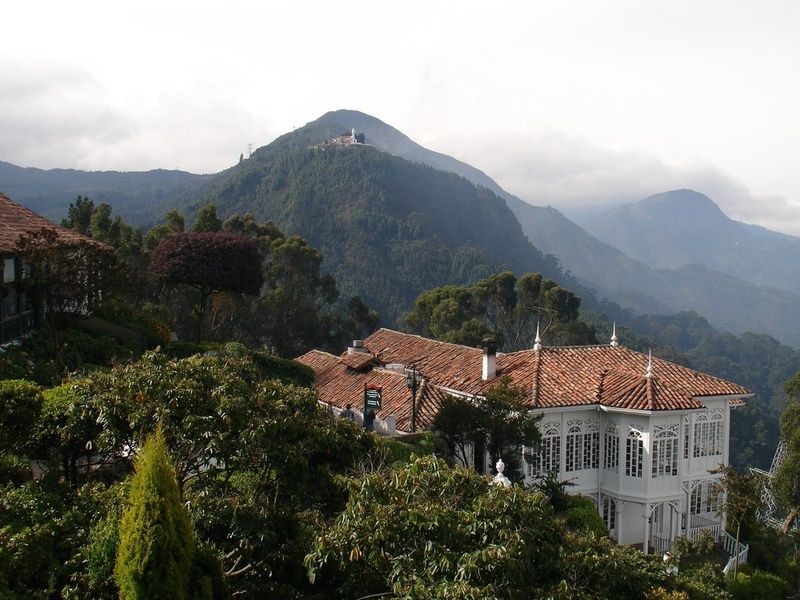 This is the best itinerary for anyone who wants to experience the authentic melting pot of Colombian people, culture, and architecture that is Bogota. Bogota is filled with highlights that are basically irresistable—parks, plazas, amazing museums (the Gold Museum is particularly enthralling), unreal street food, incredible bars, you name it.
Maybe you're an art lover? Take a street art tour around Bogota that showcases the political and social turbulence the city has faced. Maybe you're a foodie? Take a tour of the city's amazing outdoor markets. The possibilities are endless.
After Bogota, your next stop has to be Chicaque Natural Park, home to some of the most stunning cloud forests in the world. This natural wonder is unique to only a few places on Earth, and really can't be missed. This misty trip is perfect for hiking, horseback riding, and zip lining through the forest of Chicaque Natural Park—where you can (and should) spend the night. You can book a tour or, for better results and less stress, have a local travel expert in the area help you out.
There are plenty of things to do in Bogota and the surrounding area, which is why the finale of this Bogota itinerary revolves around the many day trips you can take from Bogota. If you want to escape the city and get closer to nature, La Chorrera, Colombia's largest waterfall, is a quick 45-minute drive from the city center.
Other outdoor destinations in the area include the visiting the red desert at the Tatacoa Desert, rock climbing in Suesca, and sipping coffee at the many coffee plantations tours in the Bogota area. You can also visit the Salt Cathedral of Zipaquira—a functioning church build 500 feet below ground in an active salt mine!
If you need help finding a coffee tour near you or transportation to some of these destinations, you can always contact a local to help you out. And while it (should) go without saying, Bogota is really safe these days. Stop living in the past!
--
Ready to jet off to Colombia? Of course, you are! But before you go, make sure to have a local Colombian trip planner help you build your custom itinerary—no one knows Colombia's hidden gems, dos and don'ts, and insider info the way they do. Additionally, feel free to message us with any questions you have, and make sure to check out: