Americans traveling to Cuba today are required to get a Cuba Tourist Card—also called a Tourist Visa—in almost all cases. The Cuba Tourist Card is not part of the US travel rules for Cuba, which require you to pick a legal travel category. Instead, it's a requirement of the Cuban government for all travelers arriving on the island.
It's an easy formality to take care of, but it is essential. During your trip, be sure to treat your Cuban Tourist Card as you would your passport, you'll need it when you leave to return home.
The Cuba Tourist Card is required by the Cuban government and applies to almost anyone visiting Cuba from abroad. But how do you know which one you need? Where can you get it and how much will it cost?
Read on for up-to-date information on how to get a Cuban Tourist Card in 2024.
Want help planning your Cuba adventure? Get the help of a Cuban local to design an unforgettable itinerary for your trip.
Table of Contents: How To Get A Cuban Tourist Card
Who Needs A Cuban Tourist Card
Travelers from every country, including the United States, need a Cuban Tourist Card to visit the island. The Cuba Tourist Card allows travelers to remain in Cuba for 30 days, and after arrival can be renewed for an additional 30 days.
The only exceptions are for citizens of Antigua and Barbuda, Barbados, Belarus, Benin, Bosnia, China, Dominica, Grenada, Macedonia, Malaysia, Montenegro, Mongolia, Namibia, Saint Kitts, Saint Lucia, Saint Vincent, Serbia, Singapore, and Vietnam. Travelers from these countries can visit Cuba without a Tourist Card.
Travel to Cuba under the Support for the Cuban People category still requires a Cuba Tourist Card, in addition to compliance with U.S. travel regulations.
Travelers visiting Cuba with a specific purpose, like business activities, family visits, or journalism may need to apply for a specific visa and should contact the closest Cuban embassy or consulate.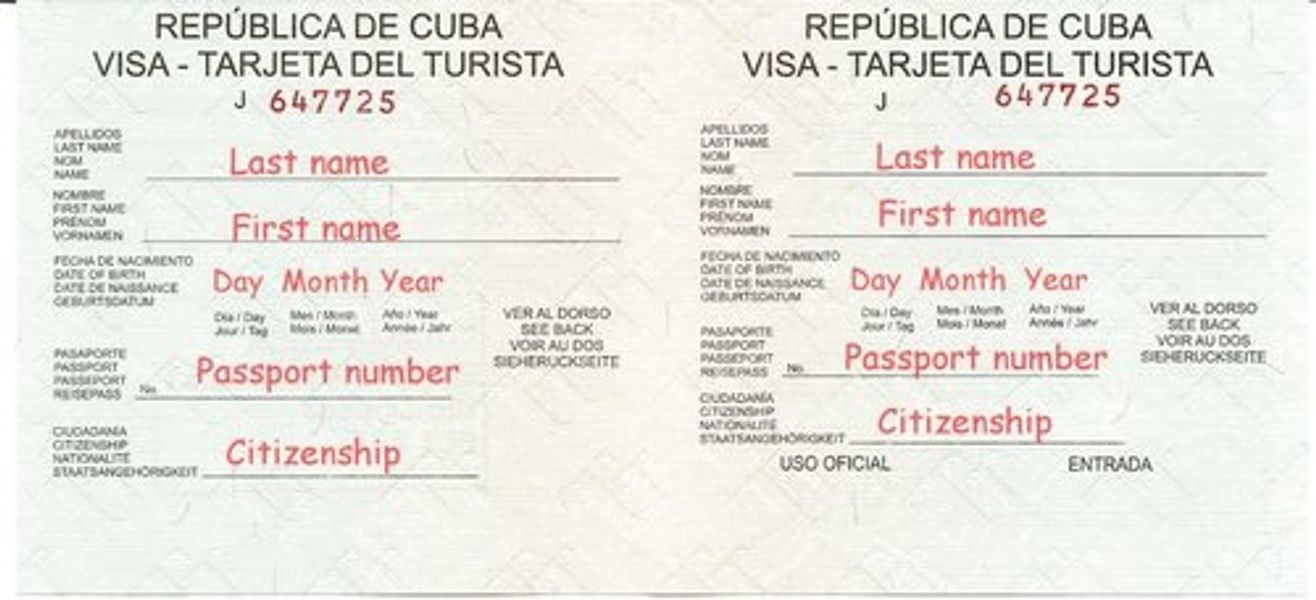 The Difference Between Pink and Green Tourist Cards
There are two different types of Tourist Cards and it's important to purchase the correct one. Which card a traveler needs depends on the country they are flying to Cuba from (the last airport you stopped at).
The pink Tourist Card is for travelers arriving from the United States, and the green card is for travelers arriving from any other country. The green cards are less expensive than pink cards, which range from $50-$100 USD.
It doesn't matter what country your passport is from or what country you were originally traveling from. Your card color depends on the last place you depart from before arriving in Cuba. You will not be able to board a flight from the US to Cuba with a green Tourist Card.
Confused? Consider messaging a local travel planner for answers to all of your questions.
Where to Get the Cuba Tourist Visa
Travelers can purchase the Cuba Tourist Visa online, or they can get it through their airline, travel agent, tour company, or the Cuban embassy nearest to them.
Buying your Tourist Card online allows you to skip the lines for Tourist Cards at the airport (especially important if you have a connecting flight to Cuba).
Flying from the United States
Several U.S. airlines now offer direct flights from Miami, Fort Lauderdale, Houston, and New York to Cuba. Travelers flying from the United States to Cuba have several options for where to purchase their Cuba Tourist Visa.
Purchase Online: Travelers can buy the Cuba Visa online and have it conveniently shipped to them ahead of their trip. Some travelers prefer to purchase the visa ahead of time online to avoid any hassles or last-minute issues on departure day.
For travelers arriving from the U.S. who need the pink card, we recommend using Online Tourist Card for the best rates. Online Tourist Card ships cards anywhere in the contiguous US via UPS, and there are many shipping options to choose from.
Purchase Through Your Airline: Most U.S. airlines provide a way for travelers to purchase the Cuba Tourist Card at the airport on the day of departure, during the check-in process, or at the departure gate.
Pricing varies depending on the airline, but typically the cost is less than ordering it online because there are no shipping fees. It's important to check with your airline to confirm that this option is available.
Through Travel Agents and Tour Operators: If you are using a travel agent or joining an organized tour, your agent or tour operator will often include the Cuba Tourist Visa in the total price. We recommend checking before departure to ensure you have everything you need.
Flying from Mexico, Canada, and Other Countries
If your final airport before arriving in Cuba is Mexico, Canada, or any other country, you will need to purchase the green Cuba Tourist Card.
Even if you are a U.S. citizen, if your final stop before arriving in Cuba is outside of the United States, you will need the green Tourist Card.
You can purchase the green tourist card online in advance. We recommend using Easy Tourist Card, which ships anywhere in the world via DHL. (There is only one shipping option.)
From Mexico: If you're flying from Mexico to Cuba then you can buy the green Cuban Tourist Card in Cancun or Mexico City. You can do this near check-in or at the boarding gate. They are typically around $25.
From Canada: If you're traveling from Canada, your airline may provide the green Tourist Card with your ticket. But make sure to double-check beforehand.
From Panama: The Cuba Tourist Card is available on-site at the Panama City Airport. Copa Airlines, which runs flights from Panama City to Cuba, does not sell Cuba Tourist Cards online. However, it's easy to purchase online and have it shipped to you in advance using a service like Easy Tourist Card.
By Cruise Ship: Due to the June 2019 Cuba travel restrictions, American cruise ships are no longer allowed to sail to Cuba.
Contacting your Embassy
You can also purchase Cuban Tourist Cards through Cuban Embassies, but many travelers complain about slow response times for email and phone messages. Prices vary by country and embassy, and it's often more of a hassle than using an online service, purchasing through your airline, or picking up a card at the airport.
Replacing your Tourist Card
If you lose your Cuban Tourist Card, you must replace it before you will be allowed to depart Cuba. When you go to the airport, explain that you have lost your card. You may have to pay for a replacement. Give yourself some extra time, and expect to have to answer questions.
It's not the end of the world, but you'll end up wasting a little time dealing with Cuba's bureaucracy instead of enjoying a day exploring and experiencing Cuba's awesome things to do. To avoid a huge hassle, keep your Tourist Card tucked into your U.S. passport. Also, be sure to carry your passport with you at all times, a Cuba travel safety best practice.
Other Requirements for Cuba Travel
Yes, as an American, you should make sure that when planning a trip to Cuba, you have all of the necessary documents. Here's what you will need to do:
Pick Your Travel Category - You'll need to choose a travel category that fits with your planned activities for the trip. Learn about the different categories Americans can use for their travel to Cuba.

Make an Itinerary - Your itinerary serves as proof upon return that you've complied with the guidelines of the travel category you chose.

Health Insurance - You are required to purchase Cuban health insurance before entering Cuba, but if you're flying from the U.S., check with your airline to see if the insurance is included in your ticket purchase. If not, you can purchase it beforehand or at the airport when you land, before passing customs.

Health Declaration Form - This form is required to monitor and prevent the spread of COVID-19.
Locals Make Planning a Trip to Cuba Easy
Planning a trip to Cuba can be complicated. At the end of the day, no one knows a place like the people who live there. Local knowledge can always enrich a trip, but it's especially helpful when there are legal restrictions involved.
Rules for Americans are complicated — and ever-changing — and require extra research. That's why we set up travelers with Cuban locals — so that they could help travelers through the process.
Plus, travelers then get tons of local advice about what to do, see, eat, and explore once they arrive.
All of this information can be difficult to find online. But when you talk to a local who actually lives in Cuba, they can help guide you through current travel restrictions. Plus, they can answer your questions so you know what your options are, and can make the best decisions for what works for you.
Not only can our Cuban trip planners design a trip that fits your travel style, but they'll also design one that matches your budget and interests. Plus, they have inside expertise will make navigating travel much easier than if you go it alone.
Ready to have a local plan your trip to Cuba? Connect with a local today to learn more.
More Tips for Cuba Travel in 2024
Start Planning Now: Don't dally! Things in Cuba book up fast. As a limited number of businesses advertise online, everyone is looking at the same resources. It is best to have one of our local travel experts arrange your trip. They will use their connections to secure accommodations, restaurants, tours, transportation, and more. You won't have to worry about the headache of everything filling up before you arrive.
Decide When To Go: Do you want to see a certain festival? Avoid hot temperatures? Miss the rain? Plan your timeline wisely!
Book Your Flight: Spend time researching your flights before booking anything. If you are traveling from the United States, many airlines are now fly directly into Cuba. But there are some benefits to flying in from another country, like Mexico.
Find a Casa Particular: Forget about hotels in Cuba—they are overpriced and dingy. Staying with a local family in a casa particular will provide the most comfortable and immersive trip.
Decide Where You're Going: Havana is intoxicating, but there are plenty of other parts of the island to see. Consider traveling to cities like Trinidad or Viñales. Our Heroes can suggest cities that are worthwhile to visit during your trip.
Start Practicing Spanish: If you don't speak any Spanish, you may find it difficult to navigate during your trip. If you have time, start brushing up on some basic phrases. It will be much appreciated by locals you meet.
Figure Out Your Money Situation: Cash is king in Cuba. ATMs are difficult to find, and they do not take US cards. Plan on bringing enough cash to last your entire trip—yes, your entire trip. Be safe about where you store it. Don't keep it in one place, and never carry all of it on you at once.
Get your Tourist Card / Visa: The Cuban government requires you to buy a Cuban Tourist Card to enter Cuba (not actually a visa, though the two words are sometimes used interchangeably). The easiest way to get your Cuban Tourist Card is online in advance through sites like Online Tourist Card, but you can also buy one from your airline (contact your air carrier to find out where an how to purchase).
Prepare to Disconnect: The internet is basically nonexistent in Cuba…and it is better that way! Consider this your digital detox. Let your work and family know you will be mostly out of reach.
--
Check out our articles on getting a Cuba General License and how you can still travel to Cuba. Then, start preparing for your Cuba adventure.